Apps and Integrations
3 eCommerce Metrics You're Not Looking At, But Should Be
Oct 27, 2016 • 2 Min Read
You're a savvy digital marketer and you know your way around ecommerce metrics. You can find the top products sold on virtually any ecommerce platform within seconds. You can spot an underperforming keyword at lightning speed. You're the most interesting Digital Marketer in the world. You don't always look at ecommerce metrics, but when you – oh wait, you always do.
Need to know what products brought in the most revenue? Check. Need to calculate customer lifetime value? No problem. If you're like me, you check revenue numbers and conversion data daily.
However, with all the data and ecommerce tools at our disposal, it's almost impossible to take advantage of every report that's offered to you. Sometimes, we barely take a glance at reports that don't seem as sexy as revenue and conversion rates.
3 e-commerce metrics that you're not currently looking at...
But you should be. They can save you headaches in the future and give you valuable insights into customer behavior.
Transactions per Transaction ID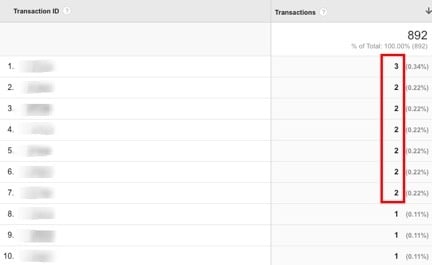 You've seen transaction ID reports and you've seen transaction reports. However, Google Analytics doesn't give you the courtesy of showing the two together. Creating a custom report with this metric can be extremely helpful in determining the integrity of your data. A simple check can save you major headaches down the road. By creating a custom report that breaks down transactions by Transaction ID, you will be able to tell if you are double counting conversions.
Don't be worried if you see a handful of duplicate transactions, those are sometimes caused by page refreshes. However, if most of your transaction IDs have more than one transaction associated with it, you'll need to implement a fix for that.
Conversion Values (by Time Lag)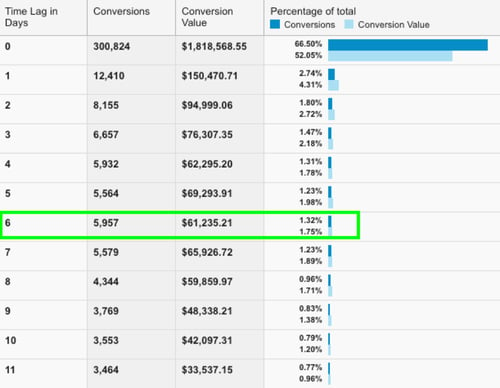 Conversions and conversion values by time lag in days don't get as much love from marketers as they should. If you're looking into remarketing or trying to figure out how long to wait to send certain automated emails, this report can give you a good idea of where to start.
In the example above, we can see that the majority of conversions happen with no time lag. For the rest, we see an expected drop off in conversions and revenue until day 6, when conversions increase, and day 7, when revenue sees an uptick.
This data lets us know that there is a small window where potential customers can be brought back to make that final purchase. If nothing else, it's worth testing your timing based on the data.
Conversions By Multi-Channel Funnel Grouping Paths


You've seen this report and you know how to analyze the data, but have you ever used it to push real change? Knowing the multi-channel funnel can be a powerful tool if used correctly. Use it to your advantage to tie channels together using a campaign if you start to see connections.
In the example above, we see that paid search is the first step but leads to various conversion points. Understanding how visitors first heard about your site gives you great insight into what they already know and how they might act. If most of your primary interactions begin with paid, we want to make sure we follow up on the promise made in those ads through emails, top organic landing pages, and top referral landing pages.
And there you have it. Of course, this doesn't even begin to cover all of the reports you should be leveraging for your ecommerce store.
If you'd like to discuss the analytics most relevant to your business, we'd love to chat.
Related Content
You Also May Like
Blog
What Do I Need To Know About Etail West 2024? Are you in the eCommerce industry? If...