Groove Commerce

Here are 5 email design best practices you can use to improve your email marketing experience for your customers and drive conversions.
Email remains one of the most effective tools in digital marketing — it's fast, measurable and convenient. A well-designed email is crucial to driving conversions, and sticking to these best practices will ensure that your emails render strikingly across all platforms and devices.
Email Design Best Practices
1. Aim for 600-pixel width
To ensure your entire design will be visible and to avoid any other abnormalities, it should always stay around 600 pixels wide, as many email clients provide a narrow preview window. Emails are viewed in a variety of clients (Gmail, Microsoft Outlook, etc.), and many different factors such as menus and toolbars can impact upon and minimize the view pane of the message.
2. Keep it simple
With average adult's attention span down to just 8 seconds, it's important to make your emails easy to read and attention grabbing for your viewers to encourage them to engage. Keep in mind that your email is not your website, so focus your content on the main message/key points, and then include links to the details. Including imagery or video is a great way to condense content and convey your message visually. It's also important to give all of your content enough room to breathe so that it is easy to skim. Things like bullet points, short paragraphs and white space combined will achieve this.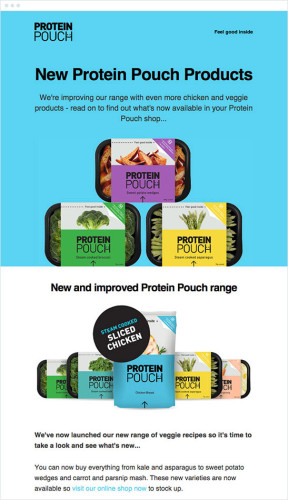 Example: This email design by Protein Pouch implements a great use of to-the-point content, with pops of color to add interest. The information is perfectly aligned and carefully placed, with hierarchy of typography for easy skimming. The use of different type sizes lets viewers pull out what is most important. Including imagery tells the story of their product visually, and is a great, quick resource if viewers want to learn more.
3. Stick with system fonts
Web fonts are not widely supported in email, so unfortunately you can't use a font like Gotham and guarantee that there will be no issues. Sticking with web-safe fonts like Arial, Helvetica, Tahoma, Times New Roman and Georgia will ensure that the look of your email will remain consistent across all email clients and devices.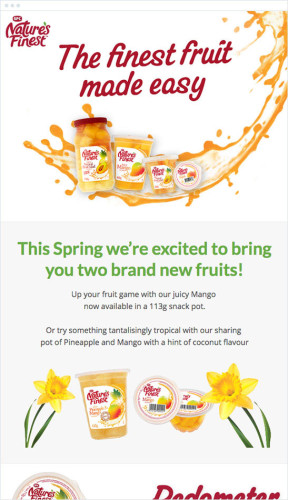 Tip: The banner space of your email is a great opportunity to get creative with typography, as it is embedded in the image. Nature's Finest incorporated their brand font to draw the reader in, and then used standard system fonts in the body of the email to provide the details.
4. Consistent branding
It's important to carry the look and feel of your brand across your emails and website to establish recognition and a consistent experience each time a customer interacts with you online. When designing your emails, keep font choices, color palette, logo and design elements in line with those of your website so that users know exactly who the email is coming from as soon as they open it.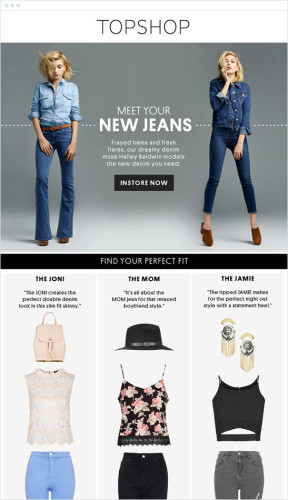 Topshop achieves this by simplifying their website navigation, matching fonts and button styles and using a consistent photography style. All of these elements combined make for a seamless transition between the two that allows a customer to instantly identify their brand.
5. Always test!
It's crucial to send out test emails to give yourself a chance to ensure that your design displays correctly across multiple email clients. If time allows, it's prudent to test various designs against each other to see which button colors or font sizes look best. Beyond design, sending test emails to smaller recipient groups can confirm that you're going into the inbox instead of the spam or junk folder. Allowing yourself to make these adjustments can guarantee that your email is optimized for the best results and save a vast amount of time rectifying issues.
By sending variations of your emails at different times and days, you are able to see what works best for your brand. Collecting this data on how your users interact with your email and what times they are most active will allow you to target your audiences in the most effective way possible moving forward.
Final takeaways
The goal of email marketing is to engage and delight your customers with interesting content that is tailored specifically to them. An aspect that influences a pleasant and meaningful relationship for the reader is how you design your emails. Designing an easy-to-navigate email that highlights your content gives you the ability to reinforce your email marketing efforts and increase conversions. The more data you are able to collect about your customers, the more you able to optimize the design for a better, more personalized experience.
Interested in learning more advice on email marketing or email marketing best practices? Contact Groove today! We're happy to get you in touch with our digital marketing experts.
Get in Touch
Subscribe for industry insights and resources.