Groove Commerce
Prepping your online store before the busy holidays? Use our 6 tips to stress test and optimize your eCommerce site for success this season.
Welcome to part 3 of our eCommerce Holiday Preparation blog series! In this four-part blog series, you'll learn tips and tricks from eCommerce experts on how to get your business ready before the busy holiday rush.
Check out Groove's eCommerce blog every Tuesday in the month of August to get guidance on several aspects of planning an eCommerce store for holiday success.
You may have your holiday eCommerce marketing ready, but to make sure that all of your hard work and planning counts, your website has to be ready to handle any amount of traffic it gets and your team has to be ready to react to any site issue. To make sure your holiday season is a success, be sure to follow our six tips on testing and prepping your online store.
Holiday Website Prep
1. Stress testing your website
Before the height of your busy holiday season, you want to prepare your site to handle large amounts of visitors and make sure there are no limitations. The best way to do so is by stress testing your website to make sure every aspect of it works. When it comes to testing your site to see how many users it can handle at once, the two crucial elements you want to look at are:
Your infrastructure and hosting
These components make up your environment, and depending on how they are set up, can set your site up for a poor experience for visitors. The best way to prevent that is by testing. A Peak Threshold Load Test will increase the number of users to your site until you see performance degradation.
You can compare past traffic logs to the results of your test as a baseline. If you can, create a separate staging environment to run your load test on so it doesn't impact the customers who are active on your site. If you can't, we recommend running this test on your site during your off-hours. Based on those results, you and your team can work to increase capacity and improve performance before the holiday rush.
When monitoring this test, use Google Analytics to see when there is an issue with the site. A drop in page views per second and visitors is what you should look for. Also, use an application monitoring tool to look at other site factors, like page load time.
2. Preparing your hosting provider for the high traffic
Not all hosting providers are made equal, and it's important to understand what your engagement with your provider contains. If you go over your bandwidth levels, does your hosting provider scale automatically or do they just shut off your service? Make sure your hosting provider can handle the predicted spike in traffic during the holiday rush. If it doesn't offer the support you need, consider upgrading sooner rather then later. The last thing you want to do is lose customers because you didn't invest in a hosting provider that could support your business's needs.
3. Rolling out scheduled promotions
During the holidays, your eCommerce store may run several different discount codes and gift card incentives to encourage website visitors to make purchases. When it comes to managing multiple specials on your site, having the right tools put in place can be a lifesaver for you and your team.
Think through your campaigns and consider how you want to use these discount codes. For example, if you have day-to-day sales, you'll want to set up parameters that don't allow discount codes from a week ago to apply to that daily special. Setting up specific parameters is crucial. You can configure discounts codes to be active by:
Weeks, days or hours

Product or category

First-time visitor

Repeat buyer

And more
Make sure you develop unique codes for your specific discounts and keep track of them all in a discount code library. Having a list of which codes are active will make it easier to design parameters for new codes and campaigns as you go.
Discount codes are key drivers towards purchases during the holiday season and encourage first-time users to consider purchasing from you. Nothing is more frustrating for customers than to have expectations on deals, only to get let down when they don't work during checkout. Save your Support Team time and frustration by setting up rules and restrictions for these discounts earlier rather than later.
4. Updating security measures and improving shopper confidence
Giving your online visitors confidence in the security of your eCommerce store is crucial to making sales. If online shoppers have any doubt in the safety of your site, they will leave to find what they are looking for somewhere else.
Ensure shopper confidence by making sure your privacy and security seals are updated and on your site. Having seals on your eCommerce store that ensure your ability to safely handle customer credit card and other personal information can help your shoppers confidently proceed through checkout.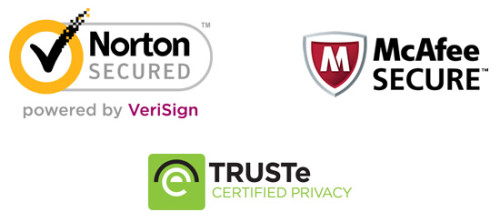 Including a URL green bar and SSL security seals have been proven to increase shopper confidence and reduce shopper anxiety, but more than 35% of brands don't display them during the checkout process. Adding these seals is a simple and effective way to help build your store's credibility.
Before your holiday rush, be sure to check the following things to strengthen your website security:
Performing regular PCI scans – By doing this regularly, you lessen the vulnerability to hacking attempts.
Checking your web standards – Review that your website complies with CSS and HTML standards to improve your website's accessibility, SEO efforts and overall usability.
Updating your patches – If there are regular security software patch updates, install them sooner rather than later.
Don't use default passwords – When it comes to your eCommerce platform and admin settings, make up your own strong passwords to prevent easy hacks.
Secure your scripts – Lock down any additional folders and any other places additional scripts can be executed.
Invest in security software – Security software can help your team streamline the security checking process.
5. Avoiding drastic last-minute changes to your site
While testing your eCommerce store early and often is important, it's especially important not to make any major changes right before or during the holiday rush. If you are looking to plan any new technical initiatives, you want to implement them at least four months before the rush to make sure all new procedures are put in place and are reaching their performance marks.
6. Monitoring your site, and what to look for during the holiday rush
As you start to head into the busy holiday season, you want to arm yourself with the right tools to help you monitor your site, and assess and resolve any issues as quickly as possible to ensure the best online experience for your customers.
When it comes to staying on top of your eCommerce site, you want to do two types of monitoring:
Hardware monitoring

Application monitoring
For hardware monitoring, one of Groove's favorite tools to use is New Relic. New Relic checks your server for errors and gives you insight into customer interactions across all browsers and devices, and can display all that information in real time. It's a great performance tool that our Development Team uses to help clients.
An application monitoring tool we use for our Magento clients is Shoppimon. Shoppimon robots navigate you site simulating as your users to spot problems within your Magento store, notify you of issues in real time and show you how your experience compares to other Magento stores.
Regardless of the monitoring tool you use, you'll want to look into:
Reviewing log files – Pay close attention to these to make sure there are no errors on your site.
Investing in an alert system – If you do invest in 24/7 monitoring, make sure you are setting up alerts for yourself via email or text. If something goes down on your site, you and your Support Team want to be made aware of it as soon as possible.
Setting alerts for your most important pages – eCommerce sites during the holidays should watch their shopping cart page, checkout page, product catalog pages and product detail pages.
Watching your metrics – Major factors you should be monitoring throughout the holiday rush are your page load time, page speed and traffic. If these start to change dramatically, there is an issue on your site you need to address.
Final tips
Before entering the holiday rush, here are a few more tips your business should keep in mind:
The biggest site error is usually human error – People make mistakes, but that is all the more reason why everything on your site needs to be triple-checked. This includes links, web content, product pricing and more. If you've already checked it, have a co-worker take a look.
Optimize your store for mobile – Be aware of what your eCommerce store looks like from a mobile standpoint, and make sure your promotions are optimized for it. If your site is not responsive today, it actually may be too late and too risky to change before this holiday season.
Have a strong Support Team – Customers will have questions about your products or services and will turn to your company for answers. With the amount of traffic and users increased during this time of year, make sure your Customer Support Team is aware of all major promotions and prepared to help with any customer issues. Having a phone number available or an online live chat can help ease frustrations of customers and make their shopping experience easier.
Overall holiday preparation takeaway
Running an eCommerce website during the holiday rush is no simple task. There are several moving parts, and many ways things can go wrong. By using this guide to help you get your eCommerce holiday preparations in order for your website, you're a step closer to having your most successful holiday campaign yet. Remember that the goal before the holidays is to finalize all your testing and website maintenance needs sooner rather than later to help create a great shopping experience for your customers. If you haven't already started, start today!
Want to learn more ways you can improve and prepare your eCommerce store for the holiday rush? Stay tuned for the final blog in our eCommerce holiday prep series to learn about how to optimize your holiday paid advertising strategies!
Need some extra development support for your eCommerce store? Contact us today! We'd love to talk to you about how our experienced Developers can address your site needs.
Get in Touch
Subscribe for industry insights and resources.