eCommerce Strategy
HubSpot BigCommerce Integration: Abandoned Cart
Jan 14, 2020 • 2 Min Read
We love BigCommerce for many reasons – its flexible APIs, low cost of ownership, and overall product investment in making a user-friendly cloud-based eCommerce platform. Additionally, we love the platform's flexibility to seamlessly integrate with abandoned cart apps.
What is Cart Abandonment?
An abandoned cart occurs when a customer adds one item or more to their shopping cart but exits out of a website before purchasing the item(s). 69.57% is the average online shopping cart abandonment rate across all industries.
Reducing cart abandonment is critical in increasing sales and winning back these customers that originally left your site. In this blog, we're focusing on the BigCommerce and HubSpot Integration and breaking down the main features of BigCommerce abandoned cart, how it works and how it can benefit your eCommerce business.
Main Features of BigCommerce Abandoned Cart
Create Emails for Abandoned Cart Workflow
An abandoned cart workflow directs consumers back to their carts. We recommend a progression of 2-3 emails, but abandoned cart strategies can vary by industry and may need to be adjusted based on the size and annual revenue of your eCommerce business.
Set your first email as a reminder email so that consumers are reminded of the item(s) they abandoned on your website. After the first reminder email, be sure to include additional promotional offers in your second and third emails, so consumers are provided incentives to purchase from you.
Also add the element, Abandoned Cart Products, in your emails. This will insert a block of the 3 most expensive products on your website that consumers will see.
How to Create an Abandoned Cart Series
After installing the abandoned cart app for BigCommerce, you should first create an abandoned cart series. To do this, create 3 new smart lists. Follow the guidelines below to set up your new smart lists.
Create your first smart list by implementing the steps below:
Cart: Abandoned Cart = Yes

Contact Property > Abandoned Cart Indicator > Equal to > Yes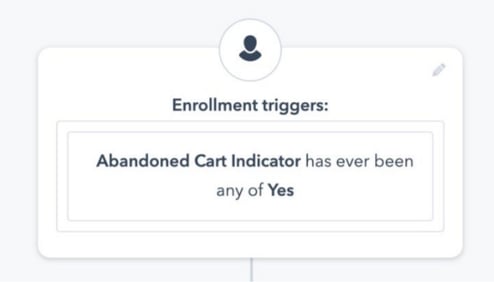 Create your second smart list by implementing the following steps:
Cart: Abandoned Cart = No

Contact Property > Abandoned Cart Indicator > Equal to > No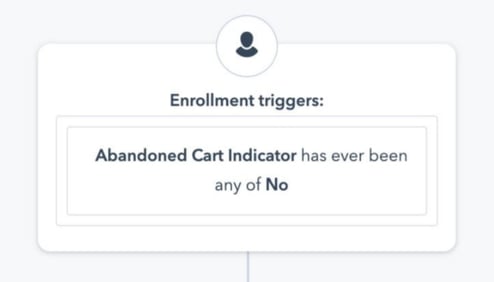 Finally, create your third smart list by following the steps below:
Cart: Lifetime Cart Abandoned

Contact Property > Abandoned Cart Indicator > Has ever > Been equal to > Yes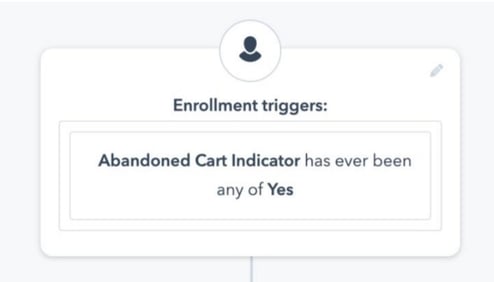 Why BigCommerce Abandoned Cart Is Beneficial
eCommerce brands lose $18 billion in sales revenue each year because of cart abandonment. You can use these 4 BigCommerce features to increase your website performance.
However, creating abandoned cart series and email workflows to win back consumers who abandoned products on your site is also beneficial to your site's conversion rate and revenues. Discovering why your customers abandon their carts and leave your website is one thing, but optimizing emails to win them back is in your control.
Our BigCommerce & HubSpot Integration
The developers here at Groove Commerce created a BigCommerce & HubSpot Integration so you can leverage customer order data from your eCommerce site with HubSpot's suite of inbound marketing and reporting tools.
Gain more insights about your customers - like first and last order date, most recent order total, lifetime revenue, total number of orders, average order value, and product purchased - by using the integration to automatically sync all customer and order data from BigCommerce using HubSpot's smart lists and reporting tools.
This integration provides abandoned cart recovery solutions through a fully customizable email workflow and increases your average customer lifetime value through unlimited, personalized trigger emails. The automated emails can include:
Welcome series
Post-purchase follow-up
Product review requests
And more!
Conclusion
If you're using BigCommerce for your eCommerce website, we hope this has inspired you to create and implement an abandoned cart strategy. In addition, if you're looking for abandoned cart recovery solutions, download our BigCommerce and HubSpot Integration through the BigCommerce App Store.
If you're considering BigCommerce, we've researched pricing plans so that you can choose the right BigCommerce plan for your business. Regardless of the platform you choose to run your eCommerce business, we hope you consider utilizing an abandoned cart strategy.
If you need additional assistance in setting up your BigCommerce abandoned cart strategy, contact us through the form below. We'll be happy to help!
Related Content
You Also May Like
Blog
What Do I Need To Know About Etail West 2024? Are you in the eCommerce industry? If...