Groove Commerce
Learn all about Brian Halligan's experiences and tips for cultivating an award-winning company culture.
Last week, HubSpot co-founder and CEO Brian Halligan, came to share his business insights at Groove. At this exclusive event for more than 100 Baltimore business leaders from various industries, Brian shared not only his experiences about the HubSpot software and the future of his company, but also how its unique company culture took shape.
Brian spilled his secrets to cultivating an award-winning company culture and I'm ready to reveal them to you.
4 Pieces of Advice to Follow From Brian Halligan
Don't follow the herd
"Creating your own culture and language comes with a cost. But, I believe that you shouldn't follow the herd," Brian said. "Disrupt the herd and start your own, recognizing that it will take work and investment."
Maintain open communication with your
"When a company is private, employees can know everything. When a company becomes public, everyone in the company, all of the buyers, and the whole world have to have the same information at the same time. This limits information to employees," explained Brian. "When we went public, it was important to maintain open communication with our employees, so all employees have become insiders. While that is expensive, it allows us to still operate like a private company."
Today, HubSpot has over 800 employees and has accumulated over 15,000 customers across 90 countries. In 2014, Brian helped launch HubSpot's impressive IPO, raising $125 million in fresh capital and leaving the company with a market valuation of $880 million.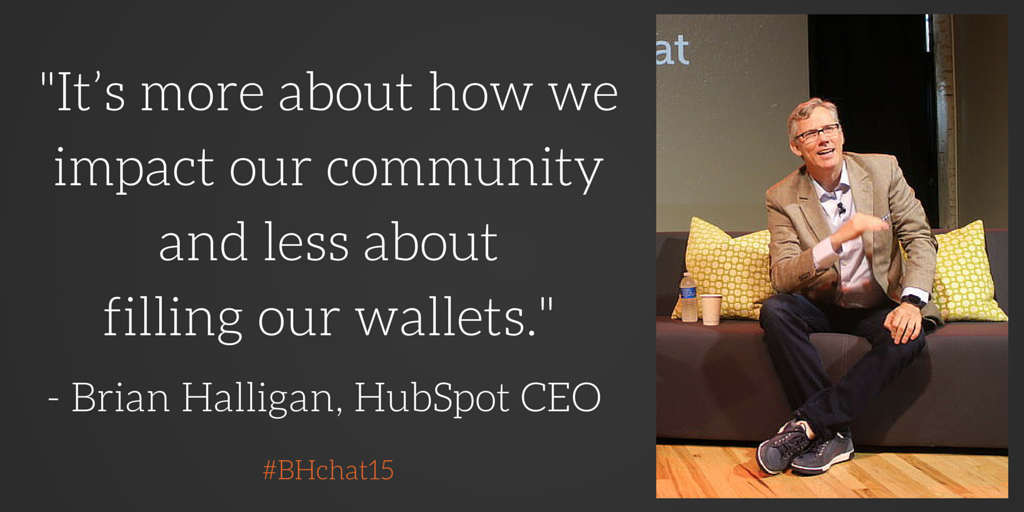 Groove's Executive Vice President and Principal, Mack McGee, moderated the Fireside Chat event with Brian Halligan. One of the more memorable quotes was Brian's answer to the question, "As one of the highest ranked CEOs on Glassdoor, what do you think the role of a CEO is today?"
Point your team in the right direction
Brian said "a CEO has to do three things right: Point the bus in right direction, have great team members to run the bus and make sure you have gas in the tank to propel that bus forward." He also elaborated that a CEO should let the bus run and stay out of the way of where your team takes the bus.
A business is ultimately successful because of it's leaders and employees working together as a team to accelerate the success of the business and how it evolves.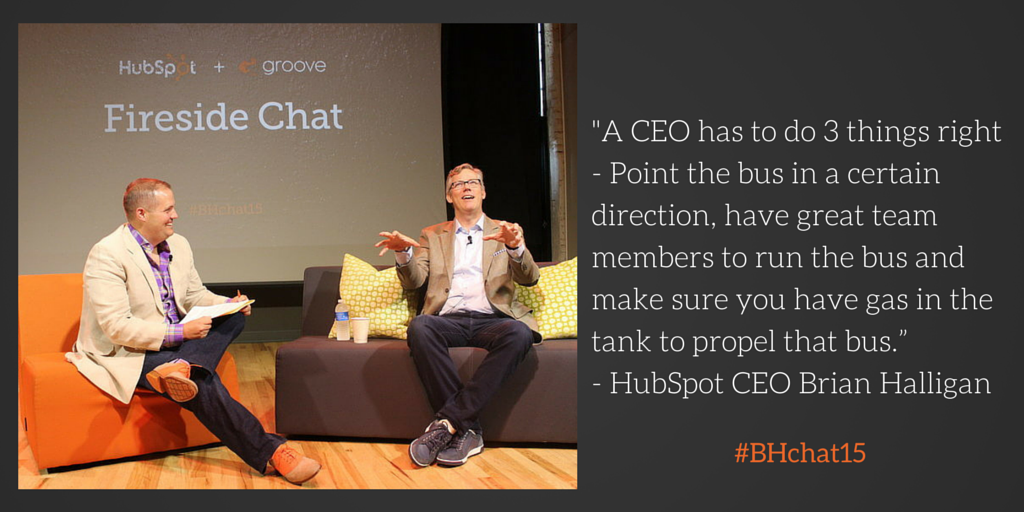 Obsess over your clients, not your competition
When talking about how HubSpot is doing compared to competitors, Brian shared valuable advice that it is fine to "watch your competitors, but never follow them." While "we may watch our competitors, we're more obsessed over our customers."
He pointed out that their needs are constantly changing and that while most "people say do one thing and do it well, we did the complete opposite." Understanding the needs of your customers is where the real opportunity lies.
We ended the Fireside Chat discussing the future "State of Marketing." Brian summarized that most companies resort to the way their marketing as always been done.
"Companies are still throwing money into mediums that are traditional, not tractable, and don't work anymore," he said. "Today, the buyer has the power. The buyer no longer has to go through a sales representative. Therefore, we must continue to disrupt the industry. The nature of how we sell has to change to match the nature of how we buy."
Interested in learning more about HubSpot or Inbound Marketing? Reach out to us today! We'd love to share our knowledge and experiences with you.
Get in Touch
Subscribe for industry insights and resources.