The Complete Guide To eCommerce Advertising with Paid Media
Jul 31, 2020 • 12 Min Read
Though an optimized eCommerce SEO strategy is critical to a successful marketing strategy, sometimes your SEO efforts aren't enough alone to drive significant results. Supplement your SEO efforts with eCommerce advertising to increase site traffic, click-through-rate and (best of all) conversions. In this guide, we're breaking down this following platforms:
Google
Gmail
Facebook
Instagram
Snapchat
eCommerce Advertising With Google
Google Shopping Ads
Google Shopping ads are displayed on the top of search engine results pages (SERPs) when users search for specific products. They appear in a more visual format - with a photo and name of your product, its price, your store's name and other rich product information.
Google Shopping ads serve as a strong visual representation of your product, so shoppers aren't burdened with clicking the ad just to learn more about it. These ads help to convert more high-intent visitors and drive more qualified leads to your site.
Create Google Shopping ads by submitting your product's data attributes into your Merchant Center data feed. These ads will be shown to people who are searching for the types of products you're advertising. Shopping ads provide for easy retail-centric campaign management, which means that you're able to skim through your inventory directly within Google Ads and create product groups (rather than keyword groups) to bid on.
In addition, these ads help to extend your store's presence on SERPs and increase your reach with shoppers. It's possible for numerous ads of yours to display on a user's SERP, along with a text ad appearing simultaneously.
Google Text Ads
Google Text ads are some of the most common ads we see when conducting a Google search. Marketers use text ads to promote their brands, messages or products.
Google displays these ads in the same format as they do with organic search rankings. The only difference is that it's characterized as an "Ad" to let users know that the links are paid promotions.
Text ads only require copy and links to web pages or landing pages, making them easy to set up. Stable transitioning between desktop and mobile ensures your audience sees your ads regardless of the device they're on.
In addition to appearing on SERPs, text ads can also appear on the Google Display Network (GDN), which is designed to help you reach the right audience. Text ads are beneficial here because not all publishers in the GDN support ads with images and visuals. Although text ads are simple, they're effective and guarantee maximum ad reach.
Google Display Ads
Display ads typically include images and are shown on web pages in the GDN rather than on SERPs. The visual appeal of display ads helps to facilitate brand awareness. The branding and styling of these ads help users understand what your brand has to offer with no click necessary.
Website owners benefit because they are paid per click or impression on the ad, and advertisers benefit because their content is visible to a high volume of their target audience, even if they're not searching.
According to HubSpot, display ads generate 180 million impressions each month. Turn these impressions into engagements by including these main components in your display ads:
Company logo
Image or visual representation of your offering
Unique value proposition
Call-to-action
The design of these four simple things is critical in attracting your audience. Though your unique value proposition (UVP) and call-to-action (CTA) are bound to change over time, these two things must stand out the most. The goal of display ads is to get users to stop scrolling, engage them in the ad with an appealing UVP and urge them to click your CTA.
Remember to keep your copy color, buttons and logos congruent with your brand's identity so users quickly identify that the ad is for your company.
General Display Ads
Dynamic Search Ads
According to Google, 16% of the searches that occur each day are ones that Google has never seen before. That's where dynamic search ads come into play. They keep your campaigns up to date with your products and what users are currently searching for. And, they don't require a significant amount of work or time to set up, so you can create your campaign in one sitting.
Dynamic Search ads appear on SERPs and are ideal for driving traffic through queries that don't involve keywords. They're similar to the Google Text ads we previously discussed; however, they use your website or company's product feed rather than keywords. The product feed consists of spreadsheets that combine the benefits of the feed with the ads.
From there, Google matches users' inquiries to your product feed to show a dynamic ad unique to the user. We recommend using these ads to target highly interested users to increase your eCommerce conversion rate.
Determine the URLs you'd like Google to use for your dynamic ads so that consumers are directed to only the preferable pages of your site. If you're running ad promotions prior to Independence Day, for example, utilize page feeds to tell Google that you only want your dynamic search ads to include landing pages dedicated specifically to 4th of July promotions. Plus, this also works well with new product launches. Highlight your newest products through dynamic search ads in addition to within your eCommerce site.
Businesses with an innumerable amount of landing pages and countless changing products benefit highly from dynamic search ads. For one thing, it's no longer necessary to create long keyword lists or map keywords, bids and ad text to each individual product from your store. Save time and advertise to new audiences, faster.
Google creates ads with a headline that includes words from a user's relevant search phrase, which improves your ad visibility. Advertising your eCommerce store through campaigns using words and phrases pertinent to a user's search (rather than targeting specific keywords) will drive more traffic to your store.
Retargeting Ads
Have you viewed a product online without purchasing it and seen ads for that same product across multiple websites? This eCommerce advertising strategy is called retargeting, and marketers use it to help nurture website visitors and guide them back to your site.
According to Connectio, retargeting ads are 76% more likely to get clicks than regular display ads. Creating these highly specific retargeting ads helps put your content in front of the right audience at the right time. Your ads reach interested prospects and keep your brand and products in their view even after they leave your site.
You already know the people within this audience are interested in the items your company sells, so retargeting ads are a great way to move shoppers from the consideration stage to the decision making stage. Essentially, these ads help push leads through the conversion funnel quicker.
Here's a simplified breakdown of how ad retargeting works: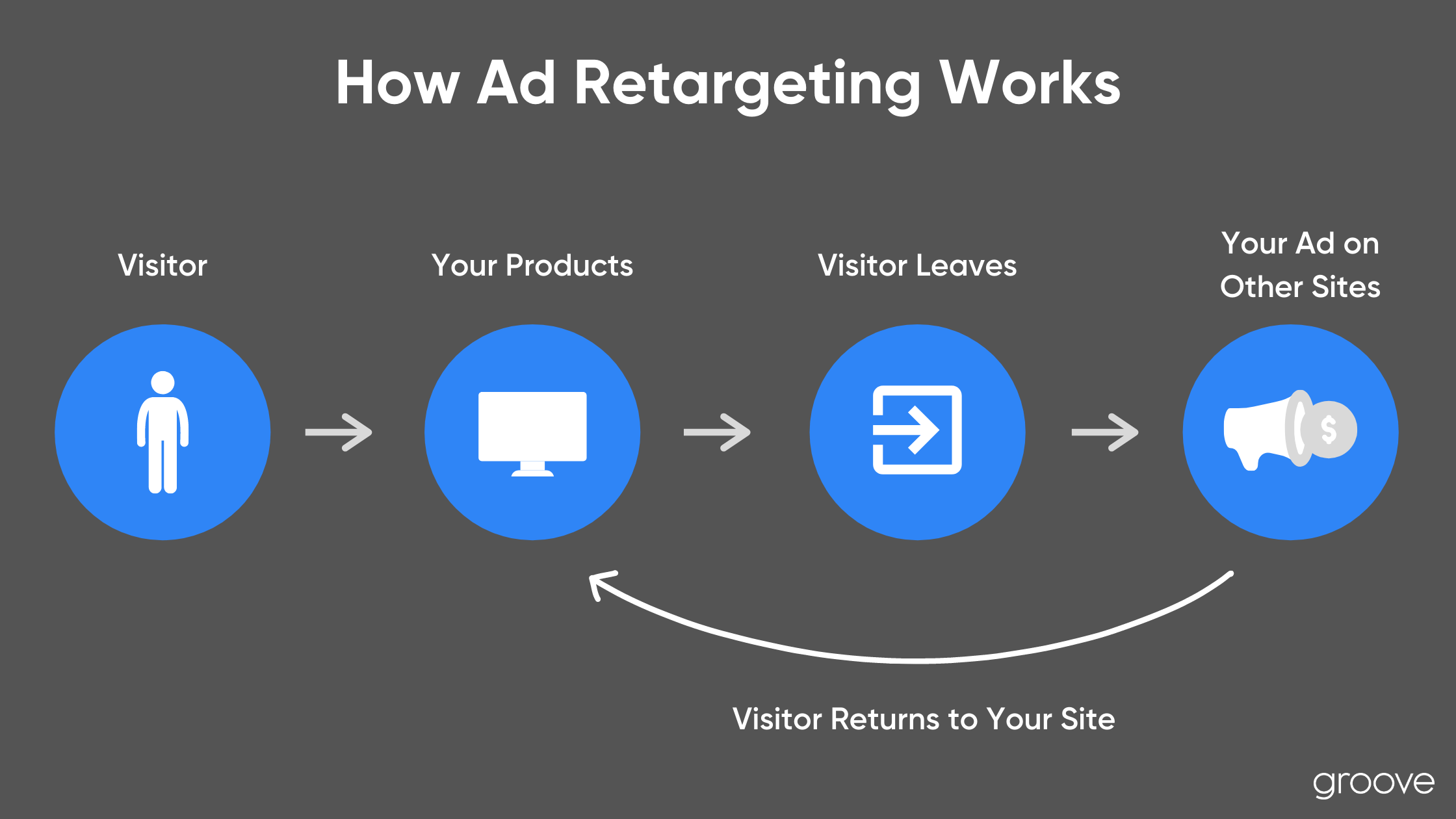 Retargeting is used through display networks and social media platforms like Facebook, Twitter and LinkedIn, and works by tracking browser cookies. To get started, just tag your site for remarketing. This adds website visitors to your retargeted audiences using their browser cookies. From there, customize the code tagged on your site to target your audiences with products and landing pages unique to their interests. Remember, their unique interests are based on their browsing behavior.
Let's pretend you run an eCommerce business that sells makeup. You can create an "eyeshadow" remarketing audience based on the visitors that viewed eyeshadow throughout your site. Or you can create a "lipstick" remarketing audience based on the visitors that viewed the pages for lipstick. Take it one step further by including the specific product(s) that users have viewed in the advertising creative. Dynamically portray these products to highly target users with unique content that they've already expressed interest in.
Eventually, you can even create extremely-targeted campaigns for different audiences. Create a campaign for visitors who are highly engaged with your pages and clicked "x" number of times. Or create a new campaign for visitors who are already customers to reward them with a discount code on their next purchase. The different types of retargeting opportunities are endless.
eCommerce Advertising With Gmail
Gmail ads are interactive and show in the "Promotions" and "Social" tabs of your inbox. Reach consumers in a more personalized way, and include images, video or embedded forms to encourage engagement.
Here's a screenshot showing how Gmail ads look unopened in your inbox:

eCommerce ads show in their abbreviated forms, just like how you see a preview for an email before opening it. When users click the ad, they will be faced with one of two options. Either the ad will expand so it can be viewed like an email, or the user will be directed to a landing page for the advertisement. If the ad expands, users are able to save it and even forward it to someone else like they would with an email.
Consumers can interact with these eCommerce ads in a variety of ways. They can watch your video, fill out your form, navigate to your site and more. Remember to use a clear call-to-action so that users know exactly what you want them to do. Although clear CTAs should be used throughout all ads, Gmail ads are more personal and will come across as spammy if they don't properly guide the user.
Take advantage of Google's ability to run remarketing ads for specific businesses within Gmail campaigns. In addition to retargeting, there are a variety of different targeting tactics for you to reach specific audiences:
Affinity Audiences
Custom Intent Audiences
Automated Targeting
Customers Match
Demographics
In-Market Audiences
Life Events
Gmail ads are mobile-first, so we recommend using them to target users who you know are active on mobile devices. Plus, they offer high viewability regardless of the device. When opened or expanded, users can click anywhere within the ad to learn more about your brand or products.
Finally, choose between several creative options offered by Google. Your choice will depend on your ad objectives, and we love that there are an array of options.
eCommerce Advertising With Facebook
Did you know that Facebook is the primary content distribution channel for marketers today? Facebook owns Instagram, and they're both great platforms for advertising and marketing. Plus, they both offer a wide variety of ad formats to choose from.
Story Ads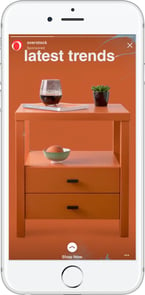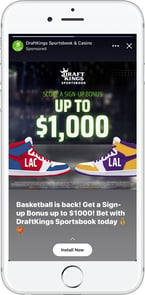 Story ads are highly effective, as they are congruent with how people use their phones. Facebook reports that people hold their phones vertically 90% of the time. Story ads are designed to fit a full-screen and lets users innately enjoy photo or video advertisements with ease.
We encourage eCommerce businesses to leverage Facebook Story Ads to tell their story rather than trying to sell their products or services. According to this Facebook study, campaigns that tell a brand story prior to asking consumers to purchase something are much more effective than campaigns that immediately encourage shoppers to buy something.
Photo Ads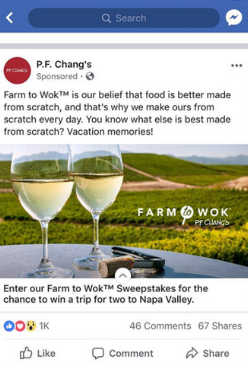 One of the simplest types of rich media advertising on Facebook is advertisements with images. Be sure your images are 1080p x 1080p so that they don't get cropped. Also, consider Facebook's colors - blue and white - and use contrasting colors to help your ad stand out from the newsfeed.
We highly recommend using crisp, high-quality images for your ads. If you're including product photography in Facebook Photo Ads, be sure to follow these 5 product photography tips to increase conversions. Try to include images of happy people with your product in use to establish an emotional connection between shoppers and your brand.
Video Ads
According to HubSpot, the four most common types of videos are explainers, product demos, how-tos and testimonials. Obviously, they are more engaging than static posts. Engage your audience and prompt them to take action quickly by using video ads. Although Facebook allows you to post a video with a maximum length of 241 minutes, we recommend keeping your video ads as short in length as possible. When it's time to analyze whether your ad accomplished your objectives, consider these metrics.
Carousel Ads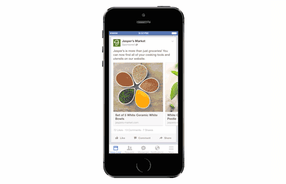 Facebook reports that since the introduction of Carousel ads, advertisers have seen a 30-50% lower cost per conversion and a 20-30% lower cost per click than single-image link ads. If you're on a tight budget, carousel ads may be the right format for your business. Also, we want to note that products aren't the only thing you can promote in Carousel ads. Advertise webinars, eBooks, blog posts and other resources within this ad format.
Collection Ads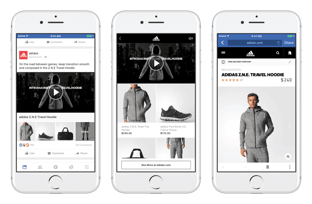 Use Facebook Collection ads to display a set of four or more products. Let your audience view them all in one place and guide them on the path to purchase with clear CTAs that direct to product pages. Use the larger space at the top to promote one main image or video, and use the smaller space at the bottom to promote related products.
Collection ads are great for getting your products in front of your audience without overwhelming them. A Facebook Sephora study shows that the retail giant leveraged Collection ads and saw a 32% higher return on spend than digital campaigns
Instant Experience Ads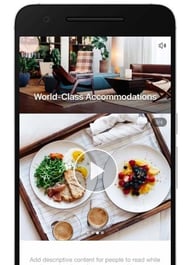 Lastly, Facebook offers instant experience ads which enable consumers to interact with your brand on a full-screen with just one click. It helps marketers grab the attention of consumers and share high-quality content. This instant experience works in conjunction with the other ad formats above.
These ad formats are optimized for mobile and designed to capture your audience's attention. Within a single ad, eCommerce brands can showcase appealing videos and photos or let their audience swipe through carousels, tilt to pan or explore images with tagged products. See how digital health clinic, Roman, doubled sales and click-through rate and increased conversion rate by 45% by switching ad formats to Facebook Instant Experience.
Targeting Your Facebook Audience
Hyper-target your audience with Facebook Custom Audiences. Upload the email addresses of existing customers, leads and contacts that you want to target, and Facebook will do the rest. Within a few clicks, you can automatically sync your contact lists to Facebook custom audiences. Just navigate to the "flows" page and select the destination you want to automatically sync with.
It cross-references your data with Facebook's data to find your customers. From there, either choose to target your ads to your uploaded list or create a look-alike audience of Facebook users that have similar interests.
To further target consumers with your Facebook ads, take advantage of Facebook's demographics and location settings. Though uncomplicated, these strategies are vital components of a successful inbound marketing campaign. Use these specifications to target consumers based on demographics, languages, geographic locations, interests, behaviors and connections. Test what works best for your ads by changing the amalgamation of criteria.
Don't forget to use Facebook Ads Manager to test and analyze your ads for performance and conversion. If you need to change something to increase your ad's performance, the ad manager helps you determine what needs to be done. Don't overlook the analytics or metrics because there will always be something you can improve.
eCommerce Advertising With Instagram
Instagram is the social channel with the second-highest ROI among marketers. Just like Facebook, Instagram offers:
Story ads
Photo ads
Video ads
Carousel ads
Collection ads
And More!
In addition, Instagram offers three other ad formats unique to its platform. Here's how you can use them to advertise your eCommerce store or products:
Explore Ads
Instagram users scroll through the "Explore" page to browse content beyond the accounts that they're following. Advertise in the "Explore" section so your brand appears relevant and trendy and lands in front of the audience who is already looking for something new. Plus, explore ads help eCommerce businesses reach new audiences, drive more traffic and increase brand awareness.
IGTV Ads
According to Instagram, mobile video will account for 78% of total mobile data traffic by 2021. Just like Story ads, IGTV ads are mobile-first, meaning they're designed for how most people use their phones: vertically and full-screen.
Here is where we recommend using longer, more personal and in-depth videos to dive deeper into other aspects of your brand. According to the IGTV video upload requirements, videos must be at least 60 seconds long with a maximum length of 15 minutes when uploaded from a mobile device or 60 minutes when uploaded from the web.
Whether your eCommerce store is promoting webinars, long-form pieces of content, podcasts or any other type of marketing material, IGTV ads are perfect to get your message across to your audience. Sometimes, it's easier and more effective to communicate your message to your audience through video than it is through photos.
Instagram Shopping Ads
With Instagram Shopping ads, businesses are able to tag products directly on the image to make it easier for people to instantly make a purchase. With a bold CTA like "Shop Now," these types of ads guide people directly on the path to purchase and offer a seamless transactional experience.
Provide a seamless shopping experience with Instagram Shopping Ads by making it easy for users to shop through your Instagram account. When people see a product they like in the ad, they're able to navigate to the product page with one click of a button to learn more and purchase it. Follow these steps to run an Instagram Shopping ad.
eCommerce Advertising With Snapchat
Snapchat users are a significant force in the social eCommerce space. They are 20% more likely to make purchases on their mobile devices than non-Snapchat users. Just like Facebook and Instagram, Snapchat also offers image, video, story and collection ads. On top of that, other eCommerce advertising formats include:
Interactive ads with augmented reality
Commercials
Filters
These Snapchat ads are a fun and simple way to engage new users and attract new followers. Share insider images and videos of your business operations, stay up-to-date with the latest trends and show that your brand is human through interactive and engaging Snapchat ads.
Interactive Ads with Augmented Reality
Much like Facebook's Instant Experience ads, Snapchat's Interactive ads use augmented reality (AR) to create engaging experiences in which users can interact and play with the ad, then send it to their Snapchat friends. Be sure to follow the branding guidelines for creating AR ads.
Let's pretend, for example, that your eCommerce store sells shoes. Use Snapchat's augmented reality to let users virtually try on your shoes through a filtered lens. How about if you sell makeup? Snapchat is the dominant social platform for selfies, so don't miss out on the opportunity to let users virtually try on your makeup to see how they'd look.
Commercials
Appear in Snapchat's curated content with Commercial ads. Snapchat offers two different types of commercial ads: Standard and Extended Play. Standard Commercial ads are 3-6 non-skippable seconds, while Extended Play ads are 3-180 seconds, with the first 6 seconds being non-skippable. Read all about the other Commercial ad requirements here.
Filters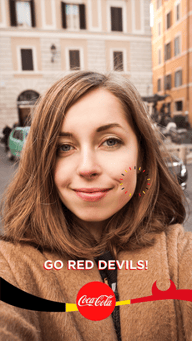 Snapchat's Filter ads allow users to swipe left or right to display your overlay ad on top of their image. Just set your location of choice, and your ads will display when users are in your location and swipe left or right. Be sure to follow the creative specifications, restrictions and recommendations when creating your Filter ads.
With over 203 million users, an abundance of people are using Snapchat filters each day. We recommend utilizing Snapchat's Filters ads if your goal is to increase brand awareness and engagement. With one send of a selfie, users and their friends are able to discover your brand.
Influencer Ads & More
Social media influencers are a great resource to leverage eCommerce advertising – they have huge followings and post consistent and engaging content often. Partner with a well-known influencer that aligns with your industry values and encourage them to promote your brand's products, services or story.
Reach a wider audience with this word-of-mouth marketing approach. Since many people support the influencers that they follow, these audiences are likely to take their product (or service) recommendations into consideration if the message is communicated sincerely and honestly.
Conclusion
We hope these eCommerce Advertising insights help you increase reach, brand awareness and (most importantly) conversions as you embark on your advertising journey. Remember to portray your brand's personality throughout your eCommerce ads to attract different buyer personas and increase online sales.
Here at Groove Commerce, we augment organic traffic with a comprehensive PPC approach. From Google Shopping ads to social media advertising, our team of certified experts is here to help you increase ROI. If you'd like more details about how our team can help your business enhance its eCommerce advertising strategy and drive more traffic and revenue, contact us with any questions or concerns. One of our team members will be in touch!

E-BOOK
eCommerce Advertising:
The Complete Guide To Paid Media