Groove Commerce
A major goal of Adrenaline Lacrosse's eCommerce website redesign was to make their site more dynamic and engaging for customers.
Re-designing and building a new website as your business is evolving is no easy task. Adrenaline Lacrosse, a California-based lacrosse company, recently took a risk in updating their brand and rebuilding their website in an effort to extend to the consumer a clearer picture of who they are and what they do. It has paid off with an increase in sales for both their events and their manufactured products and has set them up for long-term success. In this blog, Ryan MacMurray, Groove's first dual-certified developer, sits down with Adrenaline Lacrosse to discuss the evolution of Adrenaline and how their website evolved with the company.
Early in my career, as I learned the ins and outs of graphic and web design, I was fortunate to work with a small (but growing) company that was started by a college friend - Adrenaline Lacrosse. I loved the culture of the group, although I was working from a distance and didn't get to experience the day-to-day atmosphere. There was the occasional stressful times, trying to figure out how to take positive steps to improve the product, but we mostly kept things light and had a lot of fun.
Time passed and we went our separate ways, I found a new home at Groove Commerce, but I still kept an eye on how Adrenaline was doing. The last few years have been significant for the founders' vision; being at the front of a lacrosse boom in the western U.S. I was interested to see what their experiences had been, in particular while updating their brand identity and building a new website.
Background: Adrenaline Lacrosse is a Southern California based company that began as a series of part-time summer lacrosse camps and clinics and has grown into an edgy and well-regarded action sports brand. Adrenaline is creating excitement and opportunities in the western U.S. for a sport that has generally been played on the east coast. Adrenaline's evolution has been aggressive, ambitious and fueled by a vision and commitment to become the brand of choice for a growing community of youth lacrosse players and eventually even mainstream audiences.
The Business: Adrenaline's core focus has involved producing lacrosse teaching and recruiting events and launching a unique apparel brand, which soon became another highly visible showcase of the companies' creative personality. Recently the company opened a flagship store in Downtown San Diego.
Online: Adrenaline recognized the importance of having a strong online presence. Multiple systems and approaches were used on past attempts to try and build a site focused around collecting information and payments for events the company was offering. This system also had an organized and streamlined set of administrative tools that could be used internally to manage the events. An added challenge was incorporating their growing apparel line into the website.
As with many small growing businesses, difficult decisions of how to spend money to grow the business, meant the online product did not always live up to the high standard that they wanted to set, and was regularly being re-designed in order to meet the growing demands of customers.
While the functionality and competency of the site had to be top notch - the design, branding and identity of the site also had to be impressive. The company had established itself (especially in the West) as a cool, young company with a good reputation, a great logo and a unique apparel line. Now, Adrenaline's image needed to carry over to the online world. Needless to say, there were a lot of demands and really anything less then the site visually meeting Adrenaline's needs and functionally being as automated and streamlined as possible, was not going to be acceptable.
Relaunch/Success: Adrenaline partnered up with Salt Lake design agency 'Super Top Secret', to update their brand identity while designing and building the latest version of their site. Launched in late 2012, to coincide with the opening of the new flagship store, it is one of the most beautiful action sports sites I have seen. The first thing a customer notices is the incredible design and photography. The full screen width slider showcases Adrenaline's top events and programs using eye-catching photography and design. The remaining elements fit in a modular layout, which draw you in through the unbalanced look. Multiple sliding elements keep the content clean as you travel further down the page, but the use of stimulating color and photographs keep the viewer interested. Second level content pages remain static with full-page banner elements while adding motion graphics to increase impact and create excitement. Also added to the new site was an apparel catalog with a separate e-commerce interface to keep the customer funnel separate from the custom registration and event payment platform.
*******************************************************************
Parker Anger is the VP of Branding and Design and has been a key player in creating and protecting the Adrenaline brand through its design and marketing, both online and offline.
Ryan: Previously, Adrenaline's site was structured around listing lacrosse programs as well as the stories and history associated with each of the lacrosse programs offered by Adrenaline and any player success stories. The site has changed from being an events-focused site to more of a brand driven website that was meant to showcase the Adrenaline spirit while also containing a reliable system for processing and distributing information for the camps.
Adrenaline: Yeah you are kind of touching on the two components of the website, branding and operational. So from the branding perspective it got very difficult to tell a story. Our first goal was the front-end presentation-branding component. In the past, prior to our brand consolidation, all the entities were separate, running autonomously. There was a bit of brand incest going on because we were so familiar with each other and were able to leverage marketing. So a year ago the businesses consolidated and formed one business. We thought that it was important from the front-end to tell that story on one website.
Operationally, from the back-end, leveraging all of this content from the SEO standpoint was really the easiest decision to make. Consolidating all of our content and really focusing on what our users want to read - that was the easy part.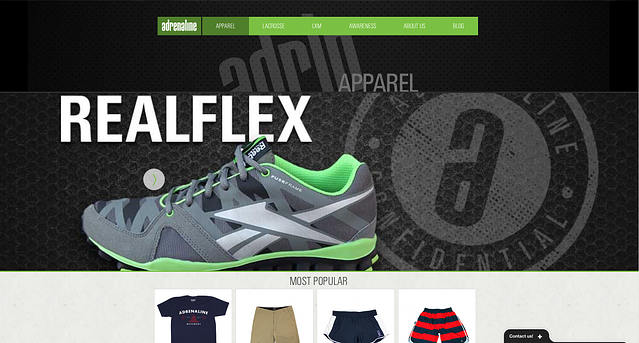 R: What were some of the challenges you faced? Was it difficult to merge all the different identities into Adrenaline? How did you approach that?
A: The biggest challenge was trying to work an outside ad agency. Alex and I spent countless days in Utah, building the matrix on a whiteboard explaining how everything was tied together, which we knew so well. The agency didn't know anything about lacrosse, our brand, or how everything was tied together. So really building the matrix visualizing how everything was tied together and how that would be built on a website was probably our biggest challenge along with getting the wireframe built. We knew what the headers should be but as we placed products into categories things just didn't fit. So coming up with the wireframe was definitely a big challenge.
The next challenge was rebranding. We went through a bunch of logo options and tried to figure out what to do with our cool logo, which is "The Guy" (Adrenaline lacrosse main logo image is often called "The Adrenaline Guy"). You know, "The Guy" is very iconic with the sport of lacrosse and I think we wanted something that had a much larger impact. While trying to figure out what to do, we developed the shield as an alternative logo, which we're using now as our corporate brand.
R: Did you have any debates over whether to go with a wordmark, "The Guy" logo or the shield logo in the header area of the new site?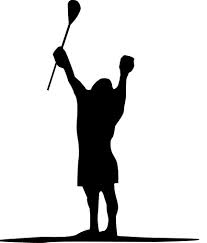 A: The outside agency developed a lot of logos that we will use and we've actually taken these logos internally to our design department and have refined them more. This is actually a real-time discussion going on right now and we're building it internally.
R: When you were building this site, did you have any ideas that you thought had the potential that you ended up having to cancel for one reason or another?
A: The new site will take three stages to complete fully. We have really just launched stage one and the effort it took to get it off the ground and having it functioning properly, took a ton of resources; I mean quite literally - just to build the site. We are just now embarking on stage 2.
I think our goal is to have the site be more engaging for our users. One of the things now, which is sort of cool aesthetically, but the experience isn't quite there yet, is that a lot of things don't move and aren't clickable right now especially when you go to an event page, it's just a static page. But if you go to our recruiting page, we've been able to get a tad creative by building a GIF into the page, however the level of engagement for an awesome user experience, is just not there yet. So that is a major goal of ours - to make the site more dynamic and engaging.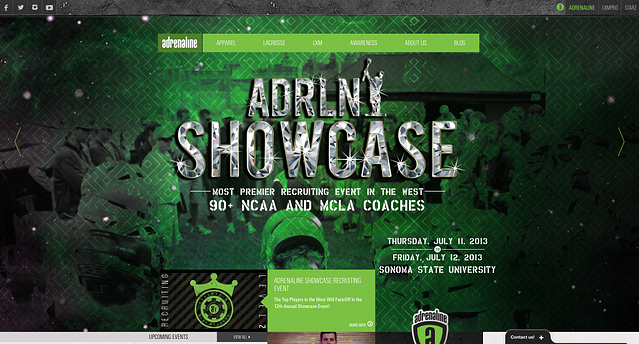 The goal of phase 3 will really be to tie the first two phases together and create an experience with our site that is seamless. We want people to be able to purchase our socks, register for a camp and purchase event tickets all in one instance. That will be a challenge but it will make us incredibly happy when we are able to see it in action.
R: What was the best part of working with an agency like STS? It seems like whenever I saw pictures of all of you guys out there, it just seemed like you guys were having a great time. I was kind of jealous.
A: Yeah I think the best part of it was the perspective and the ability to leverage a company that wasn't just an expert in developing a website or an expert in writing copy or producing an ad. They really were an all-in-one/ one-stop shop brand consultant. I know a lot of these agencies do that now, where it's not your classic "Mad Men" agency like "here's your ad campaign". It's like they all have a web developer, a logo guy, and a copywriter. And it was really fascinating to go in there and sort of go from department to department and see how these concepts were married. So to have continuity with the way the logo should look and to talk to the copyrighter and have that be supported. That was really cool. Often times you would have to develop the website with one person at one company and design it with another and then come up with the copy with another. To have it be all in one was really cool. And certainly something we aspire to have here within our own departments. I tend to think we learned a lot from them, especially our marketing department.
I think the last best part about working with an agency is they put a lot of their concepts into context. So they would do something and wouldn't just send it to you and be like "here you go". It always came with an explanation. And just like everything else you are interested in it, should come with a cool story. Like you buy a t-shirt because it's got a cool story. You buy an album because it's got a cool story. They did that very well. So it's not just like "here are the tag-lines". All these things I think our entire building here that works with them just learned a lot about that continuity.
R: So do you have any examples of how your sales or your company brand has improved due to the new site design?
A: Our apparel sales are up, because it's not as complicated. We draw a lot of interest through apparel and shoppers can now finally can come to our site and see it's a brand new Adrenaline. You can actually find Adrenaline apparel. Whereas before, you'd promote Adrenaline apparel and people would say "What's your website?" and we'd say "Oh we don't actually sell on our website". It sort of becomes a joke, "You are an apparel company and you don't actually sell on your website"?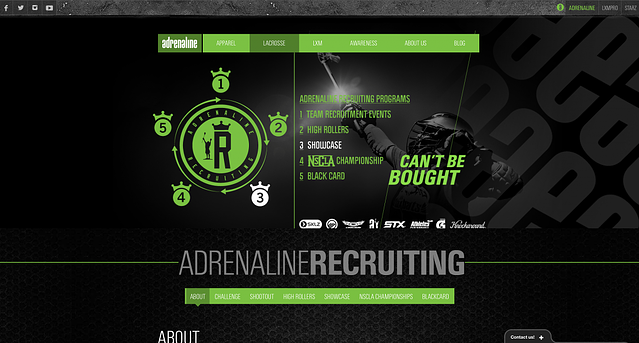 That's the kind of story from a marketing consumer, which has helped us sell apparel and even helping our wholesale customers sell more apparel as well. It's a marketing piece that's generating buzz and it's really consolidating our message and supporting the brand as a whole. People wanted to see what the brand was all about. They were interested in that. That was the biggest driver for us in motivating us to do that and it's been hugely successful.
We took a leap of faith and just said we've got to build a new site and start from scratch. We tried to figure it out and we just had to start from scratch and start with our SEO strategies really from the beginning. So we'd do some of that, we'd strategize a little bit there but I think more than that we're just creating so much content that it wasn't too hard to gain ground and consolidating the content.
R: So what you gained from improving the content outweighed the negative SEO hit?
A: Right. At the end of the day you just want traffic right? There's multiple ways to get traffic to your site. SEO is certainly one way of being able to do that but but valuable content that people want to read is much more important to us and our website.
Need help rebuilding your own brand? Contact Groove Commerce today!
Get in Touch
Subscribe for industry insights and resources.