HubSpot
Get Your Business's Piece of the $480 Billion eCommerce Pie
Aug 06, 2015 • 3 Min Read
Whether you're a Fortune 500 company or a local retailer, it is likely you're always searching for new ways to grow your business. For many of those brick-and-mortar businesses, creating an eCommerce experience is a great next step in creating sustainable and exponential growth.A recently published Forrester Report indicated that growth in eCommerce would go from $334 billion in 2015 to over $480 billion in 2019. The report points out that a major reason for the growth was the continued adoption of smartphones, which led to increased online time, the general availability of increased bandwidth and sites adopting a mobile-first mentality. Consumers are also increasingly more accustomed to shopping online, with 69% of the US population regularly buying products this way.
A deeper look at the makeup of the etailer community by Referral Candy indicated that there were more than 102,700 US-based etailers in 2013 (had to be doing more than $12k annually to be considered legitimate), with a 13.5% jump over 2012. From that 102,700, only about 23,500 (22.9%) had revenues greater than $100k annually.
While research shows opportunities for growth to those businesses willing to invest in an eCommerce experience, many organizations are unsure of where to start. At Groove, we are continually asked by eCommerce Directors, VPs and CEOs which areas they should focus on when considering or growing their etailer operations.
While the answer is often specific to what will have the biggest impact overall for their specific business, here are two typical areas of focus during first 90 days of any engagement with a new client:
1. Optimize your mobile experience, but don't forget about your tablet and desktop conversions
With 50.3% of all eCommerce traffic and 10% of all eCommerce revenue happening on a mobile device, an optimized experience is a "must have," not a "sort of have," strategy. Mobile conversion rates have jumped to the 1.0% mark, while tablet (2.1%) and desktop (3.0%) are still typically higher overall. It is also important for organizations that have brick-and-mortar locations to remember that more than a trillion dollars of offline sales are influenced by web research, and connecting the experience is paramount in today's omnichannel shopping world.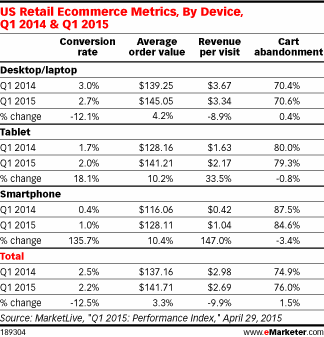 A recent study of retailers indicates that 86% of shoppers are using their mobile phone in store — getting reviews, looking at options, price comparison shopping or finding more information.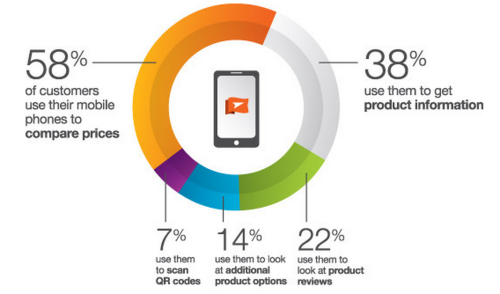 Even when consumers reported browsing in a store and online, one out of three chose to go back online to make their final purchases, according to Inc. 500.
Keep these stats in mind when it comes to developing a multichannel and cross-platform eCommerce experience. You don't want to limit the number of ways your customers can engage with your business.
2. Don't limit yourself to just best practices — always be testing
If you think that by just deploying best practices methods on your site that you're getting the best conversion rates for your business, you're losing out on immediate growth opportunities.
Traditionally, organizations spend hundreds of thousands of dollars annually in marketing via media, paid search, organic content, etc. to drive new traffic, and they often forget about the traffic that they already have. Sometimes the best place to start is optimizing the methods you already have in place.
Best practices is a great starting point, but our experiences have shown that even the slightest lift in conversion, along with only minimal growth in your traffic, can result in double digit growth. See the calculations below:
$100k in revenue at 1.75% average conversion rate with 20% growth YoY = $120k the next year.
The same growth (20% YoY) with a 0.5% increase in conversion = $155k the next year.
Overall, that business received a $35k revenue increase without additional media spending.
Testing may seem like a daunting task initially, but there are a number of stand-alone sites that we like, such as Optimizely and VWO, that can help you with your testing efforts. You can also use built-in tools that come embedded into eCommerce platforms like HubSpot or Bigcommerce as part of a larger marketing strategy.
Get started by finding up to five pages that have higher than average bounce or exit rates and figure out which of these are directly in the line of conversion. Then come up with 2 – 3 things you would change on each of the top three pages. You just started your conversion rate optimization (CRO) strategy!
Final thoughts
The most successful businesses are the ones that are able to adapt to customer behaviors and industry changes. Establishing your business's eCommerce presence helps diversify your exposure in your niche market, and can also help you leverage sales and customer relationships both online and offline. There's no need to immediately rush into developing your eCommerce store right away; there are several eCommerce technologies to consider when building your store.
Are you looking to learn from an eCommerce expert about which areas to focus on for growth? Contact us today to get advice from our eCommerce Team.
Related Content
You Also May Like
Blog
What Do I Need To Know About Etail West 2024? Are you in the eCommerce industry? If...