Email and SMS Marketing
Creating a Custom HubSpot BigCommerce Application
May 27, 2020 • 4 Min Read
Executive Summary
In late 2018, Cutter & Buck approached us with two separate challenges. First, they wanted to increase friends and family engagement. Second, they needed a scalable solution to distribute discount codes at industry events. Although these were separate problems, our team realized we could resolve both by creating a formal Cutter & Buck Friends & Family program.
Our team built a custom Heruko application that shares data between HubSpot and BigCommerce using their respective APIs. This application allows Cutter & Buck employees to deliver personalized coupon codes to prospects using a custom form. The application automatically adjusts BigCommerce customer groups and triggers coordinating HubSpot workflows based on customer needs.
Overall, the program helped Cutter & Buck create a new revenue channel, increase customer engagement and build a repeatable system for one-to-one promotions by enhancing native HubSpot & BigCommerce functionality.
Project Overview
Challenge 1
As a global online retailer and wholesaler, Cutter & Buck wanted to make friends and family feel like a part of the team. Although these customers make up a smaller portion of Cutter & Buck's revenue base, they provide value as brand evangelists. As a result, the brand wanted to nurture this group with a consistent and reliable incentive system.
Although Cutter & Buck used one-to-one promotional strategies in the past, these attempts lacked structure and scale. Furthermore, they did not fully utilize the benefits BigCommerce and HubSpot have to offer.
Challenge 2
Cutter & Buck's sales team regularly participates at trade shows where competitors distribute free products or coupon codes. Unfortunately, the brand's sales team didn't have tools that could compete. By not addressing this problem, Cutter & Buck was missing out on potential new customers at in-person events. Additionally, they were neglecting wholesalers who could be persuaded or nurtured with sample products or discounts.
Without a defined solution, individual sales reps provided incentives in different ways, which made attribution and scalability difficult. Without proper tracking for product samples or smaller discounts, Cutter & Buck was unable to track if tactics helped or hurt their corporate bottom line.
The Solution
To tackle these challenges, our team evaluated and identified opportunities using Cutter & Buck's existing technology stack. This ultimately lead to a custom application that uses both the HubSpot and BigCommerce APIs.
What We Created
The solution we devised is now know as the Cutter & Buck Friends and Family Program. This custom program is an end-to-end solution that uses a custom application. Specifically, the application uses both the HubSpot and BigCommerce APIs to share data and create an automated registration and delivery system.
The application allows Cutter & Buck to automatically send coupon codes, update BigCommerce contact groups, trigger HubSpot workflow and more. This intuitive application allows for easy adaptation and scalability on the client end.
How It Works
To start, we created a custom Heroku application that includes a form. This interface includes Cutter & Buck branding and uses minimal UI to create a simple experience that any Cutter & Buck employee can use.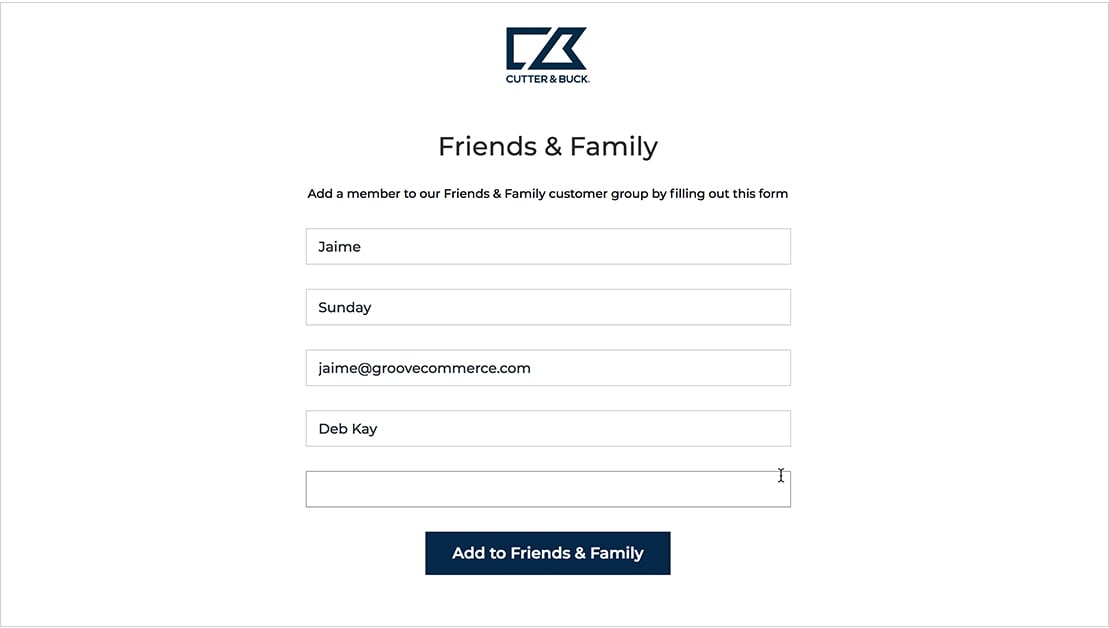 Once completed, the back end of this form takes a two-pronged approach. First, it it communicates with the BigCommerce API to see if the person who submitted already exists in the customer database.
If they are an existing customer, the contact is moved the correct "Friends and Family" BigCommerce customer group. If the contact is not an existing customer, the application creates a BigCommerce account for them, grants a temporary password and places them into the correct "Friends and Family" BigCommerce customer group.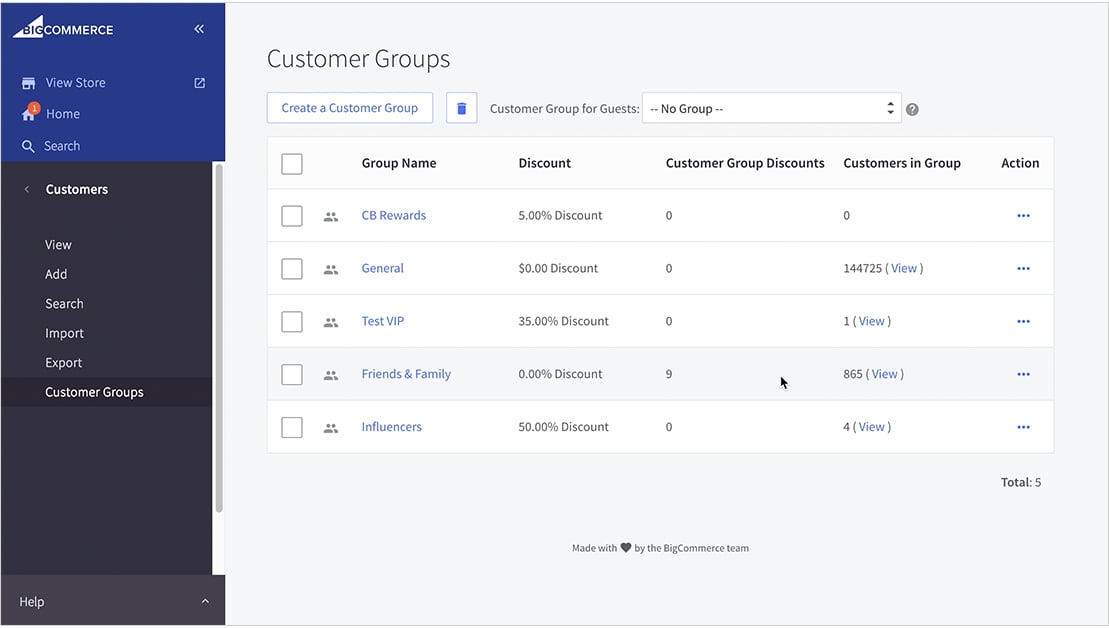 Next, we use the HubSpot API to send the information from the form to update contact records in HubSpot. We use this information to generate list membership criteria and activate a HubSpot workflow once they meet the enrollment triggers.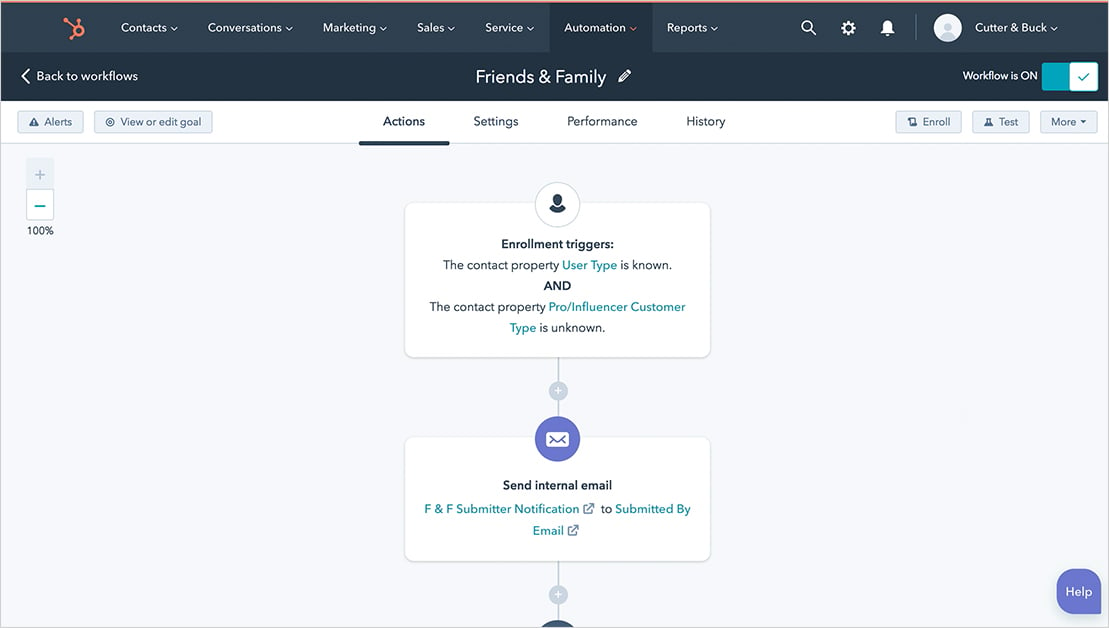 This workflow has two distinct paths using If/Then statements. If the customer already exists in BigCommerce, they receive a series of emails with a login prompt and access to use their store-wide discount. If the customer does not already exists in BigCommerce, they receive an email with a temporary password and account information. From there, they can login, reset their password and take advantage of their store-wide discount.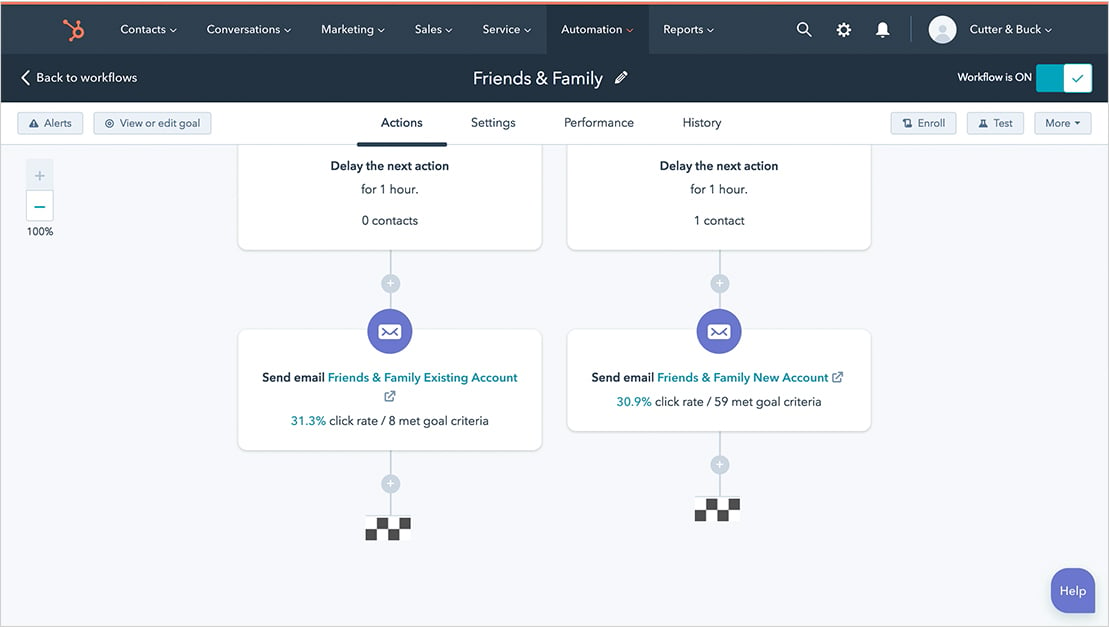 The Results
Since launching, the Cutter & Buck Friends and Family Program has generated $5,290 in revenue. With a 6.2% conversion rate and 600 active participants, this program as created an additional revenue channel for future B2B and B2C relationships.
Furthermore, the solution clearly addressed the two initial goals of the project. Most importantly, this application allows their sales team to better serve their prospects at industry events, where wholesale opportunities can result in significant revenue over time. By creating a way to provide coupon codes and enter contacts at scale, we have positioned Cutter & Buck for ongoing successes.
Business Impact
When building the solution, our team focused on creating a scalable application that could address future challenges. As a result, we have already used this application's structure to build an influencer program for Cutter & Buck in early 2019. When complete, this solution will help Cutter & Buck register influencers the same way they do with friends and family – ultimately turning it into a full-fledged program.
Overall, the solution we developed specifically resolved both the need to connect with existing brand evangelists and for their sales team to be able to establish a coupon code registration system. With custom development and a creative approach, we were able to achieve both goals and creatively deliver results using the power of HubSpot and BigCommerce.
Testimonial
"I think that the key to any client-agency relationship is the people. I've been really fortunate at Groove [Commerce] to have an Account Director especially who is very responsive and very in-tune with our businesses. She is quick to bring in all of the subject matter experts that we need, when we need them. They have also formed personalized relationships with us.
I do feel like I've got this small army of people who have a very specific set of skills collaborating together to help get the job done for us in a timely manner. Bringing new, fresh ideas to the table and also getting the work done when we need it."
- Deb Kay, Director of B2C at Cutter & Buck
Related Content
You Also May Like
Blog
In the realm of digital content creation, video has emerged as a dominant force,...