Klaviyo
What Is Klaviyo One?
Jun 27, 2022 • 3 Min Read
Enterprise eCommerce businesses are constantly looking for the most cost-effective and efficient way to store, contact, and analyze customer information. For years, Klaviyo has offered industry-leading email and SMS functionality. Building upon that strong foundation comes their brand new enterprise-level offering, Klaviyo One.
You may be asking yourself "Is Klaviyo One right for my business?" As a Klaviyo Master Platinum Partner, we are here to get your questions answered.
Let's Recap: What is Klaviyo?
eCommerce merchants rely on organic search, paid advertisements, and user-generated content (among other channels) to drive new traffic to their eCommerce stores. Retailers need a way to automatically contact prospects and customers regarding promotions, new products, and order updates. Klaviyo solves these eCommerce challenges and more by integrating with all modern eCommerce platforms to send the right messaging to the right people at exactly the right time via email or SMS.
What Klaviyo One Is
It is important to understand that included in this Klaviyo product launch are two distinct products. First, Klaviyo is breaking out its Customer Data Platform (CDP) as a stand-alone product. While this will be available to all merchants regardless of size, it will also be automatically available to merchants who onboard as Klaviyo One Customers
Klaviyo One adds enterprise-grade features and support to Klaviyo's existing functionality. By importing customer data in real-time, Klaviyo One users can create detailed and dynamic segmentation lists for market research, marketing, and analytics. This data can then be used to create highly personalized customer experiences across email, SMS, web, and more.
Lastly, Klaviyo One subscribers receive dedicated 24/7 support, dedicated customer success managers, dedicated solutions architects, and dedicated delivery experts in order to assist with the implementation of marketing personalization at scale.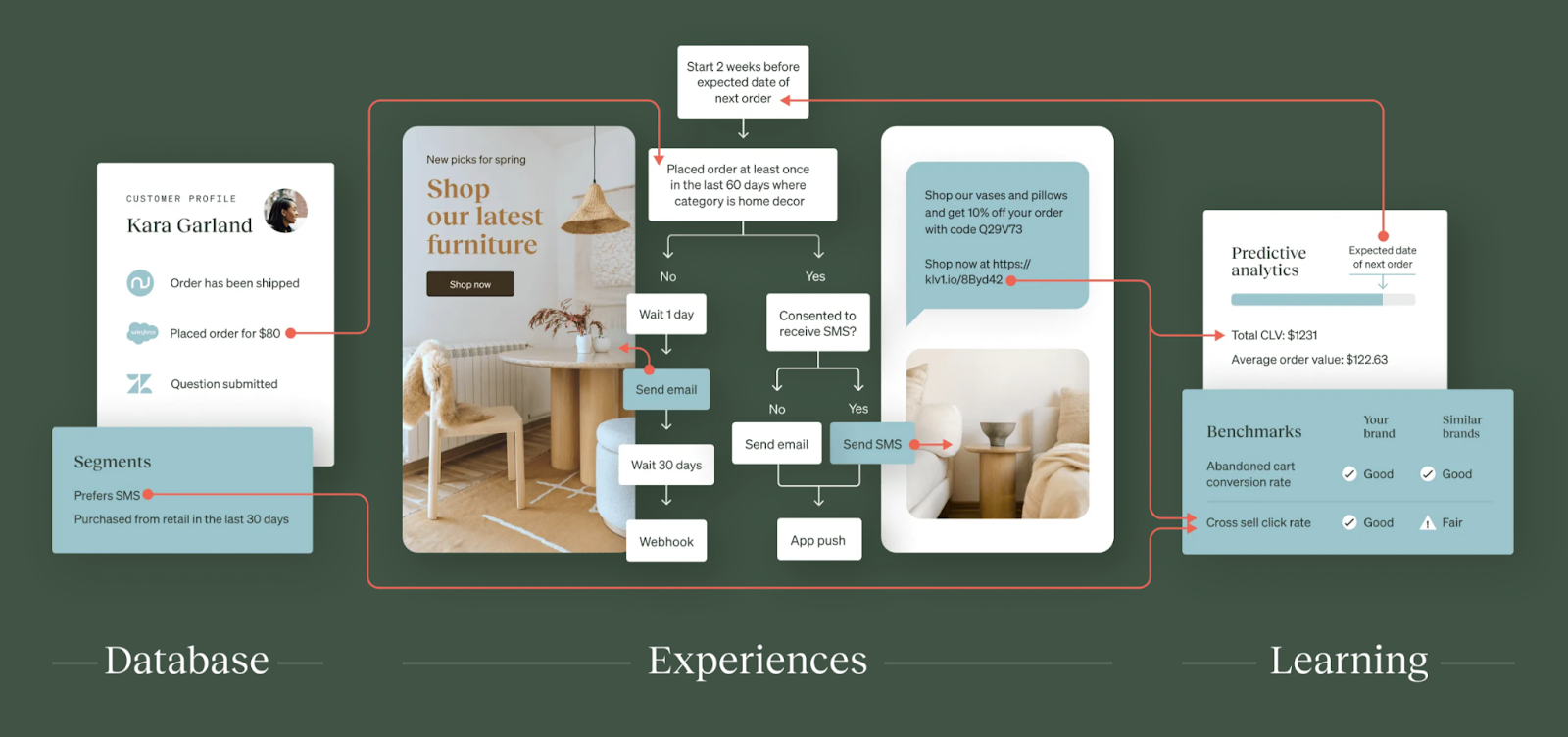 What Klaviyo One Is Not
Although similar in many ways to a CDP, Klaviyo One is not a Customer Relationship Management (CRM) tool. CRM platforms, such as HubSpot, store data on all types of contacts (not just those who provide their email addresses and phone number).
CRM platforms are used for lead prospecting, cold outreach, and business development. Klaviyo One, and CDPs as a whole, differ from CRMs because they help merchants contact and analyze customers who have previously interacted with your brand.
New Features: What Makes Klaviyo One Unique?
The Database:
The backbone of Klaviyo One is their CDP, which seamlessly connects with your entire tech stack. By pulling in data from your eCommerce store, 3rd party sellers, online support platform, shipping platform, and CRM merchants can see a holistic view of how customers interact across channels.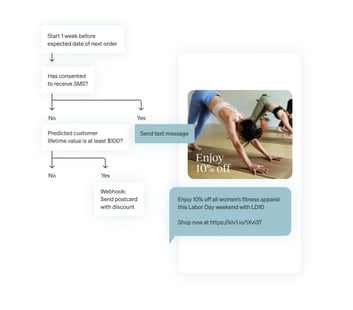 Multichannel Communications:
Allowing merchants to pull and push data across their entire tech stack means that communications can be more timely and relevant than ever before. Using online forms, pop-ups, paid ads, and push notifications, Klaviyo One subscribers can communicate with their customers in a unified way which is not possible with a standard Klaviyo subscription.
Dynamic Segmentation:
When all customer data can be leveraged together and in one place, merchants can build complex and dynamically updating segmentation lists that target customers with pinpoint accuracy. Users can then use these lists in order to build lookalike audiences for ad campaigns, creating a positive feedback loop to maximize revenue.

Data-Driven Machine Learning:
Automating emails has been possible with Klaviyo since its inception. Merchants could specify the time at which these automated emails were sent, but what if the sending platform could leverage artificial intelligence to learn the best time at which to send emails to specific customer segments? With Klaviyo One, this is now possible plus much more.
Predictive Analytics:
The tools inside of Klaviyo One allow for predictive analytics, letting merchants know when customers are likely to purchase next, if they are showing signs of not purchasing again, and how to win back lost customers. In addition, subscribers can benchmark this data against brands similar to theirs, ensuring that these merchants know how their data stacks up to the competition. These analytics tools also allow for merchants to attribute revenue across all of their marketing channels - whether that be email, SMS, paid ads, or other advertising funnels.
24/7 Support:
High-touch support and service through Klaviyo's team of experts as well as its deep network of partner agencies and systems integrators make the success of your eCommerce business easier than ever. With service this great, brands are able to move from idea to flawless execution in less time than ever before!
Is Klaviyo One Right For My Business?
Klaviyo One is an enterprise solution, built for enterprise brands. If you are a mid-market or lower merchant, the standard version of Klaviyo is all that you will need in order to grow your business with great email and SMS marketing communications. If you are an enterprise brand generating over $15 million or more in revenue per year that is looking to take its marketing and customer analytics to the next level, then Klaviyo One could be just the tool you need.
Conclusion
Klaviyo One is an exciting new enterprise-level CDP tool that builds off of the standard functionality that Klaviyo serves its subscribers. If you are an enterprise merchant interested in Klaviyo One, reach out to our team of Klaviyo Master Platinum Partner eCommerce experts from the link below. We look forward to hearing from you!
Related Content
You Also May Like
Klaviyo
Those of us who live, sleep and eat in the eCommerce ecosystem can be in a bit of a...