eCommerce Strategy
Developer's Toolbox: MagneticOne Store Manager for Magento
Dec 11, 2012 • 3 Min Read
With Magento becoming the front-runner in the eCommerce world, it is becoming more important for users to be able to easily manage their rapidly evolving Magento store. Out-of-box Magento has left many customers frustrated with time-consuming store management due to most Magento Stores containing hundreds, if not thousands of products. Enter scene, Store Manager.
What is this mysterious Store Manager?
Store Manager is the answer to your Magento store management dreams. To break it down, here is what Store Manager will allow you to do with ease:
Manage and manipulate all aspects of product data
Manage and manipulate all aspects of category data
Manage and manipulate all aspects of attribute data
Manage and manipulate all aspects of customer data (Sound redundantly amazing yet?)
Manage and manipulate all aspects of order data
Import/export all product data via CSV format and perform your edits through a spreadsheet-editing program.
And the best thing yet? Imagine being able to edit all products in your Magento Store in a matter of minutes. No more time consuming single product edits ever again.
Sorry Mac users, but Store Manager is configured to be a Windows based program. However, don't fret, Store Manager is still available for Mac users. You can use a program like VMware Fusion or Parallels Desktop if you don't have a PC.
Ready to get everything up and running? To integrate your Magento Store with Store Manager, you can follow the simple steps below.
Step 1 - Determine what method of connection you plan to use.
With Store Manager, you are given a few different options for connecting to your Magento Store. Below are the two most frequently used methods:
Direct Connection. This connection method requires you to have the store database credentials. With Direct Connection you are able to manipulate product data and have it automatically upload to the store.
PHP MySQL Bridge. This connection method requires you to use a bridge.php that you upload to your Magento Store's web root. This method allows you to work locally with your product data and when you are done editing the data, you can push all updates to your store.
For this informative guide, we will be using the Direct Connection method.
Step 2 – Gather your database credentials.
In a Magento Store, you can find everything you need for the Direct Connection method in your local file.
To locate this file, from your store root, go to app -> etc -> local.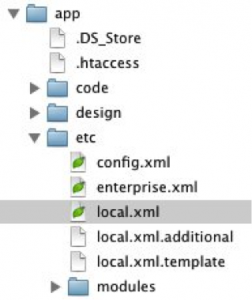 With this file, you will be able to gather what you need.

Step 3 – Fire up Store Manager and input your credentials.
Once Store Manager is up and running, you are first presented with the Store Configuration setup screen.
- Click the green plus sign to begin entering your information.

- Name your configuration. Click 'Ok'. (You will now be taken back at the main configuration screen.)

- Select 'Direct connection to your store database'.
- Enter database credentials.

As you can see from the screen shot, you need to enter the following: Host, User Name, Password & Database Name.
Now that you have your credentials input, lets get connected. Click 'Ok' in the bottom right of the Store Configuration screen. After a few moments your data should be loaded and you are ready to go!
Step 4 – Familiarize yourself with what you are looking at.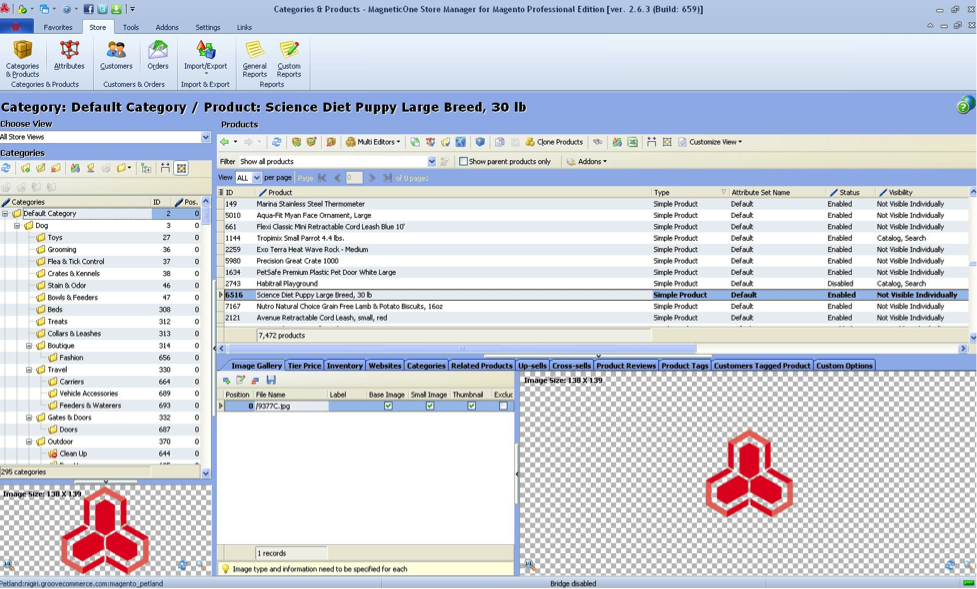 This would be a good time to click around the different menus and get yourself used to what you are looking at. With any new program, it can be overwhelming at first. Luckily for you, Store Manager makes your life easy with its intuitive menus and easy user navigation.
With the connection method above, you MUST be careful. We are using the Direct Connection method; this means any edits get automatically pushed to the live site. With any Magento site, it is best to have a development/staging site. All edits can be done in staging and then exported and imported to the live site.
That covers everything you need to get yourself connected to your Magento Store and on the right path to store management success.
Looking for advanced walkthroughs on how to edit product data or anything else data-related in Store Manager? Check back regularly for more blogs related to Store Manager for Magento!
You can also check out our Developer's Toolbox blog on using store views in Magento.
Need help with your Magento design and implementation? Groove can help! Talk to Groove's Magento consultants first. We can review your currrent online eCommerce capabilities, discuss your goals, and help you decide if Magento is right for your business.
Related Content
You Also May Like
Blog
In the vast digital landscape, where visibility is paramount, the science and art of...