Apps and Integrations
Increase Online Conversion With The Impulse Buyer
May 23, 2012 • 3 Min Read
The internet is an impulse buyer's heaven. It provides every opportunity to "go with your gut" and make spur of the moment purchases. Do you know how much of your online sales are attributed to an impulse buy? Do you provide an experience that makes it impossible for an impulse buyer to resist? By implementing some small changes, you will increase the spontaneous conversions on your site, which will surely contribute to an improved conversion rate and more online revenue.
By looking at your ecommerce website's analytics you can drill down to find your "Spontaneous Buyer Base". Simply look at the "visits to transaction" report. Do most conversations occur within the first visit? How many? Or, do the bulk of conversions happen with a larger "visits to purchase" number? To understand your impulse buyer you want to find any users who have purchased products on their first or second visit. These are customers that have made their way to your website, found a product, then purchased quickly.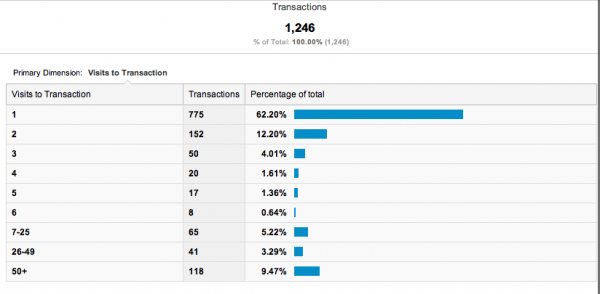 Do some further research to find trends around how they got to the site, how they progressed to the product page (site search or navigation?), and what they bought. This will help you develop a baseline understanding of the ratio of impulse buying vs. more researched or methodical buying. As a rule of thumb, your site should be converting 50% to 75% on the first visit, if you are lower than that, you might not be giving impulse buyers what they need to do what they do best.
Here are a few tactics that will make it utterly impossible for a spontaneous shopper to resist hitting "Purchase Now" button.
Time Sensitive Marketing
One of the most obvious ways to cater to an impulse buyer is to offer time sensitive marketing. This could be a full-scale strategy like a "Deal of the Day" section, or a simple change of clearly stating deadlines on sales. For a Deal of the Day, you'll need to make sure you have the manpower and the proper platform to support it. If your ecommerce platform is inflexible, it may be too time-intensive to swap out creative and products on a daily basis. A simpler way to achieve time sensitive marketing is to have your designer clearly state a deadline on the site's creative. For example, your Memorial Day Sale banner should include a "Sale ends May 31st!". By telling the spontaneous shopper that they only have a limited time to buy, they are more likely to purchase without taking the time to research or price shop.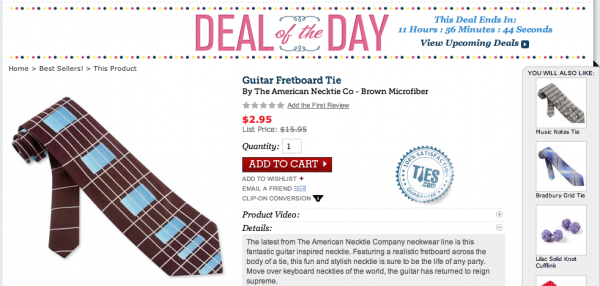 Show Items Left in Stock
Another simple strategy is to show how many items there are left in stock once inventory hits a certain point. If you have products that tend to sell out, adding an "Items Left in Stock" ticker may help give the spontaneous buyer that last push into purchase. It is difficult for this type of shopping persona to resist buying something when it may be the last one available!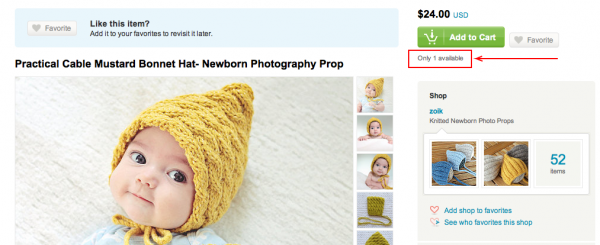 Free Shipping
Offering free shipping is one of the heavy hitters when it comes to conversion rate optimization. Studies have found time and time again that shipping is the biggest obstacle to purchase that online shoppers face, by eliminating it you make it a no-brainer for people to purchase. You must do some thorough analysis of your business processes in order to evaluate if free shipping or flat rate shipping is an option for you. Frequently, low-volume merchants will find that these types of offers will actually cost them more in the long run. However you can cater to an impulse buy by offering free shipping WITH a time limit AND purchase minimums. This is a surefire way to grab those last minute buyers, instead of offering free shipping across the board, offer it for the next HOUR only and with a $50 minimum order total. This is how spontaneous buyers like to shop, and catering to their "can't miss this deal" mentality will create an exciting shopping experience for them.
Merchandising
The last bit of advice for converting impulse buyers is to pay attention to your merchandising. Grocery stores have this strategy down-pat, as they tend to put those hard to resist, impulse-buying items right there in front of you at the checkout. By adding a People Magazine and a Snickers to customers orders, they are increasing the average order value. Multiply these $5-$10 upcharges by the amount of orders they get a day, and you can calculate the amount of additional cash that grabbing that last impulse buy can attribute. Clothing stores do the same thing - by putting the new/trendiest clothes in the front store window they attract people into the store. They purposely put the sale and clearance items towards the back so that customers have to walk past all of the merchandise to get the deal. You should use brick and mortar stores philosophy in order to convert impulse buyers. Understand how people progress through the site and where it makes most sense to hit them with upsells and cross sells. You should have the newest/best selling inventory on the homepage (your homepage is like your store window) in order to drive those people into the site and begin engaging with them.
Through these efforts, you can make sure that you are making it easy for a spontaneous shopper to checkout on your site. Don't forget to implement customer retention efforts to ensure that first time buyers come back to purchase again through offering to save their information. A combination of catering to the impulse buy and implementing customer retention efforts going to be great for your bottom line, we have already established they are impulse buyers, eliminating additional obstacles like entering credit card information will make it that much easier to "Buy Now"!
Is your site attracting and converting spontaneous buyers? Can your ecommerce platform support the functions you need to achieve it? Contact us!
Related Content
You Also May Like
Blog
As the eCommerce landscape continues to evolve, businesses are constantly seeking...