Groove Commerce

SEO best practices change faster than your Facebook newsfeed, so staying on top of the latest and greatest SEO tools can be a challenge. Knowing which SEO tools are currently the best is the only way you will truly optimize your website. Read about the 21 top SEO tools in this blog post.
A fellow online marketer once told me that time in the world of online marketing is unlike the real world: one month moves at the pace of three, three months moves at the pace of six, and so on. Well in the three years that I've worked in online marketing - in particular, inbound marketing - I've come to realize that my coworker was right. SEO best practices change faster than your Facebook newsfeed, so staying on top of the latest and greatest SEO tools can be a challenge.
To be the best, you have to use the best. Knowing which SEO tools are currently the best is the only way you will truly optimize your website. Some tools are tried and true and will always be a go-to for SEO professionals. Others have only been developed after major algorithm best-practice changes. Here are some of the current top SEO tools for gaining competitors knowledge, keyword research, backlink information, and more, that you should consider implementing into your own inbound marking strategy.
Free Tools
1.) Google Analytics – If you own a website, you should use Google Analytics at least once a day to analyze your data. Period. Whether you're managing a lead gen or ecommerce business, Google Analytics shows statistics related to everything from Real-Time reports to what pages visitors are exiting your site most often. Google Analytics is THE tool for gaining insight into your website's metrics.


2.) Webmaster Tools – This is another great free tool from Google. Webmaster Tools dives into more of the technical side of your website than Google Analytics. With Webmaster Tools you set your geographic targets and preferred domain (www or just http://domain), can see site crawl time and load time, add Sitelinks, and redirect any 404 errors.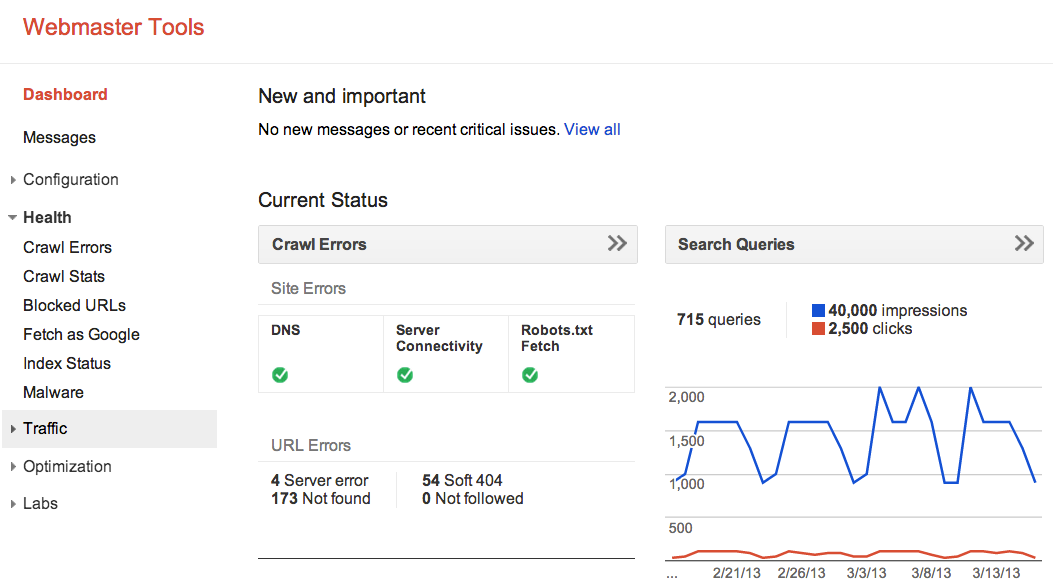 3.) SEO Site Checkup - This tool offers a great overview of SEO issues within a site. You can choose to look at all SEO factors or specific items you might be having issues with, such as visitor breakdown, Sitemap files, backlinks, favicons – you name it! Your site is given an overall letter grade with the most important fixes highlighted.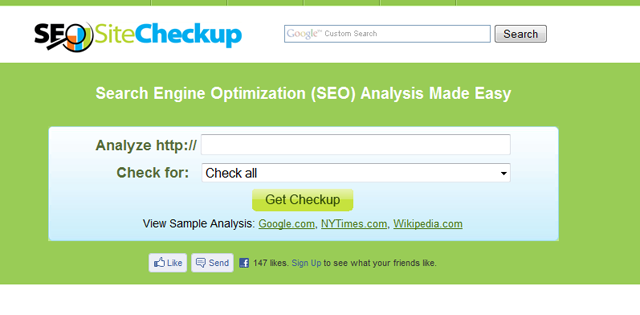 4.) PageRank extension – This extension can be used for Google Chrome or Firefox by searching through their respective web app stores. It shows you "at a glace" metrics for your site including: Alexa ranking, PageRank, indexed pages, backlinks, META information, social accounts, and more.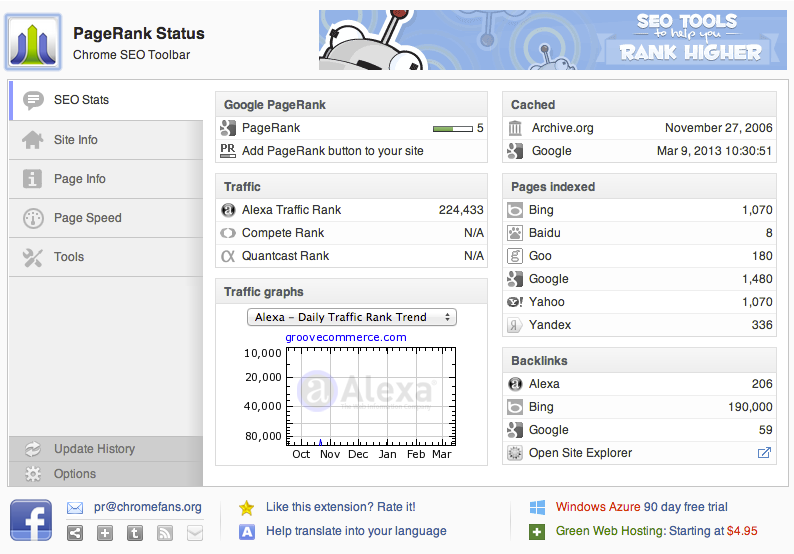 5.) GetListed – Get Listed is the easiest way of adding your brick and mortar information to local listing directories. If you have an actual address for your business then adding your address and phone number to local directories will increase your organic search listings as well as give more information when people search your company. GetListed.org provides you with the top online directories such as Google, Bing, Localeze, Infogroup, SuperPages.com, Foursquare, and more. It provides insight into whether your local listing was already claimed on these services, or if you need to claim the listing now.
6.) Robots.txt Checker – The site looks a little juvenile, but the results are top-notch. It highlights errors in your robot.txt file and allows you a better look into what is being blocked and indexed from the search engines. There are basic warnings at the end.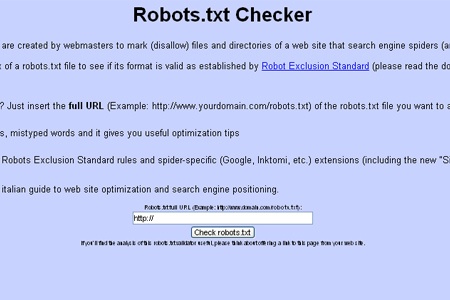 7.) SEO Browser View – This tool allows you to look at your website like a search engine spider does. Does your website have optimized alt tags? What about <h1> tags? Are your keywords clear or are they hidden?

8.) Google AdWords Keyword Tool – A proper seed list for keyword analysis has hundreds of keyword opportunities. You probably know what basic terms you want to rank for in organic search, but how do you find similar keyword ideas? Google AdWords Keyword Tool allows you to see not only keyword global and local search volume, but gives keyword suggestions that are similar to the terms you initially used. All of this information can be exported as well.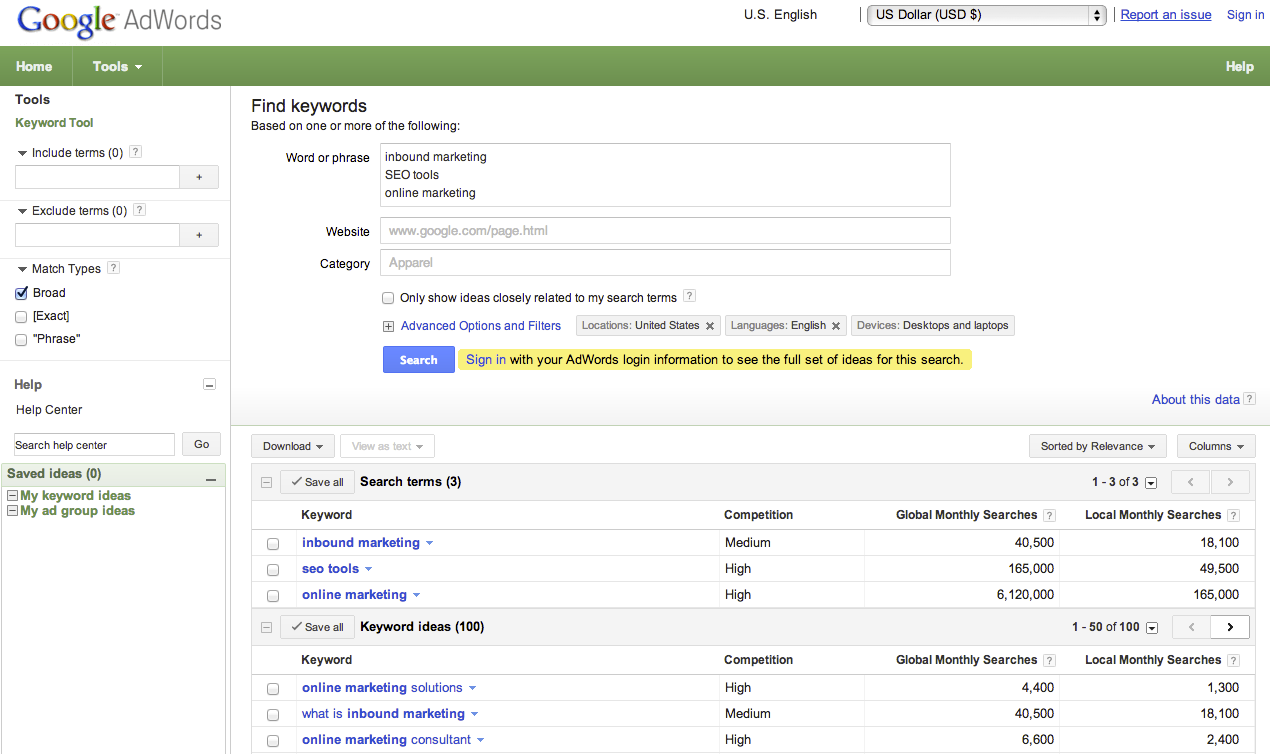 9.) Ubersuggest – This tool uses a Google Suggest scraper to provide keyword suggestions based on an initial keyword phrase. You can choose which keyword suggestions you like, and then export that particular list.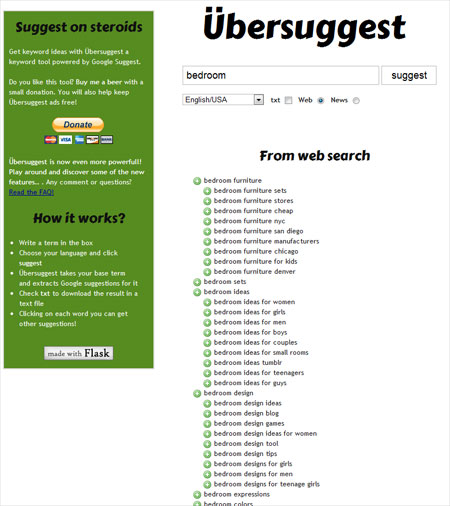 10.) HubSpot Marketing Grader – If you're site has a blog and social sharing (which are SEO best practices) then you should bookmark the Hubspot Marketing Grader. Hubspot's paid services are unreal, but this simple analysis shows a number grade on your site with TOFU, MOFU, and BOFU action items. It pulls the blog and social URLs from your website and analyzes how easy it is to share, what has been shared, how popular your social accounts are, and more. This analysis also dives into page titles, meta descriptions, and alt tags.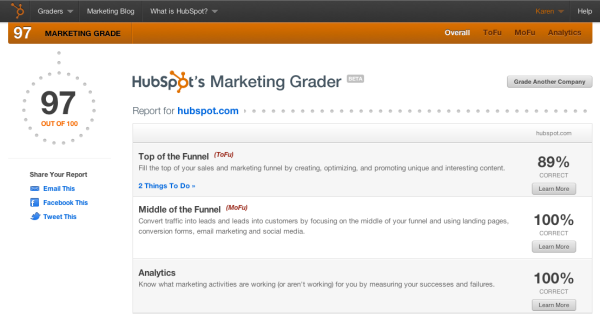 11.) SEO Book Public Tools – Although SEO Book has the best toys once you pay, they do offer quality analysis tools to the public for free. Their collection of free Firefox extensions can't be beat (SEO Toolbar, Rank Checker, and SEO for Firefox). The Keyword List Generator allows you to compare keywords side by side and the Meta Tag Generator shows you all the Meta descriptions for your website to see how optimized they really are. Who couldn't benefit from using a Keyword List Cleaner?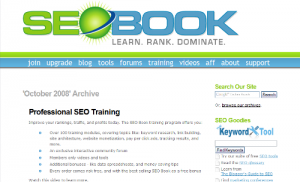 Paid Tools
12.) Screaming Frog – This tool is fantastic for SEO audits (something you should do with your site annually!) and reviews. The Screaming Frog SEO Spider Tool is a desktop extension that can be purchased and then downloaded onto multiple computers. The analysis exports key elements like title tags, alt tags, and 301 redirects to an excel doc for easy analysis.

13.) SEMrush – You can use SEMrush as a free tool, but all the best toys are in the paid version. When performing competitor analysis SEMrush offers the best scraping data on keywords, anchor text, backlinks, rankings, and traffic. Whereas many rank tracking tools are no longer in service, SEMrush still provides accurate ranking data.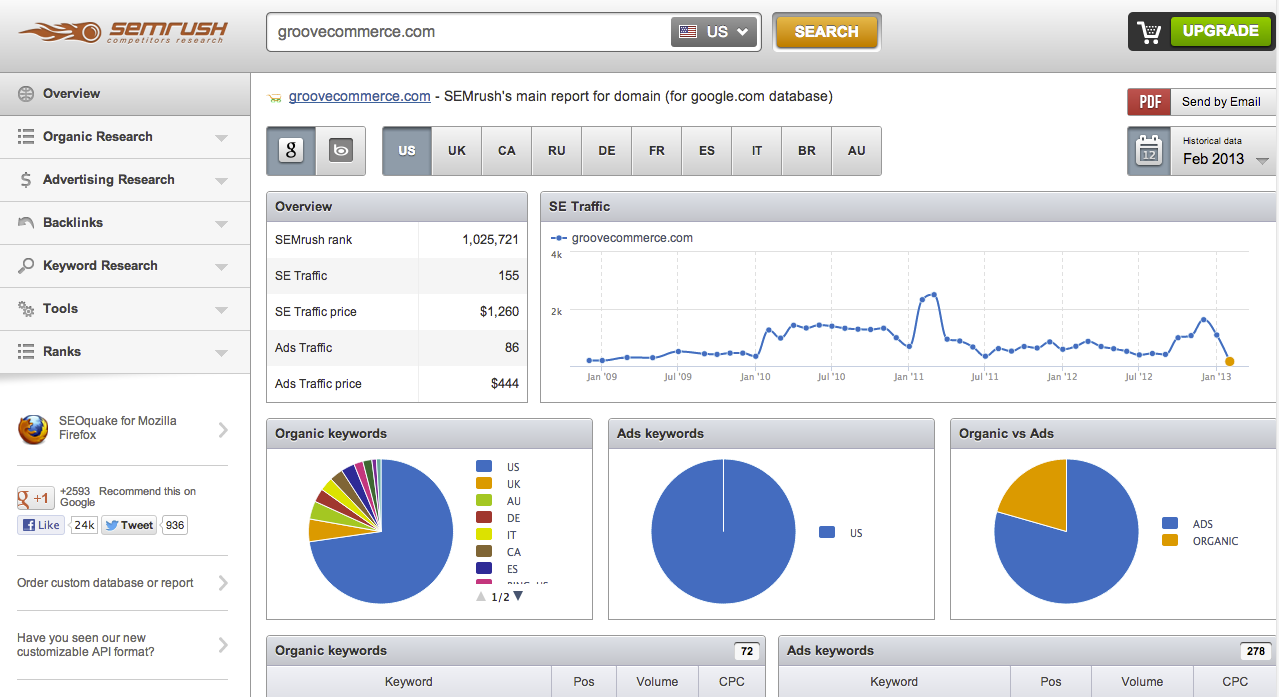 14.) SEOmoz Keyword Difficulty Tool – Although currently going through an update, the analysis capabilities on this keyword tool are already unmatched. SEOmoz uses it's own formula to show keyword difficulty based on page/domain rank, page/domain authority, competitors, current rankings, and more. It presents comparisons of keyword difficulty and provides data necessary for proper KOB analysis.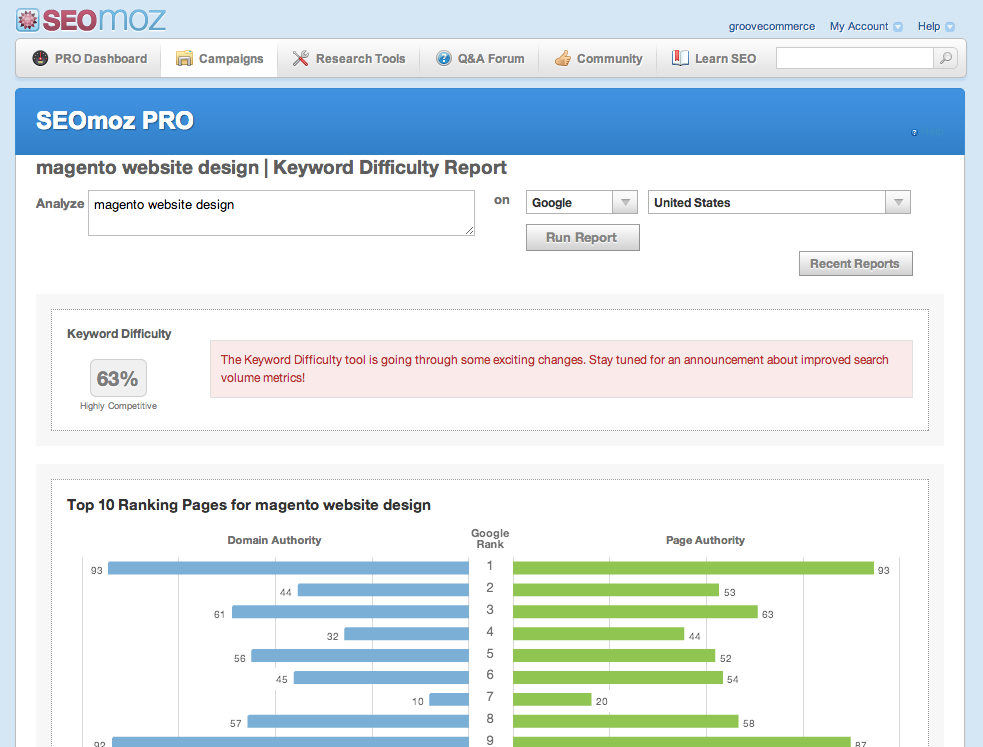 15.) SEOmoz On-Page Analysis Tool – This on-page analysis tool provides a report card on a particular URL and keyword prominence. The report card gives a letter grade to your URL and shows you the recommendations for optimizing the page to its full potential.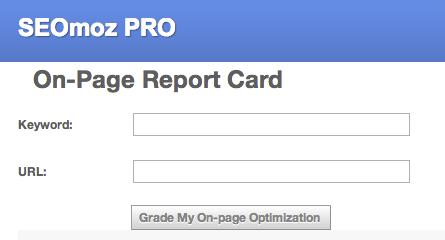 16.) Raven Tools Link Manager – If you're managing link-building efforts on your site then this link building management tool is a must. Analyze the active and inactive links, link anchor text, and backlink domains.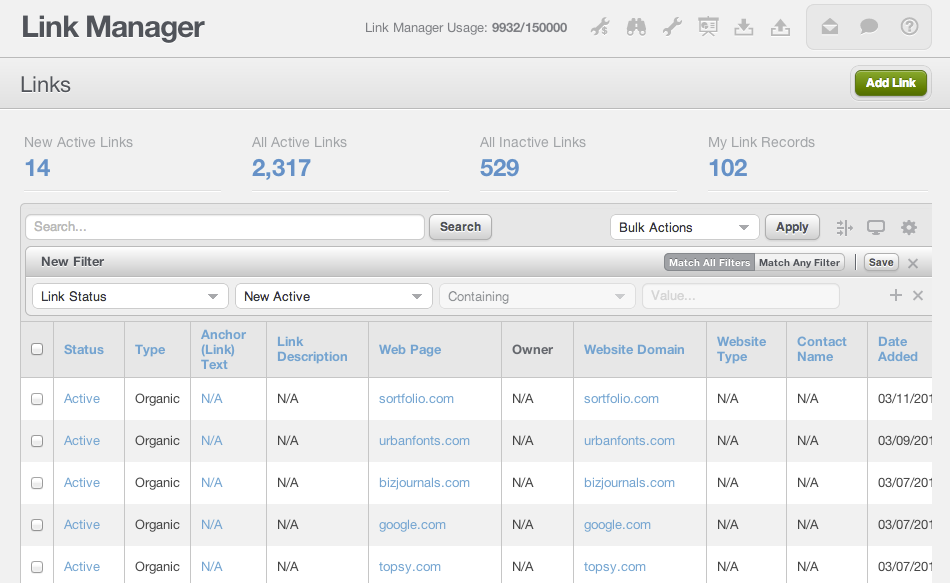 17.) MajesticSEO –Majestic offers a free trial of their backlink tool showing a summary of referring domain and external backlinks but the paid version offers anchor text reports, backlinks reports, top pages, a keyword checker, and (my favorite) backlink history charts that compare your site's backlinks with competitors.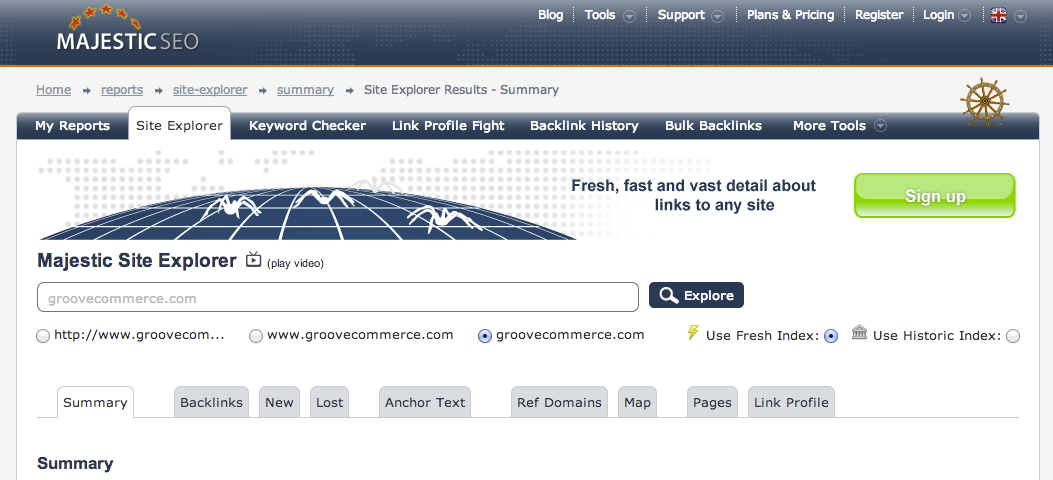 18.) HubSpot – I mentioned HubSpot's Marketing Grader, but that was just a sample, not even a full appetizer, of what HubSpot can do. This tool brings tracking your website users to a whole new level when you sign up for HubSpot's paid features. There are the usual traffic and conversion reports, but HubSpot also offers a Contact tool. This tool allows you to see how people are interacting with your site. Are they calling? Filling out a form? Purchasing a product? What interactions did they have while on your site? You can monitor all this while also adding personal information like phone numbers and email addresses so you can follow up with them if a lead turns into a proper conversion. Also maintain blog metrics, link analytics, and page management. Groove can help you become a HubSpot partner today; contact us and we'll let you know how!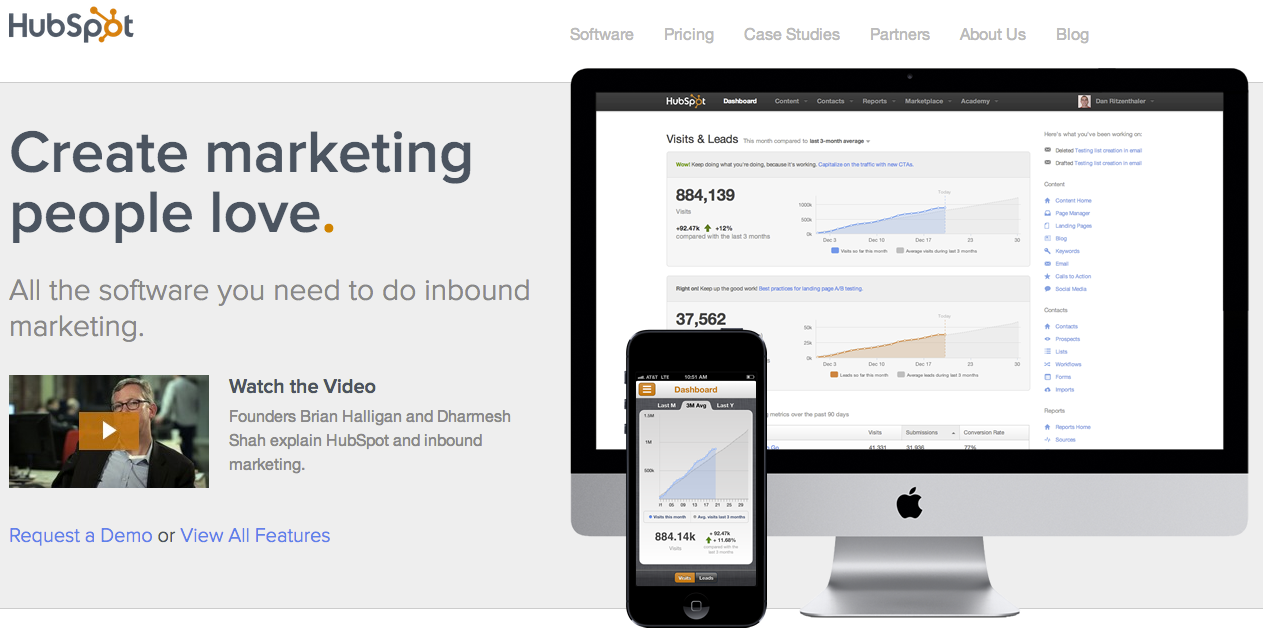 19.) SEObook – When becoming a paid member you have access to tons of blogs, articles, and videos on SEO optimization by some of the most well known names in the industry. SEO Book also offers assistance and tracking for paid campaigns as well as SEO through multiple tools and reports on link building, keyword research, backlinks, and on-page data.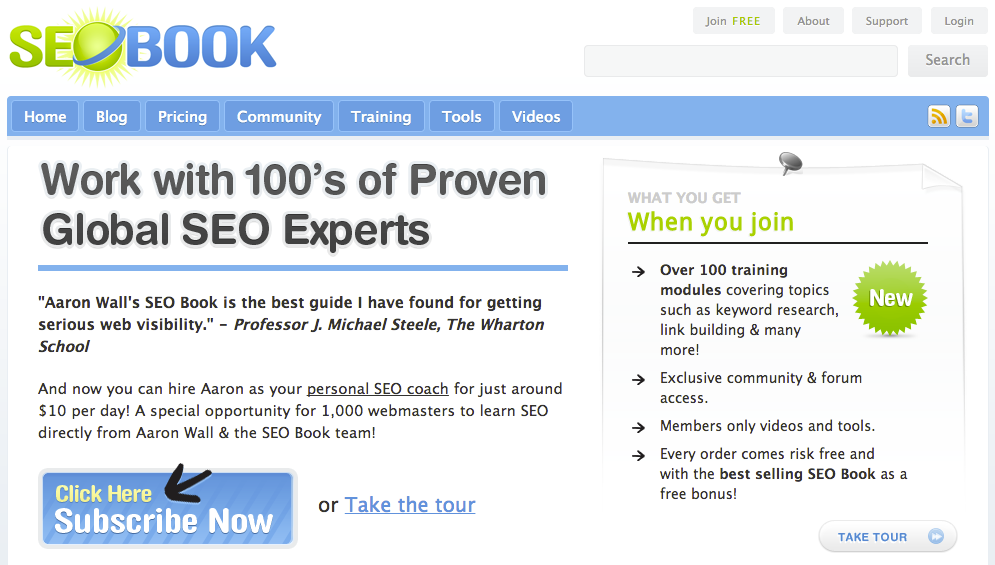 20.) Visual Website Optimizer – If you're interested in testing your site then this is the best way to do it. Visual Website Optimizer provides options for A/B, multivariate, behavioral, and usability testing along with heat map reports and revenue tracking. This tool helps you find out exactly how people interact with your site the most.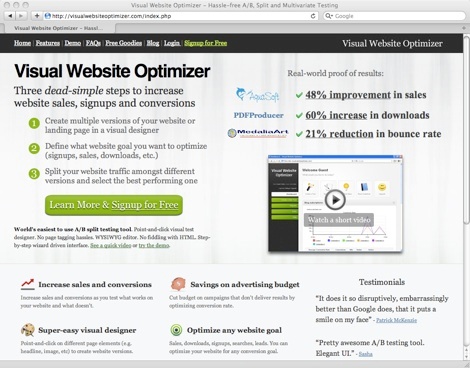 21.) Citation Lab's Link Prospector – If you're actively finding quality links then Link Prospector can cut your research time in half. Find quality links that will benefit your website's organic search rankings.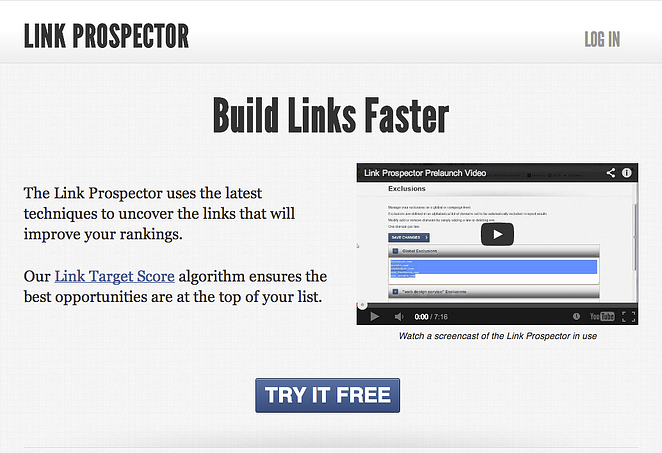 Extra Tools Too Good Not to Mention
The following tools aren't necessarily SEO-focused, but I just love using them and think you should too:
Tweepi – Tweepi, as I'm sure you can guess, is a tool for Twitter accounts. There are free versions, but to truly reap the benefits of Tweepi you need to buy the very reasonably priced Platinum Edition. Follow industry leaders and lists, see Klout scores, clean up your following/followers list, and incorporate tweets with geo-location search and follow.
Hootsuite – Hootsuite can be a social media marketer's best friend. The ability to edit retweets and search by keyword is only surpassed by their reports and ability to schedule posts. You can log in your Twitter, Facebook, Google+ page, LinkedIn profile, blog, and Foursquare accounts into this one dashboard for ultimate sharing and maintenance.
Word 2 Clean HTML – This simple yet effective tool allows you to copy and paste any formatted text from Microsoft Word and turn it into unformatted HTML code. How helpful is that?!
This list of prominent SEO tools will point you in the right direction for optimizing your website's search engine optimization. Understanding how these tools work together takes time and commitment. If you're interested in learning more about inbound marketing, read my previous blog: What is Inbound Marketing? If you're interested in learning more about how the work at Groove can increase your traffic through tried and true SEO techniques, then contact us today!
Get in Touch
Subscribe for industry insights and resources.