Search Engine Optimization
How We Created A Custom Product Configurator Using BigCommerce Stencil
Dec 18, 2020 • 3 Min Read
Many businesses in the home improvement, building and remodeling industry have a tough time building an eCommerce store that's optimized for the user experience. Selling extremely complex and customizable products online requires a sustainable eCommerce platform and website, and oftentimes, requires a product configurator.
Custom Product Configurator Using BigCommerce Stencil
SS Industries, parent company to White Shanty, is the largest spiral stair manufacturer in the United States. The company has been a leading provider of building materials for over 10 years and has recently expanded into sliding barn doors and hardware.
When SS Industries turned to Groove Commerce late last spring for help with one of their three sites, our team came up with a solution that best fit their business needs.
The Problem
Needed Complex Product Configurations
SS Industries first wanted help with the development and design of their White Shanty website, which was hosted on WooCommerce. Since the White Shanty brand builds and sells custom crafted barn and interior doors, each individual order is unique to the customer that orders it. This means that it's possible for a customer to order a door that has never been built before.
Due to the high customization of the doors, there are a variety of components that go into building the product - both physically and online. For example, customers can customize the height and width of the door (in inches), select a single or double-sided door, customize the color, add personalization elements and include barn door hardware.
Although the WooCommerce site allowed customers to place orders directly online, the platform was not sustainable for White Shanty. The WooCommerce platform does not fully support complex products that require multiple configurations and add to the total product price.
Negative User Experience
White Shanty's previous website was extremely messy for users on the front-end, and the negative user experience caused many people to quit halfway through the ordering process.
The front-end user experience wasn't the only messy part of the site, either. The back-end, where the products were configured to create and process orders, was not set up correctly. The way that the company had set up the product configurators in the back-end was completely inaccurate, and it was essentially hacked in order for an order to process.
The Solution
Migrate To BigCommerce Stencil
We migrated the White Shanty website to BigCommerce Stencil, so the site is no longer hosted on WooCommerce. BigCommerce Stencil does a much better job of accommodating for complex product configurations through production options and modifiers. This made catalog management cleaner and easier for White Shanty on the back-end.
Custom eCommerce Product Configurator
The team here at Groove Commerce leveraged our BigCommerce Stencil expertise to streamline the process of building a custom door directly online. Rather than asking a customer 12 questions, we grouped the configuration steps so that customers are asked only 3 questions.
Plus, we built a custom product configurator that allows customers to seamlessly customize their barn door directly online. All of the components we mentioned earlier that go into a custom door − height, width, color, personalization elements and more − are now easily accessible on the updated site.
The custom eCommerce product configurator provides for a frictionless building and ordering of a custom White Shanty door, so customers can now easily check out through the website and successfully place an order.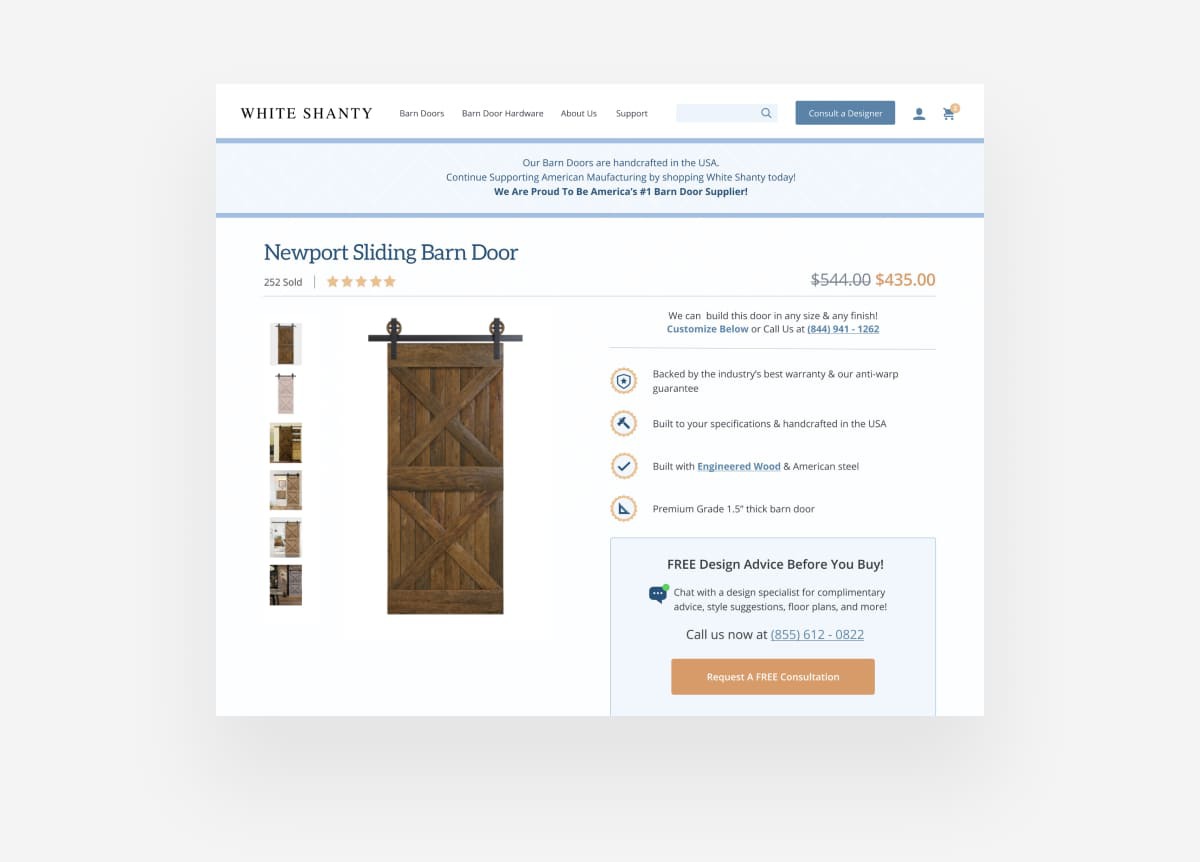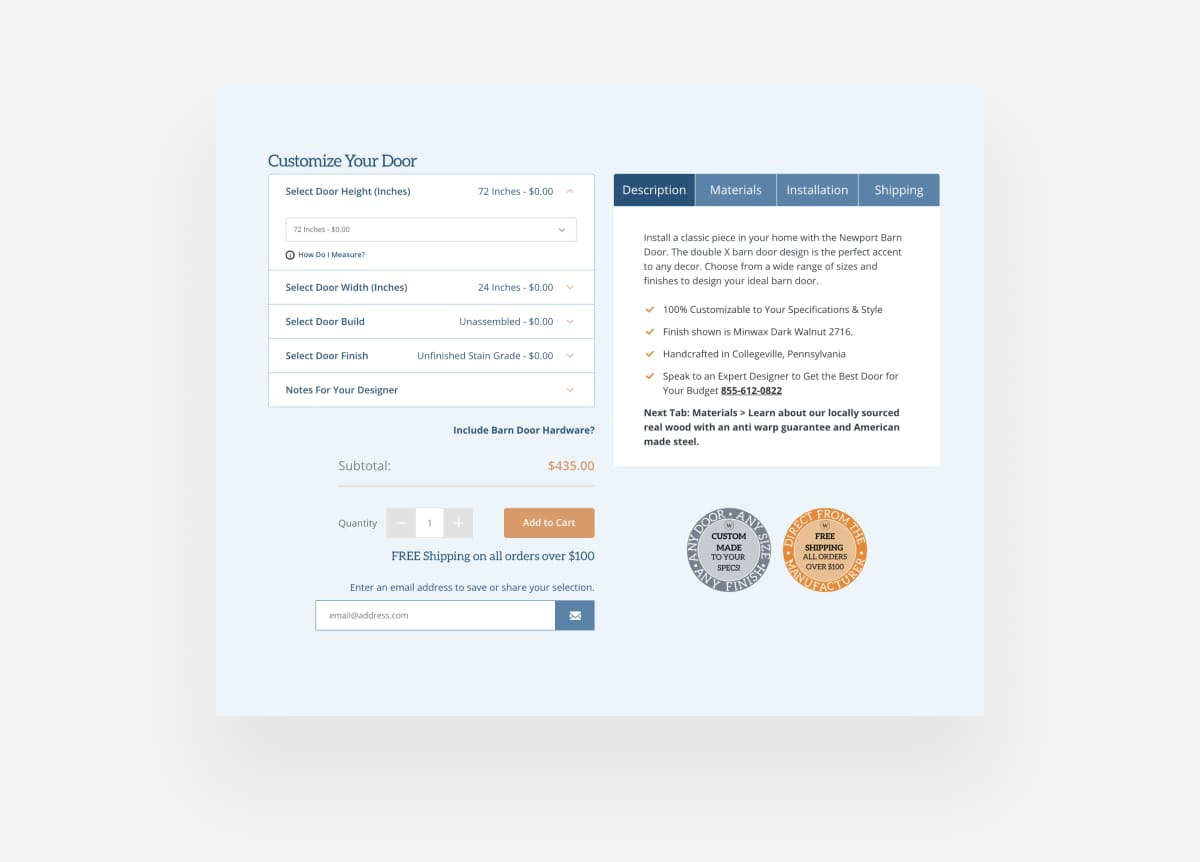 The Results
After launching the new White Shanty website, the company saw the following results:
74% increase in eCommerce conversion rate
205% increase in transactions
75% increase in website sessions
410% increase in revenue
The SS Industries team was very pleased with the performance of the White Shanty site, and they recruited Groove Commerce for help with the launch of another one of their brands − Mylen Stairs.
Testimonial
"...We appreciate everything you all have done for my team and I during the White Shanty project. We had big expectations for Groove and your team delivered for us in a big way. Looking forward to our continued partnership."
- Reece O'Neill, SS Industries
Conclusion
Could your eCommerce website benefit from custom functionality? Our team is here to help you enhance the user experience and drive serious results for your business. Whether you're looking to migrate off your current eCommerce platform or are interested in a complete website build and design, Groove Commerce's website services and marketing services are your answer.
If you want to learn more about building a custom eCommerce product configurator, migrating to BigCommerce Stencil or achieving your business's eCommerce goals, contact us through the form below. A member of our team will be in touch soon to help!
Related Content
You Also May Like
Blog
What Do I Need To Know About Etail West 2024? Are you in the eCommerce industry? If...