"It isn't the mountains ahead that wear you out; it's the pebble in your shoe." –Muhammad Ali
Google AdWords has been walking around with a pebble in their shoe for 15 years.
Google is now - and always will be - an engineering-led company. Google Partner Agencies and advertisers have been waking up to new features in Adwords on an almost daily basis, with no clear instruction on how to make the features work. As a result, when the team at Groove analyzes advertiser accounts as part of an audit, we generally find that fewer than 40% of the features that advertisers could avail themselves of are actually being used. With ecommerce advertisers, that figure drops even lower.
Google is comprised of perennial tinkerers.
It's what we love about Google.
It's what we hate get frustrated about with Google.
---
Since it first introduced Google AdWords in 2002, Google has struggled to keep feature and function parity for users of AdWords Editor with that of the desktop. There was talk last year that Google was even thinking of getting rid of AdWords Editor. The mere thought of that brought tears to many an eye.
Although advertisers have access to the Google Adwords API, there are very few advertisers that have the chops to do anything meaningful with it.
Google kept limping walking, but they weren't getting far. Each new feature on the advertising equivalent of the Swiss Army Knife has made it increasingly painful for advertisers.
That's why Jerry Dischler's (Vice President of Product Management at AdWords) announcement on the Inside AdWords blog in March has been highly appreciated. After talking to advertisers at all levels around the globe, AdWords is ready to make significant upgrades to its platform in the coming year:
"Over the past year, our product teams have been thinking hard about about how we can make AdWords as relevant for the next 15 years as the first 15," he writes. "From creating a single Shopping campaign to updating thousands of text ads, we needed to do this in a way that works well for all advertisers around the world, regardless of size or objective."
This is exciting for all advertisers because AdWords is giving advertisers the opportunity to influence the changes being made, and it's exciting for ecommerce advertisers because many of the updates suggested offer a better way to sell products online through your eCommerce store.
Users know best
AdWords solicited feedback from users at all stages of the advertiser cycle during their innovation process. The outcome was that the changes that are underway are focused on the data that is most relevant to your business goals – and much less about the AdWords product itself.
While they are in beta mode, users will continue to have the opportunity to have input on the new functionality and to surface issues such as:
How best to differentiate and manage visitors on mobile devices (now the majority traffic sources for most sites) from tablets or desktops
How to tackle the thorny issue of dayparting in the best way for your business How to leverage extensions and see the permutation that brings about the best results for YOUR business (Not all extensions will work for ALL advertisers, despite Google telling you they will as "best practice")
How to create reports that won't have your C-Suite thinking it was done by your brother's 12 year-old son
A better way to sell
As it is today, AdWords is many products rolled into one.
AdWords is plain vanilla search that we all know and love
AdWords is App Install and Re-engagement campaigns for advertisers who have a mobile app
AdWords is video advertising through YouTube
Adwords is local ads for businesses looking to transact via bricks and mortar stores
Adwords is call-only ads for advertisers on the go or without a website
AdWords is display advertising through the Google Display Network
Adwords is remarketing through both the Google Display Network and also via Remarketing Lists for Search Ads (RLSA)
Adwords is remarketing through the uploading of your CRM database
Unfortunately for ecommerce, one of the products that is not fully developed is the ecommerce functionality. The current AdWords interface is not made to handle the workflow for creation and optimization of shopping feeds. As a result, many advertisers are running inefficient, ineffective Shopping campaigns on AdWords. The chance of them optimizing their 10,000 SKU shopping feed are nigh on impossible. Those same advertisers are struggling to work out the best way to use Remarketing Lists for Search Ads (RLSA) to improve their conversion rate by recapturing those abandoned shopping carts that festoon their digital shop floor. And the mere thought of configuring Dynamic Remarketing Ads results in head-on-desk pounding.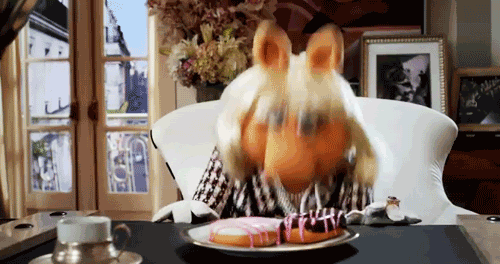 Shopping campaigns have changed significantly, and the removal of right hand side ads paves the way for retailers using Google Shopping to get a better chance to sell. Google has started testing a few in-feed shopping options such as large Product Listing Ads: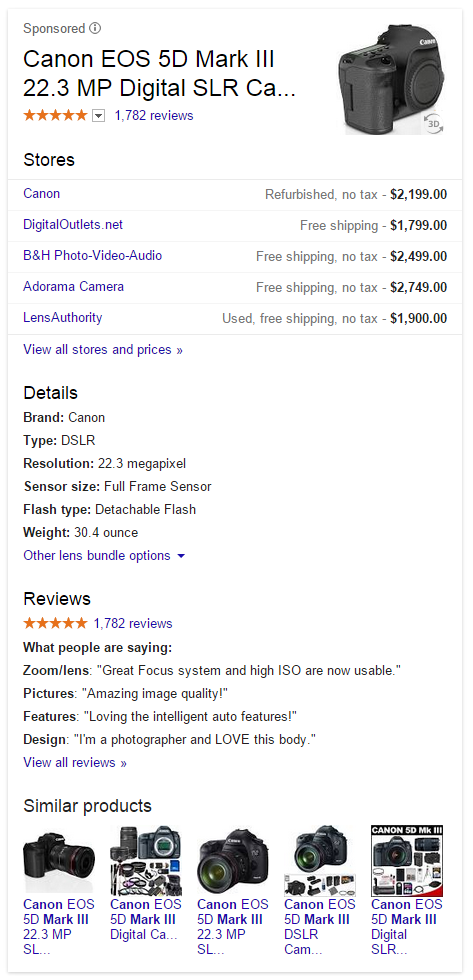 At Groove, we're looking forward to helping shape the evolution of the Google AdWords interface. This refurb is long overdue and the fact it is taking as long to deploy is great as it means more consulting with users. Both advertisers and agencies alike will ensure that in years to come the AdWords interface (and - please! - Adwords Editor) are fit for purpose.
Online retailers, brick and mortar stores with an eCommerce element, and inbound marketers alike will all have something to be excited about through the rest of this year and into next. If you're excited about AdWords' evolution, but aren't sure where to start, contact us today for a free paid media assessment.