HubSpot
Five Underrated SEO Practices for eCommerce
May 16, 2012 • 3 Min Read
SEO is like caffeine for your ecommerce store. Too little and you don't get results –too much and it becomes unhealthy. But if used correctly, you can really jumpstart your online presence and increase online sales. With Google's ever-changing algorithms the fear of over-optimization haunts many SEO strategists. But these changes are meant to make Google better and penalize the bad guys, blackhat marketers, and scammers looking to use low-quality content to outrank those of us who do it right. So sites that use good, clean, wholesome eCommerce SEO practices, should have nothing to fear.
But with the emphasis on good page content and presenting a trustworthy site to the Googlebot, how do you get the most out of your eCommerce site? Aside from Meta data, URLs and so forth, here are a few SEO practices that pack a lot more juice in them that you may think…
1. High Quality Product Images
It is common knowledge that clear, up-to-date, aesthetically-pleasing product images can boost ecommerce conversion rates, but much less known is the fact that high quality product images provide some really heavy link juice for your store. Image Alt Text carries some serious weight, especially when used for internal linking purposes as well.
2. Product Videos
The same goes for product videos. The example below shows a search for "Nike Running Shoes" Notice an online retailer's product video ranks just below the manufacturer's site - second place to Nike isn't too shabby in my opinion (especially when Nike is actually in their domain). Videos are considered premium content to search engine crawlers.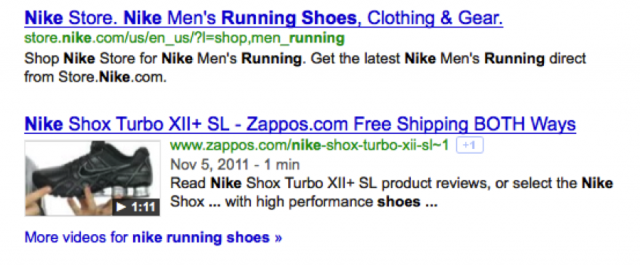 On top of the SEO value, videos assist in the general shopping experience. I haven't been a runner for long, but I know I like Nike products. So as a shopper, I'm ignorant to which stores are best for running shoes or which ones have great deals, etc. But I can learn a lot more from somebody that can tell me in about a minute what's great about this particular shoe. Imagine providing thousands of shoppers a virtual salesman.
3. Reviews/Schema/Mircrodata

Reviews are great because shoppers are more likely to trust other shoppers before a salesperson – True, but this isn't the ONLY value product reviews carry.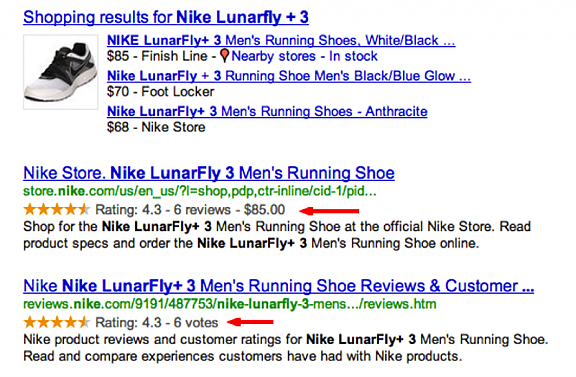 Behold, microdata, your HTML's way of providing search crawlers a meaning to your site, business and/or product. For the last six months, microdata and Schema.org efforts have blown up. Google likes it because it adds to the quality of their SERPs and makes the overall search experience better. Online retailers should love it because the EASIEST way to optimize your Microdata is by encouraging customer reviews. Not just as a way to engage your customers, but also for the added value it provides in your search rankings.
4. Social Options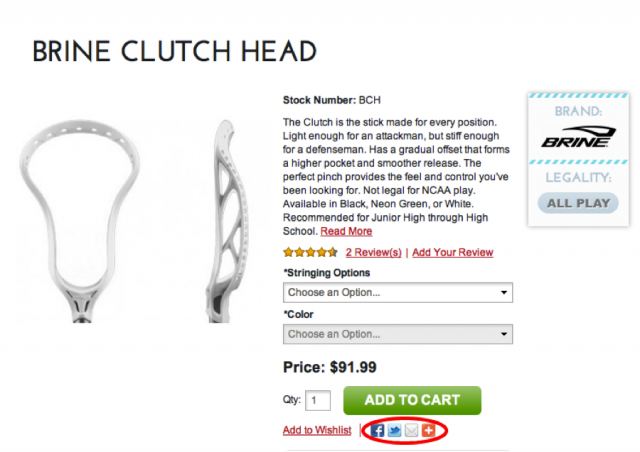 Now that Google indexes Facebook posts and continues their efforts to crawl comments rendered in AJAX – social buttons on your site will become more valuable. SEO and Social strategies should work hand in hand, so creating a social buzz with product pages (comments, reviews or sharing recently purchased products) can engage users as well as help develop organic results. Again, this combines the principles Google likes most – quality content and trustworthiness – because social media users usually "Like," share and comment on sites that they trust and products that they like/want.
5. Contact Info/ Company Info
Remember, if you learn nothing else about Google, their motives are to put the most valuable websites in the top of their rankings (because that way users find the quality information they want quickly, making Google's service more valuable). That's why Google places a large emphasis not only on the quality of the content on your site, but how trustworthy it perceives your site to be.
While Google penalizes sites that try to extract user information, they place value in sites that provide customers with merchant information. By simply putting a phone number, email address, contact information, and "About Us" pages in your header or footer could mean the world to both crawlers and customers. For Google, transparency equals trustworthiness. And similar to how humans interact, Google is more likely to recommend the sites it trusts, putting those with clear contact information higher in the SERPs.
Need help optimizing your Magento eCommerce site – do you feel like you're not getting enough out of your SEO…or worse, are you OVER-doing your SEO? We can help with your Search Engine Optimization and more.
Related Content
You Also May Like
Blog
As the eCommerce landscape continues to evolve, businesses are constantly seeking...