Groove Commerce
Learn how optimize your business's social media efforts by understanding how the social media landscape has transformed for 2015.
Whether you use social media for personal use or for your business, it's imperative to know how the social media landscape has developed in 2014 in order to plan for using it in 2015. There's no one better to provide insights on these social media transformations than HubSpot's Social Media Manger, Robyn Showers.
Robyn manages HubSpot's social media across 21 different platforms that maintain around 1.5 million users. During her time in this role, she has developed keen insights into how these platforms have been shaped by their users.
Last week, Robyn spoke at the Baltimore HubSpot User Group (HUG) to give insight on the social media landscape for 2015. According to her, the following five factors are what you need to know when planning out your social media strategies in 2015.
1. Fringe social media becomes mainstream
A trend that was prevalent during the past year is that people are starting to turn to different platforms for different purposes. While "the big three" social networks (Facebook, Twitter and LinkedIn) are not going anywhere anytime soon, younger networks like Instagram, Pinterest and Tumblr are rising in numbers. These smaller networks became three of the top most active social networks in 2014.
Another social media platform, SlideShare, has also developed into a key network for business professionals to digest educational content in visual, digestible pieces.
2. Get ready for disruption
Several new social media networks, like Ello, Tsu and Yik Yak, developed in late 2014. While tons of smaller networks are popping up, it doesn't mean people are leaving networks like Facebook.
It's a sign of social behavior diversifying, and that social media users are looking to use a whole host of networks rather than stick to just one.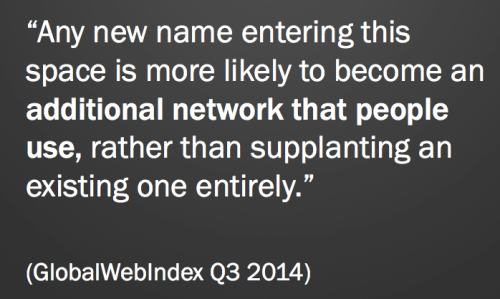 3. Rising popularity in anonymous social
There's been a demand for more privacy on social and, in the last few months, several social platforms have been born from that foundation: Apps like Whisper and Secret allow users to post personal secrets anonymously.
While marketers aren't getting the type of data we use to target, it isn't stopping companies like Gap from engaging and delighting through the inbound methodology.
4. Put the "media" back in social media
Start experimenting with video! Use visually engaging and stimulating imagery to drive people to non-social content such as eBooks, webinars and blog posts. Videos are great examples of content that thrive on social, and engagement is incredibly high on visual channels like Instagram, SlideShare and YouTube.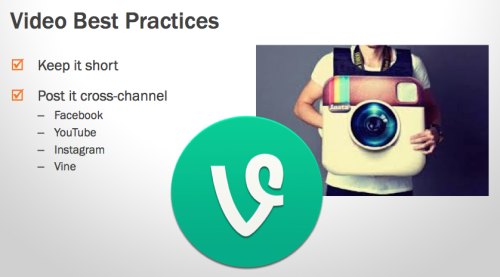 5. Recognize the value of social sub-communities
Social sub-communities like LinkedIn groups and Google+ communities have higher quality audiences with less competitive noise. These communities come together for specific purposes, and therefore are more collaborative environments for sharing similar information.
If you're interested in learning more about the Baltimore HUG, join our Baltimore HUG LinkedIn page for event updates, discussions and more.
Get in Touch
Subscribe for industry insights and resources.