eCommerce Strategy
The Impact of Social Media on Search Ranking
Oct 11, 2011 • 1 Min Read
For the last several years' people have questioned how social media can really help businesses, whether it be lead generation or e-commerce. Nobody truly understood what it would mean or the impact it would have in the long term. But in 2011 it has been made clear that Google and Bing have started using social media as a part of their Search Engine Results Page (SERP) ranking algorithm. Google and Bing have relationships with Facebook where they are able to get data from Fan pages and therefor use that to help with their rankings. So now, more than ever, it's important for companies to take into account how much time and energy they are putting into their social strategy as it directly effects their organic rankings.
Below are the major areas that you need to focus on, concerning specifically Facebook and Twitter when building your search engine optimization (SEO) strategy.
Facebook
Shares seem to be one of the top actions that Google is using to influence rank. So be sure you are posting engaging content that is shared by fellow users.
To go along with engagement, comments on your page and posts also have an effect on ranking. So again, make sure you are posting quality content that people will have something to say about it.
While I don't believe it plays as large of role as engagement, the number of 'Likes' does seem to have some influence on ranking and should be considered as you develop your social strategy. If for nothing else, the more 'Likes' you have, the more likely you are to have people engage.
Twitter
Tweet often and make sure the content is relevant so that people reply and/or re-tweet it.
Increase the number of people you follow while also gaining followers. You don't want to follow hundreds or thousands of people/businesses and only have a hand full of followers, as this means people probably aren't interested in your content and aren't likely to engage.
Below is a graph from SEOmoz that gives you a general idea of how they believe search ranking is determined, with social media having a decent size of the pie. And while we don't have the exact formula Google and Bing use for their rankings, what we do know is that they are both using Facebook, Twitter as well as other social media outlets to influence rankings. So businesses, large and small, lead generation or e-commerce, need to step up their social strategy as this is only the beginning. Are you doing enough?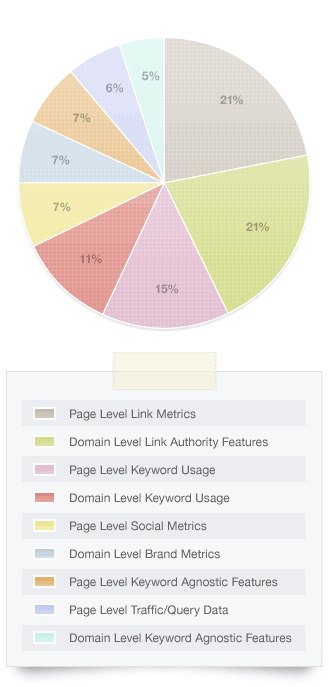 Related Content
You Also May Like
eCommerce Strategy
Selling products online often means wild swings in revenue generation based upon...