Paid Media
TikTok Shopping & It's Impact on eCommerce
Nov 19, 2021 • 3 Min Read
TikTok Shopping is a series of features which allows users to purchase products directly from the TikTok app. To understand how these new features will impact the eCommerce sphere both today and in the future, we must look to the past.
Traditional Commerce
Traditional commerce refers to commerce done before the advent of the internet. For the purpose of this blog, we will define the widespread public adaptation of purchasing goods and services through the internet as taking place in the year 2000. Before 2000, products and services were typically brought to the public in brick and mortar stores, print publications, television advertisements, billboards as well as word of mouth.
Early eCommerce
Moving into the early 2000s, eCommerce was beginning to take market share from large retailers such as Sears and Macys. Product catalogs were listed online with photos for anyone to view. Although PayPal existed at this time, most consumers were not comfortable entering their credit or debit card information in their browser. These customers were correct to be weary due to the fact that internet security was comparatively weak and credit card fraud was common.
eCommerce saw a massive increase in popularity during the early 2010s as virus and security concerns were addressed by technology companies and financial institutions alike. In conjunction with the rising popularity of online advertising, eCommerce began to upset the traditional commerce model that businesses subscribed to for decades previously.

During this time period, we saw shipping companies reduce the amount of time it takes to deliver a package down to one week. This change allowed for customers who needed products quickly to consider purchasing online.
Social Commerce
As social media rose to prominence throughout the mid-2010s, a new term was coined - "Social Commerce". This referred to the phenomenon of consumers learning, connecting with and purchasing products and services through social media. This offered retailers the ability to make use of dynamic advertising methods to offer the right products to the right person at the right time. During this era, shipping times were reduced to only two business days - and in some cases, same day delivery!

This brings us to the modern era of Social Commerce - starting in 2019. Due to the COVID-19 pandemic, eCommerce took front stage in many countries around the world. Many consumers were unable or unwilling to visit brick and mortar stores for simple household items. eCommerce saw a massive increase from 11% of total sales to 15.7% of total sales in the United States.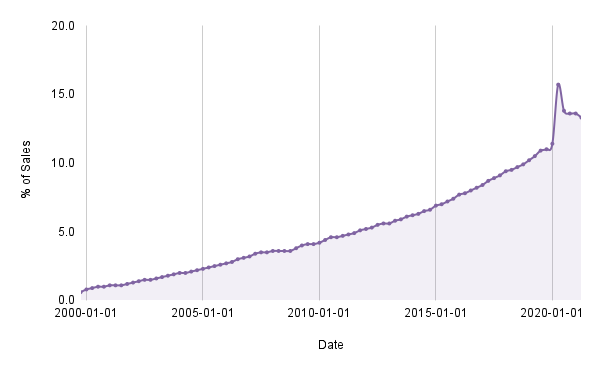 Source: https://fred.stlouisfed.org/series/ECOMPCTSA

Marketers began to crave new tools that enable them to reach potential customers where they are. During the peak of the pandemic, most potential customers were at home using apps such as Facebook, Instagram and TikTok.
eCommerce on TikTok
Facebook and Instagram were first to implement shopping features on their social media platforms. This allowed a customer to view a paid or organic post relating to a product, follow a CTA (Call To Action) and purchase the product seamlessly. Many fashion brands saw a massive increase in conversions of Instagram followers to actual paying customers when taking advantage of these features.

In late September of 2021 TikTok unveiled their new series of shopping features. One of the first TikTok accounts to gain access was @KylieCosmetics, the makeup brand owned by social media influencer Kylie Jenner. Kylie Cosmetics sold out of all products listed on their TikTok Shopping tab, partially because of the unified and easy user experience the app offers. The new era of eCommerce on TikTok was solidified with the rapid rising popularity of the hashtag #TikTokMadeMeBuyIt on the app.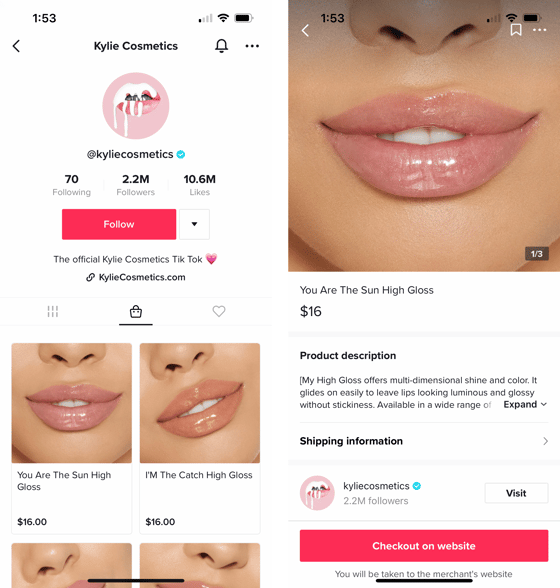 Source: Kylie Cosmetics on TikTok
As of November 2021, TikTok only allows these tools to be accessed by TikTok business accounts that are hosting their website with Shopify and are approved through the official Shopify TikTok account. As with all beta periods, this is likely to change in order to allow merchants on other platforms to list their products on TikTok.

This will allow for small, medium, and enterprise companies to start an ad campaign with TikTok Ads Manager, add a CTA linking to their shopping tab, and have customers check out - potentially all in under a minute. It is important to start planning your marketing strategy now, because these features are likely to become available to you in the coming months.
Additionally, TikTok has integrated these features directly into the live streaming functionality of the app with Live Shopping. A brand ambassador is able to demonstrate and answer questions in real-time with a live audience while providing CTAs directly to a product description page within the app. Allowing potential customers to interact with a brand ambassador throughout the checkout process is an innovation that neither Facebook or Instagram currently offers at this time.
Preparing For The Future
As with all things tech, the eCommerce landscape moves so quickly that if you let your guard down at all you could miss your next big opportunity. The tools that TikTok is now offering are not groundbreaking, but the doors that these innovations will open are.

At Groove Commerce, we are already planning marketing tactics that will allow us to leverage the virtual world that technology companies are building. Marketing specialists need to stay on their feet and begin planning for the massive evolution that online shopping will go through over the next five years.

Do you need a team of eCommerce professionals to navigate the increasingly complex and quickly changing eCommerce landscape? Reach out by submitting the form below! One of our experienced team members will reach out to start forming a partnership that will bring your big marketing goals into reality.
Related Content
You Also May Like
Paid Media
eCommerce automation is key to eliminating repetitive and mundane tasks, no matter...