Case Study
Website Design Before & After: Transitioning To BigCommerce
Nov 10, 2020 • 3 Min Read
B2B eCommerce businesses require a platform that allows for a positive user experience, taking into consideration factors like fast site speed and mobile optimization. When this client turned to Groove to switch platforms, we were happy to help.
Continue reading this case study to see the website design before & after for our client, Curtain Call, and how we updated their eCommerce store to improve the customer experience.
Website Design Before & After Working With Groove
Curtain Call is a B2B eCommerce store that sells dance class wear and costumes for recitals. Before working with our team, Perform Group, the parent company to Curtain Call, hosted the site on Magento. They often ran into site speed and page load time issues due to their outdated website, so they enlisted the help of Groove Commerce to migrate platforms and enhance the overall website design.
The Challenge
Outdated Website Design
Curtain Call's website design was outdated before working Groove, and the outdated design made it difficult for them to regularly update the site. They had a strong catalog focus and wanted to be more online-oriented, so optimizing their eCommerce store was a must to ensure that the site could be flexible enough for their team to update it when needed.
Here's what the Curtain Call home page looked like before working with our team: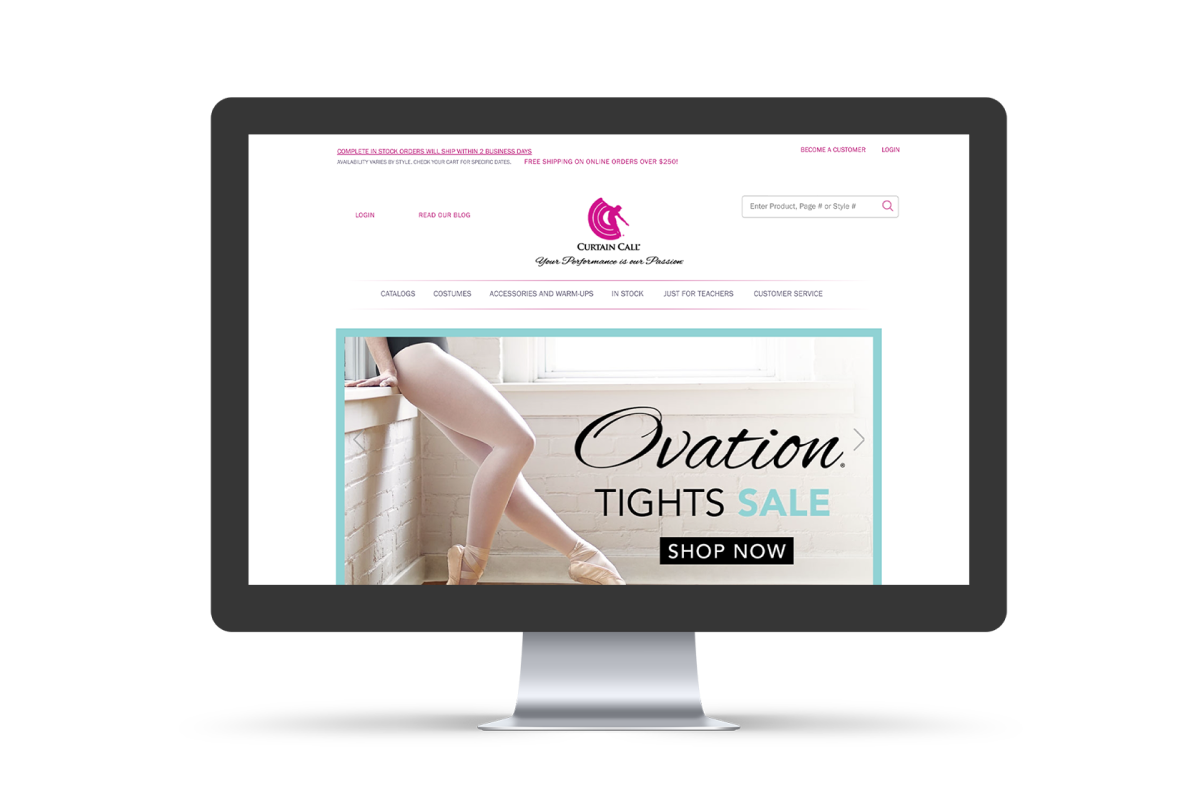 Website Was Not Optimized For Mobile
Optimizing eCommerce stores for mobile is key to increasing the customer experience. Curtain Call's original website didn't provide a positive user experience on mobile. It was difficult to navigate and didn't load as fast as their competitors' sites.
The Solution
To help Curtain Call migrate eCommerce platforms, we took their team through an extensive BigCommerce review that helped us determine the best solution for them. We seamlessly migrated their Magento store to BigCommerce, and now their store is optimized with their customers in mind.
Custom Design
The Curtain Call team regularly updates their banners independently, so we knew that we needed to build a custom design that is flexible enough for their team to make these changes on their own.
In other words, rather than building their current website design, our team built the framework for it so that the Curtain Call team can update the design on their own. This gives their team the ability to add more things and make changes to their site independently.
Here's what Curtain Call's home page looks like now: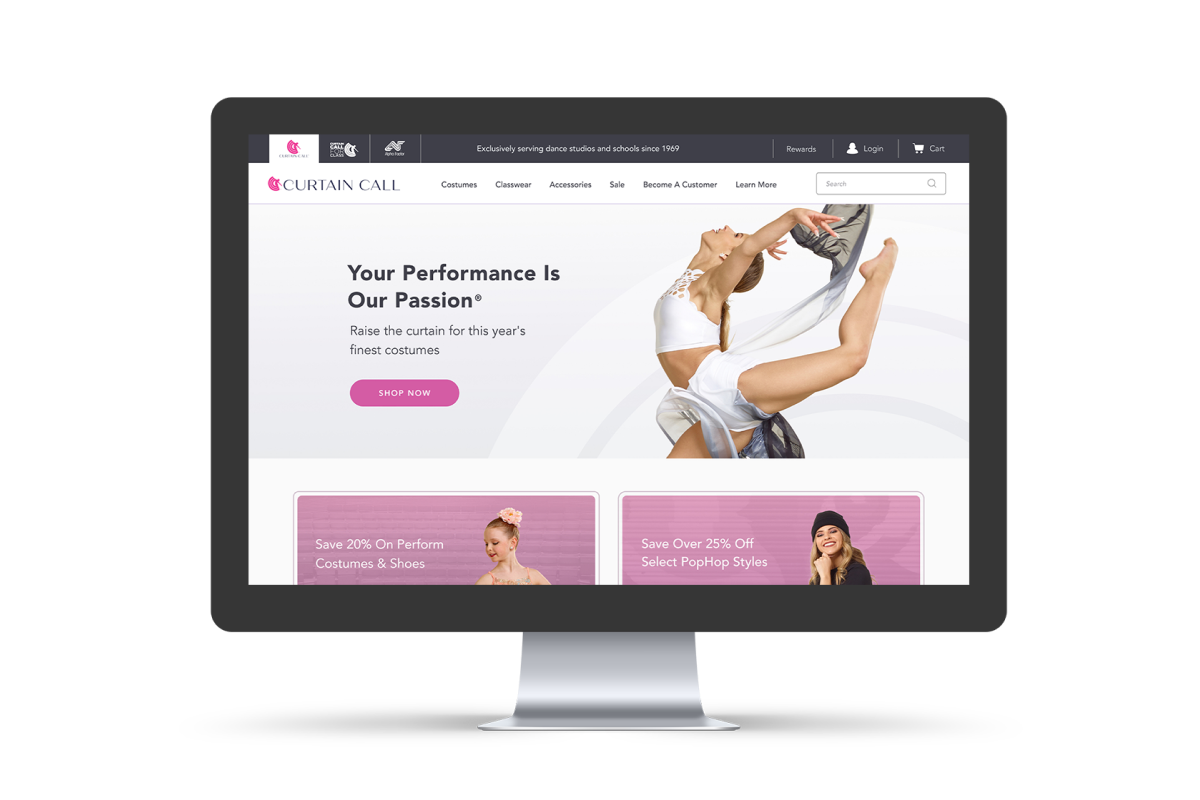 Optimize The Website For Mobile
Curtain Call recognized an important advantage of transitioning to BigCommerce: the SaaS platform is designed to support large eCommerce orders. Because they sell to businesses, their customers accumulate extremely large shopping carts over time, which contributed to slower page load times when the site was run on Magento.
So, we optimized the Curtain Call website to cater to the shoppers who browse and check out on mobile. Now, it takes much less time for web pages to load on mobile, and shoppers have an easier time finding what they're looking for.
Here's what the site now looks like on mobile: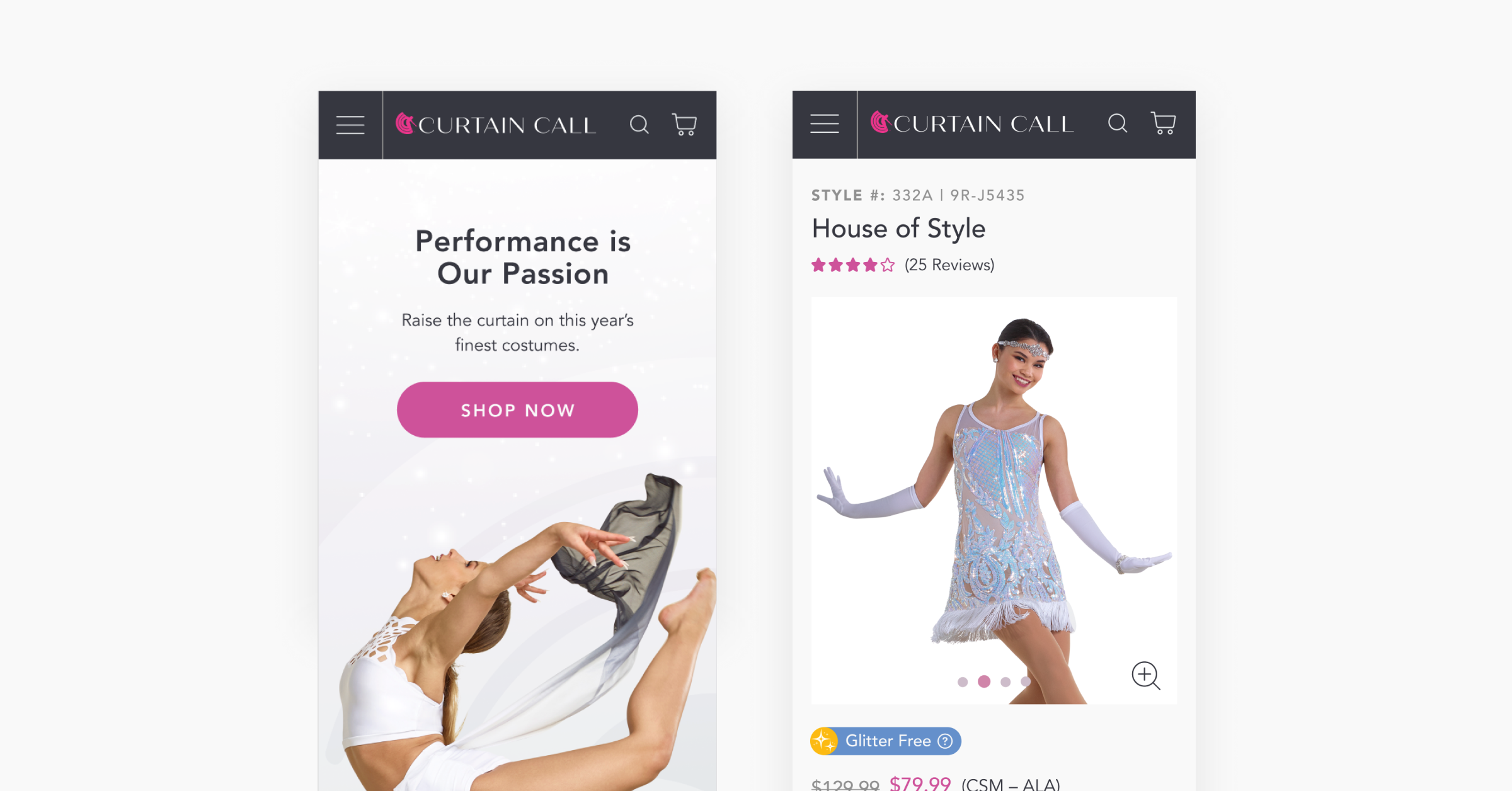 User Testing On Product Detail Pages & Bulk Ordering
We created a bulk order form on product detail pages, which allows buyers to order products in large quantities. From there, we conducted user testing to see which product page design offers the most seamless user experience.
Also, Curtain Call's product detail pages now show the number of items left in stock for a given product at any given time − something they struggled with on Magento. We used the IBM iSeries integration to display accurate inventory amounts and expected delivery dates on product pages to ensure a positive customer experience.
The screenshot below shows one of their updated product detail pages. It's important to note that since Curtain Call sells B2B, customers must make an account and login to see the prices of their products.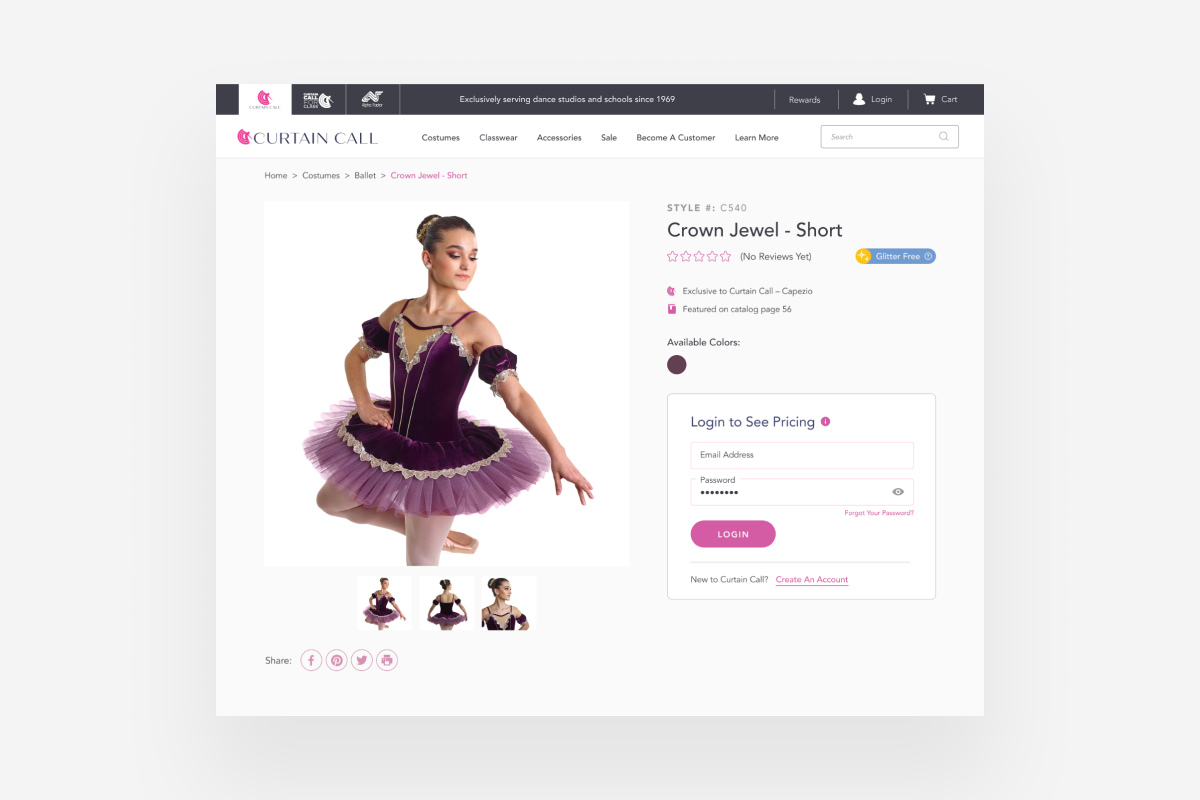 Testimonial
"Working with the team at Groove Commerce allowed us to improve our eCommerce experience and promote our products in fresh, exciting ways. We were able to add new features to our store, which allows us to deliver better service to our online audience."
- Emily Fritz, Perform Group LLC
Conclusion
The Groove Commerce team launched Curtain Call's BigCommerce store at the end of September, and we are anticipating an increase in online apparel sales due to the improvements in user experience and website design.
If you have any questions about migrating eCommerce platforms or are wondering how Groove Commerce's website and marketing services can transform your online store to offer better shopping experiences, contact us through the form below. We can't wait to learn how we can help your business grow!
Related Content
You Also May Like
Case Study
Elmhurst Milked 1925 is a dairy-free and plant-based milk alternative brand based...