Search Engine Optimization
We Increased Email Revenue 126% With Our Signature Klaviyo Jumpstart (Clone)
Dec 14, 2022 • 4 Min Read
Shambhala Publications, Inc. is a premier independent publishing company of written books, audiobooks and immersive courses that strive to improve physical and spiritual wellbeing. With genres such as Buddhism, Christianity, Mindfulness, Wisdom Traditions, Health, Yoga, Martial Arts and more, Shambhala Publications aims to publish meaningful content that enlightens society.
When the Shambhala team was looking to level up their email efforts, they realized Bronto could no longer support their growth. So, they reached out to our team for help with using Klaviyo email and SMS. Get ready to learn more about this incredibly successful email marketing story below.
The Challenge
Transition From Bronto To Klaviyo
Bronto became end of life at the end of May 2022, meaning that the platform no longer supported Shambhala's email marketing efforts. Plus, Bronto requires its customers to buy into a contract with piecemeal add-ons, so the Shambhala team evaluated other email service providers. That's when they reached out to our team with help migrating over to Klaviyo.
The Groove Commerce team was presented with the challenge of importing Shambhala's existing contact list, including suppressed profiles, from Bronto into their new Klaviyo account. Our team was also responsible for connecting the client's website to their new Klaviyo account. This includes performing a baseline integration using default Klaviyo functionality; adding "active on site" and "add to cart" tracking within Klaviyo; and integrating the client's Facebook Ad Manager. Additionally, the client enlisted our team's help to design and develop Klaviyo emails that they'd send out to their contact lists as well as build out automated flows.
Our Solution
Import Contacts Into Klaviyo
To transition the client from Bronto to Klaviyo, our team leveraged our signature Klaviyo Jumpstart service. After meeting with the client's team for a Klaviyo Jumpstart Discovery session, we imported their contacts into Klaviyo using prepared CSV files of engaged contacts as well as suppressed contacts.
Set Up Core Segments
Once we imported all contacts from their Bronto account into Klaviyo, our team then set up core Klaviyo segments based on foundational Klaviyo criteria. We configured an engaged email user segment, as well as a disengaged email user segment. In addition, we coached the client on creating and implementing targeted pop-up forms in Klaviyo to expand their segmented audience lists. This allowed their team to create targeted campaigns specific to each segment.
Design and Develop Emails
After the lists were imported and the contacts were segmented, our team conducted weekly coaching calls to review the results of their active campaigns. During these calls, the Groove Commerce team guided the client on how to improve click-through rates and open rates through A/B testing, segmenting their audience and updating their email template designs.
Additionally, we applied Shambhala's brand colors and logo to our predefined Klaviyo email templates to enhance the style design and ensure congruence among all email campaigns. After making revisions based on the client's feedback, the email templates were ready to be used in active marketing campaigns.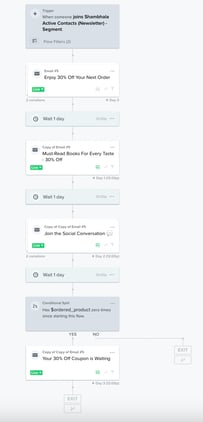 Set Up Flows
Further, the Groove Commerce team built and implemented four foundational flows in the client's Klaviyo account. We optimized their email copy and received approval from the client. Then, our team populated each email in the following flows.
The Welcome Series Flow
The Welcome Series workflow includes an email that thanks customers for subscribing and offers a coupon. The first email is followed by a second email that suggests some must-read books and best sellers using Klaviyo's dynamic content block. The third email suggests following the brand on social media to keep in touch, and the last email in this series is a reminder with a coupon to encourage first-time customers to purchase.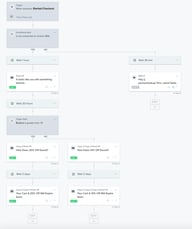 The Abandoned Cart Flow
The Klaviyo abandoned cart flow that we are actively implementing in the client's account sends out an SMS reminder that the shopper left an item behind in their online shopping cart. After a predetermined amount of time, the second email sends a discount code with a trigger split to offer different discounts to those with abandoned items greater or less than $75. The last email in the abandoned cart flow reminds the customer that the offer will expire soon if they don't take action.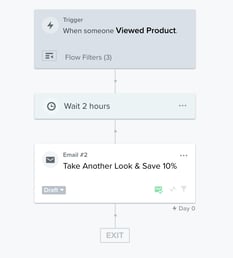 The Browse Abandonment Flow
The browse abandonment flow is similar to the abandoned cart flow but is much quicker to set up. It involves sending a product reminder a couple of hours after a product is viewed on the client's website. Klaviyo's browse abandonment flows help get products in front of potential customers who have expressed previous interest in the product, ultimately driving product awareness and encouraging customers to purchase.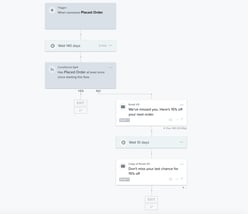 The Customer Win-Back Flow
The final foundational flow we built for Shambhala in Klaviyo is the customer win-back flow, which is an attempt at reengaging customers who haven't purchased after a long period of time. The two emails in this flow entice customers to make a purchase with a discount code.
Facilitated Pop-Up Forms in Klaviyo
We collaborated with the client to build new targeted pop-up forms to better segment their audience based on interests. We created a multi-step pop-up form for new users, so they can select the notifications that they receive from Shambhala. This helps to build trust with new users and provide them with the email content they want to read.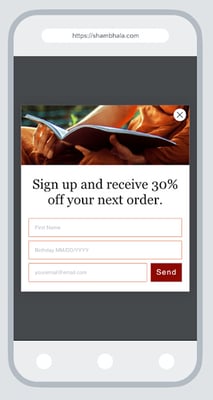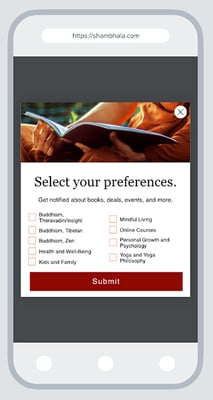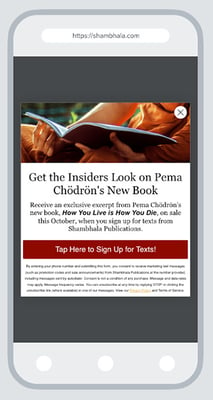 The Results
After working with our team to transition from Bronto to Klaviyo, Shambhala Publications, Inc. has experienced incredible results. In the first quarter of 2022 alone, compared to their previous Bronto metrics year over year, the client experienced a:
83.76

% increase in automation open rate

72.72

% increase in campaign open rate

157.95

% increase in click rate
126% increase in owned revenue
We're excited to see continued growth and can't wait to help the client grow email marketing revenue further.
Conclusion
Groove Commerce helps mid-market and Enterprise eCommerce merchants build, design and grow their websites. If you're looking to invest in an email marketing platform but don't know where to begin, check out this Klaviyo vs Bronto article to compare platforms. Additionally, you can reach out to our team with any eCommerce questions or concerns you have; we're here to help you find the best solution for your eCommerce needs.
Related Content
You Also May Like
Magento
Tips For Developing An eCommerce Website Developing an eCommerce website takes A LOT...