eCommerce Website Requirements For Selling & Shipping Food Online
Introduction to online food sales
eCommerce functionality needed to sell perishables online
Fulfillment tips to ship perishable products
Introduction To Online Food Sales
Did you know that eCommerce revenue in the food and beverage industry is projected to surpass $16.5 billion this year? This industry is one of the largest retail categories in the United States!
In 2019, the U.S. online grocery market was estimated to generate a sales worth of $26.7 billion. And online food and beverage sales accounted for 2.4% of all food and beverage sales in the United States.
Fast forward to 2023, and it's forecast that sales will reach $59.5 billion, and online food and beverage sales will account for 7.1% of all food and beverage sales in the United States.
With key players like Amazon Fresh and Walmart grocery delivery, many restaurants and brick-and-mortar businesses are realizing the potential of online food sales. Transitioning from brick-and-mortar to eCommerce, especially during a pandemic, can be challenging no matter what industry you're in; that's why it's important to conduct research into eCommerce platforms, required website functionality and consumer preferences to ensure your online store is conversion-driven and optimized for the user experience.
It's 2021. What Has Taken So Long?
We've seen an increase in online food orders and delivery in the past few years. The first online sale ever happened in 1994, and you'd think that selling food online would follow not long after. The truth is, it can be difficult to achieve a successful perishable goods eCommerce strategy, and there are quite a few factors to consider when packaging and shipping food and beverages.
Freshness & Quality Matter
What's the point in offering online shipping and delivery if your products lose their quality in the process? Consumers are willing to pay higher prices for higher quality items; therefore, they expect fresh and high-quality food delivered to their doorsteps. Restaurants and distributors selling perishables goods online must ensure that their food maintains its freshness and quality throughout the shipping process, and businesses are set to fail if they don't take the proper measures to guarantee freshness.
There May Not Be A Cost Advantage
High delivery fees, minimum purchase amounts, service fees and tips are some valid reasons why many consumers prefer to do their food shopping themselves instead of online. Understandably so, these costs deter customers from purchasing online because small fees here and there add up to a large additional cost. Of course, everybody is different and consumers' preferences vary based on the individual's needs. That being said, some in-store shoppers are value-conscious, while other online shoppers value the convenience and time they save by ordering online.
eCommerce Website Requirements & Functionality To Sell Perishables Online
High-Quality Product Photography
According to photography company, Meero, 90% of online buyers say that photo quality is the most important factor in an online sale. With the growing popularity of ordering food online, businesses must ensure that they're showcasing their perishable products in the best way possible. When online ordering, consumers sacrifice the feeling of walking into a restaurant and smelling the delicious aromas, so eCommerce product photography must make up for that lost opportunity to entice shoppers to purchase.
G&M Restaurant, one of Maryland's most trusted seafood restaurants, turned to Groove Commerce when they needed to make the food on their eCommerce website look more appetizing. They also needed to optimize their website for mobile and reduce buyer friction by transitioning to BigCommerce, but you can read more about that here. To substantially enrich their product photography, our team provided photography and art direction. This not only helped to make their crab cakes and other menu items look more appetizing, but it also helped to enhance the aesthetics of the online store overall.
Here are some of the photos taken by our team that are live on the restaurant's site: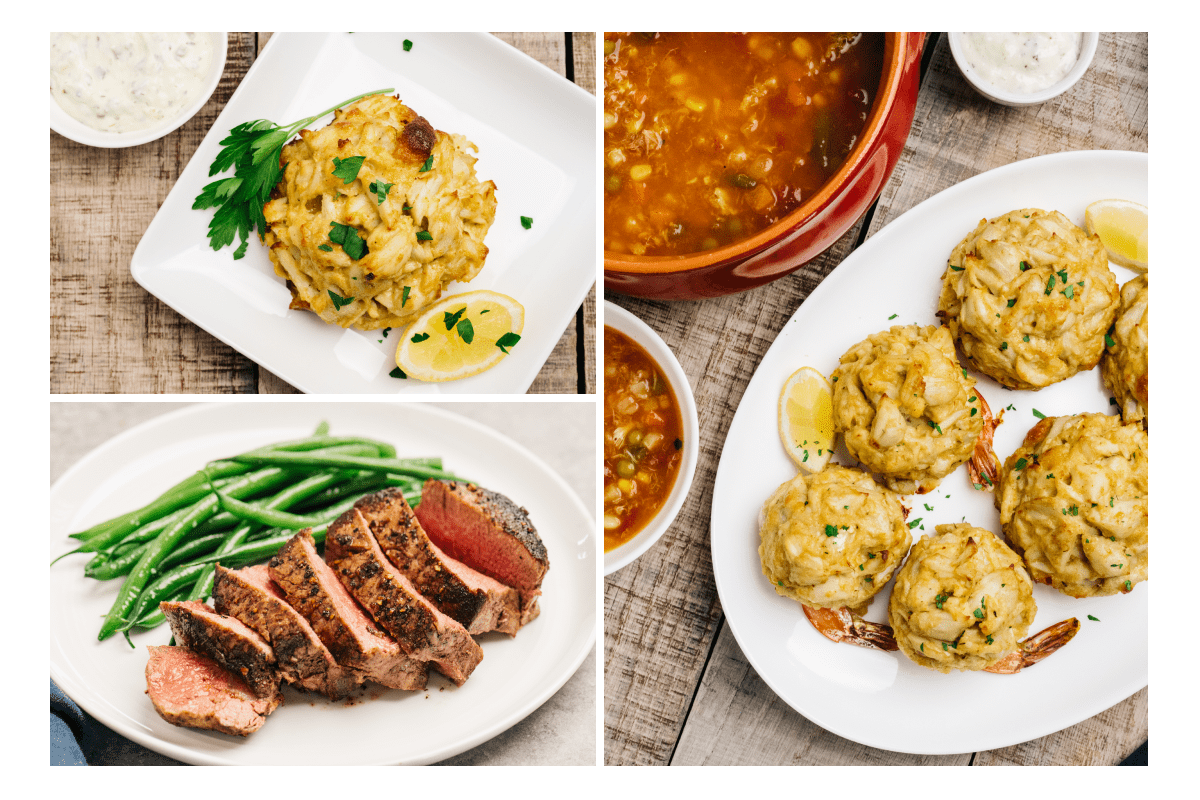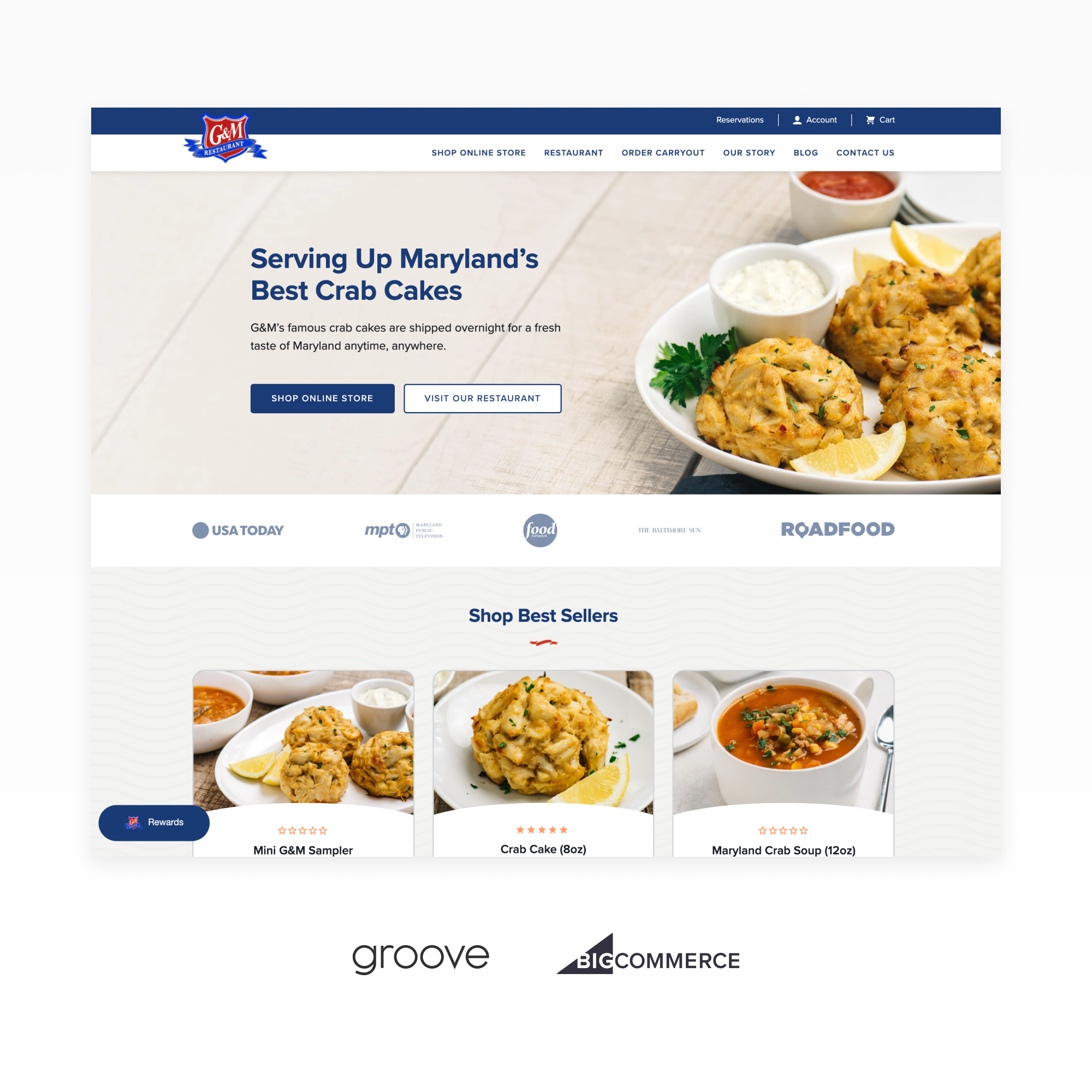 Accurate Shipping Dates & Times
Selling and shipping food online can be difficult for businesses that don't have the correct operations in place. Of all the eCommerce website requirements, this is one of the most important. Customers need to know when to expect their perishable items to arrive, and failing to do so can really disrupt the customer's experience with your brand as a whole (and even cause some to never return).
Let's go back to the G&M Restaurant example. One of the challenges this eCommerce restaurant faced was presenting their website visitors with precise shipping costs and delivery times. The inaccurate timing caused customers to question when their food would be delivered to their homes.
To help the restaurant estimate exact costs of shipping and to help their customers choose the exact day they want their order delivered, the Groove Commerce team created a detailed calendar shipping application, pictured below.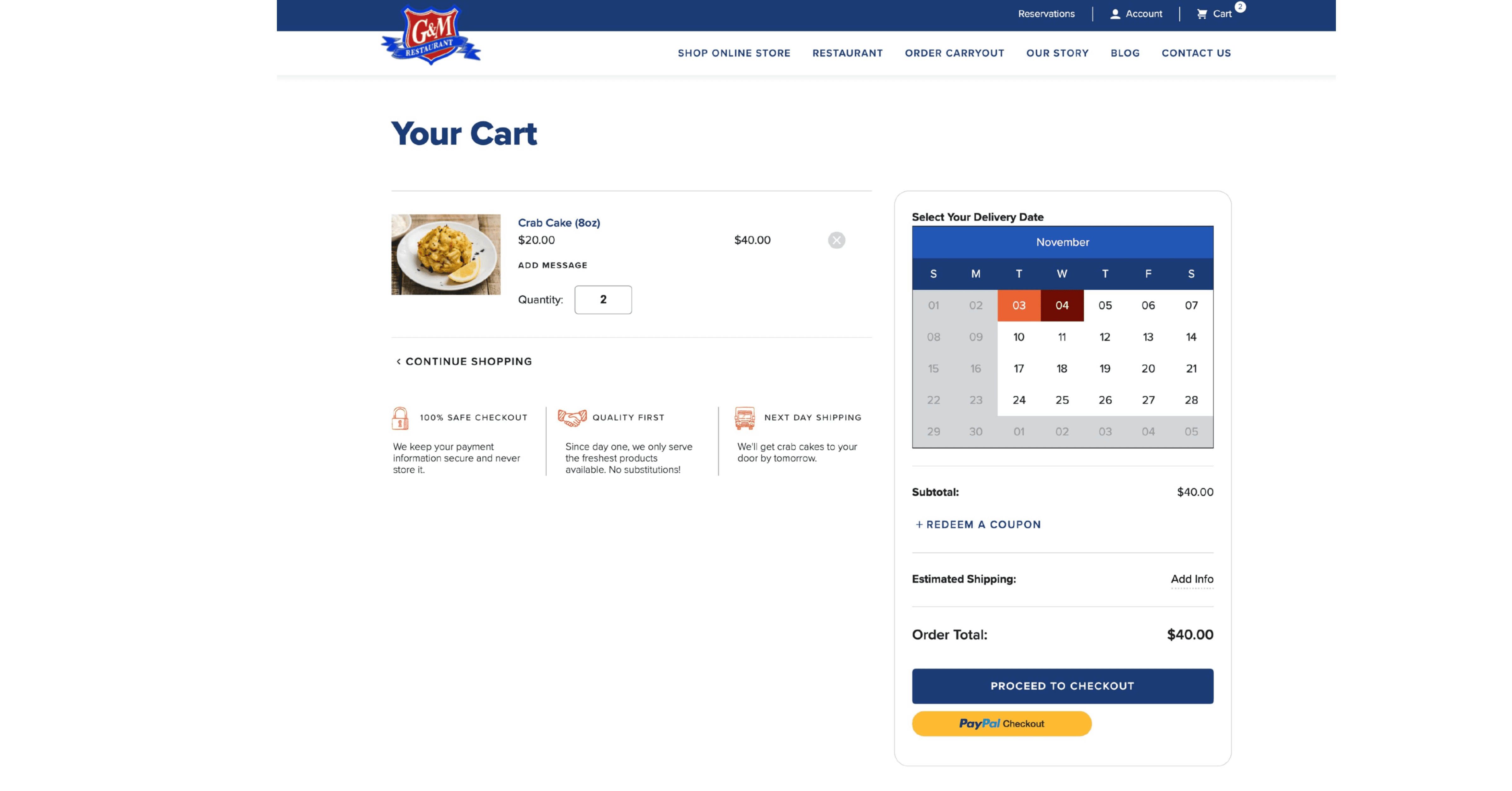 We leveraged Advanced Shipping Manager to ensure that delivery prices for Saturdays were correct (because the restaurant charges a higher fee for Saturday deliveries). Since Advanced Shipping Manager does not have a scheduling app on BigCommerce, our team created the functionality so that our client can provide better service to their customers. We strongly suggest reading more about how the custom shipping calendar application benefits G&M Restaurant from an individual standpoint as well as from their customers' standpoint.
Gift Card Functionality
Though gift card functionality is not a necessity for online food sales, gift cards are a hit among consumers. They make for great gifts and help some consumers justify ordering more than they would if they didn't have a gift card. If gift card functionality is important to your online business, then we recommend researching eCommerce platforms that support this functionality. For example, Magento natively supports gift card functionality, while BigCommerce does not. In fact, that was one of the problems that G&M Restaurant wanted to solve when they made the move from Magento 1 to BigCommerce.
For this client in particular, our team used the Givex Integration - developed specifically for restaurants - to allow the online store to sell and accept payment with both physical and digital gift cards. So, although BigCommerce does not natively support gift card functionality, it is possible to obtain this functionality from a third-party tool.
Fulfillment: Shipping Food & Perishables
Invest In Packaging To Keep Food Cold
According to the USDA, all perishable foods should arrive to the customer at or below 40℉. To achieve this, it's important to invest in the right packaging to keep perishables cold or even freezing as needed. Depending on the weather and where the package is stored during transport, it's likely that ambient temperatures may affect the package. That's why it's critical to invest in insulated perishable packaging supplies that guarantee to keep perishable items at or below 40℉ throughout the entire shipping process. In addition to the insulated packaging, it's recommended to include ice packs or dry ice to maintain the proper temperature and prevent food from rotting.
Use Proper Labeling
This one is a no-brainer; we can't stress enough the importance of labeling perishable packages appropriately. Not only does the recipient need to understand that the package contains food, but your company's shipping partner needs to know, too. Use labeling such as "keep refrigerated," "keep frozen," "fragile: contains food" or "caution: dry ice inside." This will prevent the people who are shipping and transporting the items from storing the box in a hot area for a long period of time, and the dry ice warning will help employees handling the package avoid getting burned.
Understanding Shipping Regulations
If you're shipping food internationally, it's critical that your team understands the regulations involved for each country that you'll ship to. Just like how the United States prohibits the entry of many agricultural products to prevent harm to American agriculture and the environment, many other countries restrict the import of specific food products. For example, Australia restricts the import of eggs and egg products, dairy products, uncanned meat, seeds and nuts and fresh fruits and vegetables for biosecurity purposes. No matter the country you're shipping to, be sure to do your research and determine what ingredients and foods are legally allowed to be imported.
Conclusion
We hope these eCommerce website requirements and fulfillment strategies for selling and shipping food online have provided you with valuable insights to optimize your site. If you're looking for help with specific website functionality or want to enhance your overall marketing strategy, contact our team with any questions or concerns. We're happy to learn more about your business and would love to help you build, design and grow your eCommerce store.
About Groove Commerce
Groove Commerce is a full-service eCommerce agency with over 13 years of experience helping mid-market retailers design, build and grow their eCommerce websites. As a Diamond HubSpot Partner Agency and an Elite BigCommerce Partner Agency, Groove Commerce follows an inbound methodology and delivers bespoke, white-glove service to convert visitors into repeat customers.