eCommerce Development
What Are The Benefits of Custom Website Development?
Nov 05, 2021 • 2 Min Read
Website creation has come a long way from hosting a site on-premise and making content changes directly to the site's HTML. As all industries in the tech sphere have evolved, so have the offerings from eCommerce platforms and hosting services across the web. In this post, we'll evaluate how custom website development has changed the landscape and influenced the way enterprise businesses approach their eCommerce processes.
When Is Custom Website Development The Right Fit?
For mid-market and enterprise businesses, custom back-end features, integrations and front-end site components are often essential to succeed in their niches. This is where custom website development takes the driver's seat.
Custom website development refers to UX (User Experience) and UI (User Interface) design, back-end development and deployment of a highly specialized website. Custom website development should be completed by partnering with a trusted team of highly specialized professionals within that company's vertical. In the case of Groove Commerce, we specialize in custom eCommerce solutions.
Custom web design and development differs from pre-built templates that are often configured within respective eCommerce platforms. Although these standardized templates often bring shorter go-to-market timelines, they often don't meet the needs of mid-market and enterprise businesses.
What Solution Is Right for Your Business?
To start, you must determine if your current website is lacking features that will increase the efficiency of your employees and the satisfaction of your customers. Potential internal issues include low conversion rates, inventory management challenges, multi-channel shipping and logistics requirements, customer support and high general website maintenance costs.
Although there is often a trade off between complexity and ease of use, we challenge businesses to truly identify their priorities when entering a website redesign and development project. From there, they can identify and evaluate approaches that meet their specific requirements.
Custom web development is by its nature unique. For that reason, you will likely have have near-complete control over functionality and interfaces. For inspiration, we've outlined a few examples of custom functionality we've built for clients to achieve their specific needs.
Perishable Shipping Calendar - Dippin' Dots
Dippin' Dots "The Ice Cream of The Future" needs specific shipping functionality built into their site's cart and checkout. This is necessary because their products are packaged with sub-freezing carbon dioxide (dry ice) to ensure the product stays below a predefined maximum temperature during shipping. As with all frozen goods, this shipping method can ensure a consistent product temperature for only a few days.
In order for Dippin' Dots to delight their customers, we built a custom shipping scheduler directly into the site's checkout cart and checkout procedure. Groove Commerce made use of their technical knowledge to seamlessly implement this feature with BigCommerce and Advanced Shipping Manager.
Product Configurator - Barron Designs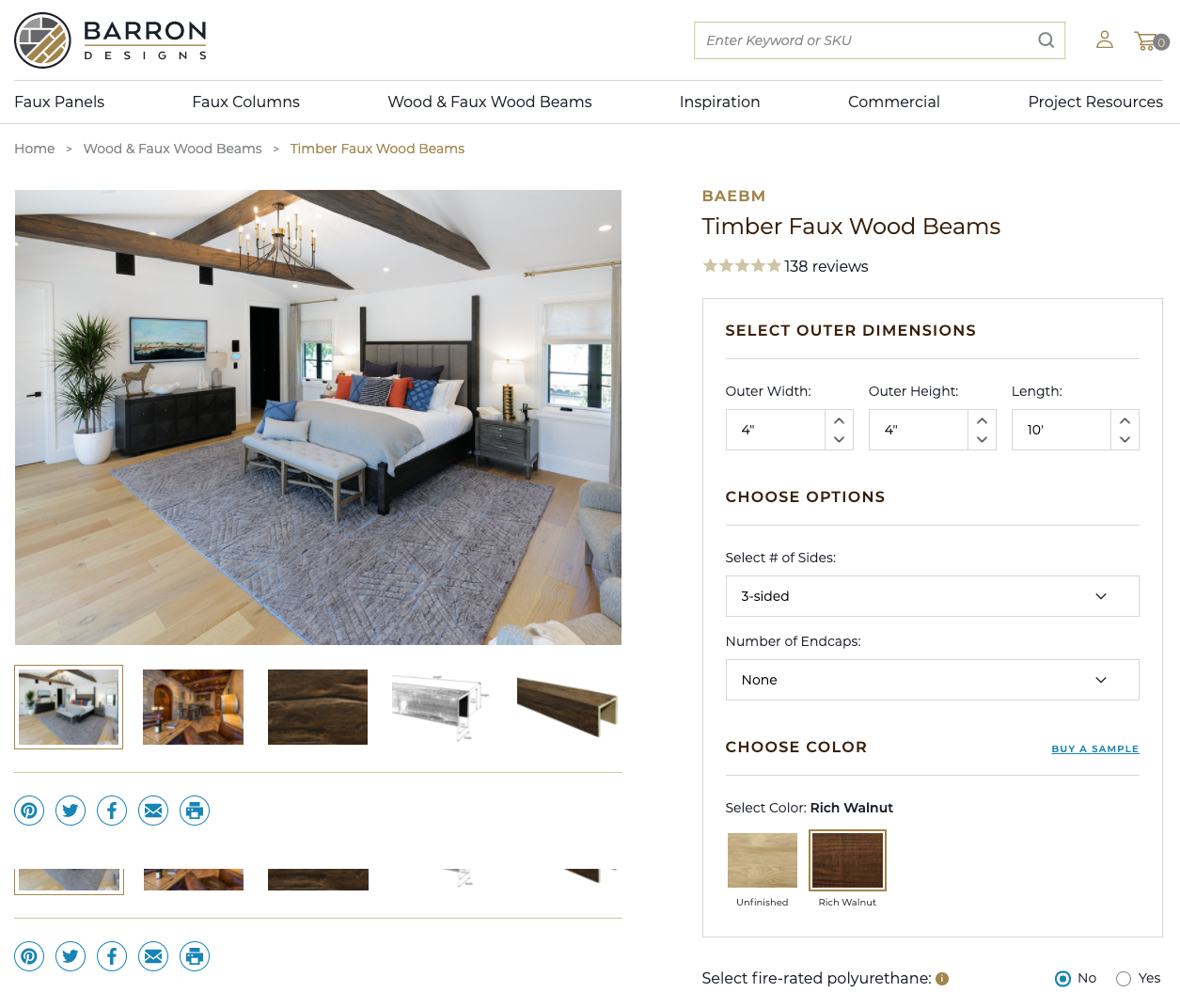 Barron Designs produces faux panels and beams for home construction and renovations. Their eCommerce team partnered with Groove Commerce to design a modern and easy to use store for their customers. Because Barron Designs allows customers to specify the color, finish, and size of their products, production is run on a made to order basis.
To provide a potential customer with the best shopping experience possible, our design and development teams created a custom product configurator which allows for these options to be specified within the product detail page.
In addition, we designed a quantity calculator directly on their product detail page template so customers will know exactly how much to order in their use case.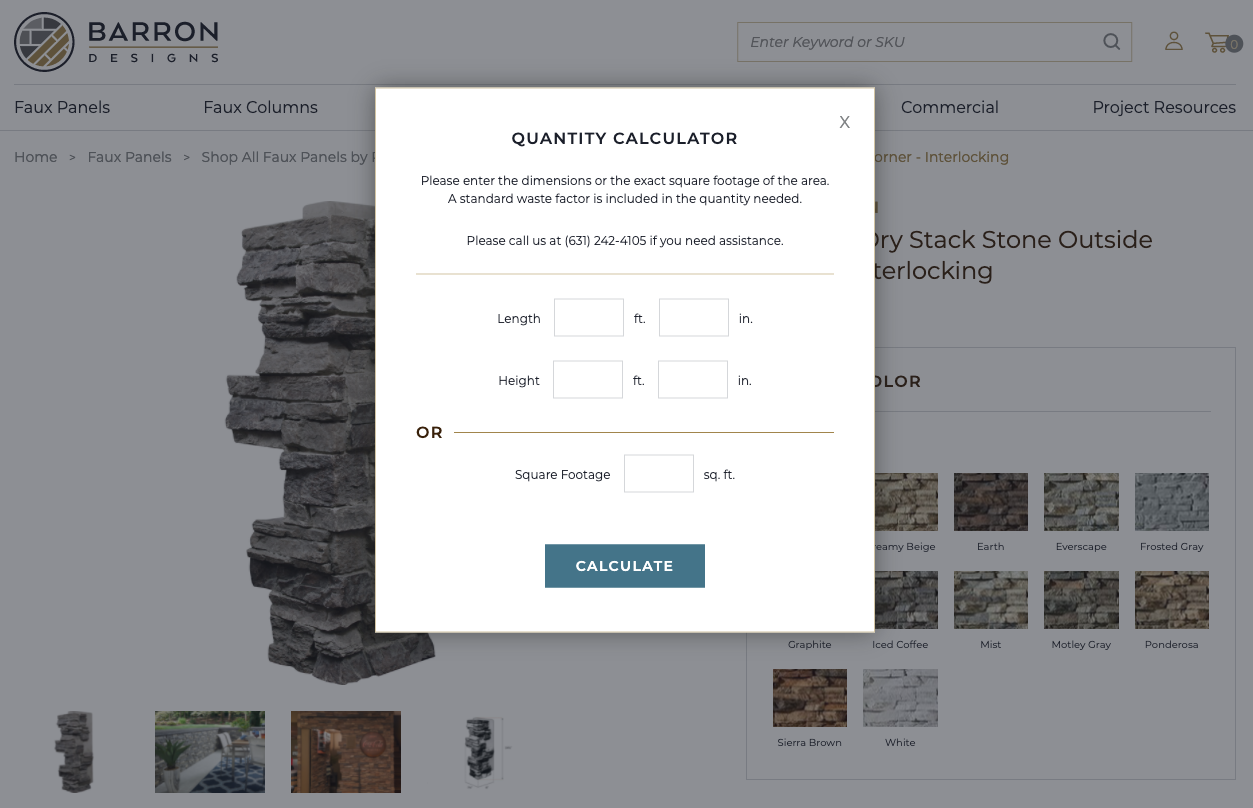 Learn more about what is possible with product variants and modifiers by reading our blog on how we created a custom product configurator using BigCommerce Stencil.
Finding the Right Fit
For all of the reasons above, it is best to view the custom website developers you work with as trusted partners, not contractors. As a client, you will provide industry knowledge and expertise to your agency, and the agency will provide you with the skill set and tools needed to successfully launch your website and thrive in the eCommerce space.

Are you looking to form a partnership with a team of eCommerce professionals? Groove Commerce designs, builds and grows eCommerce websites for mid-market and Enterprise brands. Reach out to us today using the contact form below to build a relationship with our team of eCommerce experts.
Related Content
You Also May Like
eCommerce Development
Background Groove Commerce initially partnered with Caragh Nursery to migrate them...