Apps and Integrations
5 eCommerce Trends You'll See in 2022
Jan 24, 2022 • 5 Min Read
Though trends come and go, some trends stick around. And when you don't keep up with the competition, you're sure to be left behind.
With the pandemic in 2021, eCommerce gained significant market share over in-person shopping. With this growth comes the importance of staying up-to-date with the latest eCommerce trends.
So, we put together this blog to share our forecast of the top eCommerce trends that we believe will make their mark in 2022. Are you ready?
1. Storytelling With Infographics
It has become almost mandatory for businesses in the modern era to define their social responsibility. Since the early 2000s, businesses in North America merged the traditional business plan with mission statements in order to do good in the world.
Even today's customers want to purchase products from companies that take a stand against social issues, such as underpaid labor and climate change. It's imperative for a company's mission statement to be clear and concise on their website as well as empower consumers to purchase. Some eCommerce brands achieve this through traditional copy, and others use infographics to tell their brand's story.
Brand Storytelling
Though infographics have been historically used to show raw data in a visually pleasing way (like a timeline of events or numerical statistics), we foresee an uptick in their use as a storytelling tool. Infographics provide great visuals and help companies describe their mission statement, their brand's story and the social causes that are important to the company.
Harm-Free Manufacturing
We expect to see companies use infographics to show how their supply chain sources its materials humanely. Once the materials have been shipped to the manufacturing facility, the process of how products are made and who makes them can be easily and visually explained with an infographic.
When companies visualize their processes to show the steps they take to do good for the world, consumers tend to feel better about purchasing from the brand.
Giving Back
Once people convert into customers, many of them like to know that their hard-earned money was contributed to a good cause. If your company is involved with community outreach programs, such as donations or volunteer work, let your audience know! Make it apparent on your website to engage the socially-conscious with your brand.
2. Experimental Typography
As the Google Fonts API becomes more widely adopted, eCommerce companies will finally have the ability to implement their own branded fonts into more marketing efforts across the web. In addition to using standardized fonts in a variety of eCommerce marketing materials, we foresee Experimental Typography being leveraged in massive ways in 2022.
What is Experimental Typography?
Experimental typography is the process of modifying text or ad copy to form a uniquely memorable graphic. Put simply, the product or service offering is fused with the graphic representation of the product or service. Let's take a look at an example.
Apple Watch Series 7
A recent example that comes to mind is the primary advertising campaign of the Apple Watch Series 7. This watch features a screen that seamlessly wraps over the rounded edges of the device and falls off of the sides. While this feature may offer some benefits in terms of increased screen real estate, its true value is simply the eye-catching technology on your wrist.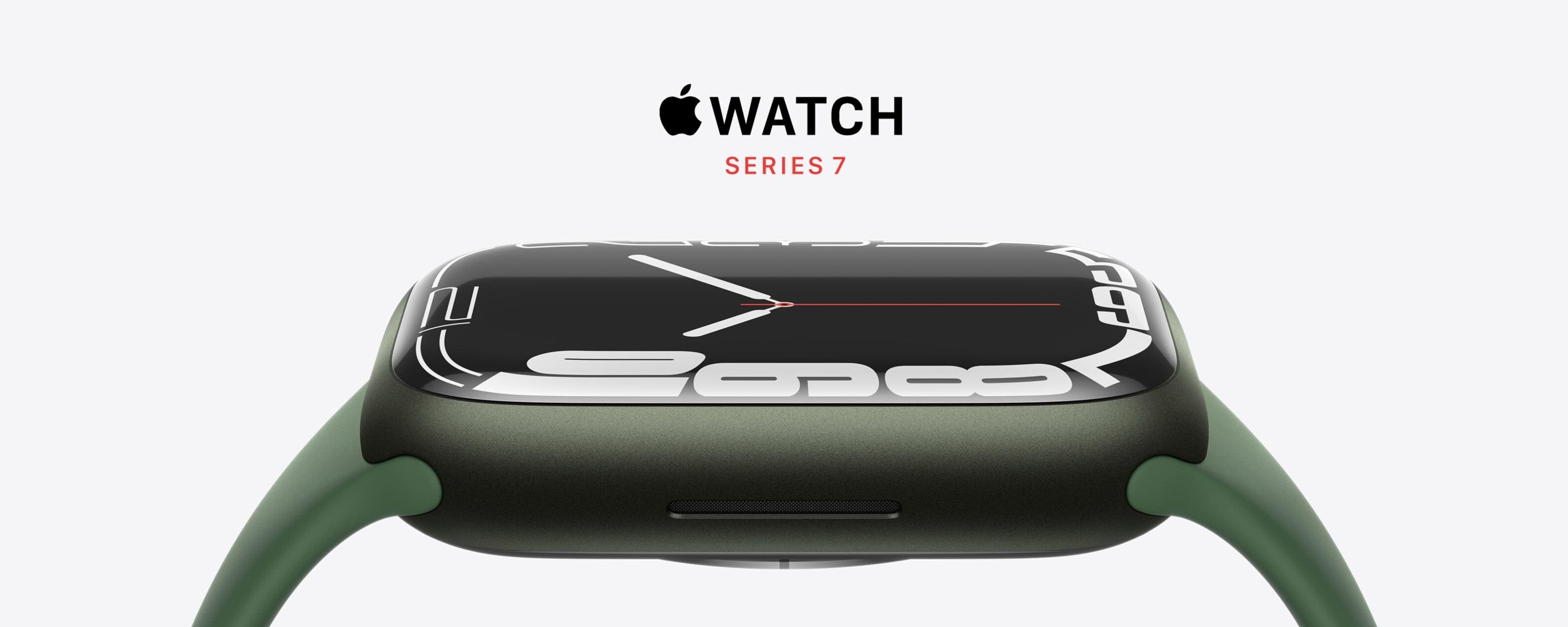 To present this technology to the approximately 1 billion people that own Apple iPhones, Apple has designed a specific watch face that makes full use of the wrap-around screen. Displaying the numerical digits of the watch face as far off-screen as possible makes viewers instantly aware of the new screen's feature. By combining typography with experimental design choices, we are able to convey messages that would be otherwise technical and boring.
3. '90s Nostalgia
Can we even call the 90s nostalgic yet? The 90s are officially 20 years behind us. In internet years, that's a lifetime.
Why the 1990s?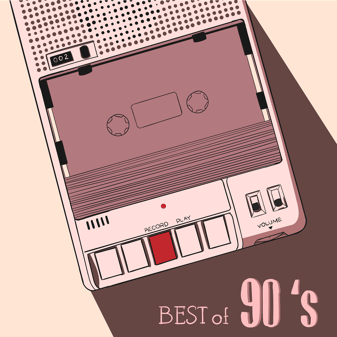 The '90s remind many North American consumers of a time that can be hard to otherwise remember − a time without smartphones and a time in which very few people had any form of cell phone at all. The internet was young and brought a sense of hope to those who had been interested in the rapidly changing technology at the time.
Millennials, who make up a major cross-section of eCommerce shoppers, remember a time of innocence in which the world had unlimited opportunities for positive change. By tapping into these feelings of nostalgia, eCommerce retailers are able to associate those positive feelings with their brands.
How Can I Replicate The '90s In My Design?
Replicating '90s design doesn't mean your website's buttons need to look like they're from a Windows 95 machine. Instead, capture the feeling associated with this time by implementing simplicity into your designs with blocky structure and retro-style graphics.
Now, don't get us wrong − we're not expecting eCommerce retailers to redesign their entire stores with 90s elements in mind. However, we anticipate many eCommerce retailers generating specialized ad campaigns for specific products lines which feature '90s themes and iconography.
4. Getting Back To Basics
We have seen many eCommerce merchants spread their efforts too thinly over the past few years in an attempt to "get in early" on new eCommerce trends. In that attempt, they have not given the proper attention to the factors that made them profitable in the first place.
Design Consolidation
As part of this internal consolidation that we see happening at a high level, we look forward to seeing a consolidation of design. Companies are now understanding that they must view themselves as brands with a defined look, feel and voice. As opposed to having wildly different design elements across marketing channels, these eCommerce retailers will simplify their designs both quantitatively and qualitatively.
Moving Past Web 2.0
As a part of that internal design consolidation, we expect to see an uptick in the trend of muted colors and simple geometric shapes. In contrast to the complicated and busy design choices in our industry over the past five years, this is a fairly large divergence.
Think back to the beginning of the Web 2.0 era. In remembering the Windows Vista and Windows 7 days of high-gloss windows and complicated animations, it can be said that almost all tech companies have recently been moving away from design choices of that type.
5. Simplifying The User Interface
Tying into the consolidation of design across eCommerce stores, we foresee a continued simplification of user interfaces.
Instant Checkout
Single page checkout has become an industry standard for the past two years, and further streamlining the purchase process will be a key focus for many. When a user decides that they would like to purchase a product or service, every additional moment and click decreases the chance that they will follow through on the transaction. By taking advantage of Google Pay and Apple Pay, we expect more eCommerce retailers to simplify the shipping process down to just a single click.
Simplification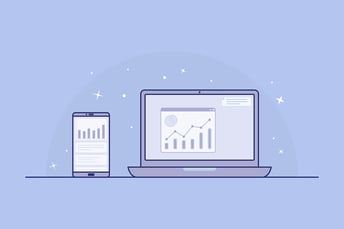 As part of this simplification, we may see companies taking UI clues from their industry peers. In order to streamline the user interface, every button and all copy must to live exactly where the consumer thinks it should be. This concept will also be applied across multiple devices. With apps and websites becoming more complex on mobile and more simplified on desktop, we believe there will be a fusion of the desktop and mobile experience.
In-Browser Applications
Lastly, as devices continue to increase potential functionality by leveraging HTML and CSS, we foresee a further merging of traditional websites and applications. In some cases, large companies with an eCommerce presence have begun to turn their legacy apps into what are essentially bookmarks to a fully functional in-browser application.
Conclusion
It has always been impossible to predict the future, but we can prepare to plan ahead. Keeping an eye on how the industry is moving forward is a great way to stay up-to-date with emerging developments and eCommerce trends.

Are you currently working on implementing any of these methodologies into your eCommerce site? Are you interested in how these upcoming trends can be applied to your vertical? Reach out to one of our eCommerce experts through the form below to begin the conversation on how to improve your website in 2022.
Related Content
You Also May Like
Blog
As the eCommerce landscape continues to evolve, businesses are constantly seeking...