eCommerce Strategy
Increase Average Order Value With These 7 Strategies
Jul 07, 2020 • 4 Min Read
eCommerce merchants are always looking for new ways to grow revenue. One of the various ways to increase online revenue is to increase average order value (AOV).
Rather than increasing prices and alienating loyal customers, there are several other strategies businesses can implement to increase average order value. Benefit both your customers and your bottom line with these 7 actionable tactics.
Increase Average Order Value: 7 Strategies
Many eCommerce stores have no trouble selling their products after launching their site. However, many realize that the costs of orders average out to the same, inexpensive amount.
In this blog, we're sharing 7 strategies to implement before you store's revenue plateaus. Include these tactics in your eCommerce marketing strategy to increase average order value and improve the customer experience:
Bundle discounts
First-time bundle offers
Free shipping reminders
Up-sells with gift cards
A "deals" section
A "coupons" page
Up-sells with cart abandonment emails
Bundle Discounts
Increase your store's average order value and fulfill customers' needs of buying the most for their money by offering bundle discounts. Provide customers the best offer by bundling products together on your eCommerce site.
Not only does this entice shoppers to purchase more than they intended, but it helps customers perceive great value in your offer. There must be a perceived discount by purchasing the bundle, or else there is no incentive for customers to purchase more than they may need.
Increasing the value perception and making customers feel like they're receiving a great deal will result in more bundle orders, which means higher AOV and more revenue.

Nice Laundry does a great job of offering bundle discounts with their customizable sock packages. With their "Build Your Box" offer, customers can buy a small box of 6 pairs for $59, a medium box of 12 pairs for $99 or a large box of 18 pairs for $119.
Customers who purchase a medium box rather than a two small boxes essentially save $20. Yet, Nice Laundry doesn't lose out on this. The order value rises from $59 to $99, almost doubling the worth of just one customer's purchase.
First-Time Bundle Offers
If your business can't afford to offer bundled items for all future purchases - don't worry. Offer first-time visitors unique offers and discounts on bundled products.
Your offer can be anything from "20% off when you buy 2 pairs of jeans" or "15% off when you buy 4 pairs of socks." The point is to offer first-time visitors a specific discount on bundled items.
Free Shipping Reminders
Decrease shopping cart abandonment and encourage shoppers to purchase additional items by letting them know exactly how much more they must spend to qualify for free shipping.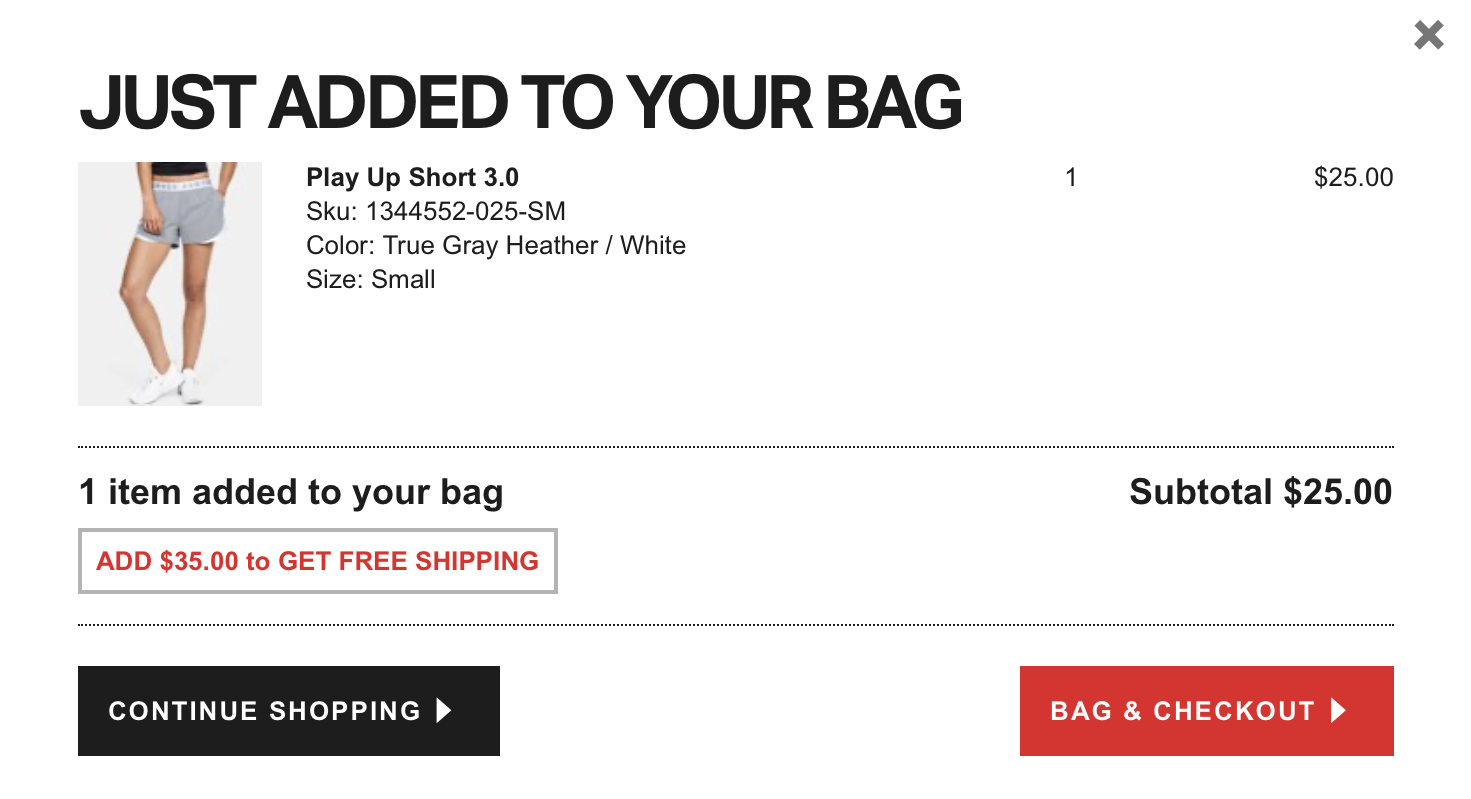 Under Armour motivates shoppers to spend more by letting them know in the cart preview pop-up how much more they need to spend to get free shipping. Customers feel like they're receiving a great deal, and Under Armour is increasing average order value by requiring customers to spend at least $60 for free shipping.
Up-Sells With Gift Cards
Up-selling with gift cards is a great tactic to get customers to spend more during their visit. Let's take a look at how Stantt up-sells gift cards in their gift kit.

They offer a gift kit that includes swatches of men's dress shirts and a gift card for the amount of a customer's choice. This encourages shoppers to purchase a higher-priced item (that item being the gift card) and the gift receiver to make a follow-up purchase.
The customer wins because they're getting a deal of selecting how much they want to purchase in a gift card, and Stantt wins with a higher-priced item and the prospect of a shirt sale. Plus, customers who shop with gift cards are less price-sensitive and more willing to purchase a more expensive item.
A "Deals" Section
The majority of online shoppers look for a sale, special deal or coupon code before completing a purchase. When your business is running deals, be sure to have a clear section on your site listing out what the deal offers.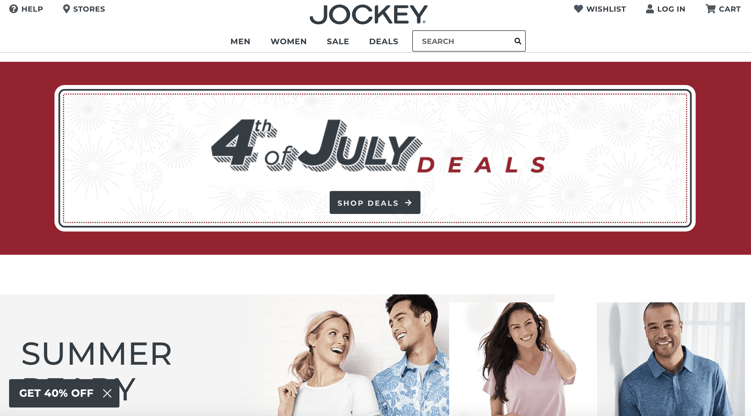 Jockey's home page has a clear section that calls out all of the current deals they're offering. The brand follows web design best practices with one clear call-to-action, which helps visitors easily shop Jockey's deals.
Also, having a constant "deals" section encourages bargain-hunting shoppers to save money on their purchase, while helping eCommerce stores increase average order value by getting customers to purchase multiple items as opposed to one.
A "Coupons" Page
Displaying a "coupons" page on your site is a great tactic for two reasons. For one, it can be used to increase AOV by offering coupons for bundles. Provide a discount on your product bundles so that customers feel like they're receiving a great value and your store receives a larger order.
Second, a coupons page helps attract users who search for "(your store name) coupons." Rather than lose traffic to coupon sites such as RetailMeNot, gain traffic from the people that are looking for a deal - and increase AOV at the same time.
Up-Sells With Cart Abandonment Emails
How well are you utilizing your cart abandonment emails? If you have a minimum threshold for free shipping, why not encourage shoppers to add items to qualify for free shipping? Sweeten the deal for both you and your customer.
For example, if you offer free shipping on all orders over $99, then you can target abandoned carts with totals from $75 to $99 and offer supplemental products that are priced $25 or more.
If they match the free shipping threshold, then let them know that they qualify for free shipping. This might give them the extra incentive to purchase items they left in the cart or buy additional items.
Conclusion
Rather than dramatically increasing the prices of your online store's products, we recommend implementing these 7 strategies to fulfill both your business and your customers' needs.
Want to learn how Groove can help increase your store's AOV and improve your strategies? Check out our website and marketing services to learn how we help design, build and grow eCommerce websites.
Contact us through the link below with any questions or concerns, and a member of our team will be in touch with you soon!
Related Content
You Also May Like
Blog
In the realm of digital content creation, video has emerged as a dominant force,...