eCommerce Design
Instagram Marketing Tips: Boost Your Social Media Strategy
Feb 17, 2021 • 4 Min Read
Though Instagram may seem like a feed of endless photos, it's really one of the most powerful social media platforms out there for eCommerce brands. In fact, Instagram's average engagement ratio is 8 times greater than that of other social media platforms, making it full of potential opportunities to build engagement with your audience and sell more online with Instagram eCommerce.
Instagram Marketing Tips To Drive Traffic & Conversions
In this blog, we share 10 Instagram marketing tips to help you enhance your social media branding strategy, build a brand community and drive eCommerce sales. Keep the following in mind when building your brand on Instagram:
Set up a business profile
Understand your audience
Use Instagram Shopping
Post on Stories to show behind the scenes of your brand
Use the Highlights feature
Repost and engage with user-generated content
Create sponsored ads
Use influencer marketing
Sell e-gift cards directly on Instagram
Use the countdown sticker for new launches
1. Set Up A Business Profile
Instagram is a social media platform meant for sharing photos and videos. Reach a wider audience by setting your Instagram account up as a business profile rather than a private profile. In addition to direct messaging, business profiles let people to get in touch with your brand via a phone call and email and even provide directions to your store's location.
2. Understand Your Audience
Use Instagram's free business analytics tools and insights to see details about your audience, like their gender, age range and top cities and countries your followers are from. Even see the day of the week and time of day that they interact the most with your account.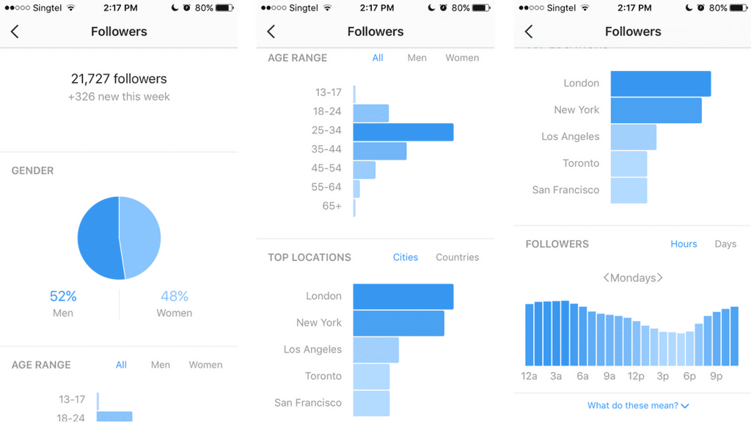 Take advantage of these analytics to better understand your audience and inform your content marketing strategy. Analyze the impressions, reach and engagement of each post to determine the type of content that your audience values. Then, create more of the content they love!
3. Use Instagram Shopping
According to Instagram, 70% of shopping enthusiasts turn to Instagram for product discovery. Whether your goal is to increase reach, expand your target audience or drive more eCommerce sales, we highly recommend using the Instagram Shopping feature to promote your products.
Available only for business accounts, the Instagram Shopping feature lets people shop your brand's products without having to leave the Instagram app or navigate to your website. Use product tags to tag products in posts (just like how you'd tag another user's account in a photo or video) to show the name of the product and the price. When clicked, the product tag takes the user to a product detail page on Instagram that shows even more photos of the product.
4. Post On Stories To Show Behind The Scenes of Your Brand
Level-up your social media branding strategy and create a sense of community by posting Instagram Stories to show off your brand's personality. Though there are a ton of different things to post on Instagram Stories, it's a great way to share the "behind the scenes" of your brand with your audience.
Tease potential customers and give your audience the first look into a new clothing line or product launch to make them feel special and excite them for the live launch. Have a teammate or social media influencer take over your account's Instagram Stories for the day to provide a sneak peek into a day in the life of your brand. There are endless opportunities here to create a brand community and build strong relationships with your audience.
5. Use The Highlights Feature
Since Instagram Stories disappear after 24 hours, we encourage brands to leverage the Highlights feature so that Stories are kept relevant and appear at the top of the company profile. In the screenshot below, see how this lifestyle blog uses Highlights to show off DIY videos, podcasts, links and more to categorize their Instagram Stories and keep them available for their audience to watch.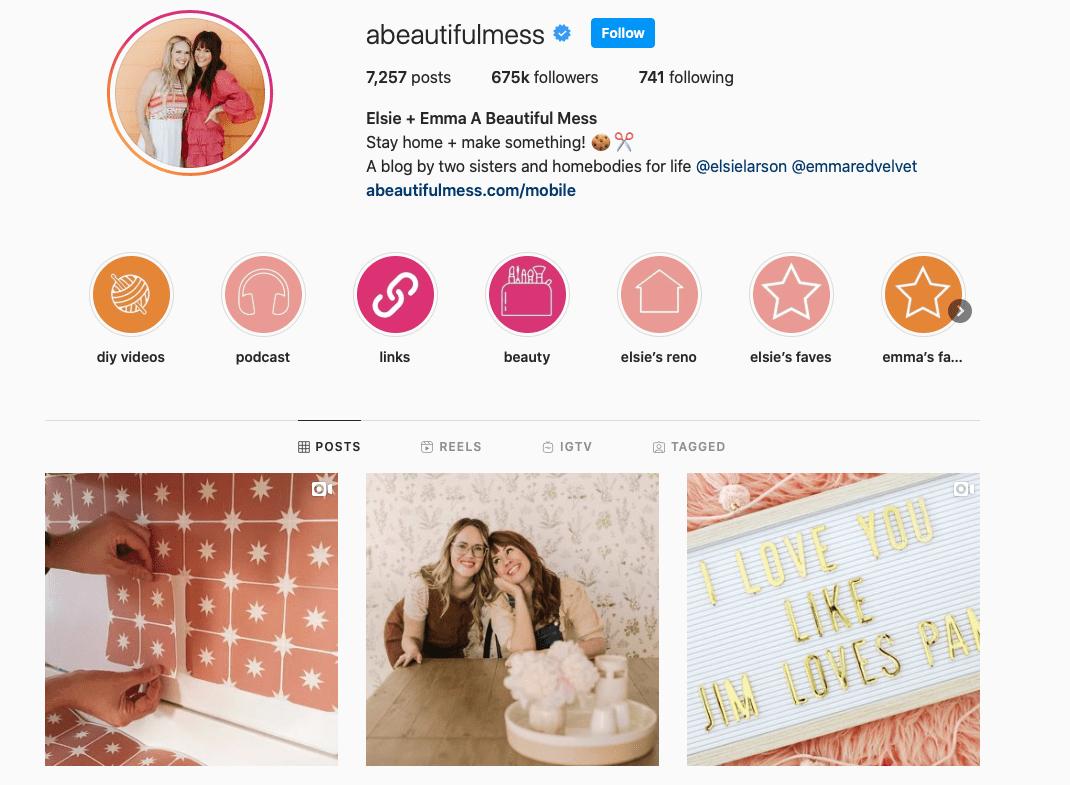 P.S. − we love their how the colors of the Highlight icons complement their color scheme and aesthetic.
6. Repost & Engage With User-Generated Content
Nowadays, it's not all that difficult to have your audience post about your brand. If you're having trouble, try creating a post and writing in the caption that you'd like to see their experience with your brand. Create a branded hashtag (that no one else would otherwise use) and tell them to include that hashtag in their post so that you can see it.
From there, repost your favorite user-generated content on your business profile. Before posting, keep in mind to double check that their post (caption and image/video) aligns with your brand personality/image and is appropriate for your audience demographic on Instagram.
For the posts that you prefer not to repost on your business profile, be sure to engage with them by liking and commenting. This makes your customers feel special and like they're part of a larger community.
7. Create Sponsored Ads
Create sponsored ads to reach more users, grow your following and sell more online. From Explore Ads to IGTV ads and more, our eCommerce Advertising Guide breaks down the various Instagram advertising formats. There are plenty to choose from!
Instagram ads are so powerful because they look just like any other post or Story on a user's feed. The only differences are that they say "Sponsored" and (sometimes) have a link to shop. Instagram even lets businesses promote posts that they've already shared (and track engagement) simply by clicking the "promote" button.
8. Use Influencer Marketing
One of our favorite Instagram marketing tips is influencer marketing. Brands that partner with influencers expand their reach and have the potential to convert the influencer's Instagram followers into paying customers. This amplified word-of-mouth marketing approach really helps to increase engagement, followers and, best of all, conversions.
HubSpot reports that 80% of marketers say influencer marketing is effective, and 71% say the quality of customers and traffic from influencer marketing is better than other sources. There's no doubt that influencer marketing is an effective social media strategy. However, be sure that the influencer you partner with aligns with your brand's identity, image, values and goals.
9. Sell E-Gift Cards Directly on Instagram
During the height of the COVID-19 pandemic, Instagram rolled out a new feature that lets Instagram users support their favorite businesses. This feature is an Instagram Story sticker that lets businesses sell electronic gift cards directly on Instagram. That's right − consumers can purchase gift cards without leaving the Instagram app.
Use this sticker if you want to increase the number of gift card sales. Though it's a great strategy year-round, don't forget to use it around certain holidays when people generally shop for others.
10. Use The Countdown Sticker For New Launches
Just like the gift card sticker, Instagram offers a countdown sticker for Stories. This is great for announcing product launches and growing the anticipation among your audience. Plus, it helps them mark the important date in their calendars, so they don't forget and are one of the firsts to see the new product/offer.
Conclusion
We hope that these 10 Instagram marketing tips help you optimize your social media branding strategy and achieve your eCommerce goals. Whether you want to increase website traffic, drive more qualified leads or convert more traffic into paying customers, our team is here to help.
From social media advertising and Google Ads to SEO, email marketing, PPC and more, Groove Commerce offers marketing services to help your grow your website. Have any questions or want to learn more? Get in touch with our team using the form below. We'll be happy to learn more about your business's unique needs and share how we can help!
Related Content
You Also May Like
Blog
In the realm of digital content creation, video has emerged as a dominant force,...