eCommerce Marketing
Klaviyo Email: How to Increase Engagement & Revenue
Dec 06, 2021 • 6 Min Read
Email Marketing is the process of building a list of interested contacts, and sending them engaging content related to your products or services. Getting a website visitor to share their contact information with your brand can be difficult, but once you have gained their trust you will want to keep them engaged. In this blog we will discuss why you may not being seeing the results you were expecting with your email marketing efforts, and how Klaviyo's vast library of tools and integrations can help you achieve those goals.
Database Maintenance
It is a common mistake for new email marketers to feel that they need to build a large list before sending any marketing emails. Some marketers feel that they should obtain a list by purchasing the contact information from a website that provides contact information without user consent. While these options may seem appealing to some, the truth is that the only thing worse than a small list is a large and uninterested list. Actively maintaining your database by leveraging Klaviyo's advanced database management figures is a sure-fire way to ensure that your analytics data is accurate.
Unengaged Contacts
Unengaged contacts are those that are interested in your content, but do not find the specific information that you are sharing to be insightful or helpful. These unengaged contacts typically start off in your database as engaged contacts, viewing and interacting with your marketing efforts on a regular basis. Over time, their engagement dwindles and leaves them as contacts in your database that will negatively affect your reporting.
In order to win these contacts back, it is best to enter them into a re-engagement campaign that directly addresses the reasons why they are no longer interested in your emails. These types of campaigns are typically started with a simple yet personalized email that asks the contact what they are looking for more of in your communications to them. Allowing a contact to feel that your brand truly ares about their input is a great way to re-engage them.
Uninterested Contacts
We define uninterested contacts as those who are not interested in the content that you are sharing with them. They may have entered their information through a form in order to gain access to a specific piece of content that once viewed, is no longer relevant to them. These contacts will almost never open your emails, simply because they are not the right fit.

Typically, within three months of signing up for your newsletter these contacts will opt-out of your emails by unsubscribing. If these contacts do not unsubscribe, it is often best to move these contacts to an exclusionary list so that they do not continue receiving every email that you send. These contacts can good candidates for a yearly re-engagement campaign if they have shown any interest at all with your emails since the time they entered your database.
Content Creation
There are many reasons why your content is not resonating with your contacts, even if you feel that they are the appropriate audience for your emails. You must assess the reasons why they are not interacting with your email, and modify your strategy to meet them where they are.
Schedule and Subject Lines
One reason why contacts may not be interacting with your content is the day and time of your emails. If your target audience is young professionals, sending your emails at 9am on a Monday morning is a guaranteed way for them to be overlooked. If their eyes do land on your email, but their attention is not immediately grabbed, they may navigate away.
Subject lines are the very first thing that a contact sees when they receive your email. For them to open your email, you must convey to them that the information inside is worth reading and interacting with. This can be done by imagining that you are the contact receiving this email in your inbox.
Klaviyo's simple and effective A/B testing feature allow email marketers to test the effectiveness of various subject lines by sending each subject to a pre-defined set of contacts. By stepping into your contact's shoes, you will be able to imaginesubject lines that would grab their attention instead of only summarizing your email.
User Experience
If a user does open your email, but is immediately overwhelmed with a poor mobile experience, they will often navigate away from your content. Depending upon your target audience, up to 75% of your contacts may open your email on a mobile device.
To achieve a great mobile and desktop experience Klaviyo allows users to dictate how and if individual content blocks appear on desktop or mobile screens. By building your emails to display well on all screens, you ensure that your contacts are met with a wonderful experience from start to finish.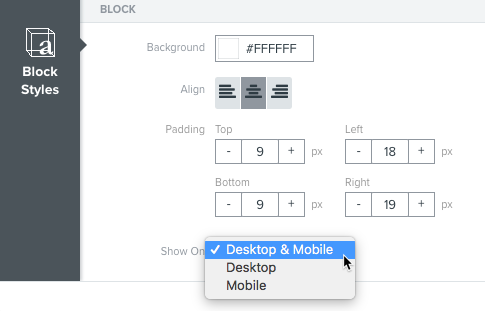 Content Value
It may be the case that a contact enters their information into your database and even interacts with the first emails that you send them. If the content that you are sending is not of value to them, you will find that their engagement will drop off significantly. Take time to assess what email content is resonating best with your contacts, and understand why that is.
Common content that is proven to resonate with customers are new product announcements, sales events, birthday coupons, and abandoned cart reminders. The content is the heart of your email, and if you do not emphasize on providing value, your subscribers will become uninterested.
Revitalizing Your Strategy With Klaviyo
Creating an email marketing strategy, executing that strategy, analyzing the results, and adjusting accordingly are the foundational building blocks of forming a relationship with your contacts. In order to position your brand well in the internet landscape, we recommend using Klaviyo for your email marketing needs. Having the tools that you need to succeed available at a moment's notice will allow you to pivot away from strategies that are not yielding optimal results.
Growing Your Database in Klaviyo
It is true that over time a number of subscribers will determine that they are no longer interested in your content and unsubscribe from your emails. It is important to consistently be bringing in new contacts to grow your database. The most common way that contacts enter your database is through forms on your website.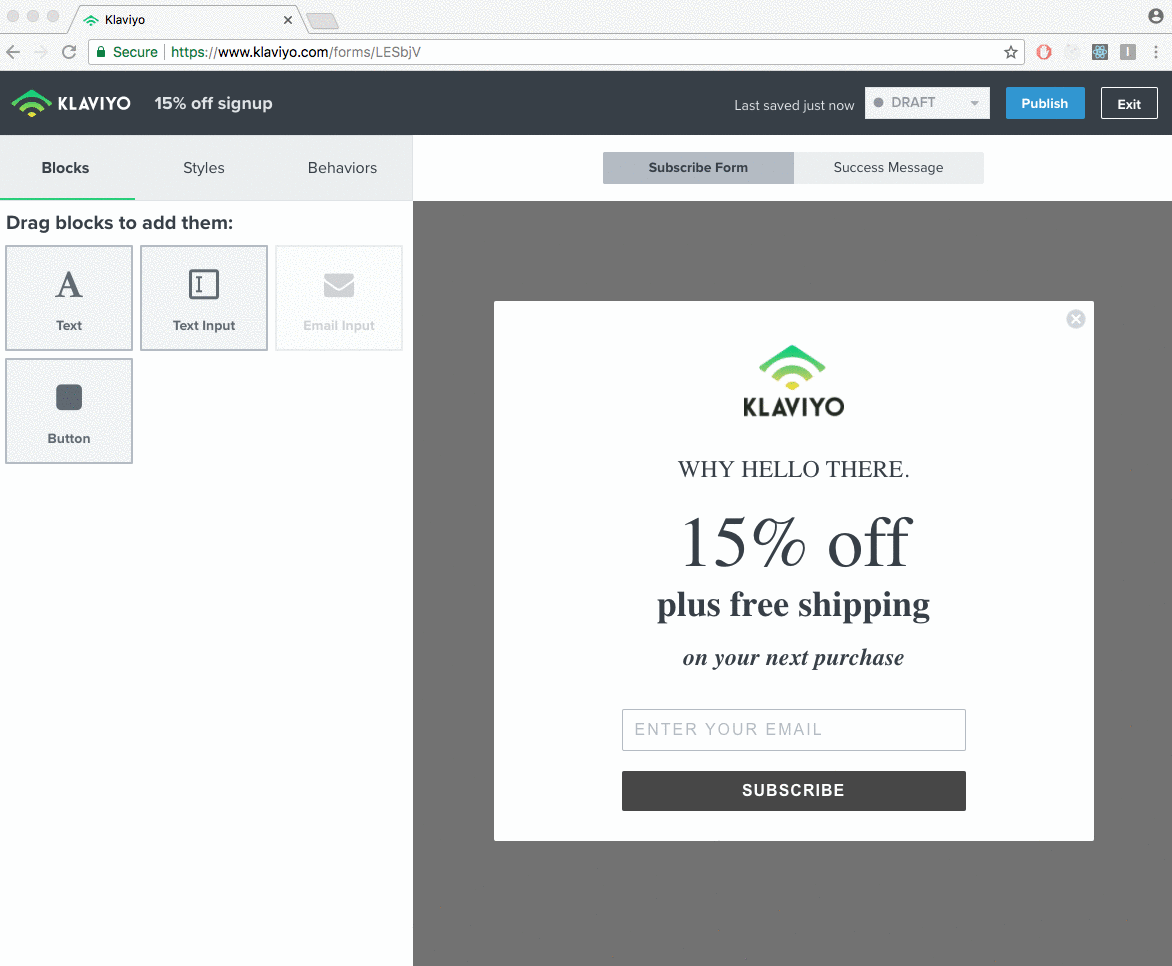 Klaviyo has a strong collection of form and CTA tools that allow you to embed these features into your existing website. It is common for a brand to have a short form asking for only first name, last name, and email address in order to receive updates and special offers. Some brands additionally offer gated valuable content in exchange for a visitor's contact information.
List Segmentation in Klaviyo
After you have built a contact database that you want to market to, you should consider segmenting your lists. This means that you divide your contact database into smaller lists in order to send more highly personalized content. Segmentation can be done natively inside Klaviyo by assessing click through rates, open rates, and time spent viewing an email.

Additionally, by using Klaviyo's vast integration library, you will be able to sync external customer data directly into your Klaviyo contact database. This means that if a contact were to purchase boots from your Shopify or BigCommerce store, you could enter them into a segmented list for customers interested in boots. Using this information, you could infer that because they already purchased winter boots, they may be interested in rain boots for the rainy spring months. By collecting and integrating this type of data you are able to paint a clearer picture of who is in your database and what kind of content they are likely to engage with.
Personalization in Klaviyo
Making your contact feel heard and cared about is key to retaining an engaged list. By personalizing your emails with individual contact information your readers will feel directly addressed and more likely to interact with your email.
Klaviyo allows for contact information to be automatically populated in an email's subject line, description, and content. By addressing your contact by name in the first sentence of your email, they will feel that the communication was sent specifically to them and not a large list. Taking advantage of these features in conjunction with segmentation is sure to provide your viewers with an experience that is tailored directly to them and their interests.
Flows in Klaviyo
When a new subscriber enters your database, you may want them to immediately receive a piece of content that confirms why they provided their contact information. While this could in theory be done manually, it is time-consuming and inefficient. By taking advantage of Klaviyo's automated flows, this task can be done without any manual input.
The set of tools that Klaviyo has built to accomplish these automation tasks are referred to as flows. With workflows, you will be able to designate that when a new subscriber enters your database they receive an immediate welcome email. You can then designate additional actions based upon their engagement with the first email by leveraging conditional splits.
Suppose a contact immediately opened your welcome email and engaged with a CTA. Using this information you can set a value-based automation workflow within Klaviyo that will send a follow up email the next day. These workflows can additionally be triggered by other user actions such as making a purchase when used in conjunction with Klaviyo's integrations.
If you would like to begin implementing Klaviyo flows in your current eCommerce strategy, read our blog on the subject, "Using Klaviyo Flows For eCommerce Automation"
Analytics in Klaviyo
As stated above, if you are not assessing the effectiveness of your email campaigns, then you will not be able to improve them in the future. Klaviyo offers a comprehensive analytics dashboard that allows email marketers to view in-depth statistics about who is opening what emails and when. By factoring this information into your segmented lists, workflows, subject lines, and content you can continuously improve your click through rates and conversion rates for years to come.
Conclusion
Does your email strategy need a jumpstart in the new year? Our team of Klaviyo experts will be able to assess your current email marketing strategy, and assist you in executing new tactics that will bring your results (and revenue) to the next level. Reach out to one of our eCommerce professionals through the contact form below to begin a partnership that will improve your email marketing results.
Related Content
You Also May Like
Blog
In the realm of digital content creation, video has emerged as a dominant force,...