Groove Commerce
Last Minute eCommerce Holiday Checklist - 5 Tips to Boost Sales & Customer Satisfaction
Starting around the middle of November, we get a lot of prospective clients who want to work with us but are afraid to touch their site during the holiday season. The general consensus is that they don't want to take a chance with their website during their busiest, and typically most profitable, time of year. While this may be true, by subscribing to this mantra, eTailers may be missing out on a lot of low-hanging fruit. Instead of leaving your site alone during the holiday season, I strongly urge you take this time to give it a brush up by following the five recommendations below:
Your Site Load Time

If you haven't heard by now, web surfers are extremely impatient when it comes to page load time. In a recent study conducted by Forrester Research for Akamai, 47% of web consumers expected a page to load in three seconds or less; 40% would abandon the site if it took more than three seconds to load. (Thanks to GetElastic for the data.)
Free: I would recommend trying Pingdom for starters. This tool will load up everything on the page you test and give you a time frame for how much each part of the page takes to load. This is especially helpful for you to recognize if certain parts of a page (larger than expected images, for example) are slowing down the entire page load process.
Pay: Another great tool for page load time analysis (among other things) is ClickTale. They'll show you your fastest and slowest loading pages and give you even deeper analytics into how the page load time affects visitor behavior. They even have a free version for you to get started if you're just curious how it works.
Holiday Shipping & Promoting Your Physical Locations
Whether you have a physical store or not, you absolutely must have a holiday shipping schedule listed prominently on your site. The closer we get to Christmas, the more sales you will lose if you don't clearly tell your visitors if and when packages will arrive. Here's a great example of a holiday shipping schedule on the current website of one of our clients.
Physical locations and in-store pickup can be huge during the holidays, especially when it comes down to the wire and people are worried about online purchases arriving on time. If a visitor doesn't believe their package will arrive in time, they won't bother ordering it online. If you make that same visitor aware that you have in-store pickup available, you probably just saved a sale.
Double Check All Your Error Messaging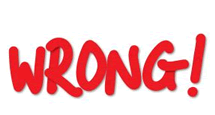 Double checking your error messages is mindless and boring, but the findings can be extremely beneficial. Not having proper error messages is one of those gaps in eCommerce sites that can be costing you revenue. What if someone keeps making the same mistake in your checkout and you never tell them what they did wrong? Or, even worse, you tell them the wrong thing? What if they don't notice the error message? It's not long before they'll get frustrated and abandon your site, costing you a sale and reducing the changes they'll ever return.
The best way to go about doing this is simply to dive in and start making some mistakes on your own website. Try to make a purchase without adding a physical address, without an email address, or without a valid credit card number – make any possible mistake or combination of mistakes that a user could possible make. Are you helping or hurting your visitors when they make a mistake?
Setup Holiday Offers/Banners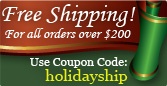 If you haven't done so already at this point, setting up and promoting a holiday special is essential, such as a sale or free shipping. Even if your products aren't big around the holidays, adding a holiday theme to your website can go a long way. One of the biggest things I ask myself when shopping online and landing on a website is – how do I know anyone is still working at this company? What if this is an old website that was abandoned? Will my order ever get processed? So, for me, the holiday theme lets me know that the site is current and being updated; therefore elevating my trust. In turn, I am more likely to make a purchase.
Ensure Cross-Browser Compliance
This is something that should've been done when you initially developed and launched your site, but I'll give those of you with older eCommerce sites a break if it wasn't. Take a few minutes and open up your eCommerce site in the latest versions of Firefox, Internet Explorer, Chrome, Safari and Opera. If you're really picky about web standards and cross-browser compliance, then I also recommend you download and test in Rob's favorite browser, SeaMonkey.
Does your site need a last minute holiday brush up? Let us give you a free 30-minute holiday site review. We'll take a look at your site and let you know what you can do to ensure maximum performance for the 2009 holiday season.
Get in Touch
Subscribe for industry insights and resources.