Case Study
Pay Per Click Advertising Platforms You Need In 2022
Jan 05, 2022 • 5 Min Read
Let 2022 to be your year with pay per click advertising.
Pay Per Click Advertising Platforms You Need In 2022
From social media platforms like Facebook, Instagram, Twitter, TikTok and YouTube to Google Shopping, there are a ton of ways to increase reach, visibility and brand awareness while growing your ad revenue.
Here are some platforms we recommend exploring and implementing as part of your eCommerce advertising strategy this year!
Google Product Ads
As the largest player in the pay per click advertising arena, Google makes it easy for searchers to find and browse products that they're interested in. One simple search term or phrase enables access to a variety of related shoppable products; these ads are referred to as Google Product Ads, Google Shopping Ads or Google Product Listing Ads.
They're super beneficial for potential customers who are shopping for the next best thing, but how do they benefit eCommerce businesses? For one thing, it's simple enough to get started.
Merchants must first upload their products to Google Merchant Center. This allows shoppers to see the products that are in stock. Then, merchants must link the Google Merchant Center with their Google Ads account to create their product advertising campaign. Lastly, a monthly cap in budget must be determined. Merchants pay when people click through their site or view their inventory.
Earn Better Qualified Leads
These shoppable Google Ads include a product photo, product name, price, short description, star reviews and quick information on shipping terms. Displaying product information like this helps searchers make educated buying decisions. Plus, providing all this information to potential customers up front attracts more qualified leads and those who are highly interested in purchasing or learning more about the product.
Easily Manage Retail Campaigns
Once specified product data is input into the Google Merchant Center, Google uses this data (instead of keywords) to display a merchant's ads in searches.
Expand Search Presence
Google's pay per click advertising allows more than one ad per merchant to emerge in a search. In other words, if a person searches for "long sleeve thermal shirts" and one brand sells a variety of these shirts, it's possible for that particular brand to have two (or more) Product Listing Ads show up in that one search.
See below how Old Navy's Shopping Ads are displayed more than once for this search time.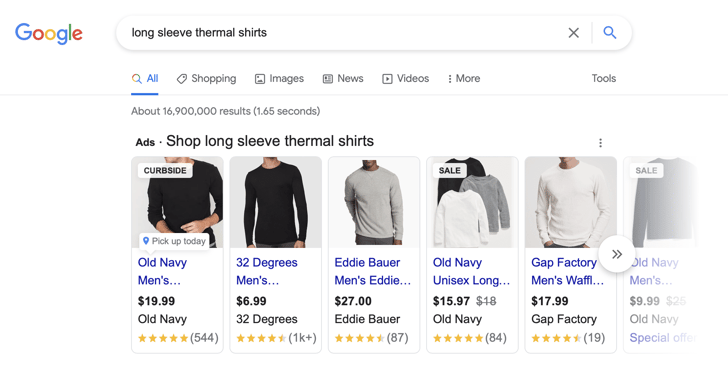 It's also possible for a brand's Text Ad to appear in addition to their Shopping Ad. Talk about increasing reach!
See Detailed Reports & Utilize Competitive Data
See detailed product performance data, such as clicks, impressions, conversions and more, to see how ads are performing. Utilize competitive data, such as benchmarks, to see where your business stands against the competition and identify opportunities to increase performance.
Facebook Pay Per Click Advertising
Facebook Shopping Campaigns, also known as Dynamic Product Ads, are similar to Google Shopping Ads in that they automatically pull photos and product details from a merchant's catalog, rather than the merchant having to create a new ad for each piece of inventory.
Retarget People
Get your ad in front of the people who are interested in your products! This includes those who have viewed a product on your company's website or app, added a product to their shopping cart or recently purchased. Navigate to the ad set level to customize this targeting option by clicking Create Campaign > Catalog Sales.
Reach Broader Audiences
Facebook offers broad audience targeting, which allows merchants to reach prospects who may be interested in learning more or purchasing − even if the prospect has not yet viewed a specific product or navigated to the website.
To do this, merchants must implement a Facebook pixel on their site and use standard events to report the product IDs from the catalog for products that are being viewed, added to shopping carts and bought by customers.
Is Facebook Pay Per Click Advertising Right For Your Business?
Facebook Dynamic Product Ads are super beneficial for retailers because they feature products that are relevant to people based on the stage that they're at in the sales funnel (i.e., prospect, lead or customer). Facebook Dynamic Product Ads also allow for the promotion of multiple products within one ad, similar to Facebook's Carousel Ads.
Facebook's Carousel Ads display between 2 and 10 products, but they cannot change depending on the audience. In other words, Carousel Ads are shown to the same audience, unlike Facebook Dynamic Ads that adapts audiences based on funnel stage.
We encourage merchants with 10 or less product photos to stick to Carousel Ads. The same goes for merchants who have around 10 to 20 similar products. Merchants with more than 10 products that vary in purpose are recommended to use Facebook Dynamic Product Ads.
Instagram Shopping Ads
Instagram not only makes it easy for consumers to purchase directly through the app, but it also makes it easy for advertisers to get their ads in front of relevant audiences. Advertisers use product tags to show the product's name, photos and price, so Instagram users can seamlessly view the product and purchase it.
Similar to Facebook and Google Shopping Ads, Instagram uses a catalog to power your store's Instagram Shop. One catalog with accurate and up-to-date inventory and completed fields will assist merchants in getting their ads up and running.
Follow these steps to learn how to attract more customers with Instagram Shopping Ads.
Twitter Pay Per Click Advertising
Twitter Ads charge advertisers each time the marketing objective of the ad is achieved. Setting a budget during the campaign setup process lets merchants control how much they want to spend.
Like Google and Facebook Ads, Twitter Ads operate on an auction system, which means that advertisers bid on the ad space for each audience that they want to use. The price that merchants spend on their campaigns is up to them, and there's no minimum spend required to run Twitter Ads.
The price that merchants pay for their ads to run depends on:
How engaging the ad is
The size of the audience
How many other advertisers are simultaneously targeting that audience
Your bid price
Tweet Engager Targeting
Similar to other advertising platforms, Twitter offers targeting capabilities that allow merchants to advertise, or remarket, to Twitter users who recently viewed or engaged with one of their Tweets.

Tailored Audiences
It's possible to get your Twitter Ads in front of each and every Twitter user that follows specific accounts. This is a huge win for advertising on Twitter.
It's comparable to Facebook's Custom Audiences, except Facebook needs the email address or the phone number of the person being targeted. With Twitter's Tailored Audiences, only the Twitter handle of the user is required for your Twitter Ads to reach them.
TikTok Advertising
Like any other social media advertising platform, TikTok lets brands choose a goal, select an audience, set a budget and design the ad. Unlike other platforms where an ad may potentially feel like an ad, successful TikTok ads make the user feel that the ad belongs in their feed naturally. Plus, TikTok is one of the best platforms to showcase authentic and real content about your brand. (It's also great for influencer marketing!)
Interest Targeting
Interest targeting is based on the behaviors of users and inferences made by the TikTok algorithm dictating their preferences for content. This is based on long-term consumption from each TikTok user.
Behavior Targeting
Behavior targeting delivers ads based on a person's in-app behavior and interactions with content such as a like on a clothing post within the last 7 days. Unlike interest targeting, behavior targeting is based on a user's recent engagement with content on TikTok.
YouTube PPC Ads
YouTube ads are pay-per-view and pay-per-click, but it depends on their placement. TrueView In-Stream Ads are the standard ad on YouTube, but advertisers are only charged when viewers watch or interact with the ad. Non-Skippable In-Stream Ads are the YouTube Ads that charge advertisers based on clicks.
Non-Skippable In-Stream Ads
Sold on a pay per click basis, Non-Skippable In-Stream Ads play before, mid-roll or after the main YouTube video. They're 15 to 20 seconds in length and cannot be skipped by the viewer. Here's a look at one: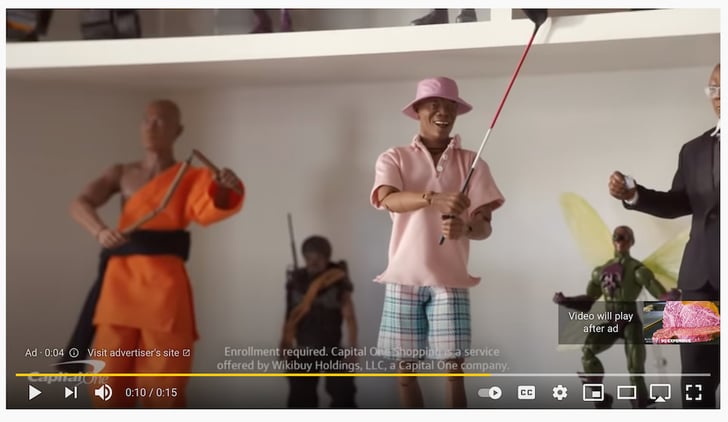 Since viewers must watch these types of ads to continue watching the video they were on, we recommend creating ads with a call-to-action. Play on their fear-of-missing-out by enticing users to click on your ad.
Within the YouTube app, a yellow marker at the bottom shows how much time is left in the ad. This is different on desktop, though, as viewers see a 5-second countdown.
Connect With Your Audience
Connect with prospects, leads and potential customers in a unique way. Make your video ad personal, share your industry expertise, or show behind the scenes of your company and its mission to help educate or inform your audience.
See deep insights into how your audience is engaging with your YouTube ad (via shares, comments and likes). Leverage YouTube Analytics to gain insights into what your viewers like to see; then, use this data to optimize your ads and strengthen viewership.
Conclusion
Each of these platforms can truly grow eCommerce brands in terms of revenue and paying customers. We hope you're excited to explore these platforms and transform your pay per click advertising strategy this year.
If you have any questions about eCommerce advertising, whether it be PPC landing page best practices, increasing ad conversion or working with a PPC management agency, we're happy to help. Drop us a note through the form below, and our team will be in touch!
Related Content
You Also May Like
Blog
What Do I Need To Know About Etail West 2024? Are you in the eCommerce industry? If...