Groove Commerce
Take a look under the hood with 5 tools that big eCommerce sites use to increase sales, conversions and enhance customer service.
When it comes to eCommerce, all eyes are on the big brands. These are the companies on the cusp of technology with budgets that allow them to try the next best tool in marketing. These tools range from conversion rate optimization to customer service to analytics and more. Here are five tools you should know about that big brands use to increase sales and generate higher ROI.
1. Bounce Exchange
Bounce Exchange is a tool that relies on "exit intent" technology. It tracks the cursor movements of every visitor in real time. It can also detect exactly when a visitor is about to abandon a website, and it generates a lightbox — essentially giving a visitor one last offer before they leave the site.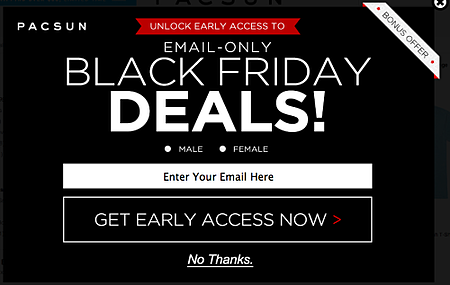 The philosophy behind this tool is to capture a lead before the customer leaves rather than bugging them with a popup as soon as they enter. One big player in the eCommerce world that uses Bounce Exchange is PacSun. Don't be surprised if the next time you're shopping around an eCommerce site and you're about to leave, you get hit with an offer. Exit intent lead capturing seems to be a growing trend among websites. And if you're wondering what brands pay for Bounce Exchange, their prices start at $3,995.
2. Optimizely

Optimizely is a leader in A/B testing and is used by some big name brands including Sony and Fab. Their value proposition is being able to test anything with ease. For anyone unfamiliar with the term, A/B testing is a way to measure the impact of changes in design. With A/B testing, brands can test different colors, layouts and copy on their website to find what converts best and what ultimately leads to higher revenue.
Next time you're on a familiar site and you notice slight changes, you might unknowingly be taking part in an A/B test. As for pricing, Optimizely has a selection of different pricing tiers for levels of engagement. They start at $17/month, making this a great option for smaller sites with less than 2,000 monthly visitors.
3. Crazy Egg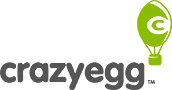 Crazy Egg is a heat-mapping and scroll-mapping tool that allows you to visualize exactly where visitors are clicking on a website. The goal is to give brands an understanding of how visitors engage with their website so they can boost your conversion rates. Ironically, they use Bounce Exchange as well (number one on this list).
Some of the biggest brands in eCommerce have used Crazy Egg for heat mapping, including Amazon, Zappos, EBay and Dell. Generally speaking, this tool allows companies to see where their users are clicking most. The tool also comes with scrolling maps to show how far down users are scrolling on a page, as well as segmented sources, which gives insight as to where those clicking customers are coming from. For example, with Crazy Egg, you will be able to see where visitors from Facebook end up clicking most often on your site as opposed to visitors that came from Twitter. Pricing wise, they start as low as $9/month, but the retainer increases as the amount of visits per month increases.
4. Zendesk

Zendesk is a tool meant to enhance customer service. What the tool does is collect all of the questions that customers may have sent via email, social networks, phone calls, chat or search and brings them all under one place. The main goal here is to make it easy to improve the relationship between the businesses and their customers.
With Zendesk, brands can have proactive conversations with customers. Companies are able to send surveys using Zendesk, assign help tickets and, finally, track it all with analytics. Some of the big names that use Zendesk include Groupon and Gilt. The next time you have a brand reach out to you in a proactive fashion, don't be surprised if they're using this customer service platform. Pricing begins at $1/month, so it's an ideal solution for smaller companies as well as larger brands.
5. SearchSpring

SearchSpring provides advanced site search and category navigation solutions to the world's top eCommerce retailers. Big eCommerce retailers have used SearchSpring, including Stanley Black & Decker. SearchSpring is a huge player in site search for Internet retailers. Don't be surprised if a search bar on your favorite eCommerce site is from SearchSpring.
This tool allows you to collect better search data, provide relevant and accurate results and ultimately drive search conversions — or purchases. It helps optimize auto-complete and automatic search redirects to ensure users are finding exactly what they're looking for. Pricing with SearchSpring can vary based on the amount of search queries a website receives.
These are just a few of the marketing tools that big eCommerce brands are using to increase sales. Now that you know the technology behind some well-known eCommerce sites, you can keep an eye out these tools. If you're a smaller brand, you can use these tools to your advantage and use the same technology that larger corporations have been using.
If you want to learn more about how these and other tools can help your site, contact us today! We'd love to help.
Get in Touch
Subscribe for industry insights and resources.