Groove Commerce
With different shopping cart platforms offering a variety of options across the board, how do you choose which checkout experience will convert more for your business? Learn about one of the most immediate, high impact eCommerce strategies to increase online sales: the checkout process.
One of the most immediate, high impact eCommerce strategies to increase online sales is optimizing the checkout process. With different shopping cart platforms offering a variety of options across the board, how do you choose which checkout experience will convert more for your business?
Rather than repeating the list of common checkout optimizations that I came across when doing research for this article, I wanted to offer recommendations more from an emotional shopping approach. In order to optimize your eCommerce checkout and improve conversion rate, focus on three main psychological and emotional triggers: Speed, Trust, and Value.
Speed
There are two ways to consider "Speed" within the checkout. One involves your overall site speed and page load times. We've seen conversions rates increase with each second you take off of your page load times. The other way relates to the speed at which a customer can successfully complete the checkout. Online shoppers are impatient. When they have gotten to the point of selecting the products they desire to buy, they don't want to waste time doing the "paperwork". Lets relate this to an offline shopping experience. Think back to the last time you went shopping. You probably spent time browsing, trying on, carefully considering the price vs. value before you ultimately decided to purchase. Now, think about the last time you had gone through the entire shopping process and committed to a purchase, but took one look at a ridiculous line at checkout and walked away from your carefully selected items.
In the online world, this situation is equivalent to getting a customer to the checkout then bombarding them with too many steps, requiring account creation, and asking for too much information. Many sites fail to leverage technology to autofill fields that the customer has already completed or based on information already supplied. Did they supply their zip code in a shipping estimator? Then fill out their zip code in the shipping step! If customers are taking one look at that checkout process and waking away from their potential purchase, you need to streamline your process.
There is no magic number for the acceptable amount of steps within a checkout. Where a One Page Checkout might be the silver bullet for one eCommerce website, it may kill conversion on another. A recent study by Smashing Magazine researched the amount of steps in the checkouts of the top 100 grossing eCommerce websites. As you can see from the chart below, there isn't a huge majority using x number of steps. The important note here is your strategy shouldn't be to fit your checkout within a specific number of steps, or even to make your checkout have the fewest amount of steps… what matters most is aligning the structure of the checkout with your audience and industry.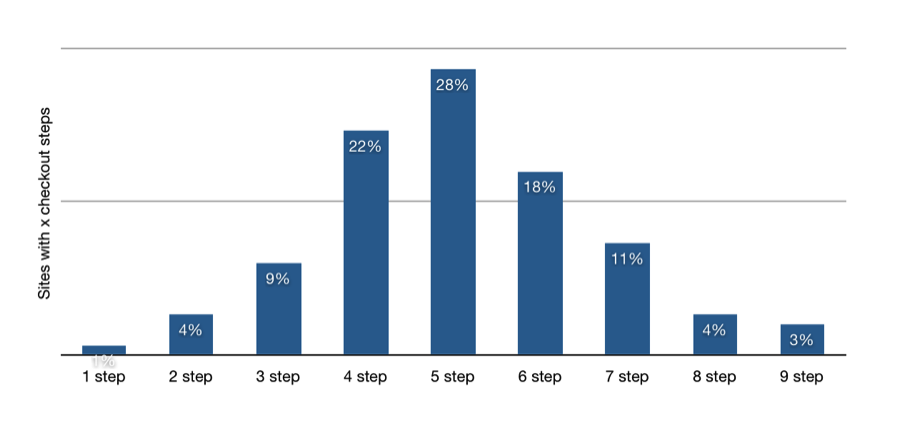 You can help customers fly through the checkout by autofilling information, allowing guest checkouts, and providing inline validation. With inline validation, customers don't have to get all the way through the process before you tell them they entered in too few digits in their credit card info. A notification pops up as soon as they fill in a field alerting them to mistakes.
According to a 2012 study by Etre, a usability study firm, real time (in-line) information validation shows:
22% increase in success rates
22% decrease in errors made
31% increase in satisfaction rating
42% decrease in completion times
Showing a checkout progress bar helps customers see the light at the end of the tunnel and predict how much longer the checkout will take, making the process feel structured and less uncertain. Avoid asking merchandising/customer segmentation questions during checkout, only ask the absolutely necessary information.
Trust
Let's go back to the example of your offline shopping trip…only this time say you weren't in a real store, you were buying from a merchant at an open air city market. Do you feel entirely secure handing over your credit card information to this merchant? What if they can't provide a receipt or if there are no signs indicating which cards they accept or their credit card policies? Even worse, what if you have heard from several people that this merchant is untrustworthy? I'm going to guess that the majority of people would think twice before completing this purchase, regardless of how easy it was.
For online shoppers, trust is even more amplified because the process is not nearly as transparent as an offline transition. Once you enter in all of your personal and confidential information, where does it go and who will have access?
Calming online shopping concerns about trust is easy. The first factor is the look of the site in general, an outdated, hard to use interface will automatically put shoppers at high alert. So if it is time to step up your design, consider engaging with a website design agency to revamp your look, focusing on updating the design as well as the usability. The next factor includes visual cues like credentials, trust seals, and badges. Take a look at verifying your site with popular systems like Verisign, BuySafe, GeoTrust, or McAfee to show your customers that your site is a secure and safe place to do business. You should also be providing clear links to your privacy policy, shipping policies, and FAQs within the checkout.
A more time-intensive way to build trust is by employing a product review system on your site. Customers want assurance from their peers and they want social proof. 78% of Internet users conduct product research online, according to a HubSpot study. So by pushing customers to provide not only product reviews but also testimonials on their experience with your company, you can provide piece of mind and comfort to even the most critical customers.
Value
You have done a great job merchandising your catalog, you have mind-blowing product images that show the intricate details of your products, you even have modules that allow customers to shop by the most popular and best reviewed products…but how do you continue to display value once a customer is in the checkout? By increasing the desire people have for the product.
The reason value is the most important aspect in a checkout is because people will stick through the worst checkout experience to get something they perceive as being valuable. You must clearly show your customers your value proposition during the checkout in order to achieve the high conversion rate you want. One of the best ways to increase the perceived value of an eCommerce purchase is with free shipping. Within the checkout, if you can't promote free shipping for every order, you should be showing them how much more they must spend to qualify for a free shipping offer.
One of the most impressive and noteworthy checkout improvements we saw in 2012 came from Amazon, with their Amazon Prime program. This program allows Amazon to give customers what they want without going bankrupt in shipping expenses. By having customers pay a membership fee of $79 a month, they can give them complimentary shipping on most products, something that has had a huge impact on sales. In fact, since this program launched Amazon saw an increase in yearly purchases go from $400 to $900 and Prime members spend 130% more than non-Prime members.
Another great value proposition is to offer discounts and promotions – but it is only half the battle to display promotional banners in the checkout. When you actually integrate the discounts within the checkout is where customers really see the value. You can provide promo codes right there within the checkout, once used, these promo codes could automatically trigger messaging that tells the customer how much they saved on their purchase. With messaging that shows a timeframe or expiration date, you are hitting on the urgency trigger. More customers will complete the checkout rather than going elsewhere to price check if they feel like they will lose out on a deal by waiting.
Overall, the checkout process has evolved relatively little over time. The information eCommerce sites need to complete a digital transaction remain the same causing all checkout forms to more or less require the same information. The best way to decrease shopping cart abandonment and increase conversion rate through the checkout is to improve speed, increase trust, and most importantly promote value– something that is going to be a unique strategy for each and every online business.
To learn more register for our next free Groove Commerce webinar – Checkout Process Optimization: 11 Steps to Increasing Revenue – as we partner up with buySAFE to discuss the top strategies to increase customer satisfaction, boost average order values and generate more revenue.
Get in Touch
Subscribe for industry insights and resources.