Groove Commerce
A coherent branding strategy is one of the most important things you can do to move your business forward. Understand branding basics, what branding is and the important role it plays in setting your business apart from the competition.
"No one will follow you if you don't know where you are going," – Jack Trout
The Importance of a Branding Strategy
Jack Trout was a revolutionary. You've probably never heard of him, but you've definitely heard his ideas. Trout was an advertising executive for General Electric who eventually started his own agency and developed the groundbreaking theory of product positioning and branding strategy. Together with Al Ries, he published a series of articles in the late 70's that would later become the book Positioning: The Battle for Your Mind. Positioning led the shift from push marketing to pull marketing, with brand strategy at its core.
Today, having a coherent brand strategy is one of the most important things you can do to move your business forward. Sadly, many companies don't realize this until it's too late. Far too many businesses feel a brand strategy is some ethereal thing that's almost too hard to fathom - or afford. The reality is just the opposite.
Branding Basics
Brand strategy is a lot of things, but at its heart, is one simple concept: Your brand is whatever your customers say it is. Formulating an effective brand strategy can be a game changer in today's crowded markets. This is especially important for mid-market companies who need to differentiate themselves from competitors.
Much of Trout & Ries's work explored ways to make a brand memorable. They discovered the best way to be remembered is to be first in your prospect's mind. Brands are built by being first in a product or service category. You don't need to be the first to enter the marketplace, but you should strive to be first in the consumer's mind.
"Look for an open hole in the mind and be the first to fill it," – Al Ries
At Groove, one of the first things we request from new clients is for them to describe their brand as an elevator pitch. This is the golden moment when we hear the statement that truly differentiates the product or service in the consumer's mind. This is important because branding is more about getting your customers to see you as the only company providing this solution than merely choosing you over your competition.
Laura Busche, author of Lean Branding, put it best: "A brand is the story that consumers recall when they think of you."
One of my favorite tools for developing a branding strategy is a positioning model. First, answer these three questions about your company:
What is it?

What are the benefits to the customer?

What is your company's personality?
Once you can answer these questions, it's time to refine. Eliminate any fuzzy words and make it crystal clear. Gibson Biddle, the former VP of Product Management at Netflix, suggests each of these descriptions be no more than three words and should be developed as if your audience is a sixth-grader. Keep it simple.
Once you have nailed down the language to define who you are, you should define the Brand Pyramid. The Brand Pyramid is a way to look at your company as a customer would. What are the product attributes? What are the benefits? How do I feel after I use it? At the top is the Brand Idea - the essence of what your company is. Biddle also refers to this as the "something bigger." This description should be inspirational and define the true north for the brand you're building.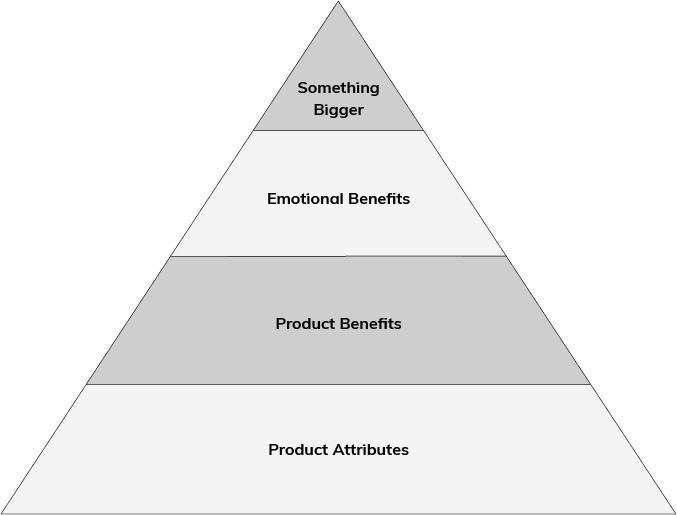 Start at the bottom and work your way up, finishing with the "something bigger." Below you can find the pyramid Biddle helped create for Netflix:

Once we've completed this exercise, we have an idea as to what the brand is and the value it provides. From here we create the brand story. The brand story has three parts: problem, solution and success. This should be no more than 750 words. It should speak to the brand idea, the essence and the something bigger that you do. It should also position your brand as the answer the the problem – the solution to fill the open hole in the mind. The brand story shouldn't be the literal history of the company, but should instead be the reason the company was created in the first place.
"A branding program should be designed to differentiate your cow from all the other cattle on the range. Even if all the cattle on the range look pretty much alike." - Al Ries
Today's marketplace is crowded. For that reason, people want to have relatIonships with companies they like, trust and understand. Don't be afraid to say who you are. What does it do for people that other brands simply don't do? Why is it important? Tell that story. Be authentic.
Know where you're going, and others will follow.
Interested in learning how Groove can help build, revamp and refresh your brand? Just fill out the form below to get in touch.
Get in Touch
Subscribe for industry insights and resources.