eCommerce Development
Removing Friction In The eCommerce Customer Journey
Jan 19, 2022 • 6 Min Read
Improving customer experience is a focal point for many online businesses. As the demand for frictionless shopping increases and consumer shopping habits constantly change, merchants must optimize their stores to accommodate shoppers at each stage of the eCommerce customer journey.
Are you unfamiliar with this term? Or losing potential customers due to an inadequate user interface? Or seeing a significant increase in abandoned carts and want to increase the number of paying customers? Then this blog is for you!
What Is The eCommerce Customer Journey?
The term "eCommerce customer journey" encompasses the various stages in which customers interact with an online store, from when the person became aware of the brand and its products and/or services all the way until the time they checkout and purchase the items in their online shopping cart. All of the interactions that customers have with a brand from the beginning to end of their shopping journey determine whether they continue shopping on the site and, ultimately, make a purchase.
Slower speeds, a bad user interface, too many form fields and other nuisances interrupt the natural browsing experience and result in potential customers exiting out of a website. That's why it's important to provide a frictionless shopping experience to prospective customers who are motivated to convert. Elements such as fast site speed and quick page load times, clear prices, explanatory product descriptions and a one-page checkout will have a positive impact on visitors. Online shoppers are happier (and more likely to spend their money) when there are less obstacles prior to checkout.
If you're unsure where to start, following an inbound marketing methodology will help invite customers to your website and, when implemented successfully, will encourage prospective customers to purchase. Before you implement that strategy, let's discuss the importance of mapping the eCommerce customer journey from beginning to end.
Mapping the
eCommerce Customer Journey
Customer experience mapping involves outlining each stage of the buyer's journey, identifying instances in which customers experience obstacles and acknowledging any potential emotions of the shoppers in each stage. Mapping customer experience is a core component to accelerate customers on the path to purchase.
Take a look at the graphic below for a quick outline of the 5 customer lifecycle stages.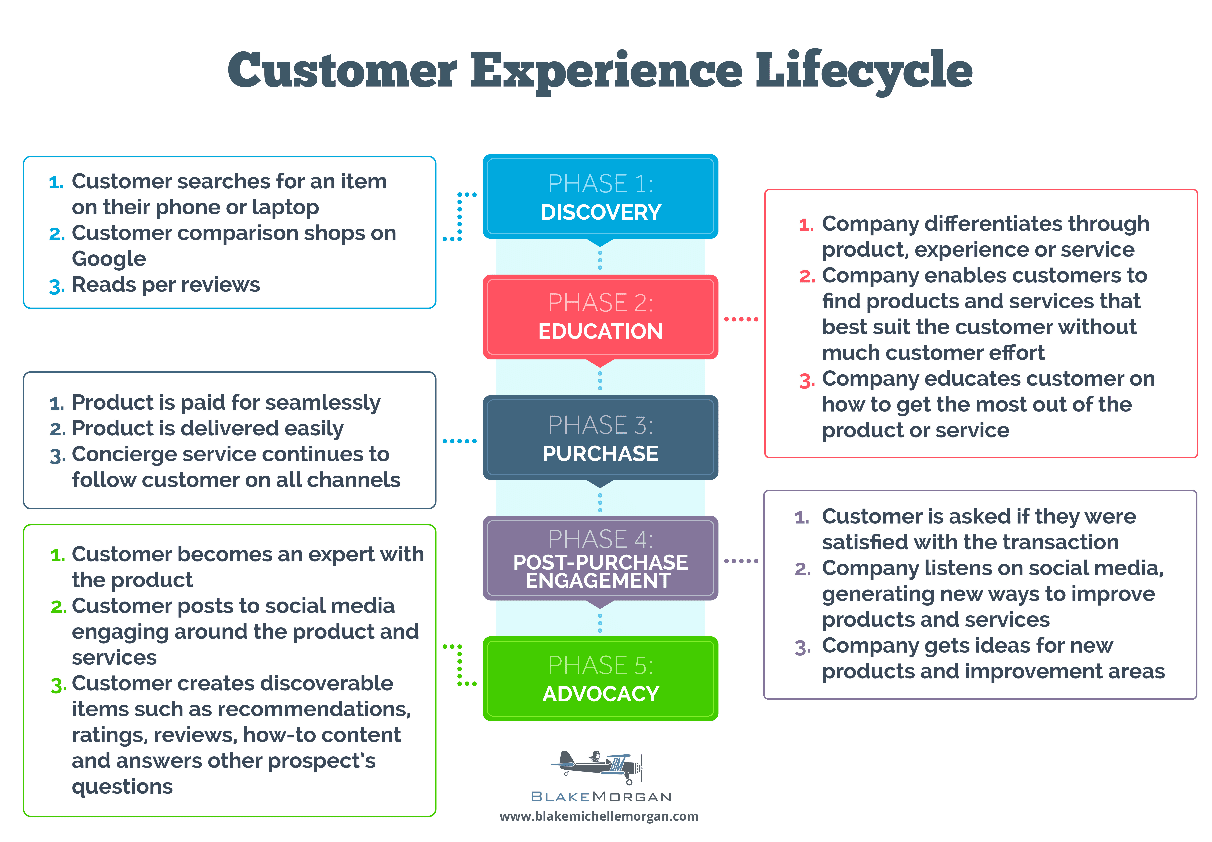 Phase 1: Discovery & Awareness
The Discovery and Awareness phase is the first step in mapping customer experience. During this phase, the customer learns that the brand exists and is made aware of what the brand offers. Touchpoints during this phase include anything from word of mouth recommendations, organic or paid social media, search engines, apps or any other outlet where a potential customer may find a brand for the first time.
Potential Friction Point: Generic (& Limitless) Emails
The majority of today's consumers are bombarded with marketing emails from a multitude of brands. If you're anything like me, you hate opening your inbox to generic emails that have close-to-nothing to do with your interests or past purchase history. Unfortunately, many retailers still send email blasts to their whole list of subscribers, causing many subscribers to hit the unsubscribe button and potentially never return to the brand's site again.
Solution
Rather than being the brand that's known to bombard it's entire subscriber list with generic emails, try creating buyer personas and using audience segmentation to split a comprehensive list into different groups, or segments. In doing this, you'll exclude the people that the offer doesn't relate to and, instead, reach the people that actually care.
Also, use intriguing subject lines and product recommendations to personalize your email marketing strategy. You'll need to use an email marketing software, such as HubSpot or Klaviyo, to leverage your contact's data for personalization purposes - like if you want to include their first name in an email or segment the recipient list based on behavioral data.
Phase 2: Education & Consideration
People in the second phase of the eCommerce customer journey have identified that a certain brand has a solution to a problem they're facing. In other words, potential customers recognize that a specific brand can fulfill their needs, but they have not yet made a decision on where they're purchasing from. This phase involves researching and comparing similar brands to find the best solution. Touchpoints during this phase include anything from retargeting ads, Google reviews or any other review site, product pages, promo emails and more.
Potential Friction Point: Lack of Product Details
In our 15 years as an eCommerce agency, we've noticed that the lack of product details on a product page is a common problem among both B2C and B2C eCommerce merchants. Don't get us wrong, it's great to have crisp product photography on product detail pages, but photography alone will not always earn the sale. Content must be added around a product to educate potential customers on what they're buying. Not only does more information on product detail pages help buyers learn more about the product, but this information also increases buyer confidence and eases nerves prior to making the purchase.
Solution
We cannot stress enough the importance of optimizing product page design to help create a frictionless customer experience. When applicable (depending on the product or service being sold), include a detailed product description, multiple images, videos, size guides, ingredients or materials, product specifications and reviews from past customers who've bought that specific product.
Phase 3: Purchase & Acquisition
The Purchase and Acquisition phase, also known as the Conversion phase, is the time when a potential customer turns into a real customer. They decided on what they wanted to buy and followed through with purchasing it. Touchpoints during this phase include adding products to the shopping cart, entering a discount code if applicable, paying with a credit/debit card or choosing a third-party payment method and receiving confirmation with an order receipt.
Potential Friction Point: Requiring Account Sign Up For Purchase
When a customer is ready to complete the checkout process, they're committed at this point to making the purchase. When brands require people to log in or sign up for an account to finish completing the purchase, it distracts the soon-to-be customer from entering their credit card information and quickly completing the checkout.
Solution
Avoid presenting unnecessary, additional information prior to checkout if possible. Allow customers to use guest checkout to complete their purchase as opposed to making an account. Additionally, it's always better to use a one-page checkout to eliminate distractions and provide a frictionless commerce experience.
Phase 4: Post-Purchase Engagement & Retention
This phase focuses on customers after they've received their order. The main touchpoint during this phase involves the company's customer service or support team reaching out to the customer to ensure that they're satisfied with their purchase. Marketing emails may be sent out asking the customer for feedback or a product review, and support emails may be sent out that include listicles and/or guides on the refund policy and returns process. Other touchpoints include subscribing to customer-only bonuses and upsells, opening emails, reading articles, engaging with a loyalty program and purchasing again.
Potential Friction Point: Unsatisfied Customers Post-Purchase
Businesses need to accept the fact that there are people out there who nitpick the small things and aren't always 100% satisfied with their order. Though all eCommerce businesses strive for seamless experiences, there is always going to be a hiccup in the road at one point or another. Customers can be unsatisfied for a plethora of reasons, like if shipping is delayed and they no longer need the product, if the product's color is slightly different from the photo and so many other reasons.
Solution
Be completely transparent with customers on product detail pages, the shopping cart page and the checkout page. If your company knows that shipping is delayed, let customers know before they purchase the product. If the product's color varies slightly from the photo shown because each product is carefully handmade and the color could fade in the washing machine, let customers know before they purchase it. Clearly state your company's return and refund policies throughout your website so that this information doesn't come as a surprise to customers when they need it most. Upon management's discretion and depending on the degree to which a customer is unsatisfied with a purchase, send them an email with a digital gift certificate or promo code so they can save on their next purchase.
Phase 5: Advocacy & Brand Loyalty
The final stage of the eCommerce customer journey involves customers feeling so happy with their newly purchased product/service that they post about it on their personal social media account, recommend it to their friends and create their own user-generated content. Touchpoints in this stage include positive word-of-mouth marketing, organic or paid social content, referrals and positive reviews.
Potential Friction Point: Customer Loyalty Program Doesn't Feel "Worth It"
It's much cheaper to retain existing customers than it is to attract new ones. However, it can be tough to increase brand loyalty and retain customers who've made a purchase in the past. Sometimes, customers may feel that a loyalty program provides nothing of value. Points expire too soon, credits don't stack up against competitors and customers don't feel valued on an individual level. When customers feel this way, eCommerce businesses need to step up their game.
Solution
Create a customer loyalty program that makes customers feel like part of your brand's community. Turn first-time customers into returning brand advocates by making earned points meaningful (and remember that this means different things to different businesses). It doesn't cost brands much to make their customers feel valued. Don't forget that customers (not prospects or leads) are some of the most important people in your audience!
Conclusion
Gaining a comprehensive understanding of the eCommerce customer journey is the first step in turning website traffic into customers. Though friction points in the customer journey vary from business to business, eCommerce merchants in general experience many of the same obstacles.
I hope that in reading this blog, you will recognize where potential customers fall off the path to purchasing in your business and inspire you to make the changes necessary to drive more conversions.
If you'd like to learn more about how Groove Commerce uses an integrated marketing approach to help clients build, design and grow their eCommerce businesses, send us a message through the form below. We'd love to hear from you!
Related Content
You Also May Like
Blog
In the realm of digital content creation, video has emerged as a dominant force,...