eCommerce Strategy
From Engagement to Sales: How to Leverage Social Media for eCommerce
May 10, 2021 • 7 Min Read
A Comprehensive Look At Social Media For eCommerce
Social media is one of the most valuable tools for eCommerce marketers to promote their products and services, engage with their audiences and drive online sales. Some believe that developing a social media strategy involves only posting content here and there; however that's not the case. After reading this guide, you'll learn how to:
Determine the right social media channels to target
Create a successful social media strategy
Optimize social media ads to create a frictionless experience
Determining Which Channels To Target
Define Your Business Goals
One of the first steps to getting started with an eCommerce social media strategy is to define your business goals. What exactly does your company want to achieve? Develop SMART goals, or goals that are specific, measurable, attainable, realistic and timely. Take a look at your business's mission statement, and create goals that align with your company's values and deliverables. This will set your business up for success in the long run and help your team determine how far along they are in achieving the company's overall goals.
Does your business aim to sell directly to consumers through social media? Or is your company using social media to increase brand awareness and drive relevant traffic to its website? No matter your answer to either question, it's imperative that marketing and sales teams understand their company's eCommerce social media goals before developing a branding strategy.
Choose Social Media Channels That Align With Your Goals
Conduct some research into the variety of social media channels available. There are plenty to choose from, yet not all of them may be the right fit for your business. Consider each channel's features, advertising capabilities and targeting strategies. For example, Instagram is an ideal tool for businesses that sell products because it is image-focused and great for displaying visuals like product photography. Meanwhile, LinkedIn advertising typically benefits B2B companies over D2C companies due to its large niche targeting functionality and ability to produce high quality leads.
In addition to researching all the platforms that interest your brand, be sure to determine the channels that your targeted audience is active on. Brands that focus on where their prospective customers spend the most time will be more successful than those who use platforms that their audiences don't use.
Creating An eCommerce Social Media Strategy
Develop Buyer Personas
It's difficult to have a strong social media presence if you don't know who your target audience is. It's even harder to create content that they're looking for if you don't understand who they are. Define a few buyer personas that include the person's:
Age
Location
Income
Job title or industry
Interests or hobbies
Rather than viewing your followers solely as followers, get to know them on a personal level by uncovering their real wants, needs and expectations from your brand. We mentioned this earlier and we'll say it again: do some research into the platforms that your target audience is most active on. Then, promote your brand on those platforms.
Analyze The Competition
Conduct a competitive analysis to gather insights into what your competition is doing well on social media. This will help your team garner a better understanding of the type of content that attracts and engages your target audience as well as the type of content that does not work so well. For instance, if you notice that product videos are gaining the most attention on social media and you're not currently posting them, then that may be an area where your marketing team can improve. On the other hand, if you notice that many competitors in the industry neglected a specific social media platform and you believe that it's a valuable channel to engage with prospective customers, then go for it! The best part about a competitive analysis is that it'll help spark your team's inspiration and allow you to observe opportunities for growth.
Analyze Your Existing eCommerce Social Media Efforts
Similar to a competitive analysis, conduct an audit of your existing eCommerce social media efforts. What platforms are you currently promoting content on? What's working well? What isn't working? What metrics does your business define as important? How do those metrics compare to industry benchmarks or your company's goals? It's valuable to get an initial idea of your current social media strategy before implementing new ideas.
Optimize Social Media Accounts
No matter the social media platform used, be sure to optimize your company profile to provide prospective customers with easily accessible information at their fingertips. Let's take a look at how beauty giant, Sephora, optimized its Instagram profile.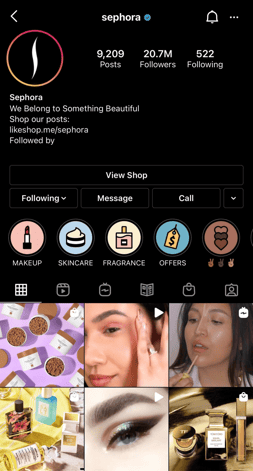 Included in Sephora's Instagram biography is a link to shop all the products that are displayed in their Instagram posts. When a user navigates to this link, the feed displays squares that look similar to the Instagram posts. When clicked on a product in the post, users are directed to Sephora's website or mobile app to shop the product displayed.
Sephora's Instagram profile also uses a "View Shop" button that directs users to Facebook Shops, technically. This shopping feature allows Instagram users to remain in the Instagram app and see curated collections and new releases from Sephora. This shopping feature is personalized for each user based on activity to show recommendations, relevant ads and sponsored content.
Last, Sephora uses Instagram's "call" button, so users can call the store with a click of a button. These Instagram profile features make it easy for Sephora's followers to learn more about the brand and its products, make purchases and get in touch.
Establish a Tone of Voice
The conversations and interactions that brands have with their audience on social media should remain the same across all channels. Though a brand's tone may vary by platform (i.e. more professional on LinkedIn and more relaxed on Twitter), it's critical that brand voice remains consistent - like the same person is interacting with and responding to each comment. That's how fast food restaurants, Chipotle and Wendy's, established themselves on social media. If you haven't checked out how they respond to and interact with comments on Instagram and Twitter, we definitely recommend checking them out.
The tone of voice that your brand sets with its customers determines whether or not your customers feel like they're part of a larger community. This establishes a sense of trust, and with time that trust may turn into brand loyalty.
Establish a Posting Cadence
Before sharing content, it's important to establish a posting cadence to set audience expectations from the beginning. This way, your followers will know whether to expect daily or weekly posts from your brand. We recommend using a content calendar to track your social media posts so that you know which piece of content is being published when. A calendar is a great tool for planning posts with images, videos, external links and internal links like blog posts.
Advertising With Social Media
Augment your organic social media strategy with eCommerce advertising. Drive traffic to your social media profile and company website, and increase visibility among audiences you may not have otherwise organically reached. Below, we've outlined some things to keep in mind when advertising on social media.
Create Retargeting Campaigns
Retargeting is great for getting your brand in front of those that are already familiar with it. In order to create a retargeting campaign, first place a cookie on your website. This tracks useful information about each user that visits your site, such as their browsing activity. Then, specific users will be served ads on social media platforms after leaving your website.
There are a variety of retargeting options, too. For example, create a retargeting campaign to get your ad in front of those who bounced on your homepage. Build a Facebook ad that prompts users to subscribe to your newsletter or exchange their information (email address) for something valuable. Or, create a retargeting campaign to make your ad visible to those who viewed a specific product. Create an Instagram ad that enables shoppers to purchase that product through either Instagram or your website. Link directly to the product page to create a seamless checkout experience for your retargeted audience.
Optimize Landing Pages
It's critical to customize landing pages and eliminate distractions in the conversion process. Whether the goal of your ad is lead generation or eCommerce sales, be sure to build landing pages in a way that guides users to your conversion goal. Following PPC landing page best practices is key to driving conversions on these pages.
Include a clear call-to-action (CTA) on your landing page, so people know what to do when they arrive on it. Use a unique value proposition to demonstrate the value the visitor will receive by converting on your page. If you're selling a specific product, don't be afraid to showcase reviews on the landing page to show potential customers what their peers thought of the product. Avoid lackluster content on landing pages - they're just as important as website pages and are built to drive conversions; don't distract visitors with other unimportant elements.
Cater To Mobile Users
59% of shoppers believe mobile optimization is important when deciding on a brand to purchase from, and 39% of smartphone users will shop on a mobile app as opposed to a browser because it's easier to make a purchase. No matter what your business sells, we cannot stress enough the importance of optimizing both your ads and your website for mobile devices.
Think about the things that you, as a consumer, appreciate from websites when you're shopping on your mobile device. Do you choose one brand over another because it allows you to save your password and sign in with your fingerprint? Is the search bar easily accessible at the top of the page? Does the site display relevant search results? Do you get easily (and understandably) agitated when you spend time shopping and suddenly your cart disappears? All of these little things mean a lot to mobile shoppers, especially when the ad experience is seamless and the website experience is not.
Optimize your ad creative for mobile to create a frictionless experience for your targeted audience. Consider fitting photos and videos to the mobile screen and create assets that match what your audience is typically interacting with.
Measure Activity With Analytics Tools
Tracking and analyzing social media data helps to measure ad performance and keep track of metrics your company deems important, such as conversion rate, average engagement rate, reach and more. Whether you're running ads on one social platform or multiple, set your marketing and advertising strategy up for success by leveraging an analytics tool.
Here at Groove Commerce, we love HubSpot for its social media analytics capabilities. Publish social content either through HubSpot itself or other social media platforms, and use HubSpot's reporting to measure the performance of all campaigns across all channels. Visualize data with graphs that break down the metrics that are important to your business, including impressions, session length and more. There are a ton of eCommerce marketing tools available, so we encourage you to identify your most pressing business needs and evaluate tools based on your company's goals.
Conclusion
Social media presents a huge opportunity for eCommerce businesses to expand their reach, grow their audience and drive online revenue. If you're looking for help with your eCommerce social media strategy, Groove Commerce is here to help.
From Facebook to Instagram and everything in between, our team of marketers and designers work together to build you custom ads designed to convert. Our certified paid media experts are here to help you build retargeting campaigns that nurture your website visitors. We're dedicated to helping you lower your cost per click, maximize your return on spend and reach new prospects through social media advertising.
About Groove Commerce
Groove Commerce is a full-service eCommerce agency with 14 years of experience helping mid-market retailers design, build and grow their eCommerce websites. As an Elite BigCommerce Partner Agency and Diamond HubSpot Partner Agency, Groove Commerce follows an inbound methodology and delivers bespoke, white-glove service to convert visitors into repeat customers. If you have any questions about your eCommerce social media strategy and would like help growing your online revenue, contact our team to learn how we can help.
Related Content
You Also May Like
Blog
What Do I Need To Know About Etail West 2024? Are you in the eCommerce industry? If...