Case Study
5 Stages Of Running An Inbound Marketing Campaign
Aug 31, 2020 • 4 Min Read
If you're an inbound marketer, you're probably developing new inbound marketing campaigns often. You may even have so many running at once that you start to wonder if you remembered everything. Sometimes, you may even wonder what the goal of a campaign was.
It's alright if you get overwhelmed at times, but that may cause you to overlook an important stage of your campaign. That's why it's beneficial to go through a quick checklist prior to launching your campaign.
The next time you catch yourself overwhelmed with inbound marketing, take a moment to look at this article to better set your campaign up for success.
Inbound Marketing Campaign: 5 Stages
HubSpot defines inbound marketing campaigns as "concentrated efforts that align all of your marketing channels around a single message and goal."
Begin by considering what your brand has to offer. Through what marketing channels are you promoting your products or services? Are you offering something of value that's relevant to your audience?
As you ponder over these questions, be sure to follow these 5 stages of running a successful inbound marketing campaign:
Figure out your offer

Establish goals and benchmarks

Select marketing channels and start driving traffic

Nurture your leads

Measure your results
Figure Out Your Offer
A strong inbound marketing campaign is built on a variety of offers. Drive conversions by creating several pieces of valuable content.
We recommend creating at least 3 to 5 offers to begin with, and they can be adjusted as needed. When creating these various offers, remember to keep them not only relevant to your audience, but also consistent with your brand.
Some of the most common conversion-driven offers to include are advanced content, such as:
eBooks
How-to guides
Case studies
Tip sheets
Webinars
White papers
All of these offers help to drive prospects through the funnel and ultimately convert. Although each offer has its own unique value, using them together to support a unified theme results in a strongly effective inbound marketing campaign.
Remember, every campaign should be based around offers that support each other and align with your marketing goals.
Establish Goals & Benchmarks
Given the current state of your business, set goals. Don't set goals that you're not likely to reach. Instead, make sure the goals you are setting are SMART - Specific, Measurable, Attainable, Realistic, and Timely.
For example, let's say we just launched the HubSpot extension. We're looking to generate activity around the topic on social media so that we can pull in specific leads and establish ourselves as experts.
Examples of SMART goals for this situation would be:
Generate 1,000 leads who are interested in the HubSpot extension by August 29, 2020.
Improve rank for the keyword "HubSpot extension" from 9th to 3rd on Google by August 29, 2020.
In addition, setting up benchmarks helps you to understand the current state of your business and where you strive to be. Common considerations when benchmarking are quality, time and cost.
Once you establish those benchmarks, your goals are easier to achieve because they are clearly defined.
Select Marketing Channels and Start Driving Traffic
Kick-start your campaign by selecting which marketing channels to promote your content through. One channel may work better than another, and that's okay! Change up your marketing strategies to see what works best for your business.
Email
Launch your offers with an introduction email to strategic lists that include people who would be interested in this offer or content. For more information on how to generate revenue through this channel, refer to this email marketing guide.
Blog Posts
When it comes to blogging, we recommend allotting a certain number of blog posts to the topics that your campaign covers. Don't forget to add internal links to the offers where appropriate, and keep track of the views those posts get.
For more insights on this marketing channel, we've shared company blogging tips to help engage your customers.
Social Media
Social media users are endlessly scrolling despite the platform. So, here is where you should show your creativity!
Stand out from the competition (and to customers) by posting webinar teasers and sneak peak footage of other offers. Engage with social media users by joining conversations on other forums and responding to any questions or comments they may have.
Be sure you're following these social media branding tips to complement your effective strategy.
Pay-Per-Click Ads
In addition to driving traffic through organic search rankings, we recommend using paid search ads to help drive traffic to your offers.
Pay-per-click (PPC) ads can drive traffic from a variety of sources. Remember to turn tracking on so that you can monitor how much the PPC ads contribute to your campaign.
Nurture Your Leads
If someone converts on one of your offers, that's great. However, it doesn't mean that they're ready to make a purchasing decision. Take this opportunity to nurture your lead through the funnel so that they can arrive at that final purchase decision.
Walk them through the conversion funnel by attaching a lead nurturing campaign or series of relevant follow-up emails to your offer. In a lead nurturing series, each email acts as a helpful nudge to get the lead to the next step of the decision process.
Measure Your Results
Once your campaign has ended, it's time to check out your reports to measure the success of your campaign. If you're a HubSpot customer, you can easily organize, execute and measure all of your campaigns.
You can see how many visits, contacts and customers your campaign generated against your goals and how each promotion channel contributed to those outcomes.
Check out this screenshot of HubSpot's report of a business's results.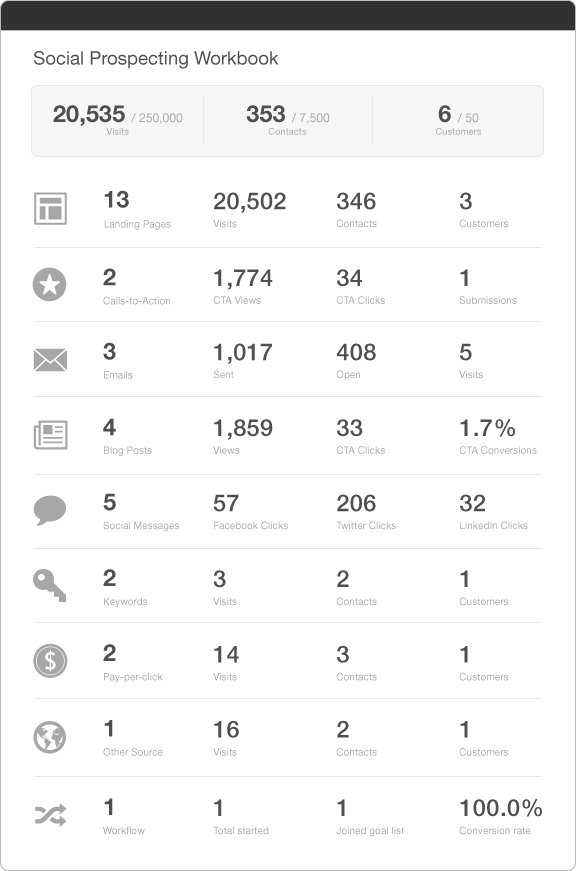 In addition, if you've set up your tracking URLs properly in Google Analytics, you'll be able to see how many visits your campaign generated in acquisition. Sign in to Google Analytics, click 'Acquisition' and then click 'Campaigns' to see your campaign traffic.
Conclusion
We hope this article has helped you better understand the 5 critical stages of an inbound marketing campaign. To recap, it all begins with your offer.
Look for the number of registration and downloads, and check your analytics to see the number of customers that generated from those offers. And don't forget to check in on your benchmarks. If an offer isn't reaching your expectations, consider redirecting your efforts.
When it comes to selecting a marketing channel, look for click-throughs to your offers, social sharing (such as retweets and likes), and conversions. We recommend taking a look at the click-through rates (CTR) in your lead-nurturing campaigns. If the CTR is less than 5%, your offer may not be getting enough traction.
Finally, take a look at your new leads, total submissions and new customers that resulted from your campaign. Evaluate whether you reached your goal and review what you can improve on in the future.
There you have it! You're on the right track to developing your very own successful inbound marketing campaign. If you have any questions or concerns, contact us through the form below. Our team will be in touch!
Related Content
You Also May Like
Blog
What Do I Need To Know About Etail West 2024? Are you in the eCommerce industry? If...