eCommerce Development
How Video Marketing Will Increase Your Business's Conversions
May 31, 2022 • 2 Min Read
Why Video Marketing?
Video is something we consume everyday, multiple times a day. It not only can be a form of entertainment, but it can be informative and make it easier for users or potential customers to understand your brand's message, educate them on products, and gain your trust. According to Hubspot, 97% of marketers claim that video marketing helps users understand their brand better and 50% of users look for videos about your product or service to learn more about it.
There's a few ways video marketing can take your business to the next level including increasing marketing ROI, organic search traffic and gaining more customers.
Video Marketing Strategies
The first part of increasing your business's return on marketing investments is gaining audience attention through the content you are choosing to put out and where you post it. For some social media platforms, such as Instagram, short-form content will be more successful than long-form content that you would find on YouTube and Facebook. A few things to consider when creating a video are:
Make sure your video is formatted correctly to theplatform you are posting on, and make sure to film high quality videos.
Adding a face to a name will add to how the audience relates to the video. The more relatable something is, the more someone is likely to be engaged.
The first couple seconds of the video is when you capture someone's attention, so use a strong hook to engage the audience (A way to do this would be adding text to the video that can accomplish this, but make sure it is not excessively wordy).
Consider adding subtitles to add accessibility.
For Facebook and Youtube, be sure to create a thumbnail that will attract the interest from the audience (bright colors, big text, picture of product/service or someone holding the product).
A caption for the video that can relate to the customer.
The more your audience knows about a product or service, and you can gain their trust through video marketing, the more they are likely to want to purchase. According to Hubspot, about 93% of brands say they gained new customers due to videos that they created and posted to their social media platforms, and 84% of customers said that they were persuaded into purchasing a product or service after watching a video ad.
Increase Organic Website Traffic with Video Marketing
The other way that video marketing benefits a brand is by increasing SEO traffic. When searching for a product or service, a user is more than likely looking to learn more about the company and comparing it to competitors. When posting a video, keep in mind that all factors are taken into account with SEO results such as the relevance of the context in the description of the video, how many views it has, the title, etc. By driving more traffic through organic search, you are able to leverage the amount of sales and leads your product or service generates. According to LemonLight, you can increase organic traffic from 10% to 250% when adding video content to landing pages on your website. Videos on a landing page have also been shown to increase your conversion rate by 80%, according to Unbounce. So, by adding videos to your landing pages on your website, you are able to increase SEO traffic which leads to an increase in revenue.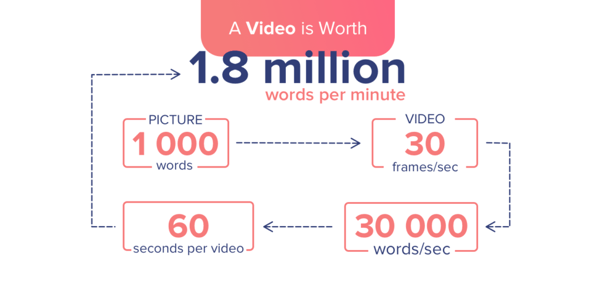 Image from: https://seranking.com/blog/videos-impact-seo-rankings/
Marketers have been satisfied with their results that came from video marketing with 83% of claiming to have generated leads with their video content alone (Hubspot).
It's crucial for brands to continue to use the tools that are out there that are proven to gain success, especially if the majority of marketers are taking advantage of them. Due to the oversaturation of content on the internet, there is a lot of competition, so be sure to create content that differentiates your brand from others.
Conclusion
Want to learn more about how which strategies can help you when starting your video marketing, or need help with your current strategy? Here at Groove Commerce, we can help you take your goals to the next level. Reach out to one of our eCommerce experts to help you grow your business.
Related Content
You Also May Like
Blog
In the realm of digital content creation, video has emerged as a dominant force,...