eCommerce Strategy
How To Use Klaviyo Abandoned Cart Flows
Apr 21, 2022 • 2 Min Read
What Is An Abandoned Cart Email?
An abandoned cart email is an email that eCommerce merchants send to contacts in their database or CRM to remind them that they've left a product behind in their online shopping cart. People who shop online, add one or more products to their shopping cart but do not complete the purchase are considered cart abandoners. Abandoned cart emails remind these customers that they've not yet purchased after the product has sat in the cart for a predetermined amount of time.
Here's a great email that Huckberry created to encourage shoppers to finish checking out after adding a bundle of boxer briefs to their cart.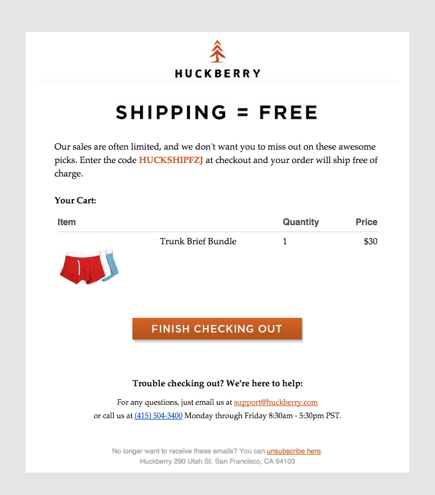 What Is A Klaviyo Abandoned Cart Flow?
A Klaviyo abandoned cart flow is a series of automated emails and/or SMS messages that let leads and customers know they've left a product behind in their online shopping cart. Klaviyo enables merchants to set certain criteria to enroll cart abandoners in the workflow.
Abandoned cart flows differ from abandoned cart emails in that flows are the mechanism that automatically trigger the emails after a set of criteria has been met. It is important to set up your Klaviyo flows with care, or the right emails will not be sent to the right people at the right time. Below is an example of what a flow looks like inside of Klaviyo.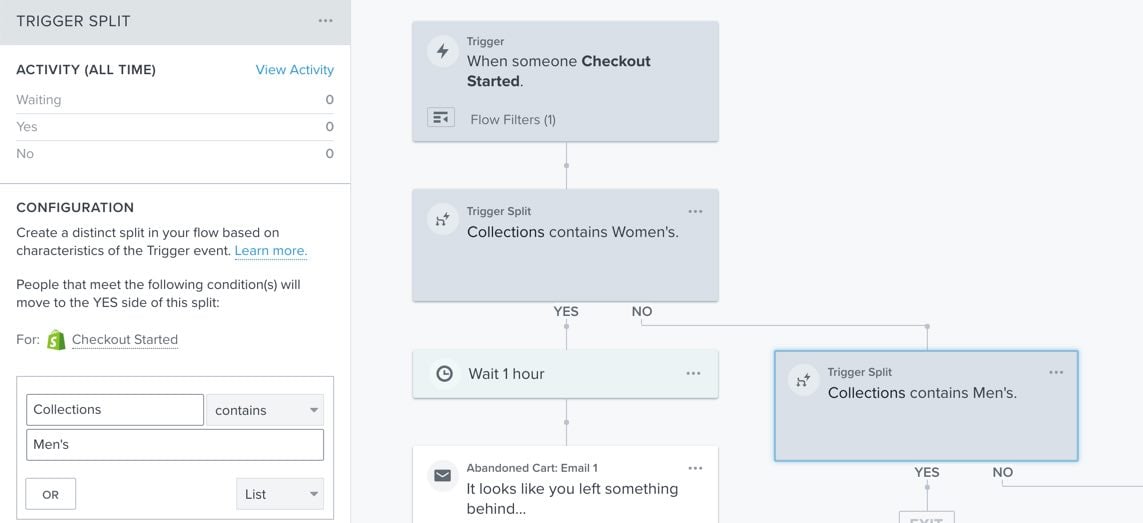 What To Include In Your Klaviyo Abandoned Cart Flow
Flow Triggers and Filters
The criteria that Klaviyo uses to enroll people in workflows are called triggers. Triggers are unique metrics, such as whether a person placed an order or viewed a product - among many other metrics. When it comes to creating a Klaviyo abandoned cart flow, the only trigger that must be set is whether a person started the checkout process. In Klaviyo, this is called Started Checkout.

The Started Checkout trigger means that every person in your database that has started the checkout will qualify, even if they already completed their purchase. To ensure that the people who fully convert and purchase are not sent abandoned cart emails or SMS messages, filters must be put in place. Remember, Klaviyo abandoned cart emails and SMS messages should be sent only to the people who add a product to their shopping cart but do not purchase.
That's why it's important to set up a flow filter, as seen in the screenshot above. Use the filter Placed Order and make sure that it says zero times since starting this flow. This filter will exclude the people that have purchased.
Another recommended filter to use is Hasn't been in flow in the last X days. This filter helps merchants avoid sending messages to people who already received an abandoned cart notification if they happen to abandon their shopping cart again within the specified time period.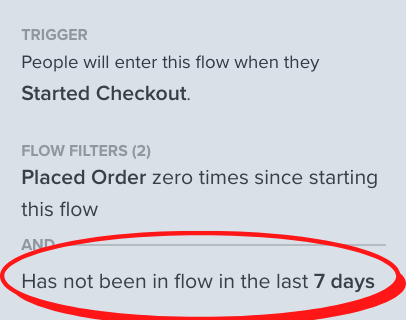 A Dynamic Content Block
Thankfully with Klaviyo, a dynamic content block as well as a go-to-cart button are included by default in an abandoned cart flow. A dynamic content block allows merchants to insert a product image, a link and product details into the email. The go-to-cart button is a call to action that lets receivers of the email easily navigate back to their shopping cart in one click.
Time Delays
There is no universal rule when it comes to the amount of time between abandoned cart messages. Depending on the type of products your company sells, it may be advised to wait longer or shorter periods of time before reaching out. Either way, delaying messages for certain periods of time is shown to increase open rates and drive abandoned cart conversions.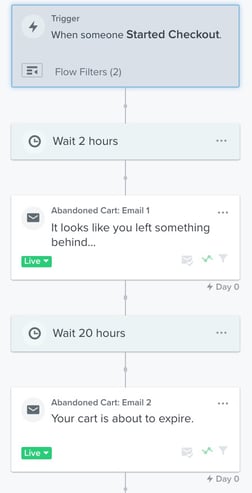 Conclusion
The Groove Commerce team loves using Klaviyo abandoned cart flows for our email marketing clients. If you have any questions about implementing email and SMS messages or integrating Klaviyo with your eCommerce store, reach out to us through the form below. We'd be happy to get you set up with Klaviyo and create must-have flows for you!
Related Content
You Also May Like
Blog
What Do I Need To Know About Etail West 2024? Are you in the eCommerce industry? If...