Groove Commerce
Use this guide to assess what steps to take and what metrics to measure while designing your next inbound marketing campaign for success.
4 MIN READ | HubSpot
5 Critical Stages of Running a Successful Inbound Marketing Campaign
Ethan Giffin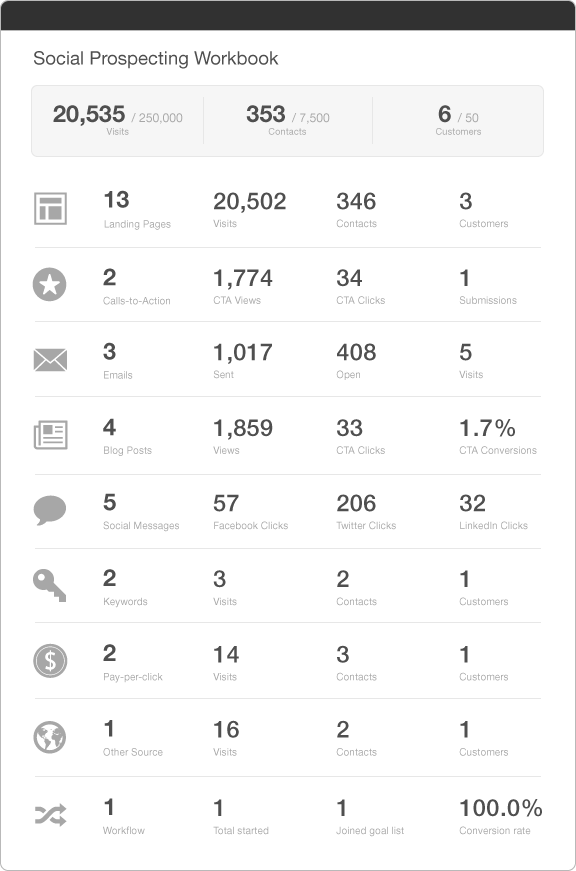 If you're an inbound marketer like me, you're constantly developing new inbound marketing campaigns for product services. You may even have so many running at once that you start to wonder; did I remember everything? What was the goal of this campaign again? It's easy to get overwhelmed and over look an important stage of your campaign, which is why you need a quick checklist like this.
The next time you are putting together an inbound marketing campaign, stop and use this guide to make sure you're setting up your campaign for success.
HubSpot defines an inbound marketing campaign as "concentrated efforts that align all of your marketing channels around a single message and goal. It starts with a marketing offer – something valuable and relevant for your audience that you promote through your marketing channels. Then you nurture the leads from that offer and move them along the marketing funnel so they can become your customers." Finally, you measure and analyze your campaign.
Here we will walk through each of those critical steps and show what metrics to measure along the way.
Stages of Inbound Marketing Campaigns
1) Start with figuring out your offer
A strong inbound marketing campaign is built on a variety of offers. You want to create several pieces of valuable content to help drive conversions. I recommend creating at least 3-5 offers to start with, but you can always adjust as needed.
Some of the offers that you can use to drive conversions can include:
Ebooks
Blogs
Case studies
Consultations
Webinars
Coupons and more
You can use a variety of these offers to help drive prospects through the funnel and ultimately convert. Each offer has it's own unique value, but when all tied together to support a unified theme, becoming a strongly effective inbound marketing campaign. Every campaign should be based around offers that support each other and align with your marketing goals.
2) Establish your goals and benchmarks
Setting up benchmarks helps you understand where you are now and where you want to go. Rather than say "I'm going to raise awareness" or " increase engagement," I recommend establishing SMART goals. SMART goals stands for: specific, measurable, attainable, relevant and timely.
Let's say we just launched the HubSpot extension, HubShop.ly for BigCommerce and we're looking to generate lots of activity around the topic on social media to pull in specific leads and establish ourselves as experts.
A great example of a SMART goal for that would be:
"Generate 1,000 leads who are interested in HubShop.ly for BigCommerce by August 29, 2015."
"Improve rank for the keyword 'BigCommerce extension' from 9th to 3rd on Google by August 29, 2015."
Once you establish those benchmarks, your goals are easier to achieve because they are clearly defined.
3) Select your channels and start driving traffic
Get your campaign off the ground and running by using your channels to support your campaign. You can mix up the channels where you promote your content by sharing your campaigns through:
Emails: Launch your offers with an introduction email to strategic lists that include people who would be interested in this offer or content.
Blog posts: Save a percent of your blog posts to write on topics that your campaign covers. Addinternal links to the offers when relevant and keep track of the views those posts get.
Social media messaging: Get creative! Post webinar teasers and sneak peak footage of other offers to your social media channels, and join conversations on other forums covering the topic.
Pay-Per-Click Ads: Paid search ads can help drive traffic to your offers. Be sure that tracking is on to monitor how much it contributes to your campaign.
4) Nurture your leads
Someone converted on one of your offers? That's great, but it doesn't mean they are ready to make a purchasing decision. This is an opportunity to nurture your lead through the funnel to get to that final decision.
Try walking them through the sales funnel by attaching a lead nurturing campaign or series of relevant follow-up emails to your offer. In a lead nurturing series, each email should act as a helpfully nudge to get the lead to the next step of their decision process.
Interested in learning more about lead nurturing? HubSpot has an excellent introductory ebook about lead nurturing that will help guide you.
5) Measure your results
Once your campaign has ended, it's time to check out your reports to measure the success of your campaign.
If you're a HubSpot customer, you can organize, execute, and measure all of your campaigns from the Campaign app. This will show you how many visits, contacts, and customers your campaign generated against your goals and how each promotion channel contributed to those outcomes.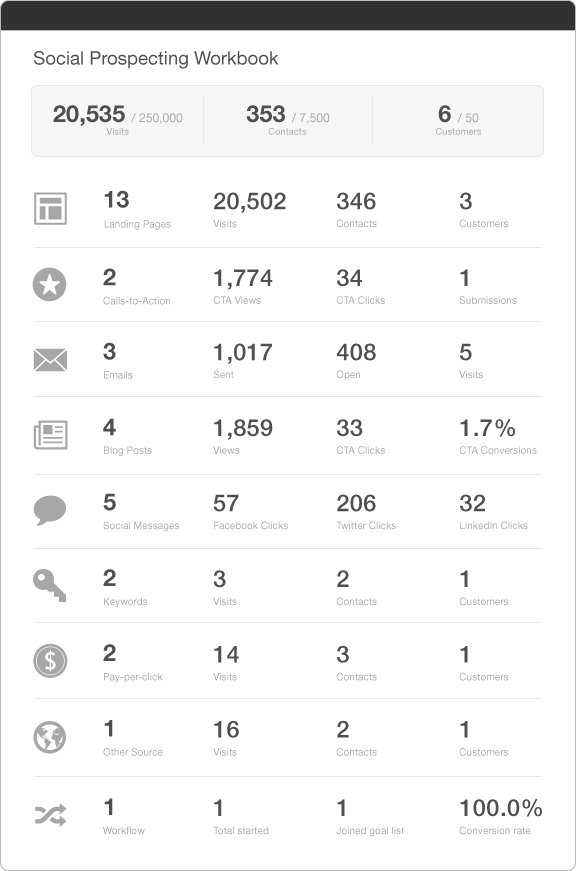 If you've set up your tracking URLs properly in Google Analytics, you'll be able to see how many visits your campaign generated in acquisition. Sign in to Google Analytics, click 'Acquisition' and then click 'Campaigns' to see your campaign traffic.
Here's a quick recap of what to measure at each stage of your inbound marketing campaign:
Offers – Look for the number of registrations, downloads and check HubSpot to see the number of customers that generated from those offers.
Goals and benchmarks – Check in on your benchmarks. If an offer isn't reaching your expectations, consider redirecting your efforts.
Channels – Look for click-throughs to your offers, conversions, and social sharing such as retweets and likes.
Nurturing leads – Check out the click-through rates to make sure your lead nurturing campaigns aren't lower than 5%. If they are, your offer may not be getting enough traction.
Reporting and measuring results – Take a look at your new leads, total submissions and new customers that resulted from your campaign. Evaluate whether you reached your goal and review what you can improve on in the future.
There you have it! You're on the right track to developing your very own successful inbound marketing campaign. Be sure to check out HubSpot's awesome inbound marketing checklist as a resource to help guide you through your next campaign.
Inbound strategies aren't just for lead generation, you can utilize inbound marketing for eCommerce as well!
Contact us if you are interested in learning more about Groove and our inbound marketing strategies today!
Get in Touch
Subscribe for industry insights and resources.