eCommerce Strategy
5 Product Photography Tips To Increase eCommerce CVR
Jun 18, 2020 • 3 Min Read
Before online shopping became completely ubiquitous, one of the most common sentiments among online retailers was to make the product feel as real to the user as possible. They aimed to provide an experience that is as close as possible to seeing and touching the real thing.
This idea very much still holds true in today's fast-paced digital world. Every eCommerce retailer's goal is to sell their products online, and this is can be accomplished by understanding the basics to product photography for eCommerce and providing the visitor the same experience as if they were buying your items in-store.
5 Product Photography Tips
In this blog, we're sharing how to showcase your products in a way that makes shoppers feel like they're already holding your product in their hands. Do it right, and those shoppers will be holding your product soon enough.
Follow these 5 eCommerce product photography tips to ensure you're capturing the product's essence and providing an exceptional online shopping experience for customers:
Hire a professional
Shoot only the product
Shoot multiple angles
Allow users to zoom in on your images
Show all colors
1. Hire A Professional
Although choosing not to hire a photographer may save money at first, we can guarantee that inadequate product photography for eCommerce sites cause more money to be lost in the long run. No matter what you sell, hire a professional if you're trying to make a business by selling these products online.
Professional photos add credibility to your brand and relay to shoppers that your brand is a serious and legitimate business. Not to mention, beautiful photos that are well-lit and full of detail and texture evoke a positive emotional response from shoppers, which is always a great thing.
2. Shoot Only The Product
When photographing products that you're trying to sell, it's critical that you shoot only the product. Don't dress up the photo with a fancy backdrop or flowers - this isn't the time to get artistic.
Consumers arrive on your site to view and purchase your products, so stay focused on showcasing just the items you intend to sell to see an increase in conversions.
Remember, you're trying to convey key information about the product to your website visitors. Consider the size, shape and color of the products you're shooting. There is one caveat to this, however.
If the item is very small or difficult to determine its size based on a standalone photo, it may be helpful to show the product in perspective so that visitors can get an idea of its true size before purchasing.
In the images below, this Kate Spade handbag is shown on a model to help shoppers envision its size.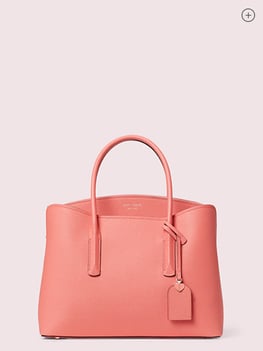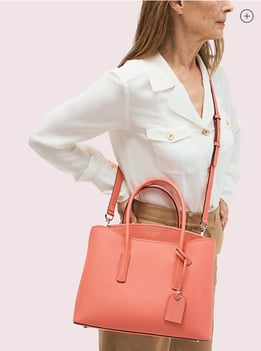 3. Shoot Multiple Angles
If you're photographing a product that is small enough to hold in your hands, we recommend shooting it from five major angles: front, back, top, bottom and side.
Of course, not all products need to be captured from all angles. A pack of disinfecting wipes, for example, can get away with photos from just the front and back angles.
On the other hand, larger products may be harder to shoot from multiple angles. First, consider how much the product is worth. If it's highly expensive, we recommend shooting from as many angles as you can. Remember, a variety of images helps to reassure consumers — who are about to spend a significant amount of money— that your product is exactly what they want.
4. Allow Users To Zoom In On Your Images
When it comes to the actual product images within your eCommerce website, it's critical that you offer the option of zooming in on the images. Here a few valuable tips for zooming in on product photos:
Avoid using a zoom link/hover where the image isn't enlarged
Ensure the zoom is at least double the original size
Use a shadowbox or light box for pop-ups
Make sure your visitors know how to zoom in. Some sites use pop-ups, but many browsers have a default pop-up blocker. We recommend a shadowbox or light box for pop-ups that will simply open the larger image while dimming out the rest of the page.
We're not huge fans of the rollover zoom because it usually displays to the right of the image — which also happens to be where the product information, like price and add to cart button, are located. It can create a negative user experience when a user mouses over the image by accident and is zoomed in.
5. Show All Colors
This seems like a no-brainer, but some sites still lack images showing a colored-variety of products. If your item sells in several colors, show visitors every single color you have to offer. Indecisive shoppers already have difficulty choosing between available colors — avoid making their problem worse, and just provide images with all available colors.
Conclusion
We hope utilizing these 5 product photography tips helps to increase your eCommerce conversion rate. Through all of Groove's photography ventures, we've learned that you can take almost any product — no matter how boring or exuberant — and make it visually appealing with stellar product photography for eCommerce.
When it comes to your website, create content and use photos that engages each and every visitor that lands on your site. If you'd like to learn more about how Groove can help with your website design, contact us through the form below. A member of our team will be in touch!
Related Content
You Also May Like
Blog
What Do I Need To Know About Etail West 2024? Are you in the eCommerce industry? If...