eCommerce Development
Rules & Requirements For Selling Food & Drinks Online
Sep 02, 2022 • 4 Min Read
In recent years, consumer comfort in ordering perishable goods has exponentially increased. As eCommerce becomes mainstream in this vertical, merchants have a unique opportunity to capitalize on increased demand. In this blog, we will be describing the rules and requirements that eCommerce merchants need to follow before sending their perishables items directly to their customers' front doors.
Standard Requirements
Whether online or in-person, selling food comes with a laundry list of rules and regulations. Before we address the eCommerce-specific requirements, let's discuss the criteria that all food retailers must comply with. Please note that this blog post is not legal advice, and you should work with appropriate counsel to ensure regulatory compliance.
Standard Business License
In order to accept transactions of any type, food or not, you will need to register your business with the appropriate government agencies.
County, State & Country Permits
Each locality can have its own governing body for both food manufacturers and retailers. At a bare minimum, you will need to apply for the correct license in your state.
Becoming A Certified Food Handler
While becoming a certified food handler is not a requirement in every state, it is highly recommended. In the process of obtaining this certification, you will learn about food safety practices, cooking temperatures, foodborne illnesses and more.
Additional Certifications To Build Consumer Confidence
The more valuable (ISO-recognized) certificates you and your business hold, the more potential customers will trust the safety of your products. It is recommended to find certifications relevant to your products and customer base.
Food Labels
Due to the Fair Packaging and Labeling Act, all food retailers must display clear signage that lists any common allergens that could be in any of the food products being served. Common allergens include milk, eggs, nuts, fish, shellfish, soy, and wheat. It is also required that you state ingredients, calories, servings per container and all other federally-required information.
Requirements for Selling Online
Now that we've covered the basic requirements of manufacturing or selling food anywhere in the United States, we can discuss the specific challenges that eCommerce food merchants face. There are three main categories that we have batched these requirements: safety, effectiveness and attractiveness.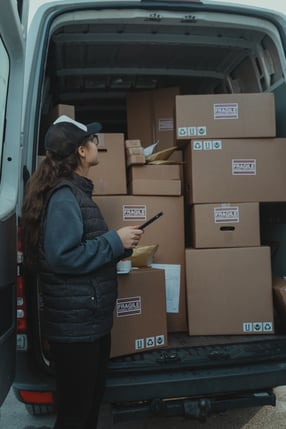 Safety
Universally Recognized Stickers
When shipping perishable food items, ensuring that they do not arrive damaged is key to avoiding unhappy customers and refund requests. A cheap and easy way to reduce the total amount of damaged packages is to use "Fragile," "This Side Up" and "Perishable" shipping stickers on the outside of boxes. Although all logistics employees do not pay these stickers the respect they should, they are a helpful start.
Dry Ice / Freezer Packs
The number-one most important element of selling perishable goods online is that they arrive unperished. This means that you will need to determine the required internal temperature of your food items, as well as the time period they will need to remain at that temperature.
Once you collect this information, you can begin to choose the shipping materials that your team will use to properly package your sold items. Typically, cooling mediums such as dry ice, freezer packs or cooling packs can regulate the temperature inside the box.
Effectiveness
Production
Before you can send any food to your new online customers, you must first produce and package that product in a profitable way. For perishable food and drink brands new to eCommerce, D2C production lines are typically not already in place. However, there are a variety of methods that these brands can leverage when moving into the eCommerce space.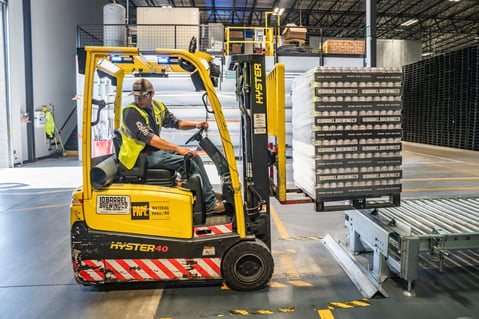 In a big-box store, it makes sense that customers can purchase just a single container of luxury ice cream. However, when these products are shipped, the price of transportation vastly overtakes the price of the single item itself. In these cases, a rule is often implemented that eCommerce shoppers must purchase pre-defined quantities such as 6, 12, or 30 servings. By spreading the cost of shipping across many units, online shoppers are less deterred by shipping costs.
Leverage Existing Systems
One unique case of innovative D2C shipping methods is with the ice cream of the future, Dippin' Dots. Historically, this brand served customers via franchisee kiosks in amusement parks or entertainment venues across the United States. To fulfill customer orders, Dippin' Dots sends these vendors the product in 5-lb bulk bags that provide up to 30 servings each.
To create an economical entrance into eCommerce, Dippin' Dots decided to leverage this existing large-quantity packaging for its consumer audience. Instead of creating an entirely new production line just for eCommerce shoppers, these bulk bags are the same bags sent to customers along with 30 serving cups. In the case of Dippin' Dots, this allows for the cost of shipping and packaging to be evenly spread over many servings, which enables customers to afford the purchase.
Attractiveness
Presentation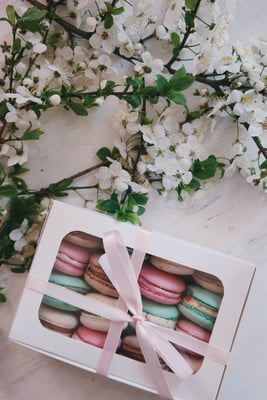 One area that can be overlooked is the product presentation once the delivered package is opened. The presentation of your product will depend entirely on what the product is, your desired profit margin and your brand's visual identity. Take time to consider your options and choose one that makes sense for your business.
In addition to a cooling element, perishable shipments should also include a protective layer of styrofoam or packing peanuts. To elevate this presentation, consider encasing all of your products and shipping materials in a branded casing or exterior box. By ensuring that each step of the unboxing experience is centered around the customer, they will be left impressed with your brand.
Shipping
The final part of your product's journey is arguably the most important. We have a complete blog on selling & shipping food online that dives deep into the subject. Read on to learn about the challenges that eCommerce merchants face when shipping goods, and how our agency has solved them.
Shipping Speed
When shipping food items, speed is the name of the game. For items that must be kept at a safe internal temperature, be sure to default to two-day shipping. It is smart to enable customers to select one-day shipping if they choose to. For products that stay fresh for longer periods of time without temperature constraints, it is safe to offer a cheaper 3-5 day shipping option if you are so inclined.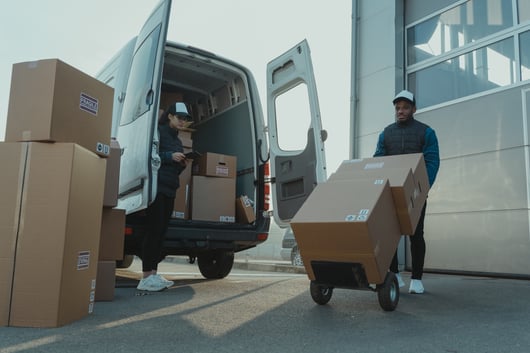 eCommerce Shipping Integrations
Leveraging eCommerce integrations such as Advanced Shipping Manager + Shipstation will vastly reduce the amount of time that shipping processes take on the warehouse side. By automating label printing and developing custom shipping rules, you can get more packages out of the door faster - leaving more time and resources for other areas of your business.
Learn how our agency built a custom delivery date selection calendar that leverages these tools and integrates into BigCommerce's signature one-page checkout
Conclusion
Selling perishable food products online is a relatively new and constantly evolving vertical. Our agency has helped numerous brands begin selling directly to customers online and is ready to help yours as well. Fill out the form below to discuss your needs with a member of our eCommerce team.
Related Content
You Also May Like
Blog
In the realm of digital content creation, video has emerged as a dominant force,...