Groove Commerce
How our team thought outside of the box to enable Dippin' Dots to sell their delicious frozen treats D2C with an eCommerce website on BigCommerce
Looking to bring their online presence into 2022, Dippin' Dots contracted Groove Commerce to create an all-new eCommerce store that would update their outdated BigCommerce instance. The primary goal of this project was to capture the fun and imaginative spirit that Dippin' Dots has embodied for so many years, while also enabling customers to purchase products online.
Challenge:
Brand Identity:
Part of what makes Dippin' Dots such a special and nostalgic brand for consumers is the imaginative and unique branding that is synonymous with their physical locations. The Dippin' Dots team wanted to ensure that this identity transferred 1:1 to their new eCommerce experience. With lifetimes filled with personal memories of the product, the Groove Commerce team knew exactly what had to be done to meet these objectives.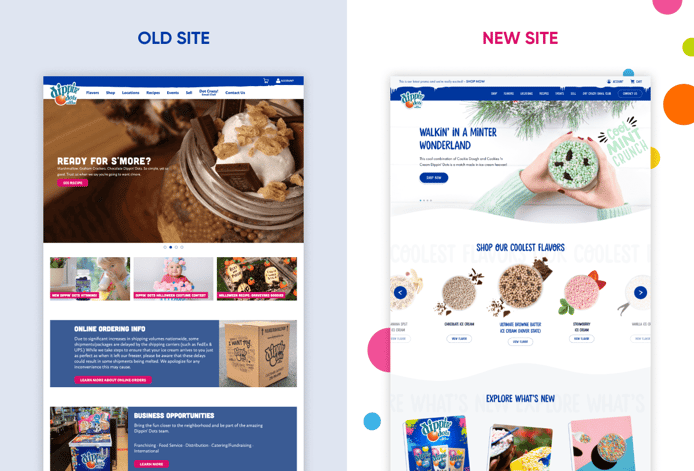 Shipping:
The client's primary technical requirement was the ability for consumers to purchase Dippin' Dots online. On top of issues that are typically associated with perishable goods, Dippin' Dots products have specific and challenging fulfillment constraints.
Dippin' Dots must be stored in extremely cold temperatures that a standard freezer cannot provide. At retail locations and kiosks across the country, specialized sub-zero freezers must be used to ensure that these delicious treats do not melt before they are consumed.
In an eCommerce environment, the product must be shipped and packed with frozen carbon dioxide, also known as dry ice. Once the package has been received by the customer, the product must be consumed in the first 24 hours after arrival, making the delivery date essential to a great customer experience.
Customer Engagement:
As eCommerce experts, we know that a high level of customer retention starts with a high level of customer engagement. Finding a way to engage with customers, however, can be a challenging task for merchants. We wanted to find ways for visitors new to the brand, as well as those who grew up with the product to feel a true connection.
Solution:
Exceptional Customer Experience
In addition to the eCommerce functionality of the site, we implemented a series of interactive elements, pages and CSS animations for customers to explore.
Our team leveraged new and existing graphic assets to create a magical experience for website visitors. By implementing animations on product images throughout the site, the eCommerce experience comes alive. Take a look at the all-new website for yourself, and you will understand what we're talking about.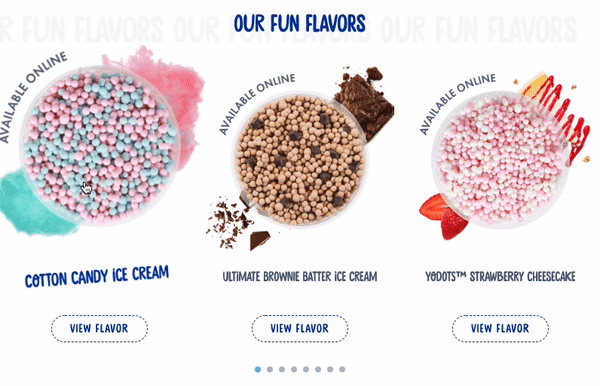 Shipping Constraints:
To solve this challenge of ice cream melting before consumption, our team built a customized shipping calendar and date picker that is integrated into BigCommerce's optimized one-page checkout.
This functionality allows users to select specific delivery dates, view blackout dates and see corresponding shipping methods and shipping costs prior to selection. To accomplish this customization, our back-end development team leveraged Advanced Shipping Manager
functionality to complement our custom development solution.
With this custom-built feature set, customers can plan for their Dippin' Dots to arrive exactly one day before, or even on the same day as their next birthday party, cookout, or family get-together.
Customer Retention:
In order to drive repeat customers to the site, we implemented a series of content areas for visitors to explore.
Flavors:
Inside the flavors category of the website, users are able to choose from the wide selection of different options that this brand offers. Once a flavor is selected, visitors are brought to a product description page, which clearly displays both nutrition and allergy information for customers to view or print.
We included this option for franchise owners to have quick access to this information at their physical locations. For health-conscious buyers, this is a critical place to find out exactly what goes into making these frozen treats.

Recipes:
If you think that there are not many recipes that can be created with Dippin' Dots, you are wrong!
From Wip & Dip Popsicles to a new take on the classic Strawberry Milkshake, there are easy, fun and delicious recipes for all to recreate at home. By offering a variety of recipes that require visitors to purchase different flavors, a positive feedback loop is created.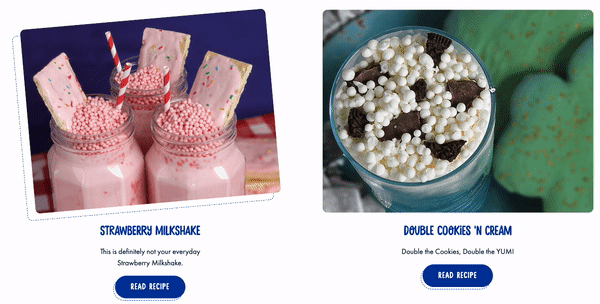 Take a look at all of the recipes Dippin' Dots has to offer and tell us that you don't think any of them look like something special you would want to try!
Dot Crazy Email Club:
Email marketing has proved to be a massive factor when measuring customer retention. Aside from informing customers about upcoming flavors, recipes and events, email newsletter sign-ups act as a primary form of lead capture. Understanding who is visiting your website, and which pages they have visited are great data points to inform marketing strategies.

This fun and timely newsletter keeps Dippin' Dots top of mind for customers who may be thinking about what to serve at their next event.
Conclusion:
Creating a special experience for online customers who have historically only ever purchased at physical locations can be a real challenge for merchants new to the eCommerce space. Luckily our team of eCommerce designers and developers specialize in exactly that.

With this fresh website now live, we are excited to see the positive results that this website launch brings our client in the future! Learn how we can solve your specific eCommerce challenges by reaching out to our team of experts below.
Get in Touch
Subscribe for industry insights and resources.