How To Use HubSpot For eCommerce
HubSpot's Marketing Hub
HubSpot's Sales Hub
HubSpot's CMS Hub
HubSpot eCommerce Integrations
Headless HubSpot CMS
Client HubSpot Success Story
HubSpot eCommerce: What Is It?
The HubSpot CRM platform comes equipped with tools and integrations to help eCommerce businesses manage their marketing initiatives, sales efforts, content creation and customer support. The platform offers various free and premium tools that offer more than just contact management; the tools help sales leaders, salespeople, marketers, customer service teams, operations managers and business owners get their jobs done more efficiently.
Though each tool produces powerful results alone, we love to use them together to streamline our business processes and drive significant results. In this guide, we partnered with HubSpot experts to break down how to use HubSpot's various tools and functionality to reach your eCommerce goals.
HubSpot's Marketing Hub
As one of HubSpot's most powerful tools, the Marketing Hub can provide a team of 4 with the power of a 20-person team. With automation and more, HubSpot provides the tools needed to streamline marketing efforts, create a more efficient strategy and save marketers time.
Similar to the Sales Hub and Service Hub, the Marketing Hub offers two plans: free and premium. Those who enroll in the free plan have access to emails and forms. Additional free features include:
Contact management
Landing pages
Live chat
Facebook, Instagram, Google and LinkedIn ads
Traffic and conversion analytics
Upgrade to the premium marketing software to take advantage of the free features as well as an additional 30 features. Additional features include, but are not limited to:
Marketing automation
SEO tools
Video hosting & management
Social media tools
Blog & content creation tools
Analytics dashboards
And more!
Aside from the free plan, the cheapest plan is the Starter Plan at $45/month. The Professional Plan costs $800/month, and the most expensive plan - the Enterprise Plan - is $3200/month. Learn more about the details of each plan here.
Landing Page & Form Builder
Wondering how to use HubSpot to create landing pages and forms without the help of a developer? Build them for free using HubSpot's marketing software. The drag-and-drop editor makes it easy for people with no coding experience to customize a page's content. Preview landing pages before publishing to see how they look on desktop, mobile or tablet.
Improve page performance and gather customer data by embedding forms onto landing pages, so new people who fill out the form will be added as a contact in the HubSpot CRM. Make lists out of the contacts who submitted a form to further cater content to their interests. Analyze landing page performance by viewing the number of visitors, contacts and customers that each page generates. Test various elements of a page, such as headlines, CTAs, forms and more, to determine the copy or creative that drives the most leads or traffic.
Marketing Automation
Don't say we didn't warn you - setting up marketing automation in HubSpot is an investment. However, we cannot stress enough how much time and effort it saves both marketers and sales teams. For example, a simple automated follow-up email to a prospect can be created and completed in about twenty minutes. This means that people who fit a specific criteria or reach a certain goal (such as filling out a form, for example) are enrolled in a HubSpot workflow that triggers the send of the automated email. Plus, you don't need to be a developer with coding knowledge to build customized emails!
All marketing efforts are powered by the customer data living in a company's CRM, which allows for personalization at scale. Set up a successful automation strategy for the long run by devising a plan to nurture people at every stage of the buyer's journey. A greater effort from marketers will move prospects through the funnel, generate more qualified leads and turn leads into paying customers. Automate complex customer journeys with multiple branches, or automate simple tasks - like managing data in bulk, updating properties, copying values and more. Automation helps teams make internal decisions based on contacts' actions or properties.
Search Engine Optimization (SEO)
HubSpot's Marketing Hub offers everything that eCommerce businesses need to design engaging websites. From enticing calls-to-action (CTAs) to optimized landing pages and more, HubSpot's content strategy tool helps marketers create content based on topics that consumers are already searching for.
Attract more website visitors, increase average session duration and build website authority with an optimized SEO strategy. Improve organic search rankings by implementing the changes from HubSpot's optimization recommendations. The Marketing Hub even suggests topics based on relevance, competition and popularity so that you can create content around the unique topics that your audience wants to see.
When building a content strategy, we recommend using HubSpot topic clusters to organize content around various core topics. This helps search engines understand relationships and hierarchy for blogs and long-form pieces of content - like guides, eBooks, whitepapers, etc.
Analyze detailed reports and obtain data directly from Google (when Google Search Console is integrated with HubSpot) to inform your SEO approach. Be sure to analyze important metrics - such as total impressions, average position and click-through rates - to discover what's working best and what areas need improvement.
HubSpot's Sales Hub
Eliminate friction in the sales process, close more deals and build strong customer relationships using HubSpot's CRM software. Manage multiple pipelines and focus steadily on customers and their needs with this tool.
Similar to the Marketing Hub, the Sales Hub also offers both a free and premium plan. The free plan offers the following features to help sales teams convert leads into customers:
Contact, deal and task management
Email tracking & notifications
Email templates & scheduling
Document sharing
Meeting scheduling
Gmail & Outlook integration
Live chat
Quotes
The premium plan comes with all of the free features, plus 35 additional features. Here are some:
Advanced CRM
Sales automation
eSignatures
Predictive lead scoring
Email sequences
Smart send times
Multiple deal pipelines
Customizable reports
And more!
Aside from the free plan, the cheapest plan is the Starter Plan at $45/month. The Professional Plan costs $450/month, and the most expensive plan - the Enterprise Plan - is $1200/month. Learn more about the details of each plan here.
Start Conversations
Start meaningful conversations with prospects, leads and customers. Rather than sending repetitive emails, send templates from inside your Gmail, Windows, Outlook or Office 365 inbox. Use the metrics HubSpot provides to determine which email template is performing the best and which needs improvement. Analyze open rates; if the open rate is low, implement a more creative subject line. If the open rate is high, then the subject line was effective. Also, analyze click rates to see which links and CTAs the receiver clicked on.
See when a prospect turns into a lead, opens an email or clicks a link inside of an email by enabling email tracking notifications. By knowing the right time to reach out, you're bound to book more meetings and convert more leads into customers. We encourage salespeople to personalize outreach after a lead expresses interest in content so that their experience with your brand is tailored to their unique needs.
Further, prioritize calls and automatically log calls in the CRM - no more manually logging calls! By eliminating time spent on mundane tasks, salespeople have more time to complete more important tasks, like scheduling meetings and calls with prospects.
Build & Grow Relationships
Emailing someone back-and-forth gets old fast. Schedule appointments and phone calls easily with HubSpot's free appointment meeting and scheduler. This tool lets consumers view an employee's up-to-date calendar and see the dates and times that salespeople are available for a call. Also, offer live chat so that consumers can connect quickly with the right person. This flexibility eliminates the need for back-and-forth email threads, and the calendar lets consumers see all team members' availability.
Even embed calendar links to landing pages on your website to make it easier for prospects to schedule meetings directly with a salesperson. Once a prospect schedules a meeting, their contact information will be transferred into the HubSpot CRM to store their data and grow your database.
Similar to HubSpot's marketing automation capabilities, the platform offers sales automation that helps sales teams create sequences to follow-up with prospects. Create automated sales emails and dedicate specific enrollment criteria to keep in touch with contacts straight from your inbox. *Note: the maximum number of contacts that can be enrolled in a sequence at once is 50. Personalization tokens, such as a contact's first name, company, industry and much more, are available to further personalize messages and connect with prospects, leads and customers on an intimate level.
Manage Your Pipeline
Does your company have content available that assists your sales team? Build and access worksheets, guides or playbooks directly within your HubSpot account. Salespeople will benefit when they're on a call and need to quickly pull up a script, pricing sheet or comparison sheet to better inform a prospect. When newly hired salespeople need to gain more knowledge and insights into the business's operations, this is the perfect place for them to go. Just be sure that they're up to date. If you need to make changes, update the master copy so that the entire team sees the most up-to-date version.
Additionally, create a seamless sales process by sending prospects quotes within minutes of their request. HubSpot lets businesses insert a logo and customize colors to match their branding - all of which can be completed in a couple minutes. The quotes tool leverages contact and company data from the HubSpot CRM to create a sales quote - all in one click. With the product or service fresh in a prospect's mind, they'll get the answers they need and will make a quicker, well-informed decision based on the quote. When your team sends the quote, prospects can click to pay via credit card as long as the quotes tool is integrated with a Stripe account.
Leverage HubSpot's sales reporting software for valuable insights into your pipeline. Reporting data is taken from a company's CRM so that reports show pipeline performance and results of the sales process. See forecasted revenue by deal stage, how contacts move through life cycle stages, how deals are progressing and so much more. View sales activity reports to monitor internal productivity and set your team up for success.
Access From Anywhere
No matter where a person is in the world, HubSpot's mobile CRM app lets business people access their CRM to manage deals, create tasks, access contacts, prioritize outreach and more. This mobile activity syncs automatically with your HubSpot account to encourage collaboration between team members and keep teams informed of what's going on.
HubSpot makes it easy to manage pipelines and track progress. When a new deal is created from a contact or company record, the HubSpot CRM populates a majority of the deal's record automatically with the most updated information - so there's no need to manually enter data. The drag and drop feature makes it easy to manage deals between stages, and the deals dashboard displays progress toward sales goals.
Create your account-based marketing strategy easily in HubSpot with the help of workflows, default properties, AI-powered recommendations and more. Create a collaborative environment across multiple teams with HubSpot's Target Accounts Home feature, which gives every involved team a peek into the progress of all accounts.
HubSpot's Service Hub
Save time and energy from entering data and, instead, focus on your customers' successes with HubSpot's Service Hub. No matter how large of a customer base, managing multiple inquiries can be challenging; the Service Hub's automation and support features facilitate a frictionless customer management process across teams.
Like the Marketing Hub and Sales Hub, the Service Hub includes both free and premium features. Get started with HubSpot's Service Hub at zero cost, and take advantage of these free features:
Ticketing
Team email
Live chat
Email templates
Email and chat to ticket
Ticket creation bots
Meeting scheduling
Reporting
Upgrade to the premium Service Hub and receive the free features plus an additional 30 features, including but not limited to:
Customer service automation
Knowledgebase
Customer feedback
Multiple ticket pipelines
Video creation
Custom support form fields
Goals
And more!
Offer Support
Record, organize and track all customer issues in one easily accessible dashboard with HubSpot's ticket tool. View the status of a ticket, its placement in the queue and even how long it took for that issue to be resolved. See additional information within a ticket - such as a customer's history, service issues, product details, etc. - as well as important metrics like agent response time and ticket volume to better manage demand and improve overall internal operations.
Streamline data entry and customer success with HubSpot automation. When a customer reaches out through a form submission, email or live chat, HubSpot has the ability to automatically create a ticket and ensure that it's sent to the team member that can best address the issue. Prioritize customers' support issues with the help desk tool so that the most significant issues are resolved first, and use live chat to communicate with customers in real time.
Equally important as resolving customer issues, be sure to provide customers with available and helpful content to help them answer their own questions. Display FAQs and other informative content in the form of articles, videos and more, using the Knowledge Base. Then, optimize these pieces of content for SEO so that they not only rank highly on Google search results, but that they also help customers quickly resolve their problems. Also, use the reporting dashboard to view page performance and determine areas where your knowledge base can be improved. Look at search analytics to discover what terms customers are searching for, and update your knowledge base to include any missing terms.
Use live chat to guide customers to the customer service representative that is best fit to continue the conversation, answer questions and build on the company-customer relationship. The live chat tool encourages internal collaboration as it helps teams qualify leads, book meetings, answer FAQs and more. Plus, the HubSpot eCommerce and Slack integration is free and notifies teams of new mentions which can be responded to via Slack or the HubSpot mobile app.
Collaborate With Teammates Among Channels
Integrate email, live chat, Facebook Messenger and more with one universal inbox so that all team members can collaborate and reply to prospects and customers in one place. This saves time by eliminating back-and-forth messaging on various platforms and streamlining the communication process. Don't worry about losing important messages; all conversations are automatically saved in the company's inbox, so teams can view a customer's interaction at any time.
Additionally, routing rules are easy to set up and ensure that emails are answered in a timely manner. Use the contact information to the side of the inbox to create a personalized response, and leverage the platform's free productivity tools - such as templates, documents and more - to craft an email in significantly less time. If you prefer to use chatbots, you can do so to qualify leads, schedule meetings, answer questions and more. These tools are available to help streamline the sales process and to guarantee that salespeople reach out to leads at the right time in the buyer's journey.
Like the Sales Hub, the Service Hub provides full transparency into the sales pipeline. The dashboard includes detailed reports for all team members to view, so everyone understands what's going on. Here's a list of some of the features HubSpot users can enjoy for free:
Reporting dashboard
Company insights
Deal tracking
Pipeline management
Email tracking & notifications
Prospect tracking
Moreover, take advantage of HubSpot's team permissions if your company is growing and your team structure becomes more complex. With this functionality, all users have access to the right assets that they need, resulting in organizational efficiency, less content clutter and a frictionless sales process.
Proactive Customer Service
Leverage HubSpot surveys to gauge how good or bad customers' experiences were with your business. For one, see customer loyalty over time by distributing a Net Promoter Score (NPS) survey. This type of survey asks how likely a customer will recommend your business to others on a scale of 1 to 10, and it can be sent via email or displayed on a webpage that has your company's HubSpot tracking code installed. Second, gain an understanding of how easy (or difficult) it is for your customers to get the support they need by sending a Customer Effort Score (CES) survey. This survey measures a customer's experience with a brand's product or service by asking the customer to rank on a seven-point scale from "Very Difficult" to "Very Easy." Finally, issue a Customer Satisfaction (CSAT) survey to measure customer satisfaction at various stages in the buyer's journey.
Capturing this qualitative and quantitative data helps businesses determine the quality of their customers' experiences and weigh customer loyalty and satisfaction. With each customer's feedback displayed in one dashboard, HubSpot makes it easier for teams to identify areas in the buyer's journey where customer service and business operations could be improved.
HubSpot Video
One of our favorite components of HubSpot is its ability to host and manage videos. Once your video is created, embed the video on web pages, within blog posts or throughout your connected social media accounts to increase visibility and enhance your marketing strategy. Edit meta descriptions for videos to optimize for SEO and make them easily accessible to search engines, and even insert forms and CTAs to increase lead generation.
On the sales side, differentiate yourself from competitors by sending video voicemails or screen-recording sales calls and later sending them to prospects for follow-up. HubSpot's 1:1 video communication makes it much easier for sales and customer service teams to screen-record directly from a ticket and send it to customers to show them how to solve a problem. We recommend putting the "how-to" videos in the knowledge base to further assist customers in solving any issues.
Also, HubSpot offers custom objects to essentially help businesses provide better service to their customers. For instance, if your company's data does not fall into categories such as contacts, companies or deals, then it's encouraged to utilize custom objects to organize data in the CRM and structure the data exactly how your company needs it. Trigger workflows using the custom object data; just like a marketing automation workflow, object-based workflows trigger email campaigns, property updates and team alerts when the enrollment criteria is met. Even report on custom objects and select your choice of pie charts, bar charts and more to visually display the data.
HubSpot's CMS Hub
Unlike the three other hubs discussed, the HubSpot CMS Hub is fairly new and does not offer free plans. Through a premium plan only, this hub helps marketers, developers and IT staff enhance their work, waste less effort on tedious tasks and grow their businesses.
If you're a marketer with no development experience, that's okay; the easy-to-use interface simplifies web page personalization with flexible themes and content structure, making it easy to build and edit pages without a developer's help. With zero plugins to maintain, HubSpot acts as an IT team at any time of the day. With a 24/7 security team and features such as SSL, custom CDN, SSO memberships and more, the HubSpot CMS Hub is a reliable and safe platform to invest your time and money into. To learn more, request a demo here.
HubSpot eCommerce Integrations
The Groove Commerce team built a HubSpot BigCommerce Integration, HubSpot Shopify Integration and HubSpot Magento Integration to make it easier for eCommerce merchants to sync customer and order data from their platform to HubSpot. These three integrations operate the same way but are unique to each eCommerce platform. Main features include:
Capturing abandoned carts in a HubSpot smart list with a fully customizable email workflow
Targeting the right customers with personalized, post-purchase follow-up
Easily managing data in bulk
Automating workflows beyond email & tailoring content, offers and outreach to segmented audiences
Use workflow & automation to save time, personalize messaging and increase average customer lifetime value. Unlimited triggered emails, smart lists and more make for a personalized user experience. Gain valuable insights about customers, like first and last order data, average order value, lifetime revenue and so much more with HubSpot's smart lists and advanced reporting tools.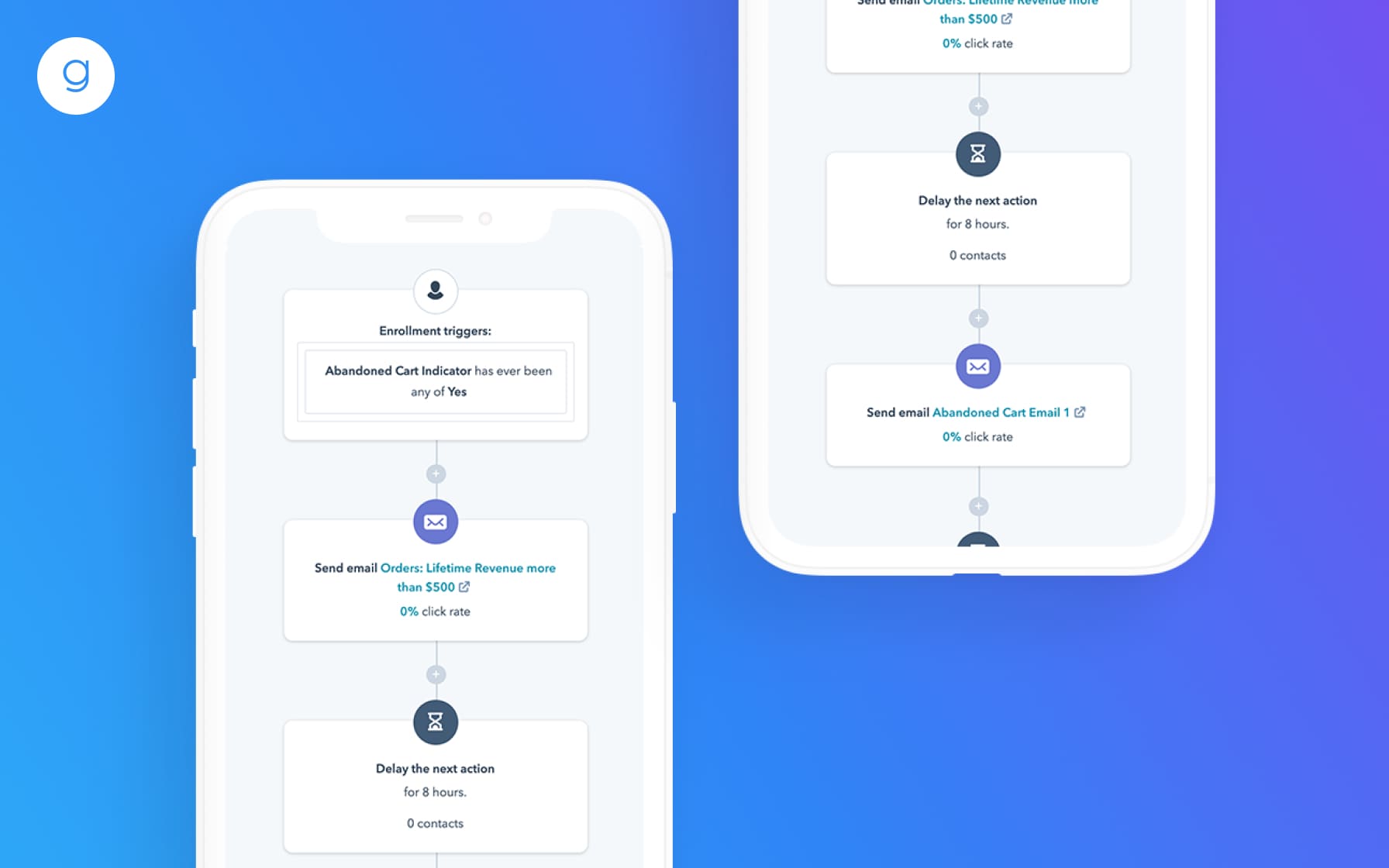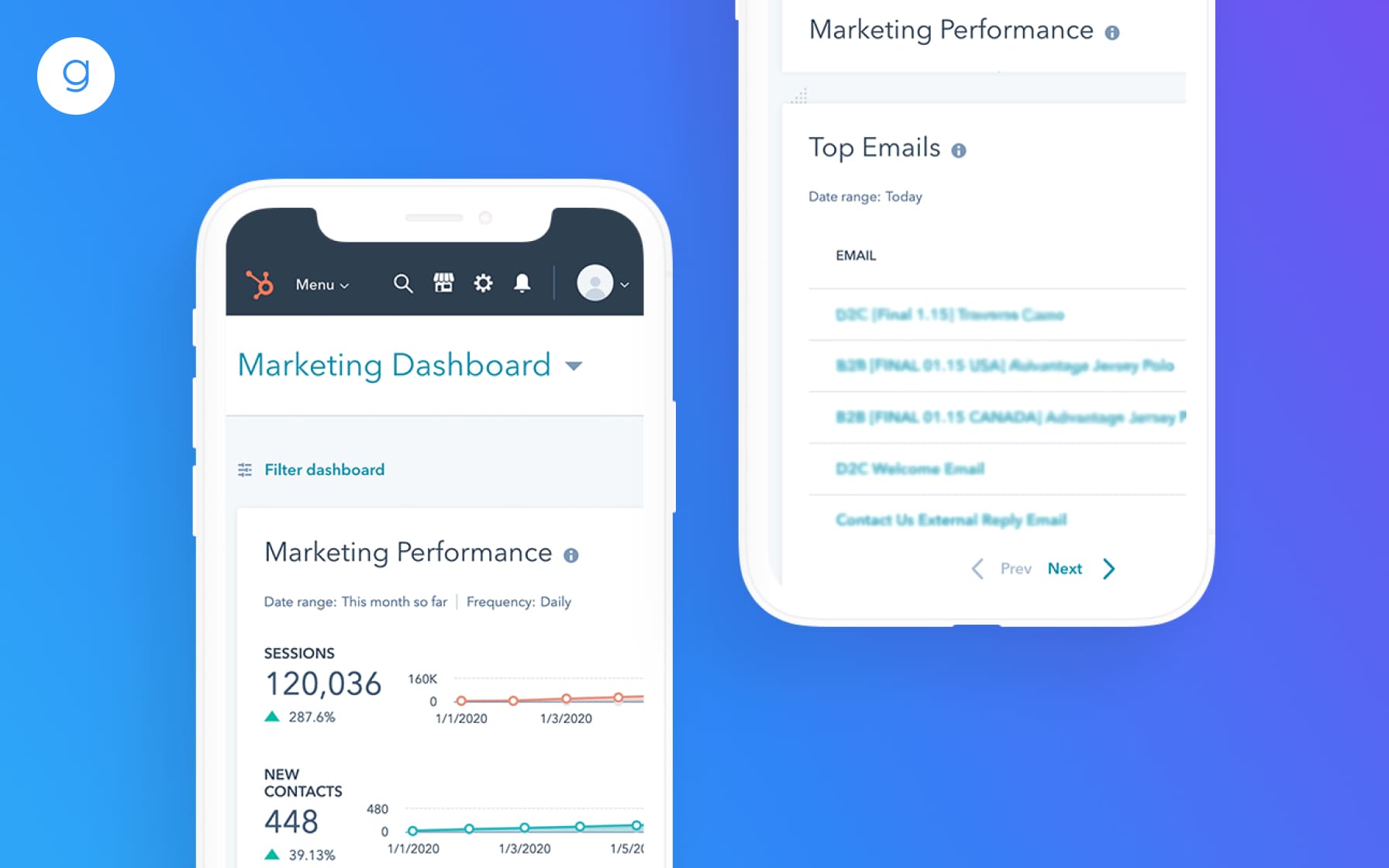 Headless eCommerce & HubSpot CMS
You may have heard of headless eCommerce: an often discussed yet misunderstood term in the industry. To be blunt, headless eCommerce is when the front-end and back-end of an app are separated. This gives website developers the opportunity to build exactly what they want, how they want it and enhance the overall customer experience. To build a successful headless eCommerce website, a company needs both an eCommerce platform and a front-end CMS platform, like HubSpot.
HubSpot CMS & BigCommerce Connection
When Hanna Instruments, an Enterprise HubSpot company, was looking for a way to create a content-first eCommerce website, they turned to Groove Commerce for help. Their team understood the product-level content limitations that current SaaS eCommerce platforms have, such as the lack of easy-to-use content functionality on product pages. Since Hanna Instruments' products require specification tables and product manuals to help the buyer understand which product to purchase, the lack of functionality made it difficult for the brand to create a worthwhile website.
So, our team created a solution. We built a connection between the HubSpot CMS and BigCommerce to provide the first HubSpot headless eCommerce site for Hanna Instruments. Our client manages content on the HubSpot CMS, while BigCommerce powers transactions in the back end.
We kicked off with an in-depth discovery process to understand the technology stack that we'd work with. Our development team mapped out Hanna Instruments' technology flow and got to work to create the first ever headless HubSpot eCommerce website. Knowing the power of the CMS, we were able to create drag and drop templates that were able to pull in product data from BigCommerce. Hanna Instruments can create category, subcategory, product and content pages all within the HubSpot CMS.
We leveraged unique design and creative, product catalogs, HubDB, payment processing and more to provide Hanna Instruments with the best headless site. HubSpot products used include the CMS Hub, HubSpot CRM, Marketing Hub, Sales Hub, Service Hub, APIs and App Integration.
How This Client Increased Organic Revenue By 52% With HubSpot
Final Draft, the number one professional screenwriting software company in the industry, enlisted Groove Commerce's help with achieving two main goals. For one, the Final Draft team wanted to redesign their existing website to create a better user experience. Second, their team wanted to increase revenue with paid eCommerce advertising and HubSpot inbound marketing.
To help the entertainment software leader achieve these goals, our team first walked the Final Draft team through an intensive discovery process. Next, our designers and developers started working on improving the Final Draft website by creating WordPress and Magento website redesigns with CRO testing. Then, our marketing team used HubSpot to implement various paid media and inbound marketing campaigns with custom landing pages. We also leveraged workflows, email and landing page optimization to drive conversions.
The results? After launching the newly redesigned website, our marketing team collaborated to strategize a plan to drive more traffic. Through paid advertising, HubSpot abandoned cart email campaigns, custom landing pages and our HubSpot Magento Integration, Final Draft experienced the following results:
52% increase in organic revenue
33% increase in organic visitors
20% increase in paid conversions
Testimonial
"We can't say enough about our experience working with Groove. The biggest advantage is having an entire team of experts at our disposal. Whether our question is about HubSpot lists, design challenges, privacy compliance, ROAS for Google, or Facebook ads, there is a team member with expertise in that area."
- Shelly Mellot, Final Draft
Conclusion
There are many benefits to working with a HubSpot Agency Partner like Groove Commerce. Whether you need experienced technical HubSpot support or reliable business intelligence, investing in a HubSpot eCommerce agency is worthwhile. Increase efficiency, improve your marketing strategy and grow online revenue by partnering with an agency committed to steering your business forward. To learn more and see if Groove Commerce is a great fit for your business, contact us with any questions or concerns. A member of our team will reach out soon and be happy to help put you on the path to achieving your eCommerce goals.
About Groove Commerce
Groove Commerce is a full-service eCommerce agency with over 13 years of experience helping mid-market retailers design, build and grow their eCommerce websites. As a Diamond HubSpot Partner Agency and an Elite BigCommerce Partner Agency, Groove Commerce follows an inbound methodology and delivers bespoke, white-glove service to convert visitors into repeat customers.