eCommerce Development
An eCommerce Merchant's Guide To Selling Consumer Packaged Goods
Apr 01, 2022 • 8 Min Read
Introduction
Because you're reading this eBook, you're likely an eCommerce retailer selling consumer packaged goods online, or you own a brick-and-mortar store and want to transition to eCommerce. No matter whether you're just getting started with your eCommerce store or are a mid-market or Enterprise business with years of eCommerce experience, the tactics discussed in this guide will help you when it comes to selling consumer packaged goods online. Let's get your store thriving!
What are Consumer Packaged Goods?
First, let's define what you're trying to sell — consumer packaged goods. Consumer packaged goods (CPGs) are fast-moving products that are sold quickly at a reasonably low price. CPGs tend to sell quickly because they are items that are used everyday by consumers. General household products such as toilet paper, food, beverages, over-thecounter medicine, cleaning products and cosmetics are considered CPGs because consumers use them almost everyday, and there's a constant need for replenishment.
Although CPGs are simple products that don't require much thought prior to purchasing, consumers' shopping habits are constantly changing. From 2019 to 2020 alone, revenue from selling consumer packaged goods online in the U.S. increased $63 billion. The numbers are only expected to increase this year, too. That being said, it's important for eCommerce stores to accommodate their customers' preferences when shopping online. In this guide, we're outlining the importance of a few variables — packaging, shipping and fulfillment — as well as strategies to help your eCommerce store drive CPG growth. Read on for more!
Importance of CPG Packaging
Stand Out On Shelves (or Product Pages)
When it comes to selling in a traditional brick and mortar store, your product must stand out on the shelves. When it comes to selling consumer packaged goods online, your product must stand out on the product pages. In either case, product packaging is key. Whether your product is on the shelf or listed on your website, it's likely surrounded by other brands or products vastly similar to yours, so unique packaging is crucial for product differentiation.
The major difference between packaging for in-store items versus packaging for online items is that the packaging for online orders should create a more exciting unboxing experience, so customers have a fun time opening it when it gets delivered. Packaging for in-store items does not require a unique unboxing experience, but it needs to be eye-catching so that customers buy your products over your competitors'. Though it's important to create a fun and exciting unboxing experience, it's just as important that the packaging protects the contents inside throughout the shipping and delivery process.
CPG Shipping Requirements
Protective Packaging
We know you want your package to look beautiful when your customers open them, but it's critical for the reputation of your brand as well as customer satisfaction that each package reaches customers with zero damage to the products inside. Bubble wrap and paper to fill empty space in packages are great choices to that the contents inside arrive in one piece. Protective/padded mailers are another great option, too. They come in a variety of sizes to accommodate a range of products. Whether you're shipping a small bottle of Advil or a month's supply of puppy training treats, protective mailers fit what you need while preventing damage throughout the shipping process.
Order Tracking & Transparency
Your customers — the people that purchase consumer packaged goods — are average consumers. These people are purchasing your company's products to make their lives easier. Your products are pretty much essential to their everyday lives. Don't ever forget this!
Retaining customers in the CPG market is indispensable, and creating a streamlined customer experience is key to retaining existing customers. One essential piece to streamlining customer experience is to be transparent with customers' orders and allow them to track whether their package is being put together, when it is shipped and when it is delivered. Connecting an order tracking app to your eCommerce store is necessary for your customers to have visibility into their shipments.
Additionally, if there are any hiccups in the road, such as a delayed order for example, be transparent with your customers. This shows your customers that your brand is trustworthy, proactive and caring. If customers are so dissatisfied that you think you'll lose them, try sending a gift card or a discount 12 code for dollars off of their next purchase from your company. There are so many ways to show that you care about your customers.
Drop Shipping
Not all eCommerce retailers use drop shipping, but it's beneficial in some circumstances. If you're unfamiliar with drop shipping, it's the process of D2C retailers selling products on behalf of a manufacturer or wholesaler. The retailer purchases products from the manufacturer or wholesaler at a discounted price, then inventories the product and lists it for sale on their website. The price listed on the website is marked up, and the retailer ships the product once a customer purchases it. Drop shipping involves all of those steps but removes all of the unnecessary shipping and handling costs associated with the process.
Many brick and mortar retailers actually require manufacturers of consumer packaged goods to support eCommerce brands through drop shipping orders (that are placed online) to consumers. If you're a B2B manufacturer or wholesaler and have to abide by this D2C requirement, it may seem ruffling. However, it's actually advantageous to oblige.
For one, drop shipping saves retailers money because it eliminates the costs of warehousing and fulfilling orders. Secondly, it reduces your company's output of pollution since drop shipping shortens the transportation process from the manufacturer to the retailer. Lastly, drop shipping helps merchants deliver orders quicker which means a higher customer satisfaction rate.
What Is Required For Perishables?
As mentioned earlier, consumer shopping habits are dynamic, and in recent years it's become a hot trend to buy food and perishables online. Though some may attribute this to the pandemic, we don't see this online food ordering trend disappearing anytime soon. So if your eCommerce store sells and ships perishables, listen closely. There are quite a few regulations when it comes to shipping food and perishables.
According to the FDA, there are many things to consider when shipping perishables to consumers. For instance, companies must avoid contamination, and this is achieved through proper packaging. Compliance with temperature regulation is another one. If certain foods fall above or below specific temperatures, they're unsafe to eat. Refer to this FDA Guidance Document for Mail Order Food Companies for more in-depth information regarding shipping regulations for perishable consumer packaged foods.
Ensuring Perishables Arrive On Time
With the rise of eCommerce food ordering, it's essential to let your customers choose when they want their orders to be delivered to them. If they're not home to retrieve the package at the day or time their perishable goods are delivered, the food could possibly turn bad and inedible depending on the packaging. One solution to making sure that the food arrives on your customers' preferred day is by building a custom shipping calendar application within your eCommerce store.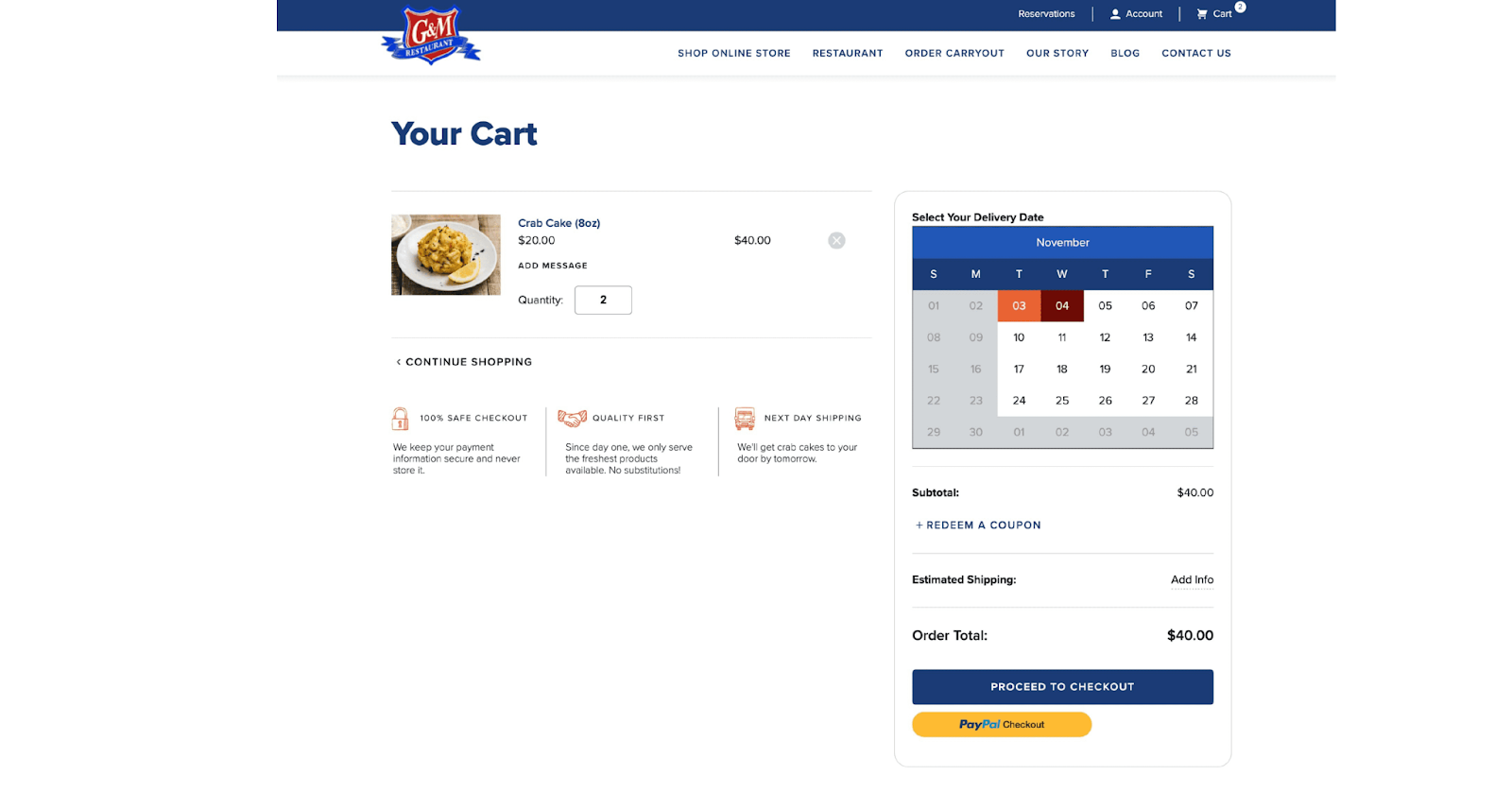 The team here at Groove Commerce built this custom calendar shipping application for G&M Restaurant's BigCommerce website. The back end of the app allows restaurants and merchants to filter through various categories, one being the number of days between the order and the delivery date. This enables customers to schedule the date of delivery, so they can retrieve their order on a day that's most convenient for them.
Further, it allows the restaurant to show customers how much food they have available to sell on a specific date. Though their food doesn't really go out of stock, they are now able to show the quantity that is left to ship for each particular day. To learn more about how Groove Commerce built this custom shipping application, please read this case study
Delivery Date Selection Options
When Dippin' Dots needed help delivering their ice cream products to their customers at the right time, they reached out to our team. Dippin' Dots serves their ice cream products fresh and on dry icy, so it's important that their customers' orders arrive not only on time but at the right time, too. Orders were passing requested delivery dates from their site, causing frustration from their customers.
So, the Groove Commerce team built a custom calendar element that lets shoppers view and select the days of the year that Dippin' Dots delivers on. This enabled Dippin' Dots to personalize general days of the week, closures and holidays that they don't ship products, making it easier for their customers to pick their ideal timeframe to receive their ice cream package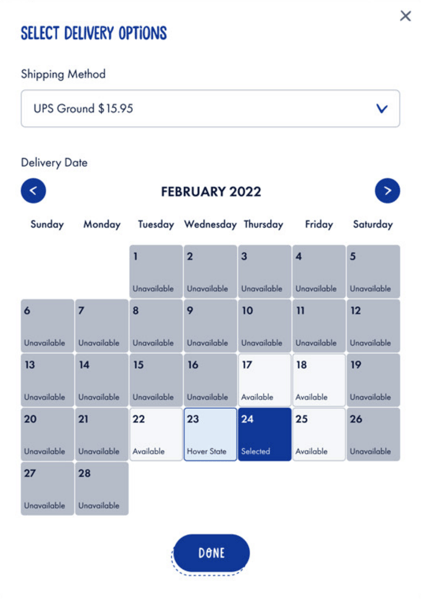 CPG Fulfillment Requirements
Multi-Channel Fulfillment
Shopify reports that when brands sell on more than one channel, they see a 190% increase in revenue. Ensuring your store's capability of fulfilling orders on multiple channels is pivotal to selling consumer packaged goods online and increasing revenue. The number one way to ensure your business is capable of fulfilling multi-channel orders is by keeping an accurate track of inventory across all channels.
Accurate Inventory Management
It's common for eCommerce merchants to experience bumps in the road during the fulfillment process.
Multi-Channel Fulfillment
Shopify reports that when brands sell on more than one channel, they see a 190% increase in revenue. Ensuring your store's capability of fulfilling orders on multiple channels is pivotal to selling consumer packaged goods online and increasing revenue. The number one way to ensure your business is capable of fulfilling multi-channel orders is by keeping an accurate track of inventory across all channels
Accurate Inventory Management
It's common for eCommerce merchants to experience bumps in the road during the fulfillment process, and keeping an accurate track of inventory is often an issue for businesses. If you're wondering why inventory management is so important, let us help you.
Inventory management is the foundation of any business — whether it's an eCommerce or brick and mortar store. In the back end of a business's operations, inventory management serves as a middleman between supplies and customers. For instance, proper inventory management confirms that product and SKU quantities are accurate on the front end. Having proper inventory levels on the front end verifies that merchants are displaying.
You wouldn't want to tell your website visitors that a product is out of stock when there are actually 300 units of the SKU available for purchase. Vice versa, you wouldn't want to make a product SKU available on your website if it's out of stock in the back end. Automating inventory levels across all sales channels is key to keeping precise track of inventory. We encourage you to invest in an inventory management system that integrates flawlessly with your eCommerce platform. Depending on the way in which your company operates, an Enterprise Resource Planning (ERP) or a Product Inventory Management (PIM) integration may be beneficial. Both of these systems provide visibility into inventory levels for each SKU on all platforms, when new products are arriving and the products that have been shipped out and sold. accurate information to their customers.
Strategies To Drive CPG Growth
Offer Subscription Plans
One way to drive CPG sales is to offer a subscription plan(s) for your customers. Since CPGs are always in high demand, subscription plans benefit customers by removing unnecessary steps in the actual ordering process - saving them time (and money). In addition to making your customers' lives easier, subscription plans also benefit eCommerce merchants. This strategy helps brands maintain a steady stream of revenue through online sales, which makes inventory management easier and minimizes sales costs.
If you're looking for a solution, Recharge Payments is a leading payment subscription platform for eCommerce merchants. The platform makes it easy to set up and manage dynamic recurring billing across your website (including on mobile devices).
It's important to remember that if you want to offer subscription plans to your customers, your company must not only have an extraordinary and reliable product but also a seamless end-to-end customer experience. In other words, their experience with your brand throughout the subscription should be frictionless and make them feel welcomed and cared for from beginning to end.
Leverage Product Reviews
We highly recommend taking advantage of product reviews if you're not already doing so. Like subscription plans, product reviews are beneficial to both the customer and the business. In fact, many eCommerce companies rely on product reviews from satisfied customers to drive more purchases, and customers rely on reviews from their peers and previous buyers to help them come to a purchasing decision.
Product reviews should be displayed everywhere your customers are shopping. In addition to your eCommerce website, show off those positive reviews on other channels like social media, paid ads, email and more. If you're looking for a review platform that can help get your customer reviews on multiple channels, Stamped.io is one of our team's favorite platforms for showcasing authentic customer reviews.
Optimize For Voice Search
Selling consumer packaged goods online is fairly easy when you adapt to customer shopping habits. Earlier in this guide, we mentioned that CPGs have a constant need for replenishment and don't require much thought prior to purchasing. We anticipate this to hold true far into the future, too. With the increased use of voice search, it's rational to predict that more consumers in the near future will be willing to make purchases or renew their subscriptions this way. We can thank Amazon Alexa and Google Home for this.
As long as businesses accommodate new eCommerce trends, like voice search, then they shouldn't have a problem selling consumer packaged goods online. Because CPGs don't require a ton of thought prior to purchasing, the ease of use and speed of voice search make it simpler than ever for customers to place or refill and order.
Invest in Content Marketing For Top-Selling Products/Brands
Investing in content marketing is key to generating brand awareness and driving conversions. However, whether you sell multiple products from one brand or multiple brands, we caution you to avoid creating content for each and every product or brand that your online store sells. Instead, only create content for the top selling products and/or brands. Save your money, but be sure to promote your engaging content on a variety of channels.
Conclusion
Now that you have a comprehensive understanding of selling consumer packaged goods online, it's time to optimize your eCommerce website and marketing strategy. If you're a mid-market or Enterprise eCommerce merchant looking to increase online sales and grow your store, don't hesitate to reach out to the Groove Commerce team. We're here to help you build, design and grow your website
Related Content
You Also May Like
Blog
What Do I Need To Know About Etail West 2024? Are you in the eCommerce industry? If...

E-BOOK
The Comprehensive Guide To Selling Consumer Packaged Goods Online