eCommerce Design
HubSpot vs Mailchimp: Comparing Platforms
Apr 26, 2022 • 4 Min Read
A Comparison of HubSpot vs Mailchimp
Finding the right eCommerce marketing platform for your company's needs is a huge decision that requires a ton of research and consideration. Researching the similarities and differences between HubSpot vs Mailchimp is a great first step in the right direction. Let's get right into it!
1. Pricing
HubSpot
HubSpot has numerous pricing structures based on tiers. HubSpot's core CRM is free, but additional packages are available based on each Hub. Its Marketing Hub ranges from $45 per month for the Starter program to $1,901 per month for the Professional program to $3,400 per month for the Enterprise program.
HubSpot also has a Sales Hub, Customer Service Hub and CMS Hub. Each of these Hubs have different pricing structures, which can be found here.
I want to note that with HubSpot's free CRM, merchants receive access to:
Contact management
Contact website activity
Companies
Deals
Tasks & activities
Company insights
Gmail and Outlook integration
App Marketplace integrations
Custom support fields
Prospects
Ticketing
Ad management
Shared inbox
Reporting dashboard
Email tracking and notifications
Email templates
Canned snippets
Documents
Calling
Meeting scheduling
Facebook Messenger integration
Custom properties
Landing pages
HubSpot mobile app
Mobile optimization
Custom user permissions
Marketing events object
Form follow-up emails
And so many other Marketing, Sales, Service and Operations features!
Mailchimp
Similar to HubSpot, Mailchimp has multiple pricing structures. Mailchimp has a free marketing CRM with the tools you need to build and grow your business. The platform also offers an Essentials plan starting at $11 per month, a Standard plan starting at $17 per month and a Premium plan starting at $299 per month.
Additionally, Mailchimp has various pricing structures for its Websites & eCommerce plans as well as its Transactional Email plans.
With Mailchimp's free CRM, merchants have access to:
Email
Subject line helper
1-step automations
1 audience
Signup forms
Marketing CRM
Up to 2,000 contacts
Landing pages
Social posting
Facebook ads
Instagram ads
Postcards
Brand tools
Surveys
Mailchimp mobile app
Merchants get more out of HubSpot than they do Mailchimp with the free plan. Even with Premium plans, HubSpot offers more features that we believe provides more bang for your buck.
2. Segmentation
HubSpot
HubSpot makes it easy to segment and create lists of contacts or companies in your database. Use contact properties and behaviors to customize marketing campaigns for each segment of your audience. HubSpot's list segmentation capabilities really let merchants target the exact audience they want to reach.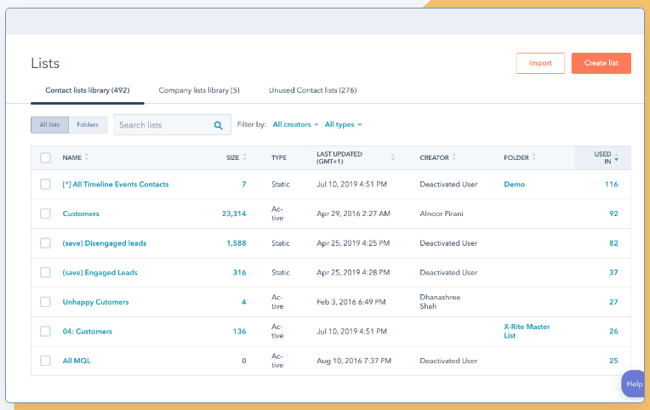 Plus, HubSpot's ability to segment users and enroll them into automated workflows based on highly specific criteria is extremely beneficial when reaching out and following up with customers. Reach out to customers who have purchased a specific product or have engaged with a specific campaign to streamline the customer experience and encourage them to convert.
Additionally, HubSpot offers hundreds of native integrations that allow for a much easier set up than Mailchimp. Once you find an app that you'd like to connect to your HubSpot account, all you need to do is connect the app when you're guided to the provider's connection flow. You'll log in to your account and provide necessary permissions. HubSpot does the rest of the work.
Mailchimp
Like HubSpot, Mailchimp has an extensive list of segmentation options. Create segments based on subscriber data, like whether someone has opened an email, engaged with an email, responded to a specific message, lives in a certain location and so much more.
Use the Likelihood to Purchase Again feature to segment your audience based on your customers' likelihood of making another purchase. This option is available for merchants that have ample data connected to Mailchimp from their eCommerce store.
When evaluating HubSpot vs Mailchimp in terms of segmentation, they're both highly competitive platforms for business of all sizes. Compared to HubSpot, Mailchimp's integrations require merchants to manually complete more steps like sync contacts, sync eCommerce data, connect your website, sync events and sync tags.
3. A/B Testing
HubSpot
A/B testing is a critical component in eCommerce. The more variables that are A/B tested, the more optimized your strategy is. HubSpot lets merchants A/B test marketing emails and automate A/B email testing with workflows. Test subject lines, offers, email copy, email design, sending times, CTAs and more. However, remember to test only one variable at a time, so you can determine which option works best 一 no matter what eCommerce tool you're using.
Mailchimp
With Mailchimp, A/B testing is included in any of the paid plans, from Essentials to Premium. Creating an A/B testing campaign in Mailchimp is straightforward, and you can test anything from email subject lines, from name, content and send times.
4. Reporting
HubSpot
HubSpot's reporting and analytics tool provides a clear view into email metrics like engagement, bounce rates, click rates, etc. When you link emails to specific campaigns, you can see reports on the overall campaign performance to track engagement and see how your marketing efforts set your business up for success.
The tool's custom report builder lets you analyze data from many sources across HubSpot. The thing that sets HubSpot's custom reports apart from the other types of reports is that you can surface data from both marketing and sales activities, as well as objects. This can be referenced in the Sales Hub to attribute revenue to marketing actions.
Mailchimp
Mailchimp has email campaign reports, automation reports, Comparative reports and more. Utilize the Content Optimizer to receive feedback on how your emails stack up against email marketing best practices. Then, use this feedback to improve your email campaigns and drive further engagement with your audience.
Conclusion
All in all, analyzing HubSpot vs Mailchimp is a key step in choosing the right eCommerce marketing platform for your brand. Both options are applicable for eCommerce merchants; however, the Groove Commerce team is a stronger advocate for HubSpot. From our experience, we've seen stronger success with HubSpot among mid-market and Enterprise merchants due to its ability to rapidly scale with your brand. That said, we believe Mailchimp is the better option for entrepreneurs and small-to-medium sized businesses.
As a Diamond HubSpot Partner Agency, we admire the platform for its ability to create and deliver custom content to the right audience at the right time on the right channels. This data-driven platform has really helped Groove Commerce deliver success to our clients through lead generation, engagement and conversions.
Related Content
You Also May Like
Blog
What Do I Need To Know About Etail West 2024? Are you in the eCommerce industry? If...