eCommerce Marketing
IBM iSeries AS/400 BigCommerce Integration For Streamlined Operations
Oct 06, 2020 • 3 Min Read
B2B eCommerce businesses often run into problems when it comes to accurately tracking inventory and processing orders. This was the case for one of our clients, so our team created a custom integration to help the company modernize their website and upgrade the user experience.
Curtain Call is a B2B retailer that sells dance class wear and costumes for recitals. Before working with the Groove Commerce team, Perform Group, the parent company to Curtain Call, operated a highly customized Magento website that often struggled with speed and page load times. This was due to the complex integration with their ERP and database management system.
The Problem
Prior to enlisting our team's help, Perform Group managed their own servers in Magento. Though they used the IBM iSeries, previously called the AS/400 to manage inventory accurately, they needed a better platform to run their eCommerce solution on. Here's what their website looked like on Magento: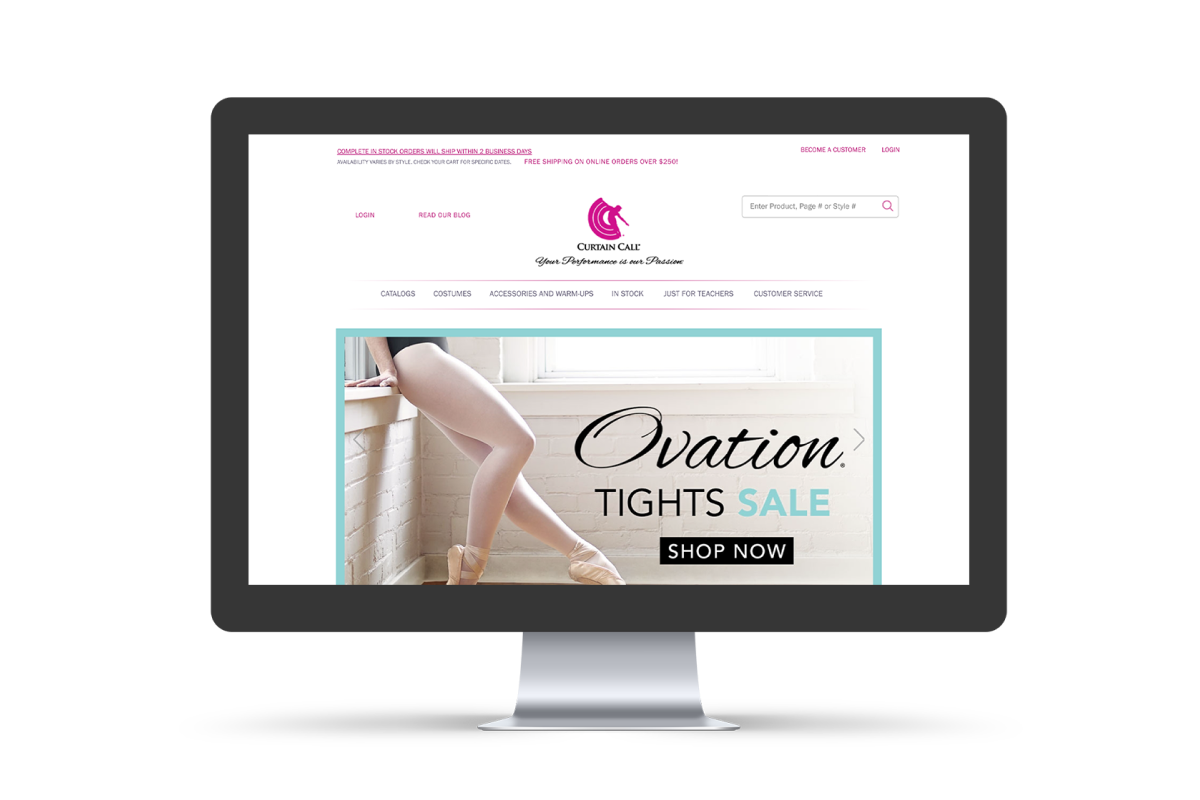 The excessive customization and calls to their ERP slowed down the web experience. Salespeople would call in orders; customer service would put the order down; and customers would fax in orders and place orders directly from the website.
Perform Group wanted to improve their customers' online shopping experience. To do so, they first needed to decrease page load speeds and update their user interface. They also hoped to decrease the amount of manual ship week entry and web transaction errors that consumed internal resources.
The Solution
We created a custom eCommerce integration which requires orders to be placed through BigCommerce, making BigCommerce the central point of sale. The IBM iSeries (formally AS/400) integration allows all inventory and availability to automatically update since the BigCommerce store is wired into the system.
Since inventory automatically updates, both customers and sales representatives can now see the exact amounts in stock at any given time. This means customers can now order the amount they need without worrying about the company calling back to say the item they ordered is actually out of stock.
A huge perk for the new site is that the current ship weeks also pull right from the company's IBM iSeries (formally AS/400), allowing customers to know expected delivery dates just by viewing the product page. It also decreases the time it takes for the Curtain Call team to manually update ship weeks in the CMS.
How We Leveraged BigCommerce
The Groove Commerce team leveraged BigCommerce to make the migration process simpler and allow Perform Group to share more product information than they have in the past with their customers.
Perform Group now has a central point of transaction, and all order data that is tracked and logged is automatically pushed over into the IBM iSeries (formally AS/400) integration.
Faster Page Load Times
We used BigCommerce to decrease page load times. Prior to working with our team, some of Perform Group's web pages took a significant time to load - leading to a negative customer experience, a high bounce rate and many frustrated shoppers.
Their slow page load times were due to the fact that they were making many different ERP calls, and those calls were slowing down the process of displaying information on the site. Now, after leveraging BigCommerce's functionality, the calls to their ERP are more efficient and allow the website to load almost instantly.
Additionally, Perform Group recognized an important advantage of moving their online store to BigCommerce: the platform is designed to support large eCommerce orders. Their customers build extremely large carts over time, which contributed to the slower page load time. Now, their recently launched BigCommerce store supports their customers' enormous orders, so the time it takes for their web pages to load has significantly decreased.
Inventory Updates Automatically
We also leveraged Integrator.io to allow Perform Group to talk to their systems in real time. When a customer clicks "view inventory," the IBM iSeries (formally AS/400) integration and ERP system work together to automatically check how much is in stock. Then, it shows that number to the shopper in seconds.
Enhanced Website Design
Finally, our client's website design is now aesthetically more pleasing and aligns with eCommerce and product page design best practices. Now, their online store far exceeds the modern expectations of online shoppers today.
Clear calls-to-action, up-sell and cross-sell opportunities and the use of promotional banners throughout the site have contributed to the enhanced website design.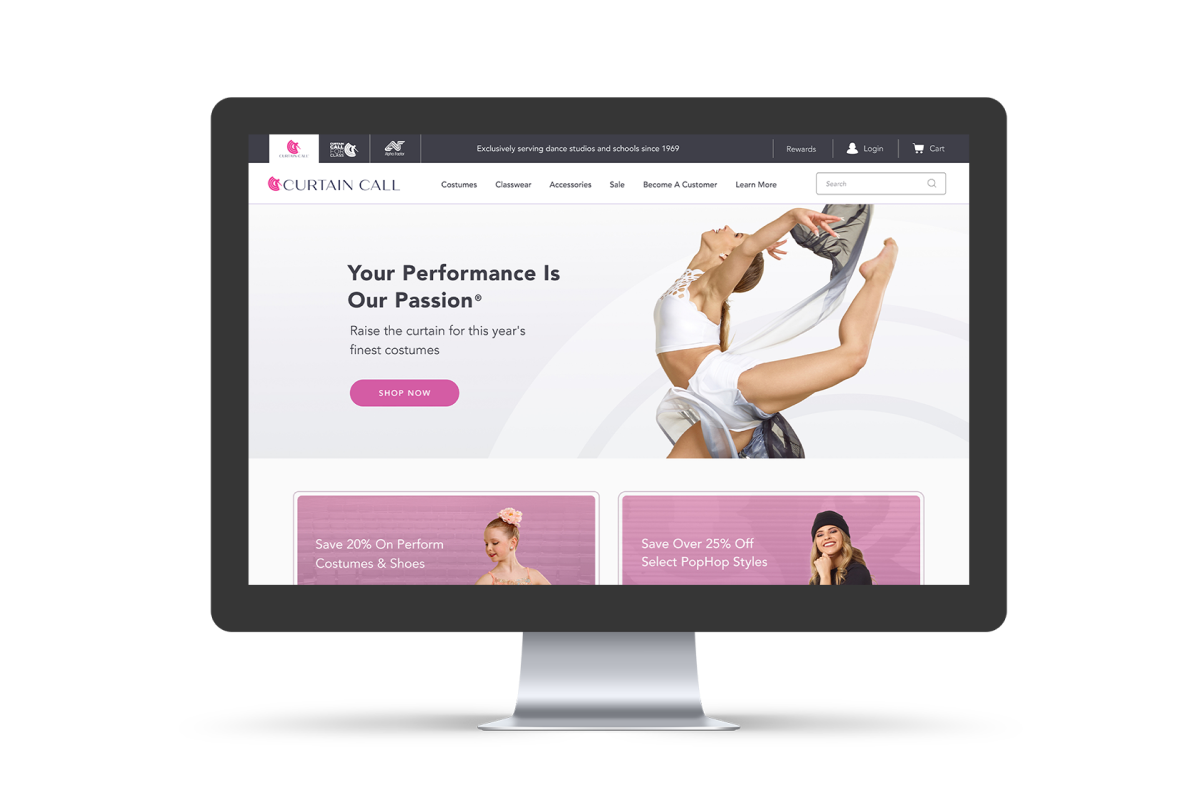 The lookbook/wishlist functionality allows their customers (teachers, studio owners, etc.) to navigate throughout the website and build a whole season's worth of recital outfits. Customers can see the dance attire for every class at the studio in one order and even save it for later.
The catalog-like design uses images and colors so that customers can browse easily through products like they would in a magazine. We also created a custom print-friendly page for every product that auto-generates on a branded page to extend the product pages into an offline experience.
Testimonial
"Working with the team at Groove Commerce allowed us to improve our eCommerce experience and promote our products in fresh, exciting ways. We were able to add new features to our store, which allows us to deliver better service to our online audience." - Emily Fritz, Perform Group LLC
Conclusion
The website launched on September 29, 2020, and we are anticipating an increase in online apparel sales due to the huge improvement in user experience, website navigability and various shopping sections (like costumes, class wear, accessories and sale).
Does your eCommerce store need a custom integration to help streamline operations and drive conversions? Contact us through the form below with any questions or concerns, and a member of our team will be in touch soon.
Related Content
You Also May Like
Blog
What Do I Need To Know About Etail West 2024? Are you in the eCommerce industry? If...