Klaviyo
Using Klaviyo Back In Stock Automation
Feb 25, 2022 • 2 Min Read
Using Klaviyo flows for automation is one of the best decisions that mid-market and Enterprise eCommerce merchants can make. With the ability to create a variety of different flows based on unique criteria, Klaviyo makes it easy to customize experiences for every person in a company's database.
In this blog, we're covering what Klaviyo back in stock flows are, how they work and how they benefit eCommerce businesses. Let's get into it!
Klaviyo Back In Stock Automation: What Is It?
The Klaviyo back in stock feature is a form of eCommerce automation that lets merchants automatically send a message to prospective customers who have signed up for restock alerts for a specific product. This type of automation accommodates customers who are interested in purchasing a product that is not actively in inventory at the time they see it on the company's website.
When prospective customers sign up to receive a notification that an item is back in stock, they're the first ones in line to know. Klaviyo back in stock flows alert these high value customers that the product they've been waiting for is now available.
Check out the email example below to see how to configure a Klaviyo back in stock email.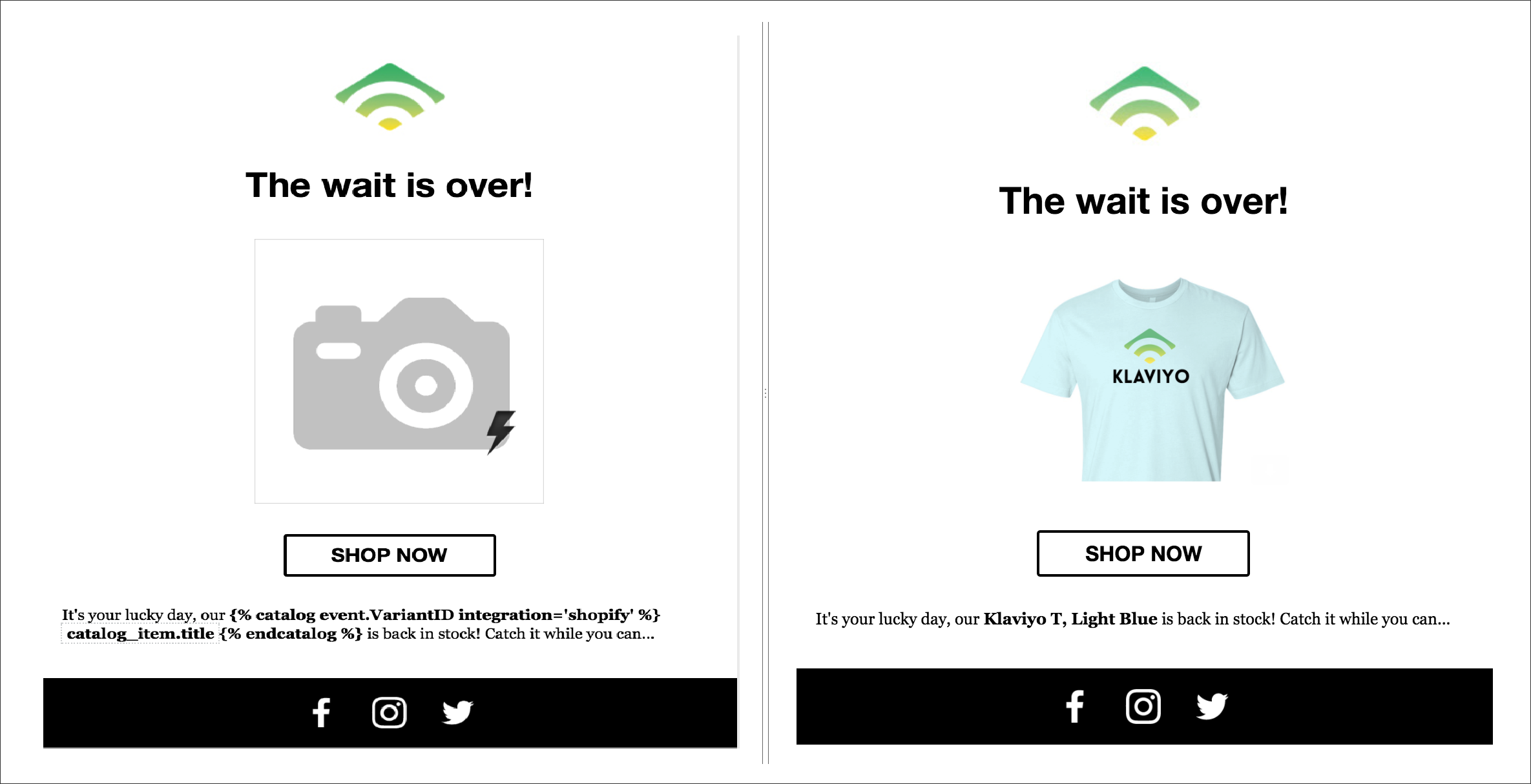 How Does Klaviyo Back In Stock Automation Work?
When a merchant builds a Klaviyo back in stock flow, and a person subscribes to a restock notification on their website, that person's data is then stored and tracked back to their Klaviyo profile. The profile of each contact that has signed up for a back in stock alert is then entered into a segment of people who are signed up to receive a notification when a specific SKU is available. When the item becomes available, each person in the Klaviyo back in stock flow will then receive an email or SMS message that the product is available for purchase.
Benefits
Provides A Solution For Small Amounts of Inventory
Back in stock flows provide a solution to businesses that face challenges with inventory (especially in a B2B environment, although D2C retailers face inventory shortages, too.) Rather than needing to send an email or SMS blast to an entire list of subscribers, Klaviyo makes it easy for merchants to send an alert to only the segment of subscribers who are interested in knowing when the product is available again.
Avoids Customer Uncertainty
Back in stock automation also helps to avoid having customers or prospective customers feel uncertain about your product or brand as a whole. When eCommerce merchants fail to provide its shoppers with features to stay updated on their inventory, shoppers are likely to remain uncertain about two things: whether the product will ever become available again and whether the company is trustworthy enough to wait around for. Though the circumstances are not ideal when an item is out of stock, back in stock notifications are a great solution to appease unsatisfied shoppers.
Conclusion
Planning ahead when it comes to inventory management is critical to the success of any eCommerce store. Whether you're already a Klaviyo customer or are considering using the platform for email and SMS, we encourage you to implement Klaviyo back in stock flows into your marketing strategy. Your current and future customers will thank you, and we're certain that it'll help you drive more revenue.
If you have any questions about getting started with an email marketing and SMS automation platform such as Klaviyo, don't hesitate to reach out to our team through the form below. We're happy to help you grow your business!
Related Content
You Also May Like
Klaviyo
Those of us who live, sleep and eat in the eCommerce ecosystem can be in a bit of a...