Search Engine Optimization
Preparing For Black Friday: Proven Tips To Drive Revenue
Jul 09, 2020 • 14 Min Read
The holidays are undoubtedly the busiest times of the year. Though many businesses have had to adapt or cut costs in recent months due to various external factors, there is still an opportunity to prepare your store for the holiday season and increase sales.
As we see an increase in brick-and-mortar stores making the transition to online, the trick to preparing for Black Friday and the holiday rush is to start early. In this guide, we're revealing website and marketing preparation strategies to drive traffic and increase online revenue during the holiday season.
Holiday Preparations To Expand Reach & Drive Traffic
When preparing for Black Friday, start by taking a measure at what's already working well for your eCommerce store. Consider the pages that are driving traffic, and optimize for those pages to improve the ones that aren't performing as well.
Evaluate metrics year-over-year to see the pages or campaigns that are high-performing. Assess your other holiday campaigns, such as Independence Day or Father's Day, to see how they performed. Look for the strategies that worked well, areas for improvement and tactics that can be implemented the next time around.
Make a detailed plan for scheduling your promotional content and launching updates. A detailed calendar helps your brand stick to a consistent promotional schedule and maintain a constant online presence. Here are a few ideas on things to plan out in advance to make your life easier:
Website & Home Page Updates
Banners & Image Swaps
Promotional Emails
Social Media Posts
Product Updates
Website Improvements To Prepare For The Holiday Rush
Optimize Your Store For Mobile
Mobile eCommerce sales are expected to account for 54% of total eCommerce sales by 2021. Read that again. Over half of online purchases are expected to be placed on mobile devices! As the holiday season approaches, you are guaranteed to miss out on valuable revenue if your site is not mobile-optimized. This means the days of pinch and zoom are officially over, and a responsive mobile web design is key to keep visitors from bouncing.
Capture the majority of mobile holiday purchases and maximize revenue by crafting a mobile eCommerce strategy. Focus on mobile competencies such as personalized attributes based on real-time data. Here are some tips to enhance your mobile shopping cart design just in time for the holidays:
Have one clear CTA
Include a detailed product summary
Include related products and upsells
Have One Clear CTA
When customers navigate to the shopping cart, the next step that you want them to take should be apparent. Direct users to make that next step in the purchasing process with one clear call-to-action (CTA).
More than likely, your CTA in the shopping cart encourages users to check out and complete their purchase. However, your CTA may also urge them to continue shopping, so that they add more items to their cart and qualify for free shipping. Or it may even be a specific holiday deal you're running for a limited time. Regardless of the direction you want to guide users in, be sure your CTAs are clear so they don't confuse or frustrate people.
Include A Detailed Product Summary
Many online shoppers abandon their carts due to lack of information provided by the store. It's especially important during the holiday season - when people are purchasing more products more often than usual - to provide a detailed product summary so that customers know exactly what they're about to buy. If the item in their cart is discounted, be sure to make it clear that the price in the shopping cart reflects the discount.
Include Related Products and Upsells
Effectively cross-sell and up-sell by recommending products that are related to those in users' shopping carts. For example, if someone has a laptop computer sitting in their shopping cart, cross-sell by showing laptop cases, mouses, etc. and up-sell by showing a more expensive version of the laptop. This helps to increase average order value by allowing customers to easily add more items to their cart before purchasing and is especially effective during holiday shopping when people are buying gifts for others.
Winterize Your Theme
It's the holiday season. You walk into a brick-and-mortar store and see zero winter holiday-themed decorations. The atmosphere doesn't bring you the excitement and joyful feeling that the other decorated stores bring, so you leave without purchasing anything. Customers feel that similar feeling when shopping online during the holidays.
Delight your visitors by making your site seasonal with a winterized theme. Acknowledging the holidays through a holiday theme is a great way to communicate with your buyer personas. Not only does it get people excited about shopping at your store, but it also gives your site some essence and helps you stand out from big-box retailers by creating a unique buyer experience.
Marketing Tactics To Engage & Nurture Your Audience
If you're not currently working on growing your contact lists, you're already behind. We've found that many mid-market businesses wait until a week or two before Black Friday or Cyber Monday to prepare and grow their lists. We highly encourage you to create campaigns throughout the entire year to collect as many email addresses as possible.
We're firm believers in using pop-ups to drive email addresses into your marketing system - and welcome series pop-ups are a great place to start. Leverage a visitor conversion platform, like JustUno, to capture leads with personalized messaging and audience analytics. Just include a form to collect a user's email address and an offer that's a low cost for your business. We suggest offering a free gift or an enticing discount.
Social logins and viral campaigns are other valuable tactics for collecting email addresses. Test out these different strategies to see what works best for capturing more users. We highly recommend using a marketing automation system to improve organizational efficiency.
Your email list is essentially your brand equity. Once you capture an email address, you have the ability to remarket to that customer without paying for them again. Actions should be taken year-round to grow your lists, but it's especially vital to prepare before the holiday season.
Email Early & Often
Build bigger brand equity with larger email lists and more engaged users. Examine open rates and click-through rates to determine how important your brand is to the people that are buying from you or to the people you want to purchase from you. Begin to send holiday emails and promotions in the beginning of Fall − around the end of September to early October − to start building suspense around your holiday deals.
Avoid worrying about how often to email contacts, and, instead, create a distribution schedule to reach certain segments, engage and nurture your audience and build stronger relationships with customers. Segment subscribers into engagement tracks to inform your sending cadence.
If you notice a sizable unsubscribe dropoff, then either that audience wasn't right for you or your messaging was invaluable. Focus more on building a relationship to establish brand equity rather than focusing on how often you're emailing them.
You may want your unique brand personality to come off as the trusted friend, advisor or industry expert, and that's how to begin building the value funnel. Get creative! Use a cadence that matches your timeline. Just remember to test different days and times to see what works best for your promotions. One trick that Groove Commerce uses to drive results is to change the subject line and resend the same email to those that didn't open the first one - rather than reinventing the wheel over and over.
Leverage Remarketing Email Campaigns
Fighting for consumers' attention during the holiday season, specifically Cyber Monday, is the most intense than it is at any point during the year. Create an optimized email marketing strategy to capture their attention, increase online traffic and nurture and convert shoppers. Set up remarketing email campaigns to follow-up with lost customers and win back those lost sales. Here's how it works: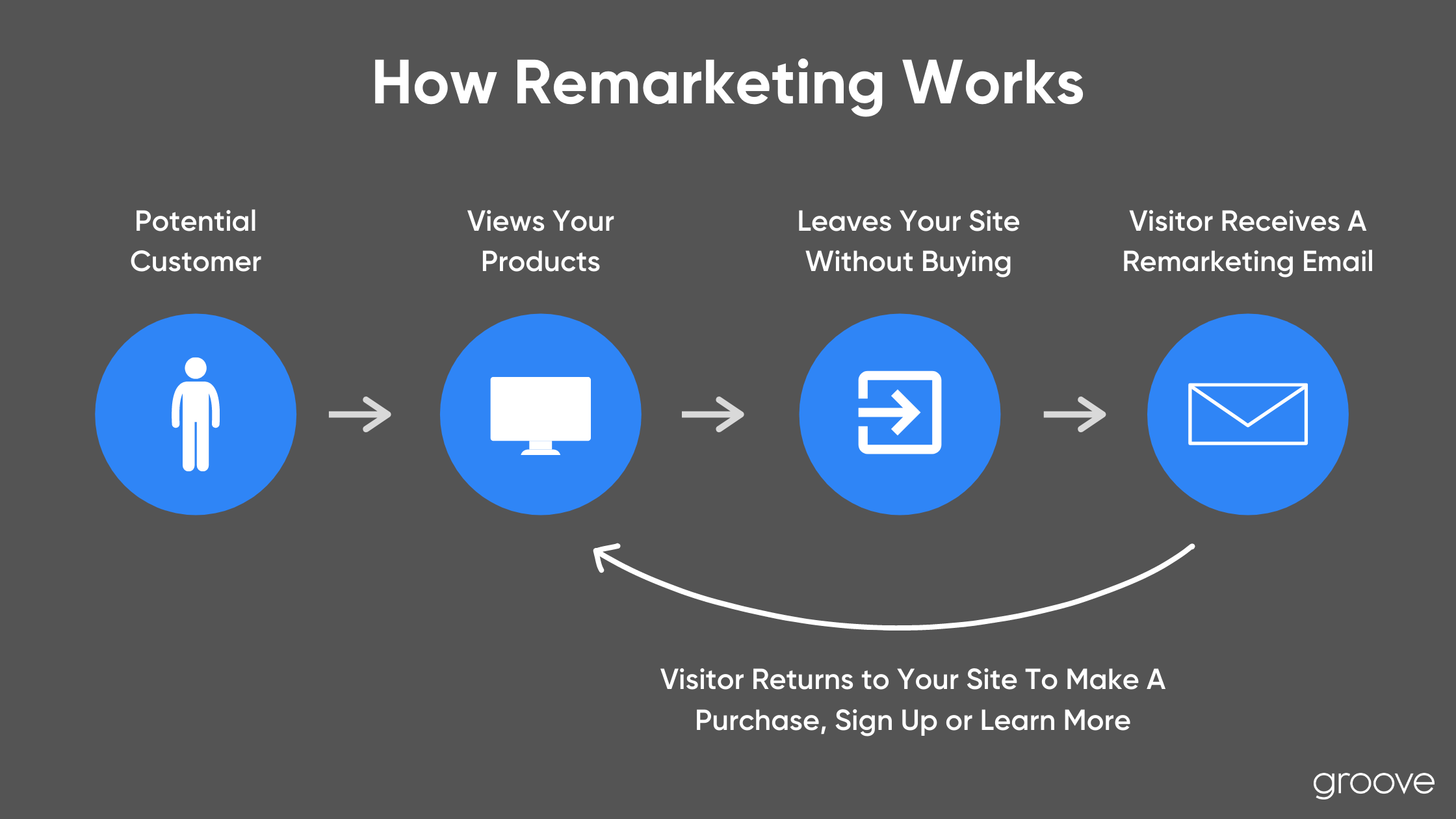 When a visitor lands on your web page and leaves without purchasing something, it's your responsibility to nurture them. Track their browsing behavior to see what they've viewed on your site so that you can better tailor your remarketing efforts to fit their needs.
You'll need an email marketing platform to unlock customer insights and deliver highly-optimized messages. We typically recommend two platforms to increase email performance: Klaviyo and HubSpot.
Choosing The Best Email Tool For Your Needs
KLAVIYO
From small businesses to iconic brands, Klaviyo helps companies deliver unique and engaging experiences across email and other owned channels. Klaviyo integrates natively with customer data sources and builds the technology to house data at scale, create experiences across channels and measure the results.
According to Klaviyo, successful email marketing campaigns boil down to two factors: segmentation and automation. Segment your contacts to send to only a certain audience within your list for higher optimization, and set up trigger emails based on customer behavior.
Optimize your email marketing strategy with Klaviyo's many features. Transfer and store your contact list, personalize emails with the drag-and-drop email design and tailor messages with events, properties and customer attributes.
Recommend relevant products to customers and use custom web feeds to insert dynamic content blocks. Klaviyo's pre-built autoresponders (email flows) help drive more online revenue with much less effort.
Klaviyo integrates with B2C and B2B companies using custom websites, and it mainly serves eCommerce stores because of its seamless integrations with BigCommerce, Shopify, Magento and more.
Klaviyo is great for eCommerce brands of any size that want to grow and for merchants who want to own their growth. By helping merchants take advantage of personal relationships with customers, eCommerce brands can achieve that communication at scale in a repeatable way for future success.
The numbers speak for themselves – Klaviyo customers generated more than $3.7 billion of owned revenue in the last 12 months and on average see 62x ROI.
HUBSPOT
HubSpot is great for companies of any size that are ready to commit to creating content based off of the inbound marketing methodology. It's an effective tool to aid in your marketing strategy and attract, engage and delight customers.
With HubSpot, personalize and optimize emails without having to wait for IT and designers. Automatically send relevant content, attachments, links, CTAs and subject lines to boost open rates and click-through-rates. Its A/B testing capabilities track which versions of an email earn better engagement and drive more traffic and conversions.
SMS Marketing
On average, we check our phones 58 times a day. To say we're glued to our devices is an understatement – which is why 90% of text messages are read within 3 minutes. Whether you're using SMS to announce a new product or remind customers about their recently abandoned cart, it's all possible in Klaviyo. Target the ideal audience, personalize every message, and measure how much revenue that message generated so you always know how much SMS is helping you grow.
Create Buyer Guides
The ability to curate gifts to shoppers online is personal and special. When preparing for Black Friday, it's important to acknowledge that you may not be working with your typical buyer personas. Sometimes, people may not have the specialized knowledge of your products or industry, and therefore, could be uncertain about what to purchase.
Cater to these individuals by creating a buyer's guide, and target specific buyer personas for maximum impact. Include things like "Gifts Under $25," "Gifts For Her," or anything else that resonates with your brand and customers.
Expedite the development process by modifying existing templates on your category and landing pages, and explore banners and other promotional tactics to increase engagement and traffic. Finally, consider the keywords that you want to use when creating the buyer guides and always link back to your products.
Offer Product Recommendations To Target Customers With Relevant Content
Increase eCommerce conversions by offering relevant product recommendations to targeted customers. Use customer data - like demographics, geo-location, abandoned cart history and more - to distinguish what's relevant to a customer.
Maximize product discovery and improve the user experience with product recommendations. Help customers navigate through your site's hundreds (or thousands) of products by recommending the things that are useful and beneficial to them. Sending consumers personalized content based on their interests and user behavior is a clever strategy for each stage in the eCommerce conversion funnel.
Merchants are able to use pop-ups to send product recommendations to women of a certain age based on their demographics or list membership. This eliminates an enormous step in the buyer's journey - searching for the tie dye product - and leads shoppers closer to the end of the decision stage and closer to making the purchase.
Additionally, use a customer's abandoned cart history to remind them of the product(s) they left behind. They could have abandoned their cart for a variety of reasons, and reminding them that they didn't purchase it by recommending it to them will help aid in a final decision.
Use Targeted Pop-Ups To Create A Sense Of Urgency
Targeted pop-ups elicit a sense of urgency and encourage users to click the offer so that they don't miss out on the promotion. Whether the copy conveys a limited-time offer (such as "1 day left to receive before the holidays with standard shipping") or offers a sales promotion (such as "save 20% with this coupon code"), targeted pop-ups are bound to enhance your site's performance and increase conversions.
Plan for the holiday season by creating a pop-up strategy to target highly-specific website visitors on both desktop and mobile devices. Welcome visitors with pop-ups that offer exclusive deals and discounts just for entering an email address. This will help to grow your email list and provide an immediate and positive first impression of your brand.
Also, reward your most loyal customers with a larger discount than the one you're offering on your site. Your loyal customers will feel appreciated, and the larger discount will result in more orders being placed.
Here at Groove Commerce, we use JustUno to target website visitors with unique pop-ups. Implement cross-selling promotions, exit offers or upselling pop-ups to help drive eCommerce conversions during the holiday rush.
Increase Social Engagement
Analyze the promotions your competitors are running on their social platforms. Are there any contests or sweepstakes that your brand can push on social media? Drive additional sharing and gain new traffic with giveaways and other promotions that require contestants to share your content and tag their friends.
Also, social media is a great place to portray your brand personality and help people learn more about why your business is what it is. Let your audience into your world and show them that there are humans behind the brand. If customers ask questions on social media about your products, respond swiftly and devote effort into answering their inquiries thoroughly.
Target Your Audiences
Leverage audience targeting to reach high-intent customers. Use custom audiences and look-alike audiences - two powerful methods of paid media targeting - to narrow your audience and reach the people who are most likely to purchase from your store.
Custom Audiences
A custom audience is when you upload a list of email addresses into Facebook, for example, and serve ads just to those people in that list (if Facebook can find an email address tied to that account.) There are many ways to utilize custom audiences.
Want to track abandoned carts? Upload your list of people who've abandoned their carts into Facebook, Google or any other advertising platform, to drive abandoned cart promotion. They'll fall off that list when they actually make a purchase.
Even use audience targeting to win-back previous customers who haven't purchased in a while. Create a list of people who haven't ordered in several months, and upload that list into Facebook or Google to drive ads specifically to these people. If you're using a marketing automation platform, like Klaviyo or HubSpot, take advantage of the dynamic mailing lists that communicate with your advertising platform to move people on and off your custom audiences.
Look-Alike Audiences
Reach high-intent customers by narrowing your potential audience to reach the people who are most like your core customer base. Upload your list of customers to Facebook or Google, and let the platform find other people, or look-alike audiences, that are similar to your customers.
Although it's true that these people aren't necessarily guaranteed to purchase from your store, it still works well. By running a list of email addresses into the system, you're able to target the look-alike audiences with specific advertising based on activities, events and more. This is a great tactic that not enough mid-market retailers take advantage of.
When creating look-alike audiences, it's important to take into consideration a segment's purchasing desires and shopping behaviors. For example, let's say you want to create a lookalike audience of your current VIP customer list. This list of your customers most likely buys at full price, so be sure that the ads you're promoting to the lookalike audience do not include discounts - because this lookalike audience is likely to have the same purchase intentions as your VIP list.
On the other hand, you may have a segment of customers who only purchase when discounts are available. When advertising to this look-alike audience, make sure to include discounts in your ads. Regardless of the audience, ensure that your ads are congruent with the segmented audience's purchasing intentions.
To learn how to create Facebook look-alike audiences with Klaviyo customer lifetime value (CLV), refer to this helpful article for step-by-step instructions.
Conversion Strategies To Turn Shoppers Into Customers
Monetize
All eCommerce retailers have one goal in common: to convert as many website visitors into customers as possible. Once you get the traffic to your site, the next obstacle is to encourage them to convert. One strategy to motivate shoppers to purchase is to monetize what you can.
Use physical and virtual gift cards to cater to the people who are gift givers. Set them up and use them throughout the year, but intermingle them more heavily on product listing pages during the holiday season to satisfy the needs of different buyer personas. Take advantage of your ability to create business with gift cards as it is a simple way to gain more customers.
Also, offer product bundles to give people the option to get more for their money. Group products based on buyer personas, and offer discounts and incentives to encourage conversion. This helps to increase average order value by incentivizing customers to purchase more for a great deal.
Capture Abandoned Carts
We still come across mid-market retailers who do not run proper cart abandonment campaigns. When preparing for Black Friday, set up your cart abandonment program in advance to capture all of the users that are abandoning your products at checkout. From what to include in your abandoned cart workflow to measuring abandoned cart performance, Klaviyo's guide to creating an abandoned cart workflow includes everything you need to know before getting started.
Rather than spending money on a retargeting ad, reach out to prospects through an abandoned cart email. Actively talk to them in a personal way just like you would in-store if they were about to walk away from the register.
Consider the personal user experience. Maybe the price was too high and they wanted a discount, or maybe they changed their mind on buying that holiday gift. There are a multitude of reasons why people abandon their shopping carts, and it can be difficult to pinpoint why. Design a plan to incentivize customers to convert.
Don't feel pressured to send a discount in the first email. Send the first email to serve as a reminder that they left items behind in their cart, and don't hesitate to send an additional email if needed. In the second email, potentially offer a small discount or free item (that doesn't cost too much on your end) in an effort to get them to convert.
Clear Order & Shipment Timelines
Avoid frustrating consumers with delayed shipping and unclear order dates. Clearly state on many pages throughout your site what your shipping deadlines are. If they're dependent upon your geographic and regional area, then let your visitors know.
For products, let people know what's still in (or out of) stock by clearly labeling it with something like, "In Stock & Ready To Ship." Clearly state how many days or hours are left to qualify for overnight shipping. If you have your own warehousing system, mimic other retail solutions to increase operational efficiency.
Enable Cart Continuity To Improve User Experience
Implementing eCommerce personalization across multiple devices helps to create individualized experiences and connections between a customer and your brand. In addition to offering targeted pop-ups on both desktop and mobile, it's critical to enable cart continuity across multiple devices.
Multichannel cart continuity is one essential factor that we encourage eCommerce stores to focus on. Consumers may take their time browsing a site and adding items to their cart on mobile but may then switch to desktop to complete the purchase.
Websites that fail to save users' carts between devices are at a serious disadvantage - especially during the holiday season when people tend to add more to their cart than usual. Streamline the shopping experience by saving users' shopping carts when they switch devices. Not only will this eliminate a user's need to search for and add all the items to their cart again, but it will also improve the user experience and increase conversions. It can even be the difference between converting that visitor into a customer and losing them completely.
Holiday Strategies To Turn Customers Into Brand Evangelists
Exceed customer expectations by creating an exceptional shopping experience. After they've purchased, determine how your products or the delivery of your products can put a smile on their faces.
For one thing, offer gift wrapping. Make it personal by adding a holiday touch. Offer a variety of different holiday-themed gift wrapping products to further personalize the user experience.
Also, consider offering customizable messaging. Remember, many orders around the holidays are placed as gifts to be given to other people, so offer the option of customized or engraved notes or messages with each order. Make it seasonal, but stay on brand and remember your target audience. The point here is that you want your brand to stand out from the rest during the holidays (and year round).
Conclusion
We hope this guide finds you before the holiday rush so that you have time to implement and optimize these strategies. When preparing for Black Friday and the following holidays this year, make sure your business creates a plan, grows contact lists in advance and uses these strategies to attract, engage and delight customers during the busiest online shopping season.
If you have any questions or would like to learn more about how Groove Commerce's website and marketing services can help with your holiday planning, contact us with any questions or concerns. Our team will be in touch!
About Groove Commerce
Groove Commerce is a full-service eCommerce agency with 13 years of experience helping mid-market retailers design, build and grow their eCommerce websites. As an Elite BigCommerce Partner Agency and Diamond HubSpot Partner Agency, Groove Commerce follows an inbound methodology and delivers bespoke, white-glove service to convert visitors into repeat customers.
About Klaviyo
Klaviyo is the world's leading owned marketing platform, known for accelerating revenue for online businesses using the channels they own like email, web and mobile. Enabling companies to leverage these owned marketing channels, Klaviyo makes it easy to store, access, analyze and use transactional and behavioral data to power highly-targeted customer and prospect communications.
And unlike other marketing platforms, Klaviyo doesn't force companies to compromise between advanced functionality or ease of use − companies of all sizes are able to maximize their sales quickly. That's why more than 40,000 innovative companies like Unilever, Custom Ink and Eventbrite sell more with Klaviyo.
Related Content
You Also May Like
Blog
What Do I Need To Know About Etail West 2024? Are you in the eCommerce industry? If...

E-BOOK
Preparing For Black Friday:
How To Increase Online Revenue