Groove Commerce

If you've already decided that you want to focus on reducing cart abandonment and simply don't know where to start, this blog has the answers you need!
I'll point this out from the start – there's already a myriad of great articles available online in regard to reducing shopping cart abandonment for e-commerce websites, and rightfully so – the average cart abandonment rate as of April of 2013 is 67.35%. However, most of the articles on this topic focus particularly on reasons behind why visitors are abandoning in the first place. But what if you've already decided that you want to focus on reducing cart abandonment and simply don't know where to start? Or, what if you're not quite sure that you have the right tools necessary to implement a successful reduction strategy? Thankfully, there are plenty of great options with third-party companies and here are a few of my personal favorites.
TEST TEST TEST!
The A/B Route
Before you leap too far down the rabbit hole with more sophisticated tools, you need to make sure that you're covering your bases with the fundamentals on your checkout page. For example, could your checkout page be improved simply from an adjustment to aesthetics? Could you benefit from switching the style of your checkout (i.e. one-step vs. accordion)? Perhaps your customer service information could be placed better or you could highlight trustmarks more prominently? If you're thinking "yes" to any of the above, you may want to consider A/B testing multiple versions of your checkout page. If you're looking for a case study on impact here, read how Slide Shop increased sales by 15% by making 3 simple changes to their checkout page.
Third-Party Spotlight: Visual Website Optimizer
The Usability Route
Do you think people might be leaving because they're doing price comparison or are turned off by your shipping costs? Convinced that aesthetics or layout aren't an issue but just can't put your finger on why visitors are abandoning? A/B testing in this case might be a bit challenging, but an alternative option to explore is unbiased and targeted usability testing. These tools can be fantastic because you'll have the ability to create your own test scripts and select a target audience for testing as specific or as general as you'd like (i.e. demographic, shopping history, etc.). With more robust tools out there, you'll receive back a real-time video recording of the tester walking through your script with a detailed outline of their comments (as shown below). If this interests you, check out this sample shopping cart test script from the folks at UserTesting.com - could they make this any easier??
Third-Party Spotlight: UserTesting.com
EMAIL FOLLOW-UP
If you're confident that the fundamentals of your checkout are in place and want to look at alternative options for reducing cart abandonment, consider implementing an email follow-up campaign. These can often be "set it and forget it" type implementations – you'll simply set how long after the cart abandoner leaves before they receive an email and what offers (if any) they'll receive (whether that's in the first email or follow-up recapture emails). Best of all, most robust tools out there will include all of the items abandoned in the email so that the user merely has to click once to go back to their previous cart. And, even more impressive, the big players in this arena will actually capture the keystrokes in specific fields on your online checkout form so that visitors who aren't signed in with an account can be captured – awesome, right?! Consider reading this case study on how Movies Unlimited garnered 500% ROI with Listrak's shopping cart abandonment tool.
Third-Party Spotlight: Listrak
REAL-TIME LEARNING MACHINE (HUH?!)
An alternative (or complementary) tool to consider is a new and emerging concept: real-time learning software that lives on your site and can analyze visitor behavior with the ability to accurately predict which customers are likely to abandon their carts. Confused? I'm not surprised – it's somewhat of a tough pill to swallow for validity and there really aren't a whole lot of players in this market that I've seen. In fact, THE ONLY player that I've seen (and have been very impressed with initially) is Granify – an exciting up-and-coming group based out of Edmonton, Canada. They tout their real-time learning machine plugin as having the ability to predict who will and who won't buy with over 95% accuracy. Then, once a visitor is deemed "at risk" for abandoning, they'll prompt them with a timed and targeted message alert (these can be promotional based but don't have to be) that will help turn that cart abandoner into a successful sale. Why do I like this concept so much? Because these shoppers are targeted while they're still on your site, not after they've left.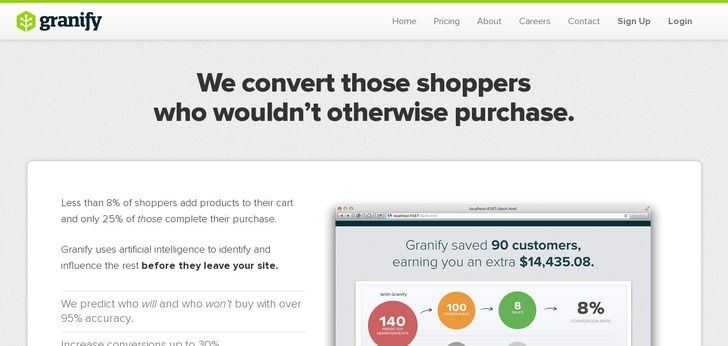 Third Party Spotlight: Granify
ONLINE CHAT
Similar to the tool of a real-time learning machine like Granify, particularly in how you're able to target visitors while they're still on your site, falls the online chat plugin. I admit that I am somewhat biased in this department as I'm a huge fan of online chat – it's convenient for customers, it allows your staff to have multiple customer conversations at once, you have the ability to cross-sell and upsell with product recommendations, and you're able to address your customers' pain points immediately with a personalized approach. However, not all online chat tools are created equal and not all are as effective at reducing shopping cart abandonment as others. Consider the folks at Olark who have created the CartSaver tool to complement their chat, which allows you to view in real-time every visitor on the site and their cart amounts. With this, you can set notifications for when visitors reach certain dollar amounts in their carts as well as whether or not a visitor is idol – the option is then yours to start the conversation with that visitor and even offer a deal – awesome, right? Make sure you treat this power delicately as to not overwhelm or scare off visitors and you should be good to go!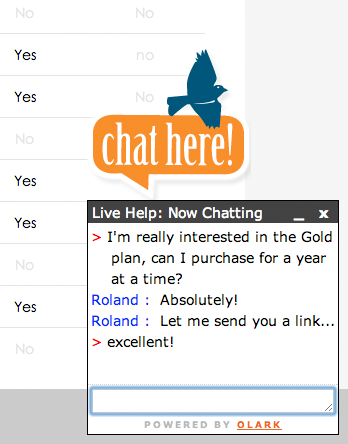 Third Party Spotlight: Olark
CONCLUSION
Reducing shopping cart abandonment can be an excellent way to garner more sales and acquire new customers. If you're not sure where to start and are looking for some tools that you can explore using for this purpose, consider each of the above as they apply to your own e-commerce website. While these aren't the only third-party tools available, they're a few that I particularly enjoy and hopefully you will too if you elect to use them. Questions about any of the above or need contacts at any? Feel free to drop a line below and I'd be happy to help out.
As always, if you need help with your overall digital marketing strategy, don't hesitate to contact us at the Groove office for a free inbound marketing assessment!
Get in Touch
Subscribe for industry insights and resources.