Groove Commerce

Design 1, 2, 3: Event Photography Category Page Shoots from the Hip
Last weekend, I had the pleasure of trampling through four-inch thick mud, under barbed wire and over junkyard cars, with 8,000 other extreme runners. It was a grand day filled with beer and bruises, and of course, lots of race day, product hocking. And it didn't stop after the race either. The race's official photography company sent out an e-mail to view (and purchase) shots of each runner's triumphant jaunt across the finish line. And as excited as I was to see myself jumping rows of fire with mud on my face, I was truly blown away by their difficult website experience.

The bottom line for selling online is: make it easy. I could throw out a lot of industry terms like usability, user interaction, search refinements, navigational structure, design hierarchy, etc, but the bottom line for basically every single shopper online is this: It should be easy for me to find and buy the product I want.
And unfortunately, this sports photography website falls short. Let's take a look at this month's Design 1, 2, 3 on their category page.

1. User Expectation: My Scrolling Finger is Tired!
There was a time, when the online world was die-hard focused on the fold of a page. (The fold is the view of the browser that can be seen without scrolling.) Everything needed to be above the fold. Thankfully, for numerous reasons I'm not going to write about here, this above the fold notion has fallen out of popularity. Users know how to scroll and scrolling is perfectly acceptable.
However, I think scrolling should have its limits. A page that's 2,000 - 3,000 pixels tall, is considered within the bounds of what's to be expected. I can accept pages even longer than that if there's a reasonable design explanation for it. If it's a smart choice and not an overlooked accident.
But when you have a product page that's nearly 6,000 pixels tall with no clear reason as to why, you're making the web designer in me scream FOUL.
The main issue with this sort of page, is the user has to keep track of all the information being shown to them. There's 20 products on the page, many of them with multiple size options, and paragraph long descriptions. And, it's likely that a user might use the shopping cart as a holding ground to sort through all the products they're interested in, which is bad for an eTailer because this user behavior will mess with your shopping cart abandonment rates.
There are several solutions including breaking the products into multiple pages, offering refinement functionality, and/or funneling the user down via category and subcategory pages. The right solution depends on your product line and your visitors.
2. Lack of Labeling: Chose My Quantity, Now What?
This is a slight continuation of my criticism on the length of the page in #1. There are two Add to Cart buttons on the page, above the product list and below the product list. This makes perfect sense -- except when the page is 6,000 pixels tall.
Look at the image below, you've chosen your quantity, but now what?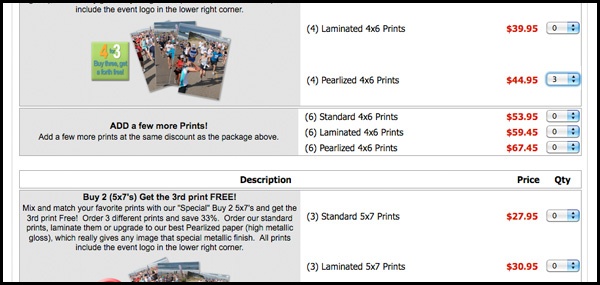 You either have to scroll 3,000 pixels to the top of the page or 3,000 pixels to the bottom (and if you haven't already made your way to the bottom of the page, you wouldn't actually know there's an Add to Cart button there, you'd be assuming.)
One straightforward solution would be to include an Add to Cart button within each product description box, or at the very least a jump to top link to continue.
3. The Art of Persuasion: Reading vs. Seeing
On this site, the category page also serves as the product page -- it includes a thorough description, a product photo and the price and quantity options. And I take issue with the setup of the photo and description.

For a photography website, the description is taking way too much prominence. Don't misunderstand me - I think the descriptions are thorough, unique and beneficial to the reader (and search engines).The descriptions 100% belong on the page. BUT it's a photography site, they are selling photos. And their own product photos should be front and center. I know I can "click to enlarge," but if I'm interested in five different products, I have to "click to enlarge" five times, that's a lot of extra clicks to view the details.
It looks as though they were more focused on making it easy for themselves to code and update, and less focused on the whole user experience of purchasing their event photo. But like any good photograph, a web page should have a thoughtful and thought out composition.
Mentioned in this post:
Category Page :: SportPhoto
Get in Touch
Subscribe for industry insights and resources.