Groove Commerce

Design 1, 2, 3: Flower eTailers & the Perfect Valentine
If you're a flower or gift eTailer, Valentine's day is like a second Christmas for you: it's great for business, but user expectation is high, very high. Hopefully, you're fully prepared for the season and plan to read this to give yourself the proverbial pat on the back. But just in case, why not read on and see what the top gift eTailers are doing this Valentine's day.
Let's talk about audience for a minute. Some shoppers will love the over-the-top romantic sentiment of the holiday, browsing through dozens of different bouquet arrangements for that perfect gift. These are the users who will incrementally bump up their budget when given the opportunity. "Only $10 more for a dozen extra roses? That's a steal!"
For the more curmudgeonly, they'll just want to make their purchase with as much ease as possible. A functional site is their biggest concern: do products clearly state what is included and not, is it simple to add to cart, is it clear what is out of stock, are the shipping rules and dates easy to understand, are any extra fees clearly stated. These users will not appreciate any sticker-shock or bumps in the road that occur.
And no doubt, both audiences are desperate for a guarantee that yes, it will arrive on time, and yes, it will arrive in the right place. Your user isn't spending all that money on a gift just to have it sent to the wrong person down the hall at work (although that did work out OK for Liz Lemon.)
This month's design 1, 2, 3 takes a look at the homepages for three major Flower eTailers (1-800-Flowers, ProFlowers and FTD.) We'll look at what they're doing right, wrong and differently this Valentine's Day season and tally up the points to see who wins my affections.
1. Call to Actions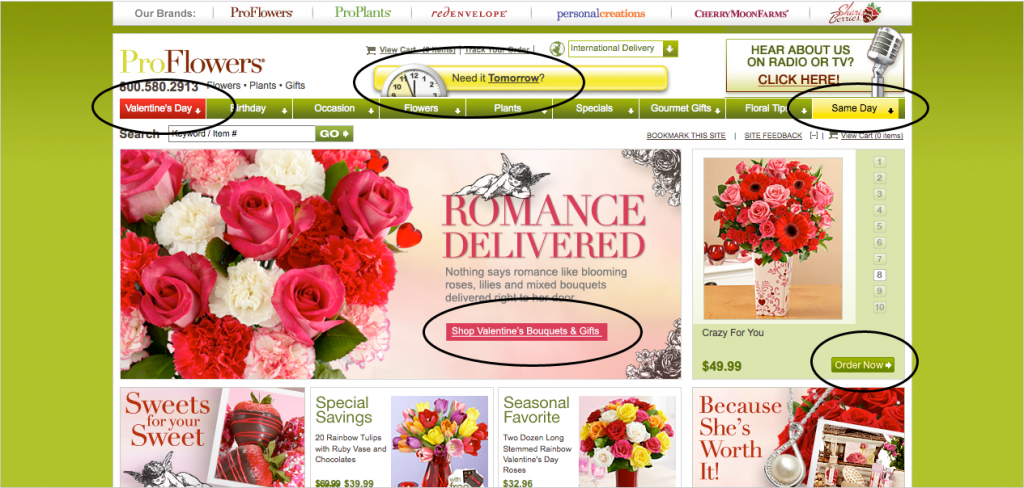 While, I'm not particularly fond of ProFlowers overall site design which is a personal distinction and doesn't really matter, they do do the best job with calls to actions. They highlight the Valentine's Day category in the navigation (as well as the Same-Day Delivery); their hero banners have distinct Shop Now buttons, as does the rotating product sidebar module. A shipping banner, which should have additional text saying "Read Shipping Details" or something similar, has been made to look like a large yellow button.
You may think calls to actions are unnecessary that a user knows where to click on the page to move forward. But it's not so much about where to click, as it is about enticing users to click. Simple commands such as "Shop Now," "Order Now," "Learn More" nudge the user more than an image or product name might. The naming of the button is actually quite important and once your site is performing well, button naming is a great thing to test. Here's an interesting, quick read about the power of language and conversion. The discussion about button color could get lengthy, so I'll say the same thing, it may seem insignificant but it is absolutely worth testing.
2. Best Selling Products Showcase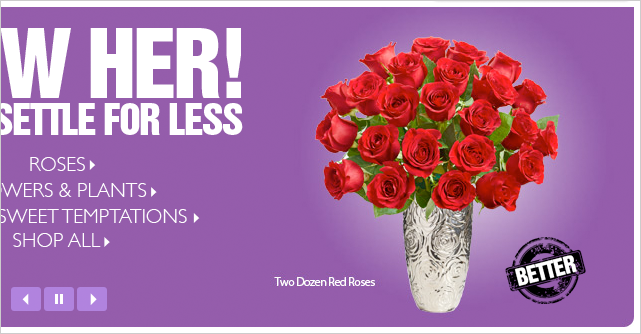 Each of the flower eTailers uses their homepage to highlight some of their best selling products, a move I'm strongly in favor of. Interestingly, each has done it differently. 1-800-Flowers uses its rotating hero banner to swap between an unknown number of products (by my count - 4.) Additionally, they have a chart graphic below the fold comparing another four bouquets, ranking them from Good to Wow. As mentioned before, ProFlowers uses a rotating sidebar module that shows one product per slide and displays 10 products in total. FTD uses a common scrolling bar to highlight 4 products at a time (out of 8 total).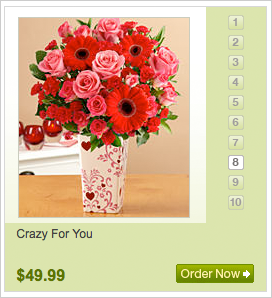 My preference is for FTD's scrolling best sellers. When it comes to specific products, as opposed to categories, it's best to see them laid out side by side and a single click lets me see the rest of the items. With ProFlowers and 1-800-Flowers, I'm forced to do additional clicking to move back and forth between products I'm interested in or to see other products.
One downside to FTD's scrollers is its lack of product names. They have two almost identical images of roses in the $40-$50 range. Without a product name, I'm forced to click between the two items to find out the difference. (Turns out I don't know my flowers too well, one of the bouquets has carnations mixed in.) ProFlowers very straightforwardly shows both a product name and price. You can't go wrong with that kind of straightforward user experience.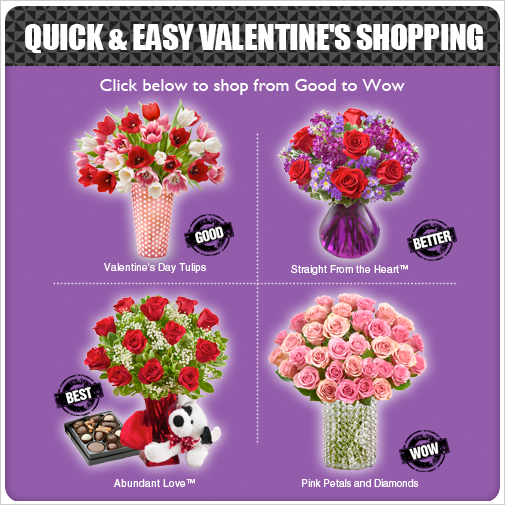 1-800-Flowers on the other hand, targets the more sentimental shopper. They show the product name but rather than listing a price, they rank their bouquets Good, Better, Best and Wow. Way to go on the offensive with emotional shoppers (spontaneous & humanistic personalities), which is a smart move since it is emotionally-based holiday after all. And more logical shoppers (competitive & methodical) know that those rankings reflect a ranking in price as well. In the end, everyone is catered too.
1-800-Flowers edges it's way over FTD for the point.
3. Gift Giving Goes Mobile
These days with so many mobile devices and so many things to-do, it only makes sense that people would be buying gifts on the fly. Thankfully, all three eTailers had mobile versions of their websites. Good job. ProFlowers and FTD went quick and simple with the mobile homepage: branded design, a few main categories, a few small banners, account links and that's all she wrote. Neither eTailer uses rotating banners (which I'm okay with as I had trouble with those -- accidentally clicking the banner when I was trying to view the next one -- on the 1-800-flowers mobile site).
ProFlower doesn't include any social media, big mistake. FTD's all black background threw me off. I know black is part of their color scheme, but it seems so unhappy for a flower & gift provider.

I liked 1-800-Flowers approach even though it caused for a much longer scroll, which on my mobile I'm not crazy about. They had the account log-in information in the header which is more consistent to their real site and other web shopping sites. (The other eTailers put that information at the bottom of their mobile page.) The design was perfectly branded and again brought in consistency with their website.
They also went beyond just category featured. They had a "Find a Gift Fast" module which is perfect for Valentine's Day (and really I think, could be moved above the categories or should be as the holiday approaches.) They also had a large button to call them, again a thoughtful decision as many people are looking at the mobile site on a smart phone.
What Have We Learned?
To sum up: I'll steal from 1-800-Flowers' ranking system and say, buttons are good, fewer clicks is better and doing things a little differently is best. 1-800-Flowers decided to go full bloom this Valentine's Day, while ProFlowers and FTD might want to take another look at things for next year, they're starting to look a little limp.
The only other question left this season might be, how do I get my significant other to get my gift-dropping hints? I'll leave that post up to someone else, the social media team, maybe?
Tell Me What You Think
Have you had to buy flowers or gifts online recently, how did it go? Did one site do really well or really poorly? Have your own tips to add? Leave them in the comments! Thanks for checking in on this month's Design 1, 2, 3. If you learned something new or were just pleasantly amused, pass it along. See you next month.

Mentioned in this Post
Homepage :: 1-800-Flowers
Homepage :: FTD.com

Homepage :: ProFlowers
Get in Touch
Subscribe for industry insights and resources.